One of the most scenic spots in the Bernese Alps is the little town of Grindelwald. It is packed full of charming Swiss chalets and nestled between towering mountains, including the famous Eiger North Face. And the best bit? It is connected to a whole network of incredible hiking trails via easy to access trains, buses and cable cars. Quite simply, it is heaven for hikers.
The Nitty Gritty:
Getting there:
Grindelwald can be easily accessed by the ever-reliable Swiss train network. From Zurich airport you take a series of three scenic trains over three hours to get there, which can easily be booked and tracked through the SBB app. If you want to, you can also drive from Zurich airport in a round 2-3 hours.
Accommodation:
Swiss hotels can be pretty pricey, but they are experts in luxury hospitality and if you do choose to treat yourself then it will totally be worth it. However, we decided to save a few pennies by using a budget AirBnb – there are tonnes in the area. It had a kitchen which also gave us the option to make our own picnics to avoid extra spending on food.
Prices:
In case you haven't heard, Switzerland is pretty pricey. In particular, food and transport can be expensive, so if you do choose to eat out three times a day then be prepared to splash the cash. There are definitely ways to work to a budget, but you just need to be a bit savvy.
Getting around:
You do not need a car in Grindelwald, as it is so well connected to the surrounding area by trains, cable cars and buses. I recommend getting a travel pass from the local tourist office when you arrive, which will save you money over the course of your trip if you're using public transport multiple times a day.
How long to stay:
I would recommend staying a minimum of 2-3 full days, but ideally longer if you can. Mountain weather is unpredictable and the more days you stay the higher chance you have of getting blue skies! Plus there is so much to see and do, you could easily fill weeks with activities.
When to go:
The best hiking weather is mid June through to early October, with many mountain huts opening in early July.
Top tips:
To make your life easier I recommend printing out the local map or having it saved offline on your phone for easy access. The app SBB is great for booking and tracking local trains as well as viewing timetables. Most places take contactless but mountain huts prefer cash or inserting your card.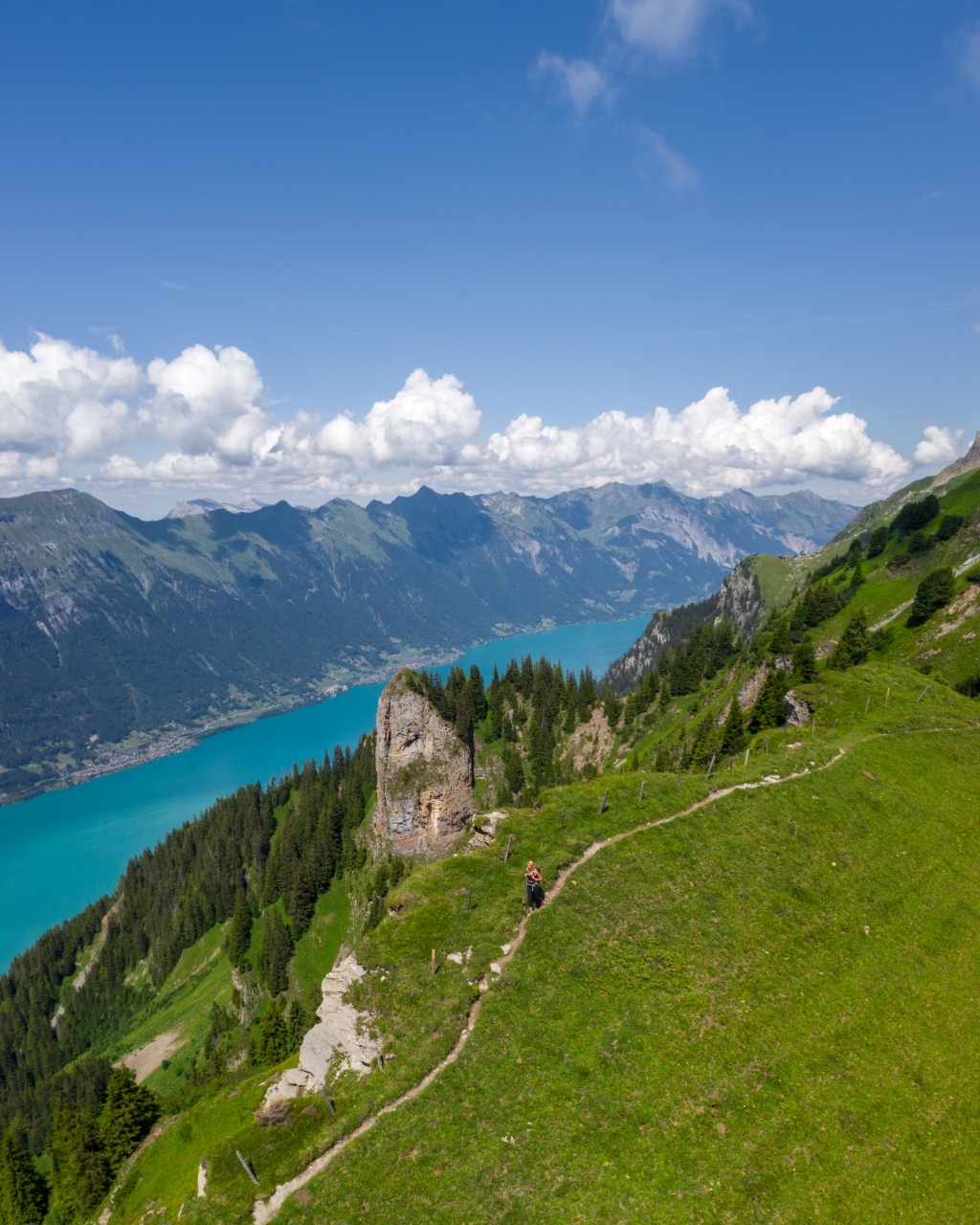 Hiking in Switzerland:
Switzerland is home to some of the most incredible hiking trails in the world. It is jam packed with towering mountains, crystal blue lakes, thundering waterfalls and picturesque valleys. Hiking trails are interwoven across the whole country, clearly marked with signs and connected by a comprehensive transport network. It really is the ideal place to take a hiking holiday.
If you're new to hiking then I recommend checking out my beginners guide to hiking article to help you get to grips with the basics. Make sure that you have the local hiking map easily accessible and pack for all weathers and eventualities, even in the height of summer. We were there in July and the weather varied from bright sunshine and 22 degrees through to 4 degrees and sheets of rain. Mountain weather is notoriously unreliable and can change rapidly, literally in minutes. Be prepared.
The Best Hiking Trails in Grindelwald:
First to Schynige Platte (via Bachalpsee and Faulhorn)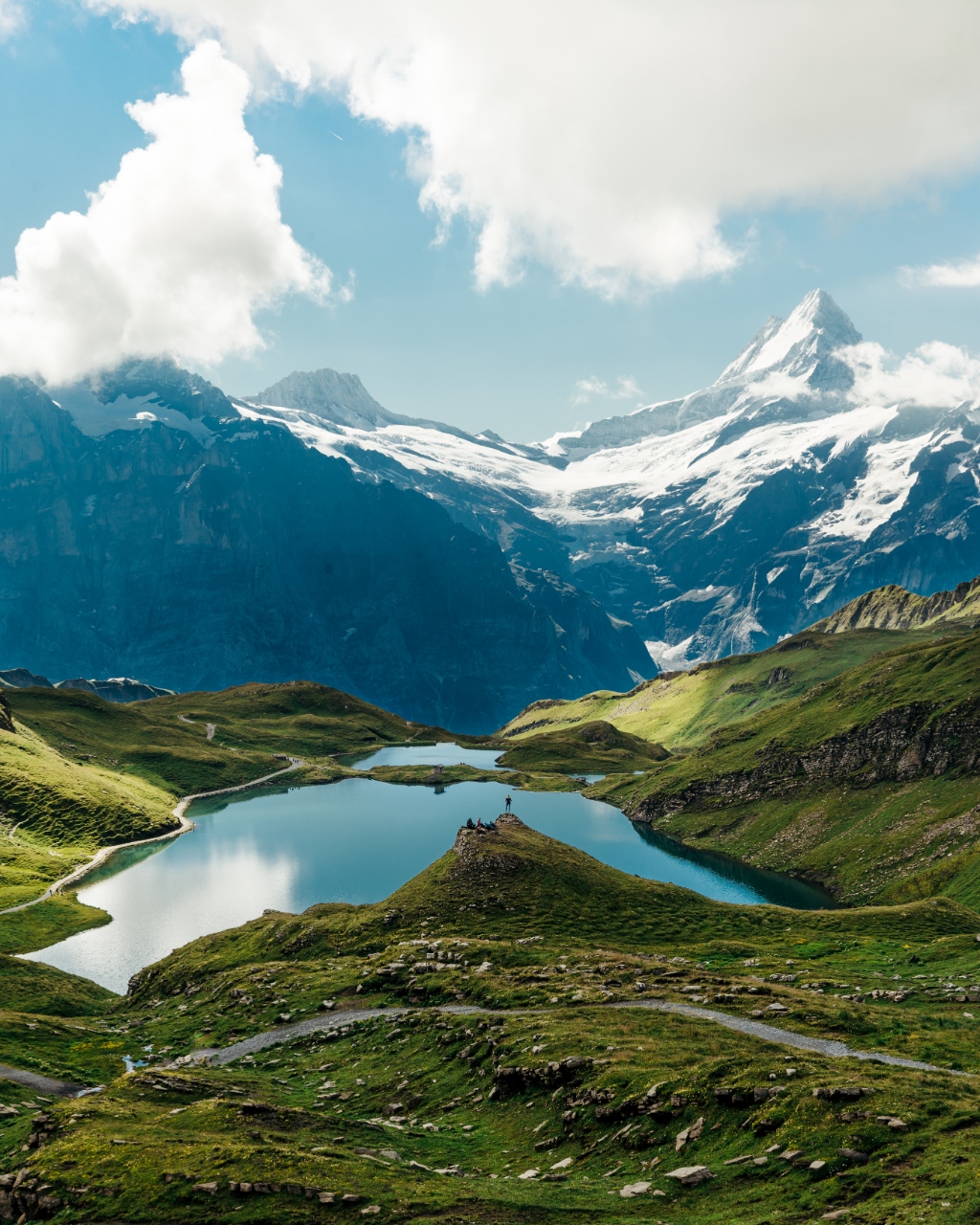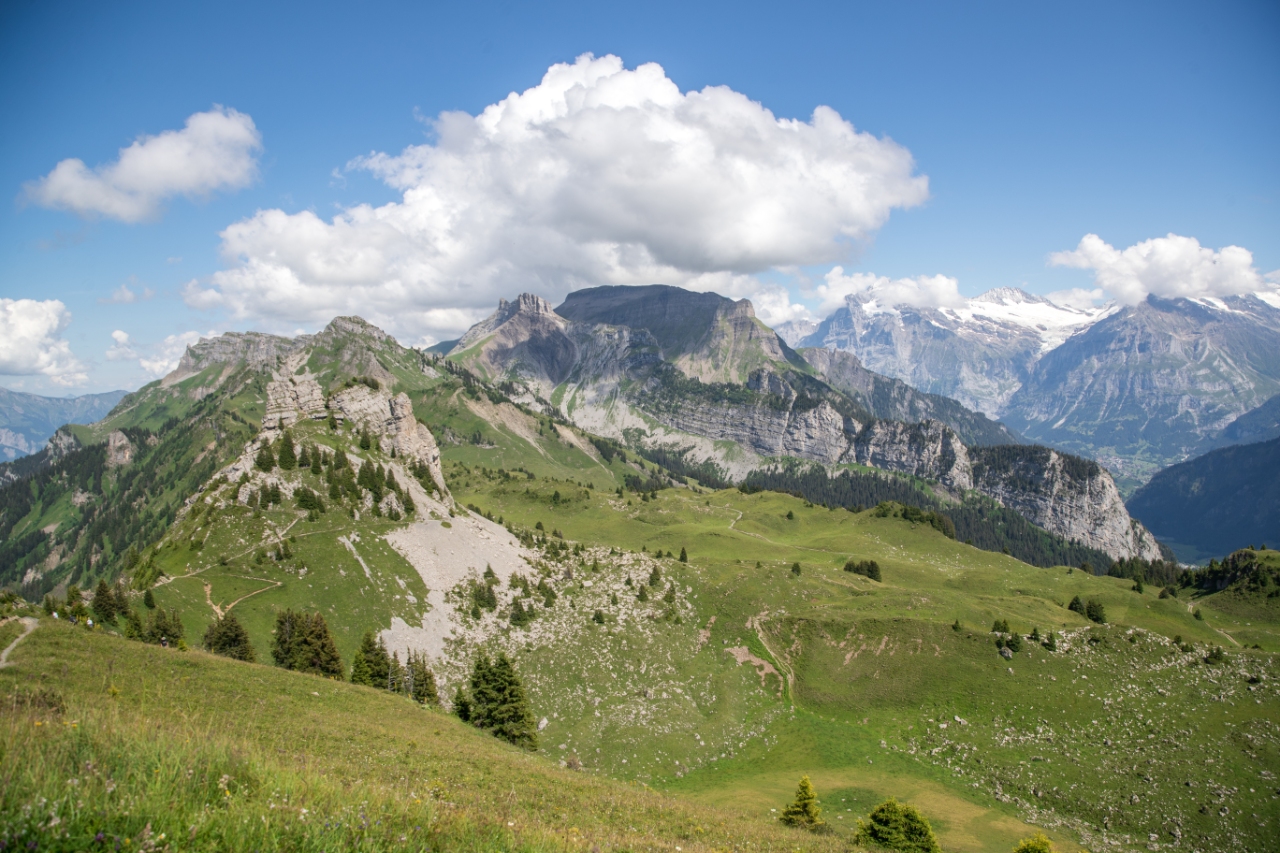 I knew this hike was going to be a gooden when Earth Trekkers listed it as one of their top 20 trails in the world, but even then it surpassed my expectations! It is a truly incredible undulating trail covering a diverse range of landscapes. There are stunning views for the whole duration of the hike, including some of the most phenomenal panoramas I have ever seen. It also includes the famous Bachalpsee lake, looking down over its glacial waters with the mountain peaks framing it is quite possibly the best view in the region!
It is a point to point hike with numerous mountain huts along the way to grab a bite to eat. I recommend waking up early and catching the first cable car up to First, simply because the final train back down from Schynige Platte is at around 6pm and you don't want to miss it! Not only because it is a stunning traditional cogwheel train but because you will have to hike a few extra hours down from the mountain.
If you only have time to do one hike in Grindelwald, this is it!
Stats:
Distance: 16km/10 miles
Duration: 6 hours (non-stop) but 7-8 with stops.
Difficulty: Moderate to Difficult – there are a few areas of significant elevation.
When to go: June-October.
More trail info:
http://www.hikingwalking.com/index.php/destinations/sw/sw_bernese/grindelwald/schynige_platte
The Eiger Trail.
This is perhaps the most famous trail in Grindelwald and for good reason. Eiger is one of the main peaks in the Bernese Oberland and is renowned for rock climbing. This point to point hike follows the famous Eiger mountain North Face, which towers above you as you take in views across the Lauterbrunnen Valley and over Grindelwald. There are some stunning waterfalls and ravines along the route which flow with fresh glacial water. And the best bit? It isn't a very challenging trail, so you get big rewards for minimal effort.
Stats:
Distance: 6km/3.7 miles.
Duration: 2-3 hours.
Difficulty: Easy to moderate. There are some areas of elevation but it is mostly downhill.
When to go: June to October.
More trail info: http://www.hikingwalking.com/destinations/sw/sw_bernese/grindelwald/eiger
Panorama Trail: Mannlichen to Kleine Scheidegg.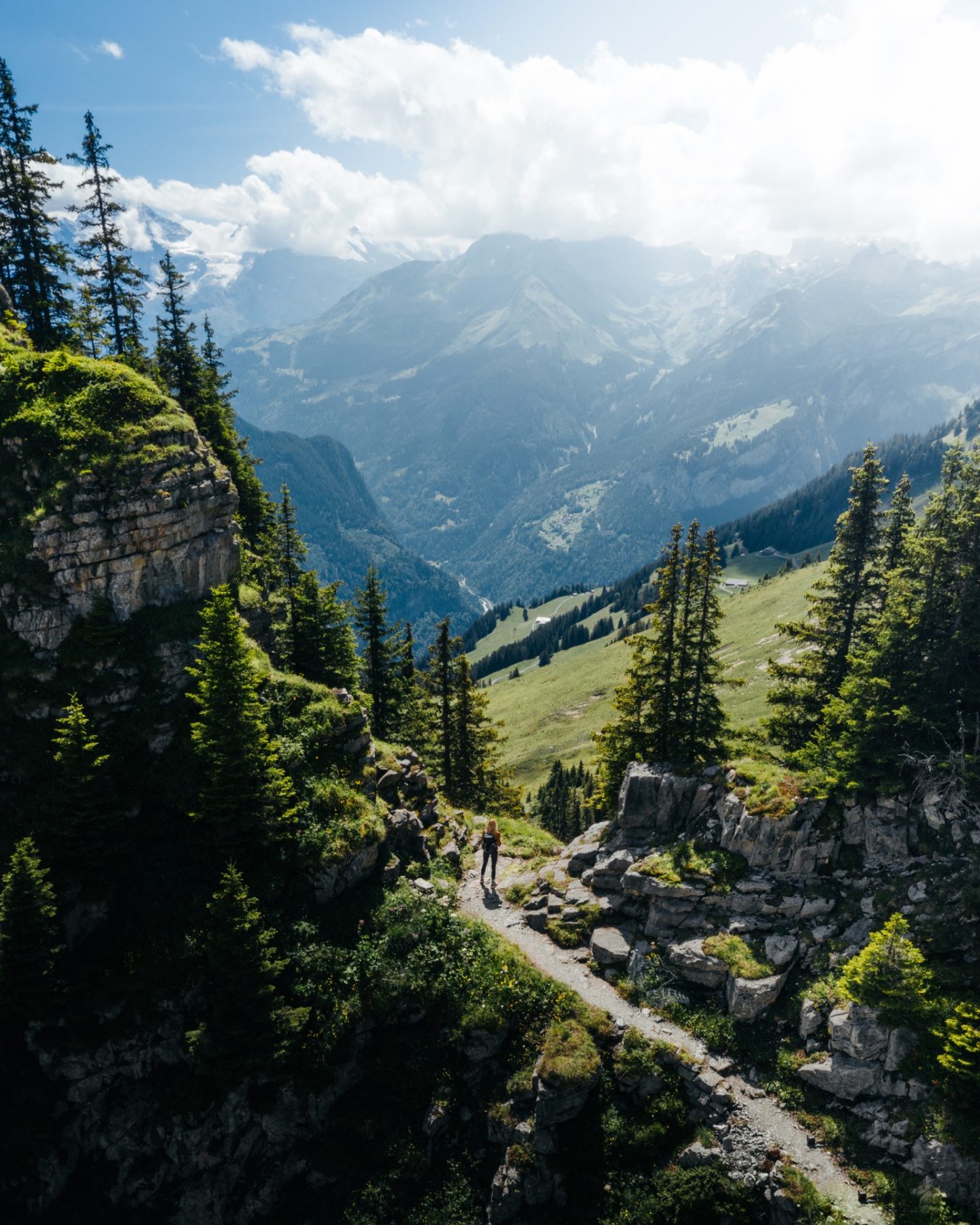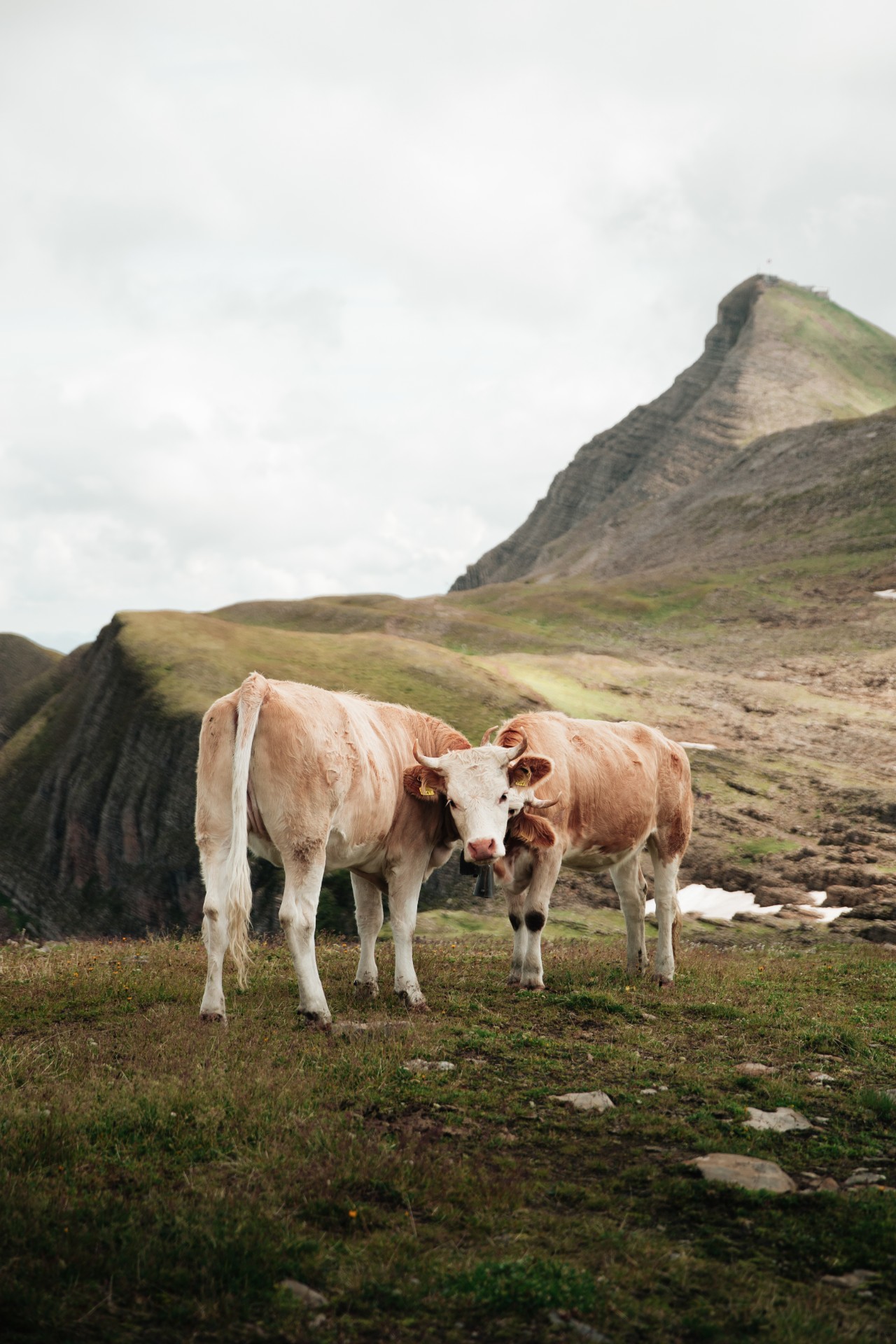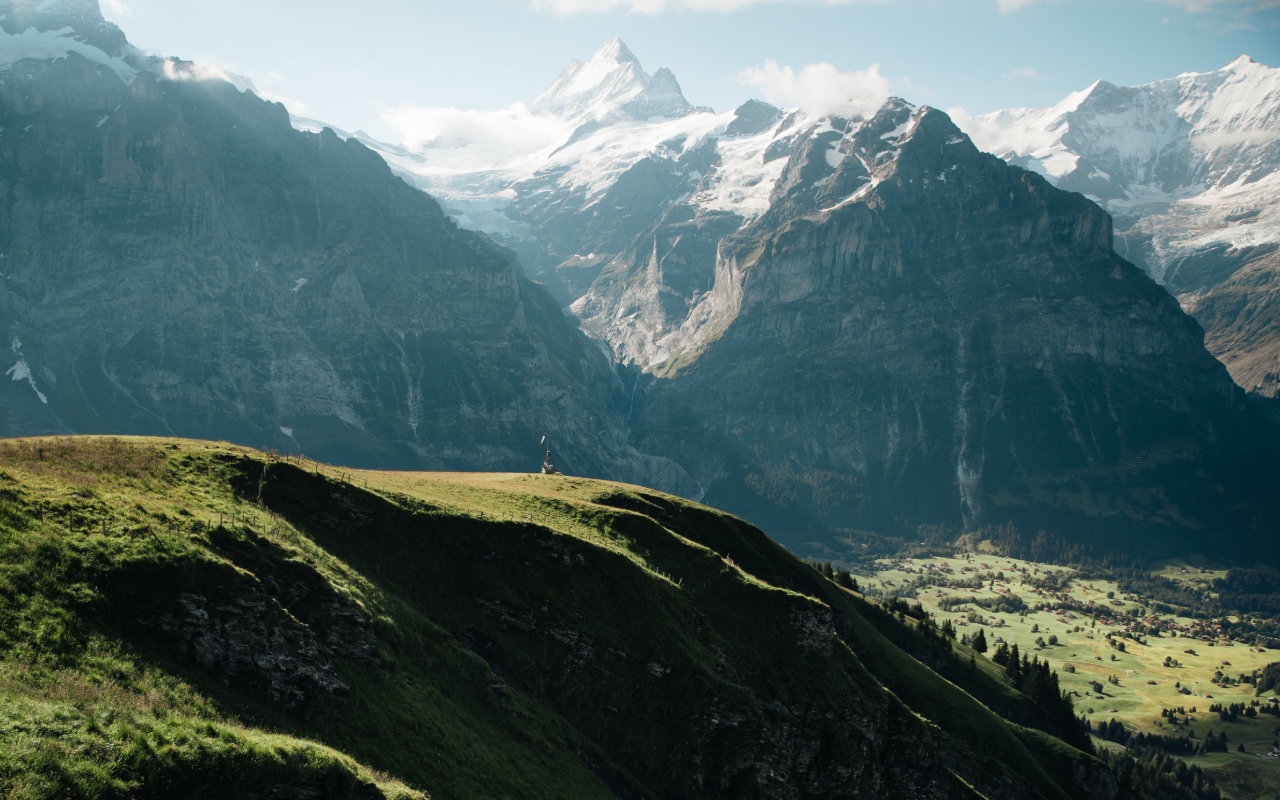 The walk from Mannlichen to Kleine Scheidegg hardly counts as a hike, as it is an easy, short and mostly downhill trail. However, the whole way you are treated to spectacular views of the valley and surrounding mountain peaks. If you're short on time and want maximum views with minimal effort, this is the trail for you. However it is also worth noting that you can easily combine this hike with the Eiger trail, which is exactly what we did. We grabbed lunch at a restaurant in Kleine Scheidegg and then hiked up to the start of the Eiger trail for the afternoon (you can also catch a train up, just hop off at the Eigergletscher station).
Stats:
Distance: 4.4km (2.75 miles).
Duration: 1.5 hours.
Difficulty: Easy.
When to go: June to October.
More trail info: http://www.hikingwalking.com/destinations/sw/sw_bernese/grindelwald/panoramaweg
Pfinstegg to Berghaus Baregg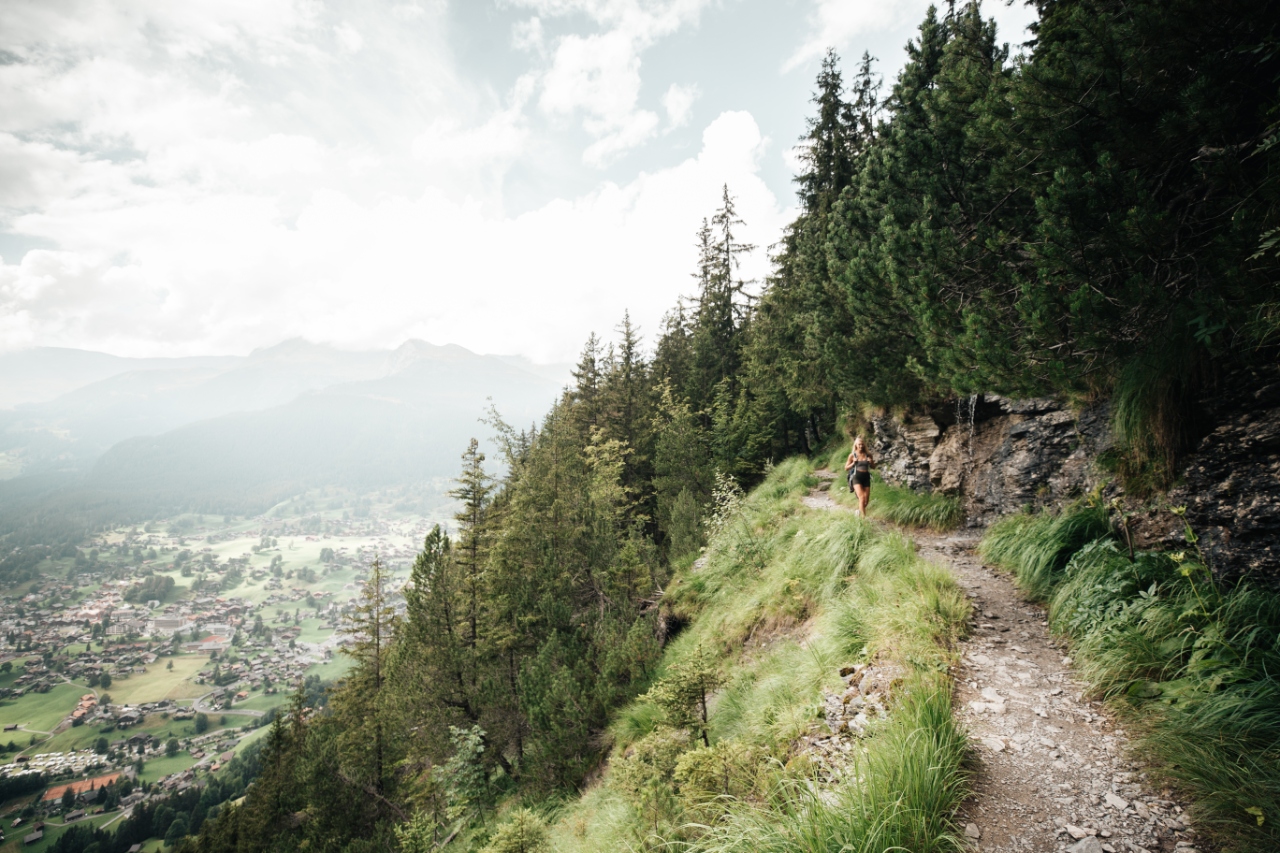 If you want to get a great view of a glacier, this is the hike for you! We spontaneously hopped on this trail on our first day and are so glad we did. Starting out at Pfinstegg station, you wind through woodland, getting glimpses of the valley below before emerging onto an open trail which crosses a selection of waterfalls. As you start to climb towards the hut you are rewarded for your efforts with incredible views of the glacier, waterfalls and surrounding peaks. There are also educational boards along the trail talking about the impact of climate change on the glacier.
Top tips:
Before you start the trail, I recommend hopping on the mountain toboggan at Pfinstegg, it is so much fun and a real thrill!
If you want to extend the trail there are numerous ways to do this. If you're a very experienced hiker you can continue up the challenging T4 trail all the way to Schreckhornhutte and stay the night. If you want an easier option, you can walk down to Grindelwald rather than catching the cable car from Pfinstegg, which is what we did.
Stats:
Distance: 5.2km round trip (3.2 miles) – with options to extend.
Duration: 1.5 hours.
Difficulty: Moderate.
When to go: June to October.
More trail info: https://grindelwald.swiss/en/summer/tracks/pfingstegg-baeregg/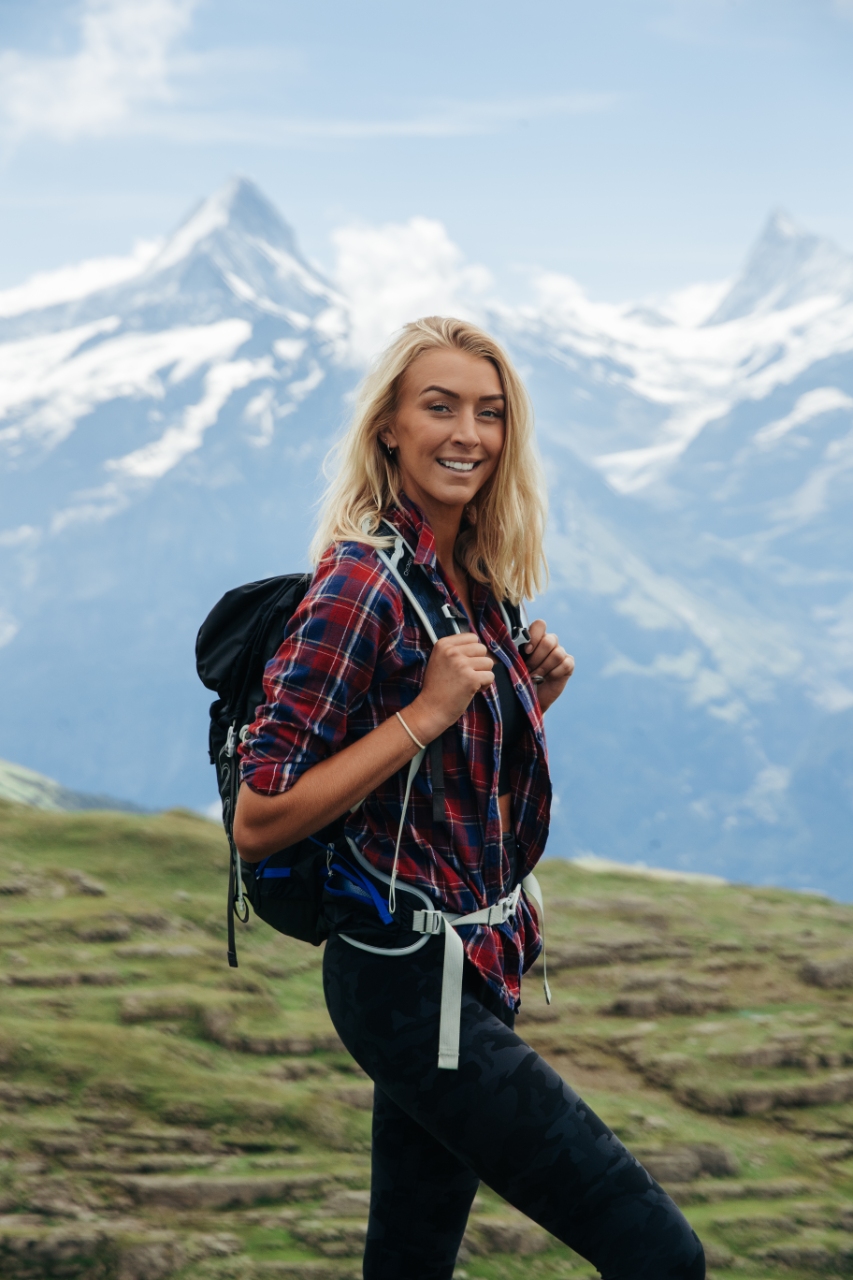 Additional Hikes:
We didn't quite have time to complete these hikes, but if I had more time then these would be at the top of my list!
First to Grosse Scheidegg.
This is an alternative route from First which takes in multiple lakes, including the famous Bachalpsee as well as epic views of the surrounding mountains.
Stats:
Distance: 14km (8.6 miles).
Duration: 5-6 hours.
Difficulty: Moderate to difficult.
When to go: June to October.
More trail info: https://grindelwald.swiss/en/summer/tracks/lake-glacier-trail-first-grosse-scheidegg/
Schilthorn
This is an incredible summit near Murren. If you're feeling spicy you can hike all the way up, over 1600m of elevation gain, and take the cable car back down. If you want an easier option, you can take the cable car up and hike back down.
Stats:
Distance: 12.9km (8 miles).
Duration: 5-6 hours.
Difficulty: Difficult.
When to go: June to October.
More trail info: https://www.journeyera.com/murren-schilthorn-hike/
Augstmatthorn from Harder Kulm.
This challenging hike takes in over 1100m of elevation but it is worth the effort. You follow a beautiful ridge overlooking Lake Brienz and the surrounding mountains, and have a chance of seeing the local ibex colony. The trail is said to be narrow in parts so be careful if you don't have a head for heights.
Stats:
Distance: 16km
Duration: 5-6 hours.
Difficulty: Moderate to difficult.
When to go: June to October.
More trail info: https://www.journeyera.com/augstmatthorn-hike/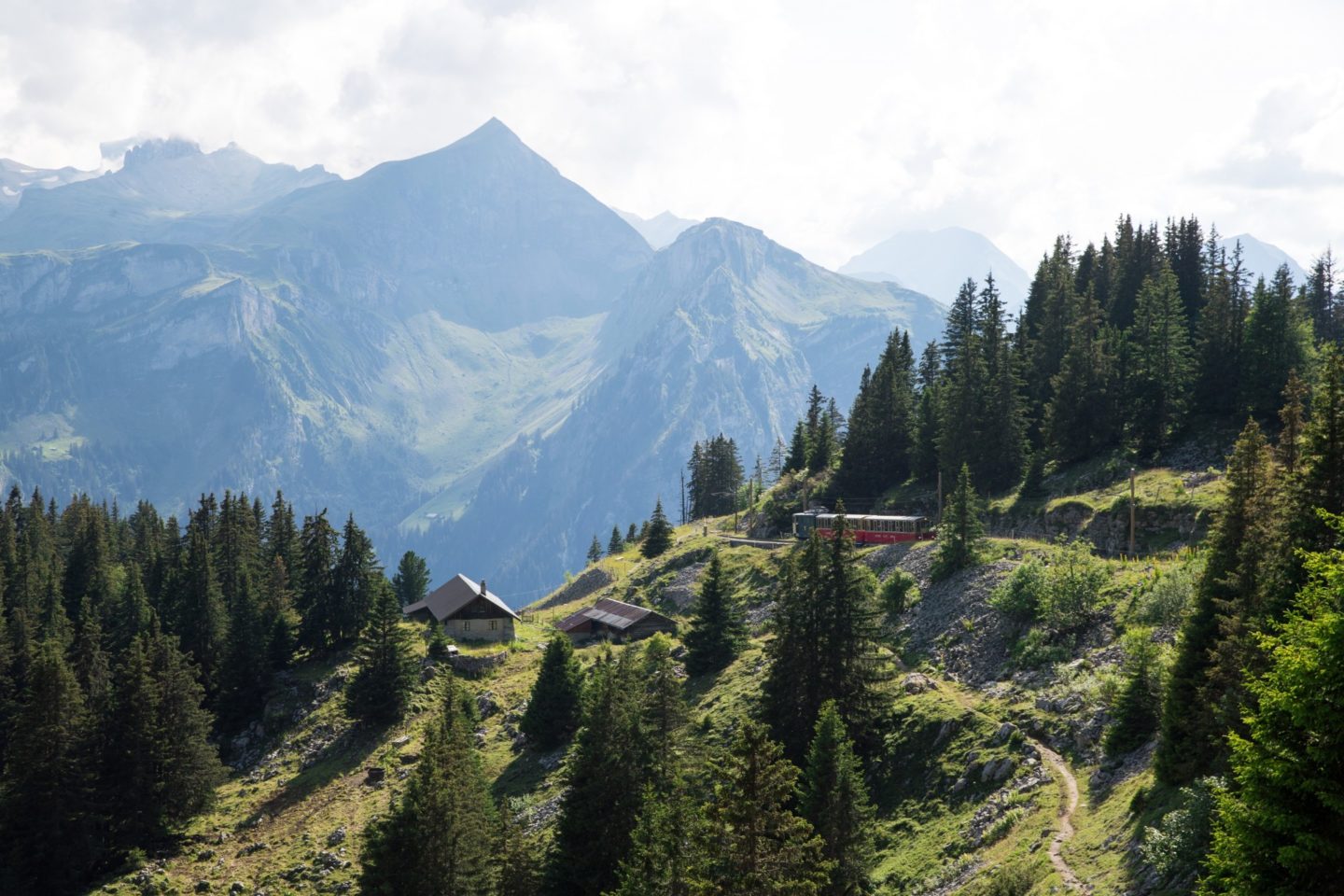 Other Activities in Grindelwald:
If your legs need a break from hiking then Grindelwald has a whole host of adventurous activities you can get stuck into. Here are a few which sounded particularly epic:
First Grindelwald. A panoramic spot home to a cliff walk, zip line and mountain tricycles.
The Canyon Rope Swing, which has been titled the world's scariest swing!
Paragliding with incredible views over the mountains.
Catching the scenic train to Jungfraujoch, otherwise known as the "top of Europe". This observatory at 3,571 metres has awesome views.
Murren Via Ferrata. 2.2km of ladders, tightropes and walkways dangling over the Lauterbrunnen Valley.
Trummelbach Falls. A series of waterfalls located entirely within a mountain, an incredible sight after heavy rain.
Heading to Interlaken and taking a dip in the crystal blue lakes (we actually did this in our final day and loved it!).
From my experience, Grindelwald is the perfect destination for an adventurous summer hiking trip. The town is purpose built for outdoor activities and getting to trailheads is easy and convenient. There are hikes for all abilities, from easy flat routes through to challenging climbs, and tonnes of mountain huts to refuel. Oh and did I mention the views are out of this world?
Safe travels,
Zanna x
Check out my other Switzerland Travel Guides: