I have to admit, Zurich wasn't very high on my travel hit list. Not that I thought it wouldn't be nice, but I just hadn't heard much about it. Everyone talks about Barcelona, Rome and New York; less so Zurich.
After spending the past three days exploring this beautiful city, I can only describe it as extremely underrated. It far exceeded my expectations and took a piece of my heart. It effortlessly combines rolling mountains, crystal blue lakes and busy city streets with stunning architecture. I truly believe it is the perfect destination for an active escape.
Where to Stay
I stayed at Marktgasse Hotel, which is housed in one of Zurich's oldest inns right in the heart of the old town. It is a small boutique hotel which offers a touch of luxury in the midst of the bustling city. The reason why I loved it so much was not only because of the central location, the access to a neighbouring gym, and the insanely snugly duvets; it was the food! The breakfast on offer was nothing short of epic. Shakshouka, avocado on toast, yoghurt bowls and fresh coffee were on the menu. Not to mention the best cinnamon rolls I have ever tasted in my life; you need to try them. Lunch at the Delish cafe included freshly made salads in a rainbow of colours, and dinner at Baltho restaurant was incredible too. In the evenings it serves up contemporary dishes, my favourite being the miso glazed tofu and the warm apple pie. Trust me to be won over my a hotels food offerings!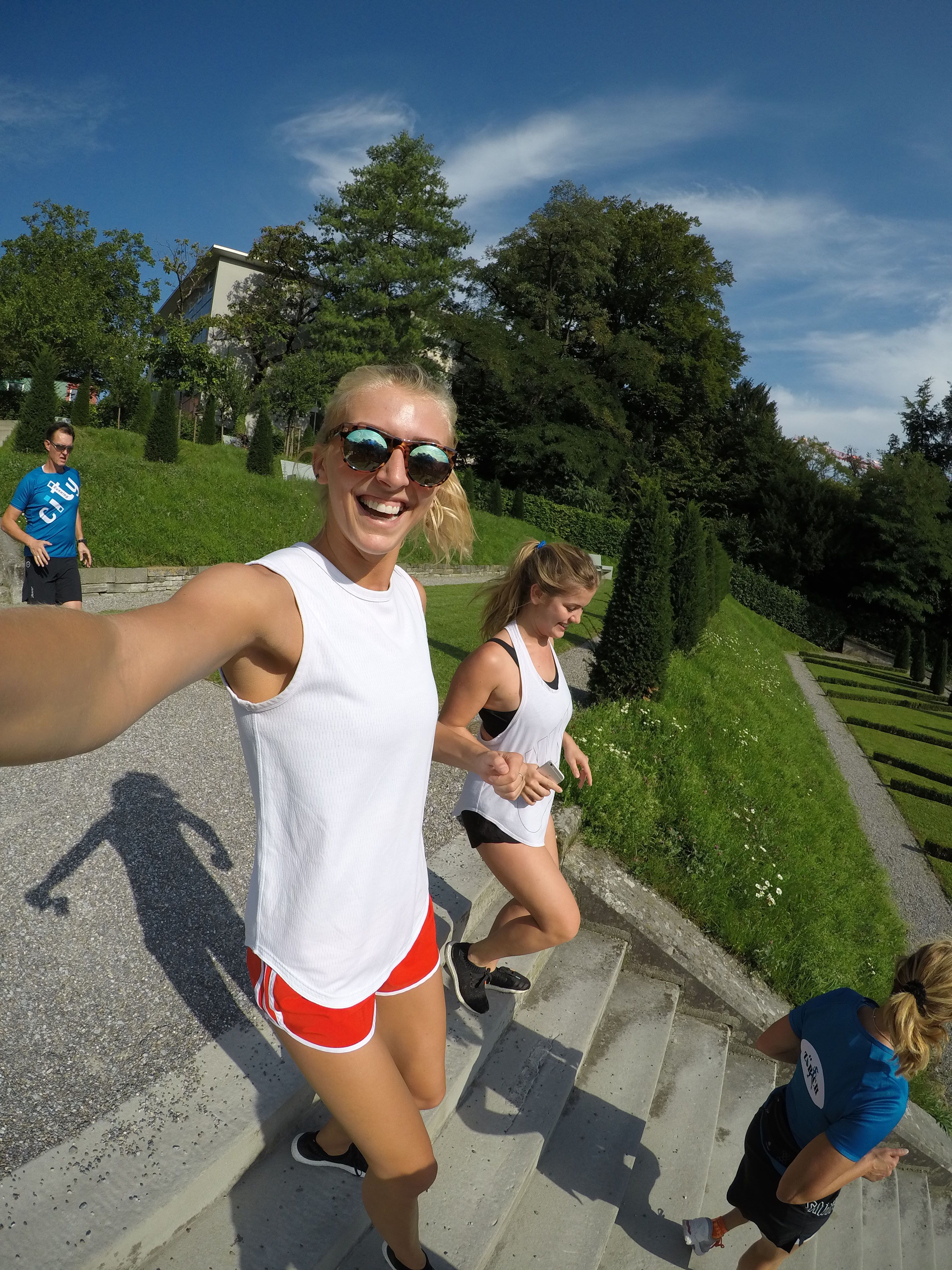 What To Do
Zurich is a little different from your typical city break, which tend to be spent exploring museums and galleries. Now don't get me wrong, Zurich does have these things, but it also has so much more.
Here are my must-do activities in Zurich:
Explore the centre of the city on foot. Be sure to wander through the old town, popping into the unique shops and cafes, as well as the area surrounding the financial district which is scattered with coffee shops down narrow back streets.
Visit the cities cathedrals; Grossmunster and Fraumunster. Climb to the very top of Grossmunster's tower for some of the best views of the city.
Venture onto Lake Zurich. You can do this via a boat tour, on a pedallo or in a canoe! We also just swam from one of the lakes lidos, which made us feel like locals!
Urban swimming in the city rivers. There are lots of designated swimming pools along the rivers. My favourite was Flussbad Oberer Letten. However the best spot of all is just up stream from here, right outside the Dynamo arts centre. Here you can lay your towel down, grab a drink and jump off the bridge into the water! It's ridiculously fun!
Hike up Uteliberg, the cities local mountain. Hop on tram 13 towards Albisguetil and get off at the last stop; from there just walk up hill and you will soon hit the path to the summit. It is pretty steep so take a bottle of water to stay hydrated. The view from the top is totally worth the sweat though!
Get the train to the Lindt chocolate factory. Here you can get some incredible deals on Lindt chocolate as well as sample some of their most popular products. The dream!
Rent a bike and cycle around the city. If you go with a guide (or a good GPS) you can be out of the city and into the lush surrounding countryside within 15 minutes. We peddled past quiet streams, through dense forests, and enjoyed stunning views of Zurich lake.
Visit the cities many museums and galleries. My favourite was the Swiss National Museum, which is housed in stunning traditional Swiss buildings. Then head to the neighbouring Park Paltzspitz to sunbathe and feed the swans!
Do a running tour, if you're feeling super active! We went with city runners and they showed us the parts of town we might not otherwise see; including the gorgeous city university and surrounding gardens and rivers.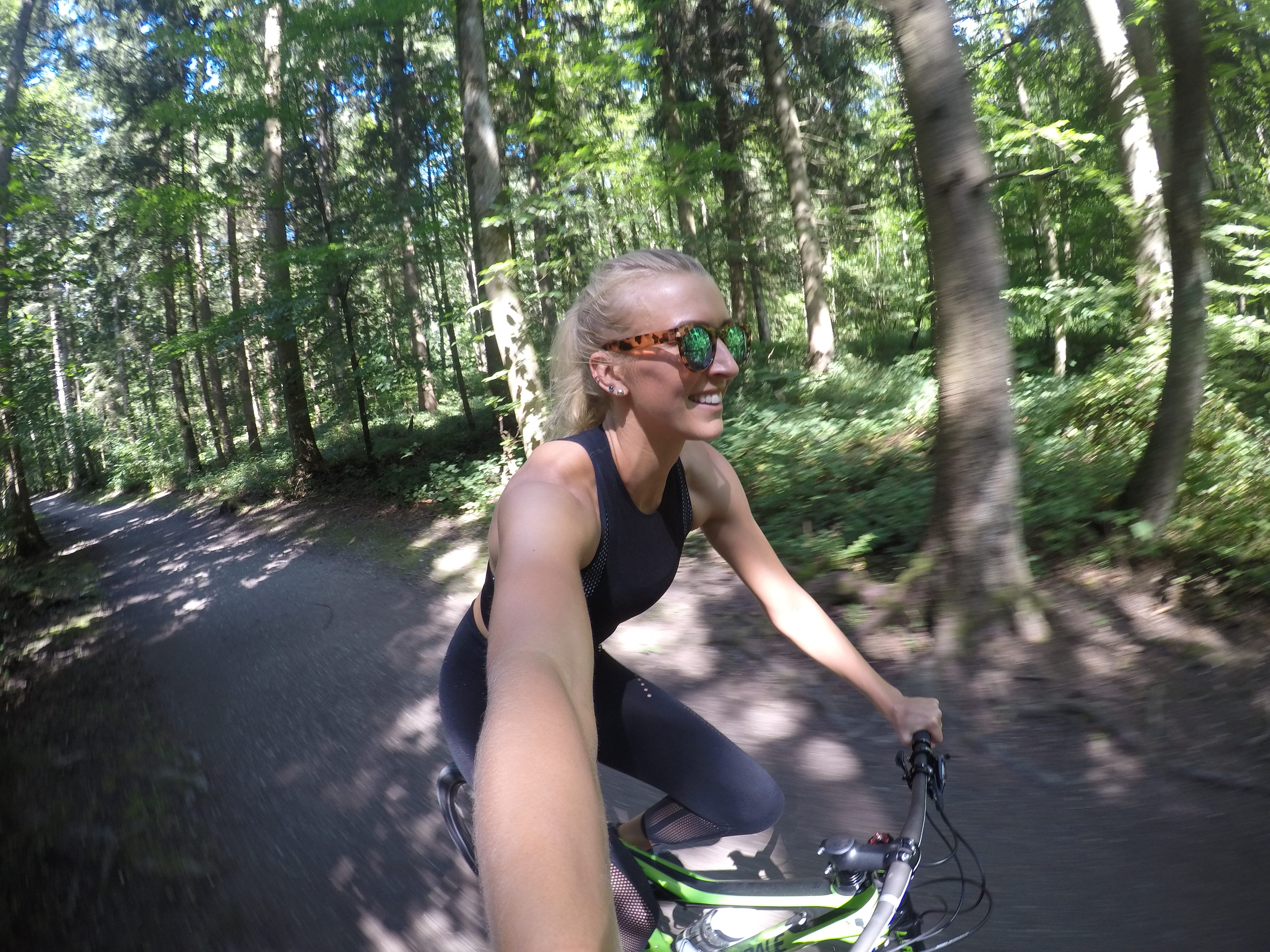 Where To Eat
The food in Switzerland is pretty damn delicious. There are an abundance of traditional Swiss pubs you can pop into to devour a mountain of fondue, raclette, rosti or sausages. However, in-line with the "active" element of this guide I am going to be sharing some of my favourite healthy restaurants in the city.
Note: Zurich is full to the brim with veggie and vegan options, so if you're already following this lifestyle or just dipping your toe into it, its a great place to fill your tummy with nutritious goodness!
Hiltl – This spot boasts the title of the oldest vegetarian restaurant in the world. The selection of unique and delicious veggie food is insane. I could have easily eaten three platefuls, I wanted to try it all!
Roots & Friends – A vegan cafe in the heart of the city. It serves up amazing acai bowls, healthy salads, open faced sandwiches and fresh juices.
B. Good – This cafe in the old town caters to veggies and meat eaters; with nourishing bowls, salads, shakes and even burgers and smoothies.
Babu's – This cafe is best known for their breakfast and brunch, but do serve all day acai and porridge, as well as a fresh wholesome lunches and salads.
Vi Cafe – This coffee spot is the best in town. Tucked away on a narrow side street, it looks unassuming but its definitely worth a visit. Their iced coffee was the best I have ever had.
If you're feeling more indulgent then I recommend heading to Cupcake Affair for a passionfruit dark chocolate cupcake, which is a little slice of heaven. Chocoholics, pop into Sprungli which is a famous Swiss chocolatier. Their white chocolate truffles are life-changing.
There were so many more foodie spots I wanted to visit but didn't get the chance. These included:
Elle N Belle – a popular vegan lunch cafe.
Bad Hunter – high quality vegetarian food.
Beetnut – known for their plant based buddha bowls.
The Wait – the perfect spot for sunset dinner and drinks, with epic views over the city and lake.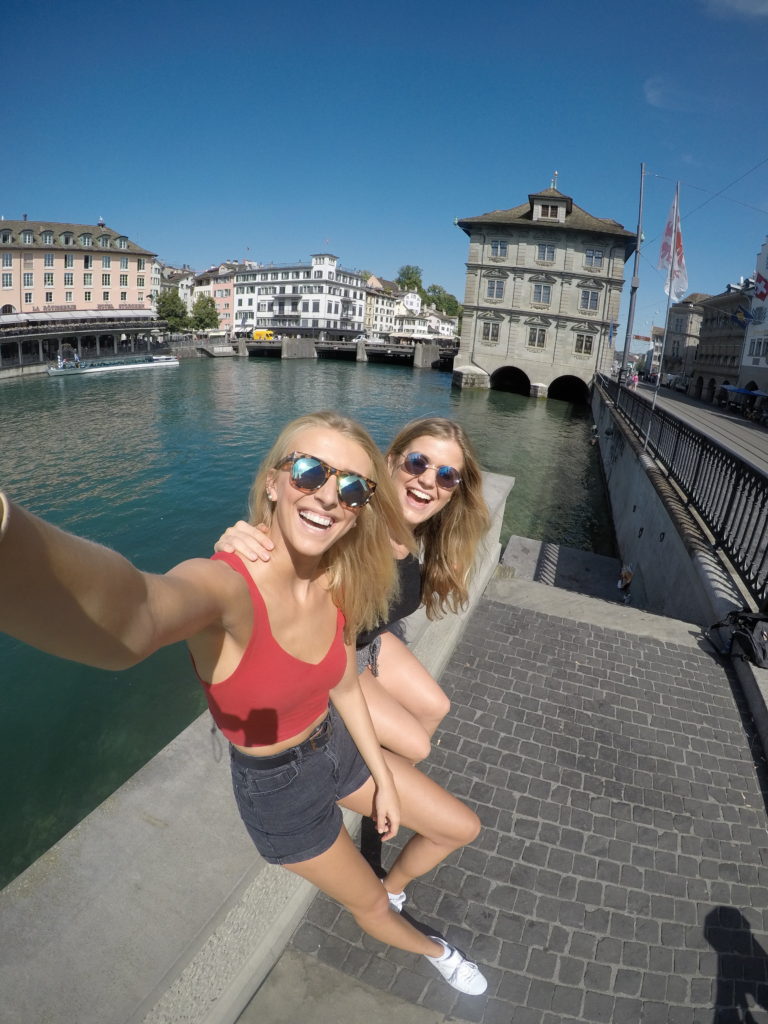 Quick Fire Zurich Travel Tips:
Always carry a bikini and towel in your backpack, as you never know when you're going to stumble across the perfect swimming spot.
If you're getting around town, invest in a Zurich travel card which not only covers trams, buses and trains but gives you discounts on museums and galleries.
Visit in summer if you want to make the most of the lake and rivers.
Budget. Switzerland is expensive. Like seriously expensive. Make sure you've saved your pennies before you go.
Visit midweek if possible, apparently it gets crazy busy on the weekends.
All in all, Zurich was the perfect three day break. It's the sort of city I could imagine living in one day. It is clean and friendly, not to mention it features all my favourite things; mountains, lakes , scrummy food and oodles of character. It is the perfect location for an active but indulgent break!
Watch my vlog from my trip here.