London isn't a typical city. It doesn't have one "centre" where you can find the tourist attractions. It is more like a collection of suburban villages with each borough having its own distinct character and qualities. Collectively this creates one of the most diverse, exciting and enchanting cities in the world. A hub of history, architecture and culture. Somewhere I am proud to call my home and somewhere I can hopefully inspire you to explore. Buckle up, this is going to be a deep dive into the top things to see and do in London!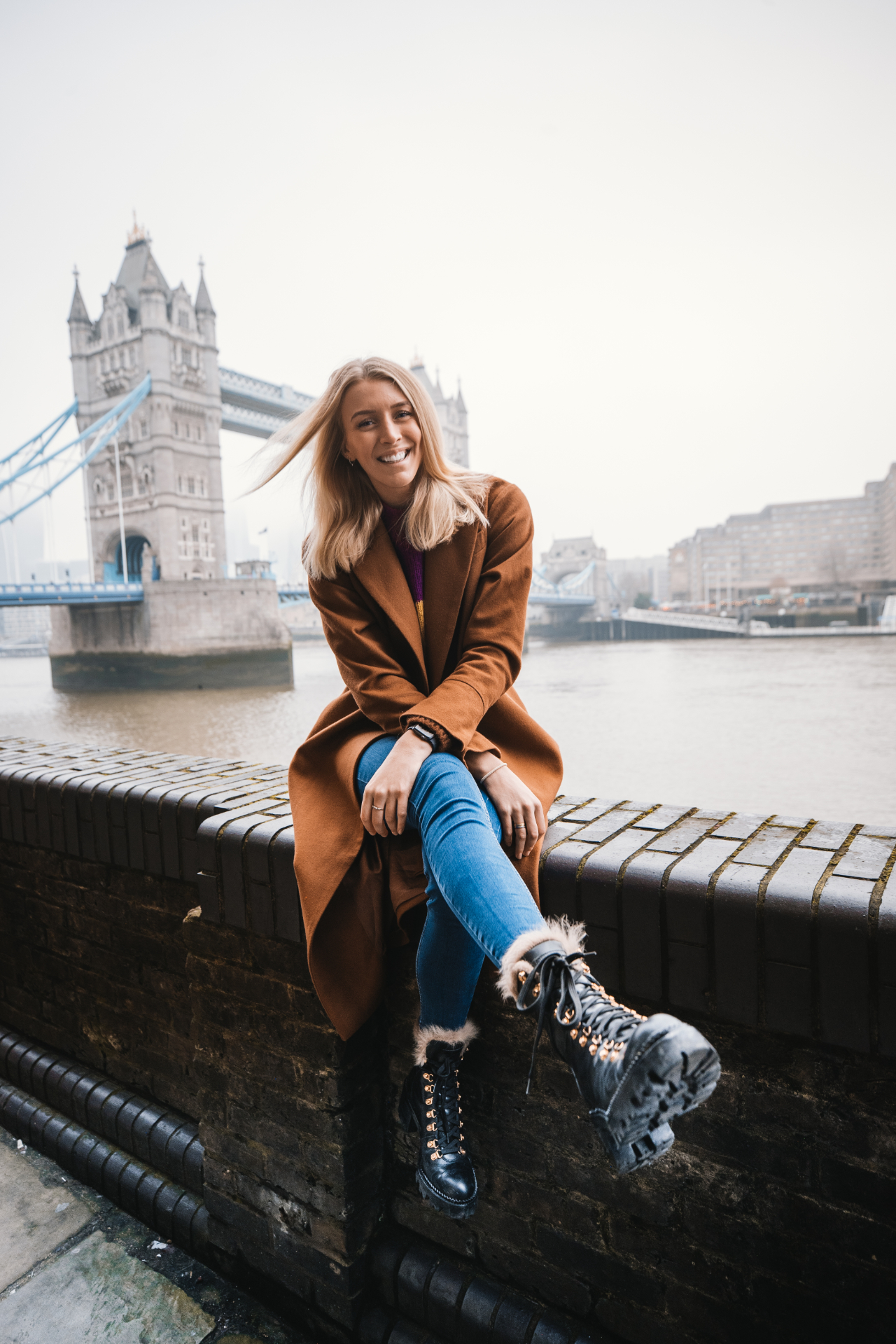 The Essentials:
When to visit: London is a city which can be visited year round, but do bear in mind that the weather is unpredictable and it can get very cold and wet! It is a beautiful Christmas destination (we have some stunning lights and markets), but I always recommend coming in summer if you can (i.e. late June to early September) for the best chance of sunshine.
Where to stay: This is a tough question as London doesn't have a "centre" like most cities. Honestly, anywhere you stay will mean you have to travel to see most of the sights as everything is spread out. In general if you want to be near the hustle and bustle then try around Soho and the West End, if you want to be a little swanky then try Mayfair and if you want to be a little edgy try Shoreditch. Some eco hotels I recommend include One Aldwych and Treehouse London.
How expensive is it? Let's be real here, London isn't cheap. If you want to enjoy the epic food, coffee and experiences it has to offer then there is the potential to drop a lot of cash. However, you can also save the pennies by exploring on foot, checking out the free museums and getting out in London's green space.
How do you get around? Traffic in London is appalling so try to avoid catching an Uber unless you're going a short distance or are prepared to sit in a cab for an hour. It is usually much quicker and easier to use London Underground otherwise known as The Tube, you can purchase an Oyster card or ticket at any station. Here's some quick London travel tips:
Use the app CityMapper to plan your journeys, it shows you exactly how to complete your journey in the shortest or cheapest way using public transport. It shows you which tube line to get, which exits to use and even which carriage to sit in. Every local swears by it.
On the tube escalators stand on the right and walk on the left.
Avoid the tube at rush hour if you can, it's not fun.
Often in more central London it is just as quick to walk somewhere as it is to get the tube or a bus, so always check how long a journey would take on foot.
The Key Areas To Explore:
As I said, London doesn't have a defined centre and instead has different suburban villages. The best thing you can do to experience the city is pick one of the areas outlined below and just wander. Explore the streets, absorb the vibe and uncover hidden gems as you go.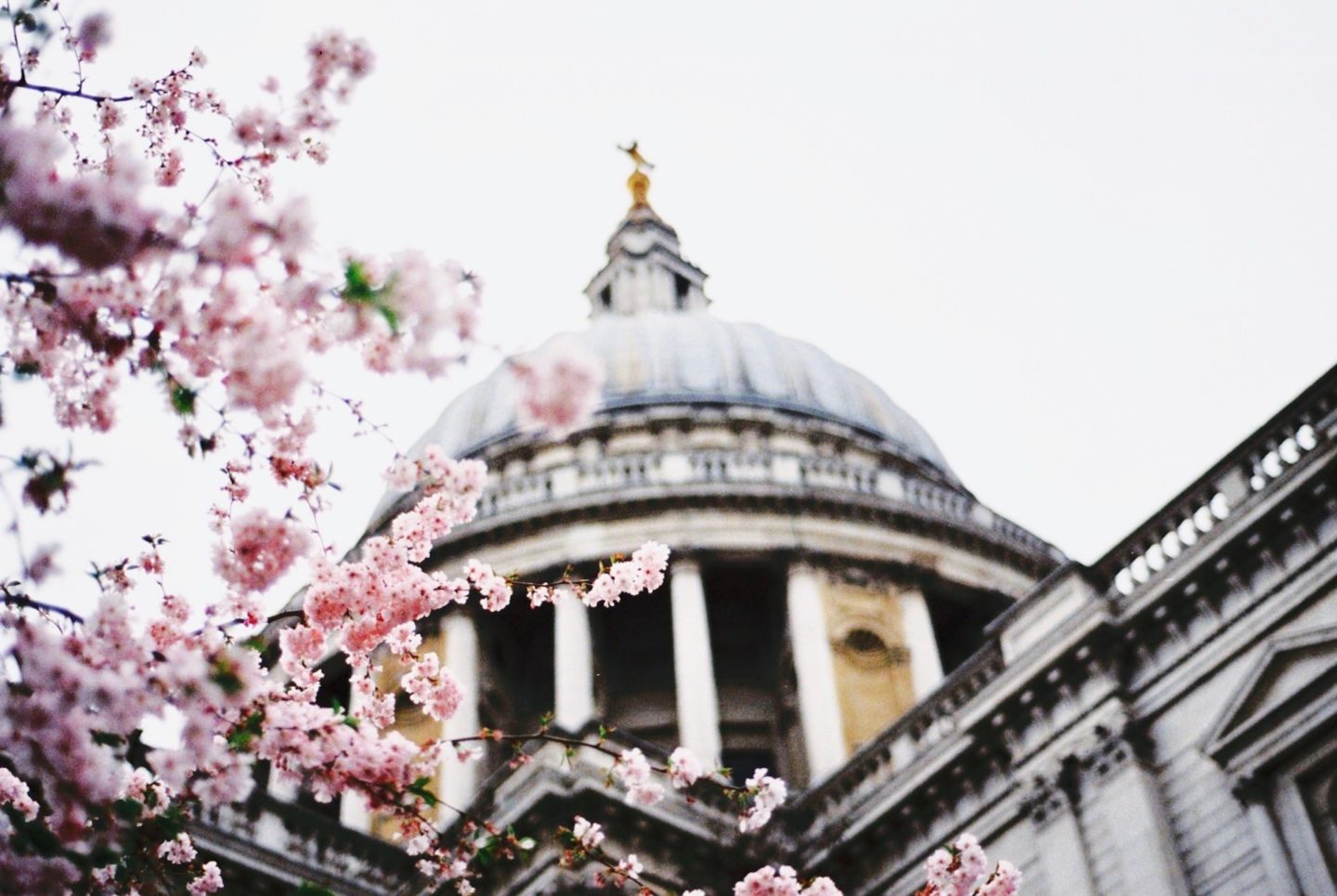 The City of London.
This is otherwise known as the historic financial district in London, but don't let that put you off – it is actually home to some of the cities most incredible sights, hidden gems and skyline views. It seamlessly combines skyscrapers above with medical alleyways below. My favourite spots include:
Sky Garden. A beautiful garden on top of a skyscraper with 360 degree views over London.
The Tower of London. A castle overlooking the Thames and one of my favourite historic spots in the city. Make sure you get an audio tour!
Tower Bridge. The most iconic bridge in London, look at it from afar or take it one step further and go inside to experience its glass floor.
Saint Dunstan In The East. A ruined church which has been turned into a public garden, an absolutely stunning hidden gem which most tourists miss.
The View from One New Change. This recently opened roof terrace on top of One New Change gives spectacular views over the London skyline.
St Pauls Cathedral. One of Londons most iconic buildings, you can climb up the dome to test out its unique acoustics and then go even higher to get astounding views of the city.
Bank Station. Some of my favourite architecture in London is just outside Bank tube station. Check out the stunning exteriors of the Royal Exchange, Bank of England Museum and Mansion House.
The Shard. The tallest building in the UK, this super skyscraper is known for its 360 views, high end restaurants and expensive hotels.
Borough Market. Londons most famous food and drink market, go with an empty stomach!
Hays Galleria. Originally a dock for ships, Hays Wharf has been converted into a stunning mall with cafes and market stalls. It is worth walking through if you're wandering along the Southbank.
Leadenhall Market. A covered shopping destination in the heart of the financial district, set within a historic Victorian market place. Another hidden gem which most tourists miss, it is a great spot for lunch and actually where the Diagon Alley scenes of Harry Potter were filmed.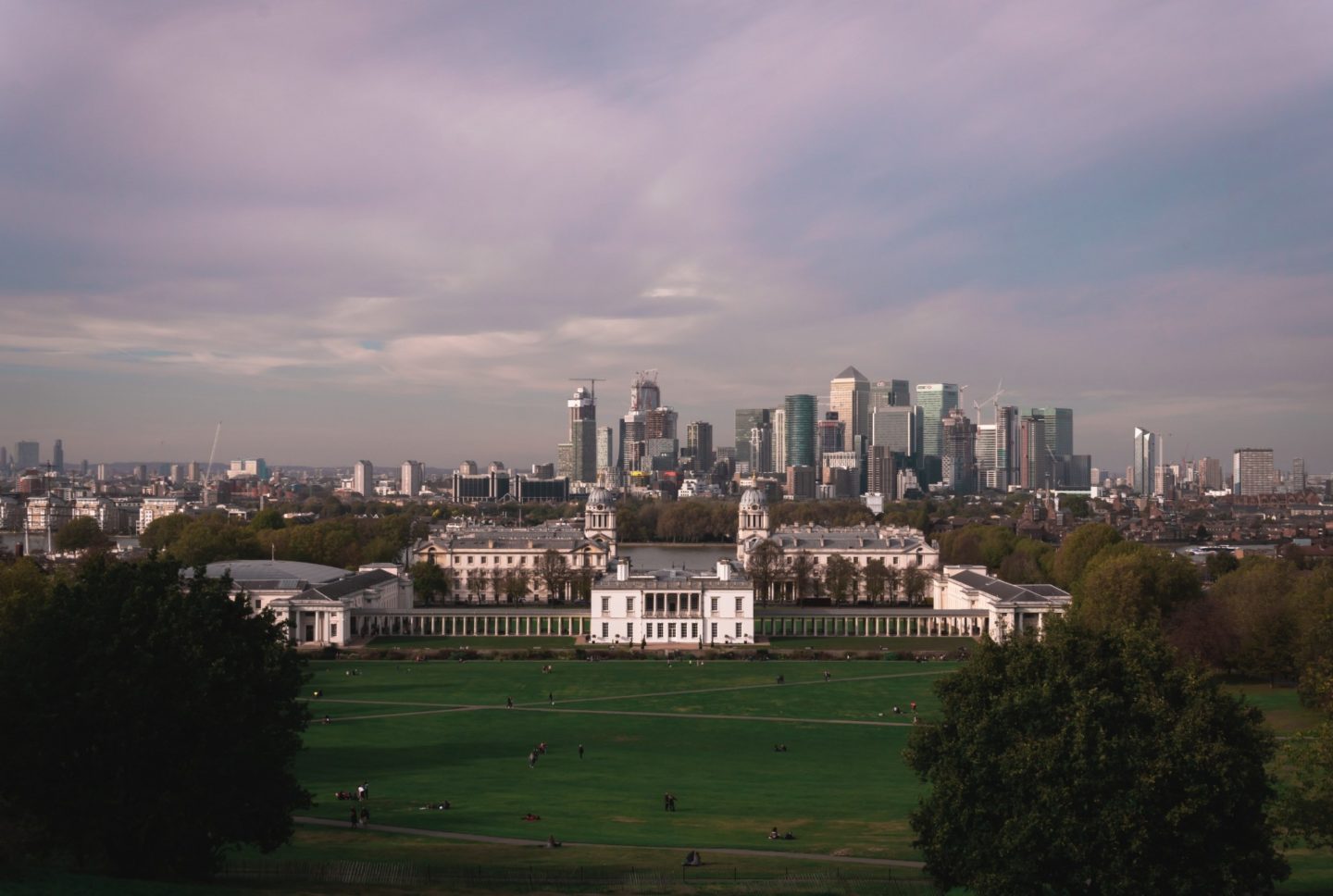 Greenwich.
Escape the city and feel like you're exploring an idyllic British river town in this underrated area. Plus you can get there via the Thames Clipper boat, which is such a unique London transport experience. Greenwich is home to:
The Prime Meridian Line. Yep that's right. Greenwich is where Greenwich Mean Time i.e. GMT comes from!
The Royal Observatory. The spot where you can literally stand with your feet straddling two different hemispheres. Plus walking up to it gives some of the best views over London.
Cutty Sark. The worlds largest surviving tea clipper, a beautiful historic boat you can explore.
National Maritime Museum & The Old Royal Naval College. A beautiful museum and college which are worth visiting for their architecture and grounds as well as their exhibitions.
Queens House. A hub of royal history, art and architecture.
Greenwich Park. Londons oldest park which is home to a small herd of deer and gives breathtaking views over the City of London.
Greenwich Market. A treasure trove of street food, crafts, antiques and collectables.
The Painted Hall. One of the most beautiful painted roofs I have ever seen, don't miss it.
Shoreditch.
Shoreditch has earned a reputation is Londons most hipster area, packed with unique shops and top notch coffee spots it is heaven for those you want to experience something a little different. It is home to:
Incredible Street Art. Book into a guided walking tour for the best experience, or just wander the streets to see it for yourself. My favourite spot is Seven Stars Yard – a hidden gem off Brick Lane.
Brick Lane. Most famous for its curry houses, Brick Lane also has numerous cafes, markets and galleries. I recommend checking out Dark Sugars for hot chocolate.
BOXPARK. A pop-up mall made form shipping containers which is packed full of independent eateries and lifestyle stores.
Colombia Road Flower Market. Every Sunday this street in Bethnal Green is transformed into a haven of foliage and flowers.
Spitalfields Market. A lively market with food, clothing, jewellery and art vendors. I love the store "Inspitalfields" for unique gifts.
Epic Vegan Food. Shoreditch is home to some incredible plant based food spots, my personal favourites include Redemption, Cook Daily, What The Pitta, The Vurger Co, Eat Chay and Vida Bakery.
Kings Cross & Camden.
Kings Cross is a recently redeveloped area of London and Camden is a classic destination known for its quirky and eclectic energy. They are walking distance from one another so I recommend exploring them on the same day. They are home to:
Granary Square & Coal Drops Yard. Just a short walk from Kings Cross station, this newly developed area is based in beautiful resorted railway arches. It is home to numerous cafes, bars and dining spots as well as an electric mix of stores from established and emerging brands.
Regents Canal. I recommend walking from Kings Cross down the canal, past the most beautiful houseboats and scenery, towards Camden.
Camden Markets. There are numerous markets in the area including Camden Lock Market (for food), Camden Market (for clothing and goods) and Stables Market (which is great for vintage finds).
Camden Pubs. This is a great area to grab a great British pint, check out a local pub such as Hawley Arms, The Lock Tavern and The Devonshire Arms.
Primose Hill. This nearby park is my favourite spot to watch sunrise as it has one of the best views over the London skyline. If you don't fancy an early morning, just take a picnic any time of day to enjoy the view!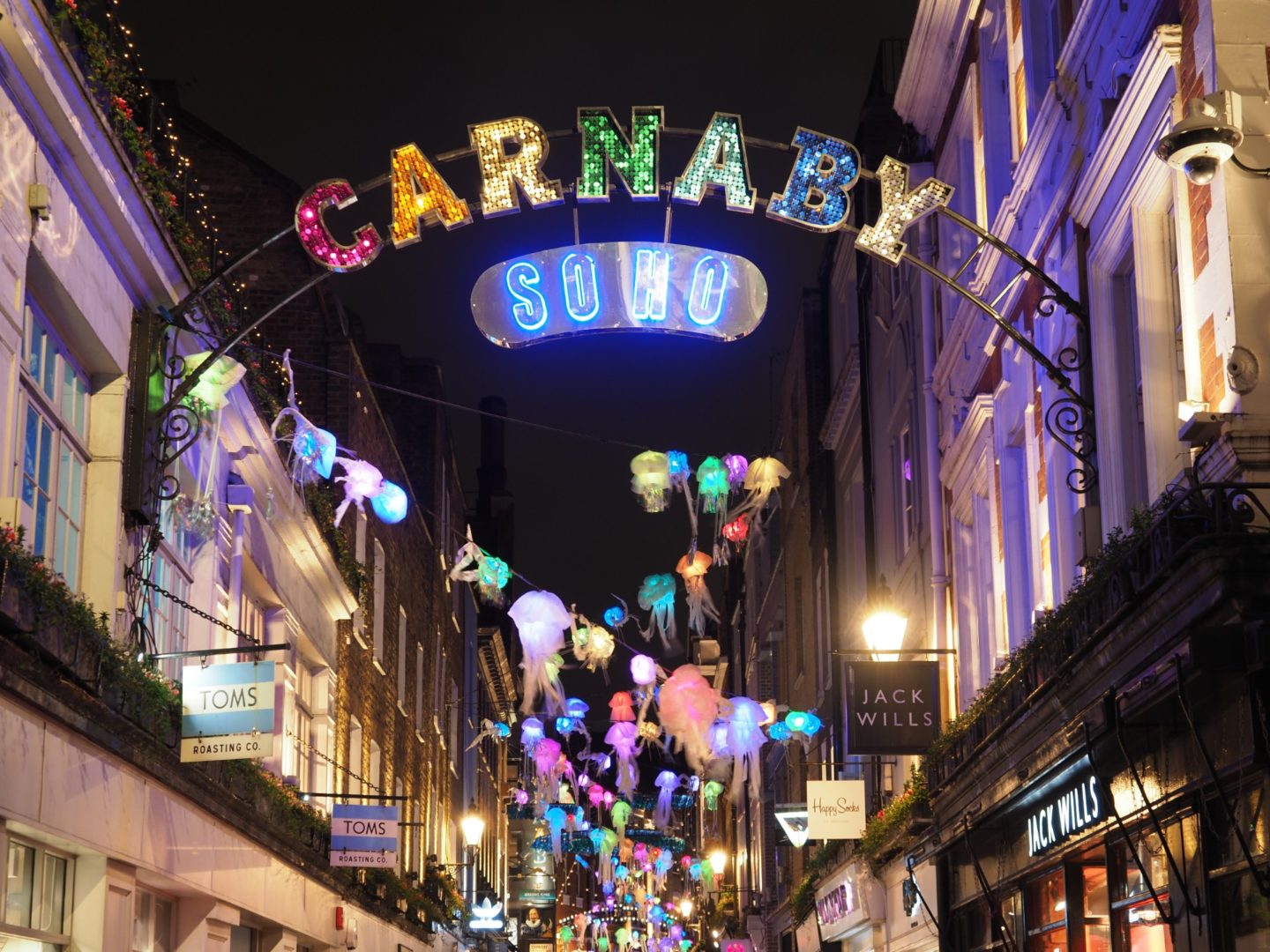 Covent Garden, Soho & Piccadilly.
This is the closest thing London has to a "centre". It is home to:
Covent Garden. A bustling market, street performers and beautiful buildings.
The famous shopping streets of Carnaby, Bond, Regents and Oxford Street.
Piccadilly Circus. One of the most well known junctions in London.
The West End. Where you can watch some of the most incredible shows in the world.
7 Dials. A gorgeous network of 7 streets packed with unique shops, cafes and most recently a food hall featuring independent eateries.
Neals Yard. A colourful square behind the streets of Covent Garden packed with restaurants and cafes – I recommend 26 grains for breakfast.
Kingly Court. Another hidden courtyard behind the streets of Soho packed with independent cafes – I recommend The Good Egg.
Floral Court & Petersham Nurseries. A hidden green space and a peaceful escape from the hustle and bustle of Covent Garden.
Liberty of London. The most stunning department store which is worth exploring just for its antique interior.
Daunt Books. Take a little walk over to Marylebone to experience this traditional Edwardian book shop with the most beautiful interior.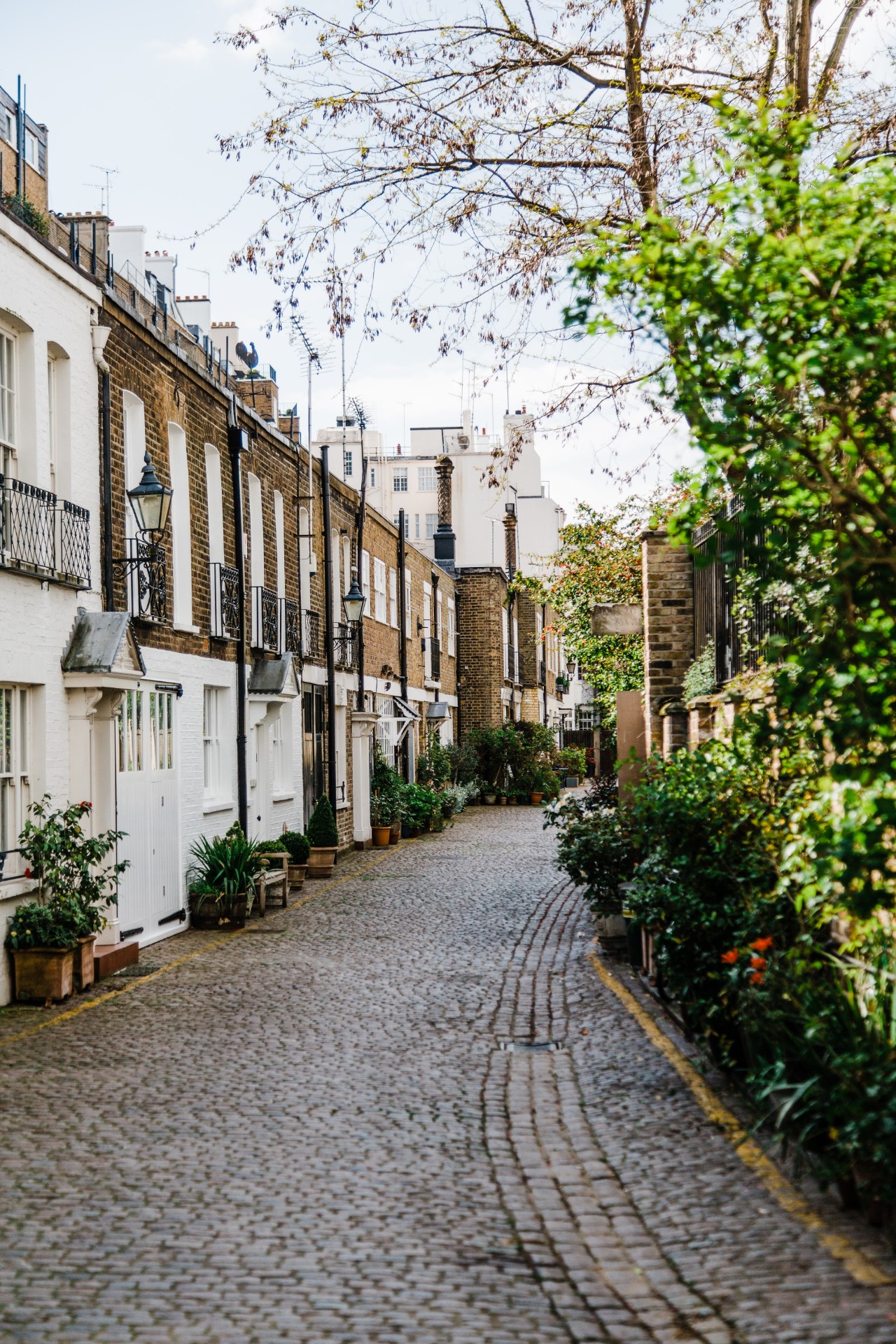 Kensington & Chelsea.
One of the most affluent areas in London which is known for its pristine white houses. It is home to:
Museums. Here you will find the Natural History Museum, The V&A, the Design Museum and the Science Museum.
Parks. It borders the famous Hyde Park and is home to the beautiful Kensington Gardens, Chelsea Physic Gardens and Holland Park.
Sloane Square. If you fancy an upmarket shipping day then hop off the tube and explore Kings Road, Pavillian Road, Duke of York Square & The Saatchi Gallery.
Beautiful mews streets, made famous by instagram, such as Queens Gate Mews, Stanhope Mews South and Holland Park Mews.
Harrods. The most swish department store in London.
Notting Hill.
Although Notting Hill technically falls under the borough of Kensington & Chelsea I think it deserves to be highlighted as a stand alone destination. It is one of the cities most iconic neighbourhoods and is known fo its vibrant, upmarket and boutique vibe. It is home to:
Portobello Market. A unique bohemian market which sells a wide array of goods and is a treasure trove for antique finds.
Pembridge Road. A haven of vintage shops, art galleries and quaint cafes.
Farmacy. One of my favourite vegan restaurants in London, don't miss it.
Holland Park & Kyoto Garden. A stunning park which features a colourful Japanese Garden.
Electric Cinema. If it's raining outside find shelter in one of the oldest working cinemas in Britain, a great spot to grab a movie.
Churchhill Arms. One of the most beautiful pubs in London which is covered in floral blooms.
The famous multicolour houses. The streets of Elgin Crescent and Westbourne Park are lined with some of the most beautiful rainbow coloured buildings, be sure to pop by in spring when the blossom trees make an appearance. Just make sure you respect the residents.
Hampstead.
One of the prettiest areas in London, when you wander through its streets it feels like you're exploring a quaint village even though you're in one of the busiest cities in the world! Check out:
Hampstead Heath. Londons wildest and most untouched park which is home to the famous 17th century Kenwood House and the stunning Hill Garden & Pergola.
Parliament Hill. One of the best views over the London skyline, take a picnic and a blanket!
Hampstead bathing ponds. Perfect for a refreshing dip in the summer!
The quaint streets. Make sure you take the time to walk along the small but stunning side streets such as Flask Walk.
The brunch cafes. Theres an abundance of cute little spots such as Ginger & White, Coffee Cup, Gails and Les Filles.
The pubs. Hampstead is home to beautiful British pubs such as the Spaniards Inn and the Garden Gate.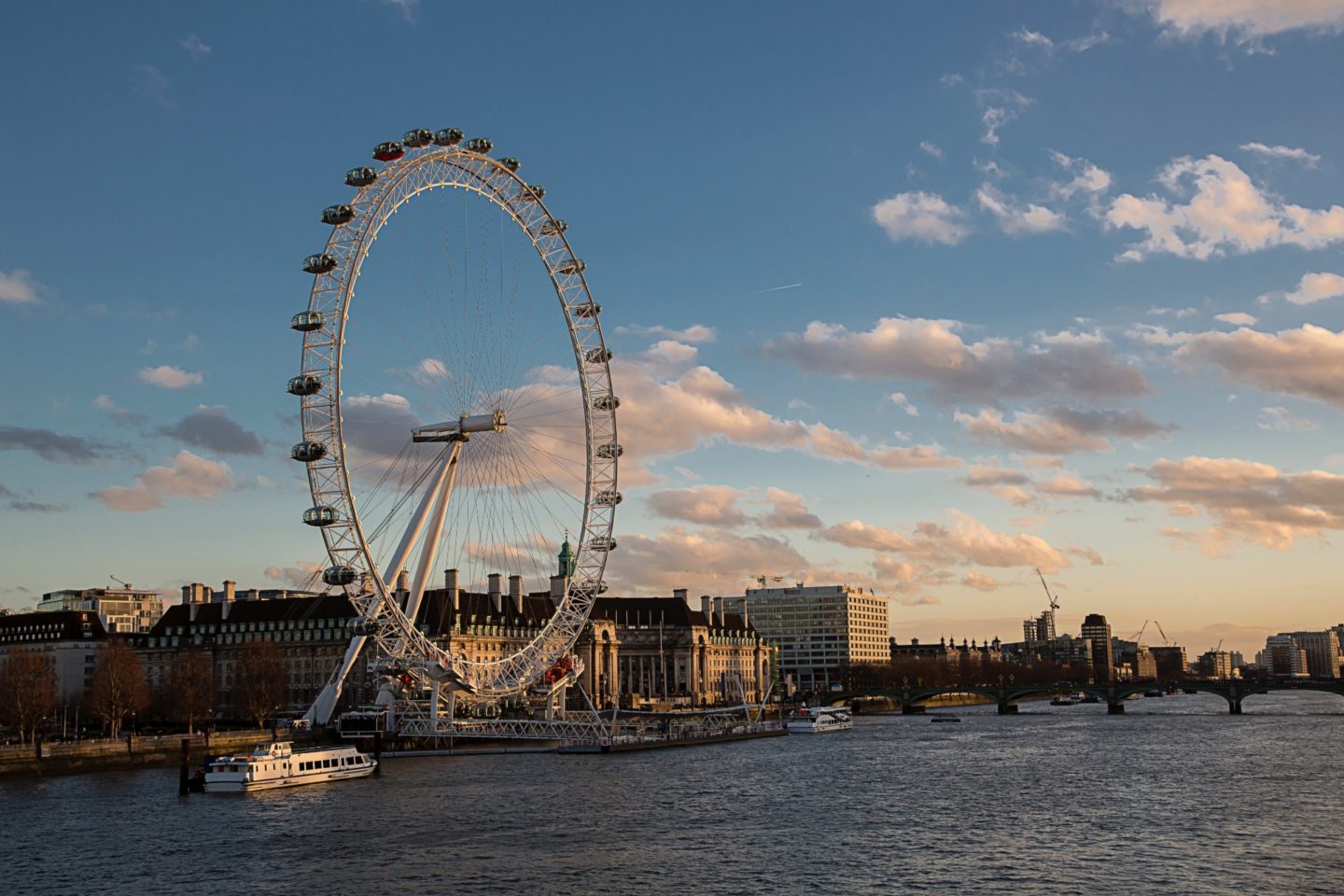 The Southbank.
This is always my top recommendation for someone visiting London, if you want to get in your 10,000 steps and tick off some of the most famous spots in London then follow this route:
Get off the tube at London Bridge and enjoy an early morning view of London from the top of the Shard.
Walk through Hays Galleria to the Southbank, then on towards Tower Bridge, Tower of London and Saint Dunstan In The East.
Once you've explored this area, turn back on yourself and head to Borough Market for a bite to eat. Continue walking along the Southbank past Shakespeares Globe and the Tate Modern (which has a free viewing platform at the top, a cheaper alternative to the Shard).
Here you have the option to walk across the famous Millennium Bridge and visit St Pauls Cathedral.
Continue walking past the OXO tower until you reach the Southbank centre with its yummy food market, the Hayward Gallery, Royal Festival Hall ands the Golden Jubilee Bridges. This is a great spot to grab a coffee and/or a meal.
Continue past the London Eye, Jubilee Gardens and cross the river via Westminster Bridge to get an amazing view of Big Ben, the houses of Parliament and the palace of Westminster.
There are three historic spots you can visit here: Westminster Abbey, 10 Downing Street and the Churchill War Rooms.
Wander through the stunning St James Park, looking out for the resident pelicans and black swans. This will bring you to the final stop of the day: Buckingham Palace, where you can watch the changing of the guard.
Of course that is a jam packed day but I wanted to include all the optional activities you could do when walking this route, just pick and choose where you want to stop based on your personal interests. I promise you won't regret it, this is one of the best walks to really get a feel for London.
London Attractions Categorised by Interest:
Historic Attractions:
One of my favourite parts of my home city is its abundance of history, London was founded by the Romans and has had a turbulent journey since then including wars, fires, the plague and so much more. It would be a shame to visit and not learn a little more about what has happened here, so make sure you check out:
Tower Bridge. The most iconic bridge in the city.
The Tower of London. A medical castle home to the crown jewels which is rich in history, make sure you get an audio tour.
Buckingham Palace. A great place to learn more about the monarchy, a defining element of British history.
Big Ben, The Houses of Parliament & Westminster Abbey. Three stunning historical sights which are located next to one another, make sure you get a tour of the Abbey to really learn about its history.
St Pauls Cathedral. A stunning cathedral with an iconic dome you can climb to the top of.
Churchill War Rooms. Where Churchill and his government operated from during World War Two.
Highgate Cemetery. I know it sounds a little bizarre, but this is where many prominent historic figures are buried and the guided tours are fascinating.
If you want to get off the beaten tourist path, then I recommend heading to Greenwich to visit the Royal Observatory, The Old Royal Navy College, Cutty Sark, The Painted Hall and so much more. This is one of my favourite underrated areas in London.
Museums:
London is home to numerous museums covering almost every subject you can think of, and the vast majority of these are free to enter. Here are some of my personal favourites:
The Natural History Museum – make sure you visit the Wildlife Photographer of the Year Exhibition if it is on!
The British Museum – an epic museum focused on history, art and culture. It has one of the largest collection of works in existence.
The V&A – the worlds largest museum of art and design, plus its own architecture is stunning.
Museum of London – it's in the name, a museum focused on the history of the capital.
Design Museum – an underrated museum dedicated to contemporary design.
Tate Britain & Tate Modern. Two separate museums/galleries which cover traditional and more modern art.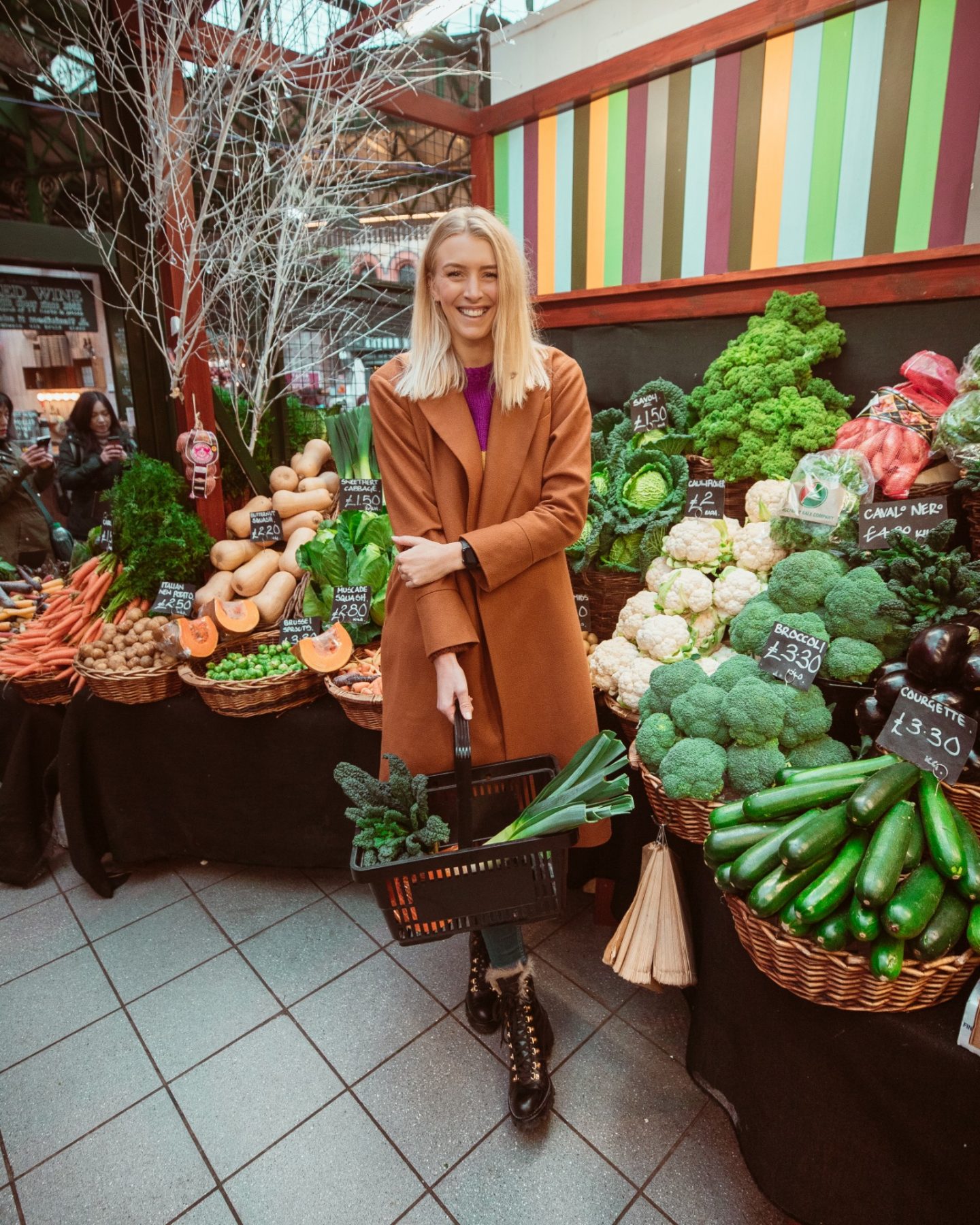 Markets:
If you're anything like me, you love a market, they're such an amazing way to experience the hustle and bustle of a city and connect with local independent businesses. London is home to hundreds, literally, but here are my personal favourites:
Borough Market, London Bridge. The most famous food and drink market in London.
Camden Markets, Camden. There are numerous markets in the area including Camden Lock Market (for food), Camden Market (for clothing and goods) and Stables Market (which is great for vintage finds).
Maltby Street Market, Bermondsey. A hidden gem usually only visited by locals, a small street food market nestled under railway arches.
Vegan Nights, Shoreditch. A hub of the best vegan food in London. But this market only happens once a month so check their social media for the next one.
Spitalfields Market, Shoreditch. A lively market with food, clothing, jewellery and art vendors. I love the store "Inspitalfields" for unique gifts.
Portobello Market, Notting Hill. A unique bohemian market which sells a wide array of goods and is a treasure trove for antique finds.
Box Park, Shoreditch. A pop-up mall made form shipping containers which is packed full of independent eateries and lifestyle stores.
Dinerama, Shoreditch. A lively street food market with music, drinks and tonnes of atmosphere.
Pop Brixton, Brixton. A market set in shipping containers which is has street food, drinks and live music.
Leadenhall Market, The City. A covered shopping spot in the heart of the financial district, set within a historic Victorian market place.
Colombia Road Flower Market, Shoreditch. Every Sunday this street in Bethnal Green is transformed into a haven of foliage and flowers.
Mercato Metropolitano, Elephant & Castle. A sustainability focused street food market focused ion revitalising neighbourhoods and protecting the environment.
Escaping the City:
If you're staying for a little while, then it is definitely worth exploring a little further afield than the usual central London attractions. Why not check out:
The Harry Potter Studio Tour, located in Watford. Great for any Harry Potter nerds like me!
Alexandra Palace, known as Ally Pally to the locals. A great place for families with attractions like a year round ice rink, an aerial obstacle course and a boating lake.
The British Coast. The quirky seaside town of Brighton is only a one hour train ride away.
Quaint British Cities. Catch a train to Oxford, Cambridge or Bath for the day.
Richmond Park & Kew Gardens. On the outskirts of London, these beautiful green spaces are so stunning it is hard to believe you're in a city!
Green Space:
For such a metropolitan city, London has a surprising amount of green space. So if you want to escape the hustle and bustle then head to:
Central London: Hyde Park (take a swim in the Serpentine or hop on a paddleboat), Kensington Palace Gardens (the sunken garden is stunning), St James Park (look out for Pelicans and black swans), Holland Park (don't miss the Japanese Kyoto Garden) and Regents Park (head up Primrose Hill for sunrise or a picnic).
Further out: Hampstead Heath (take in the view from Parliament Hill), Richmond Park (say hey to the local deer), Battersea Park (hop on a paddle boat around the lake) and Greenwich park (which has amazing views over London).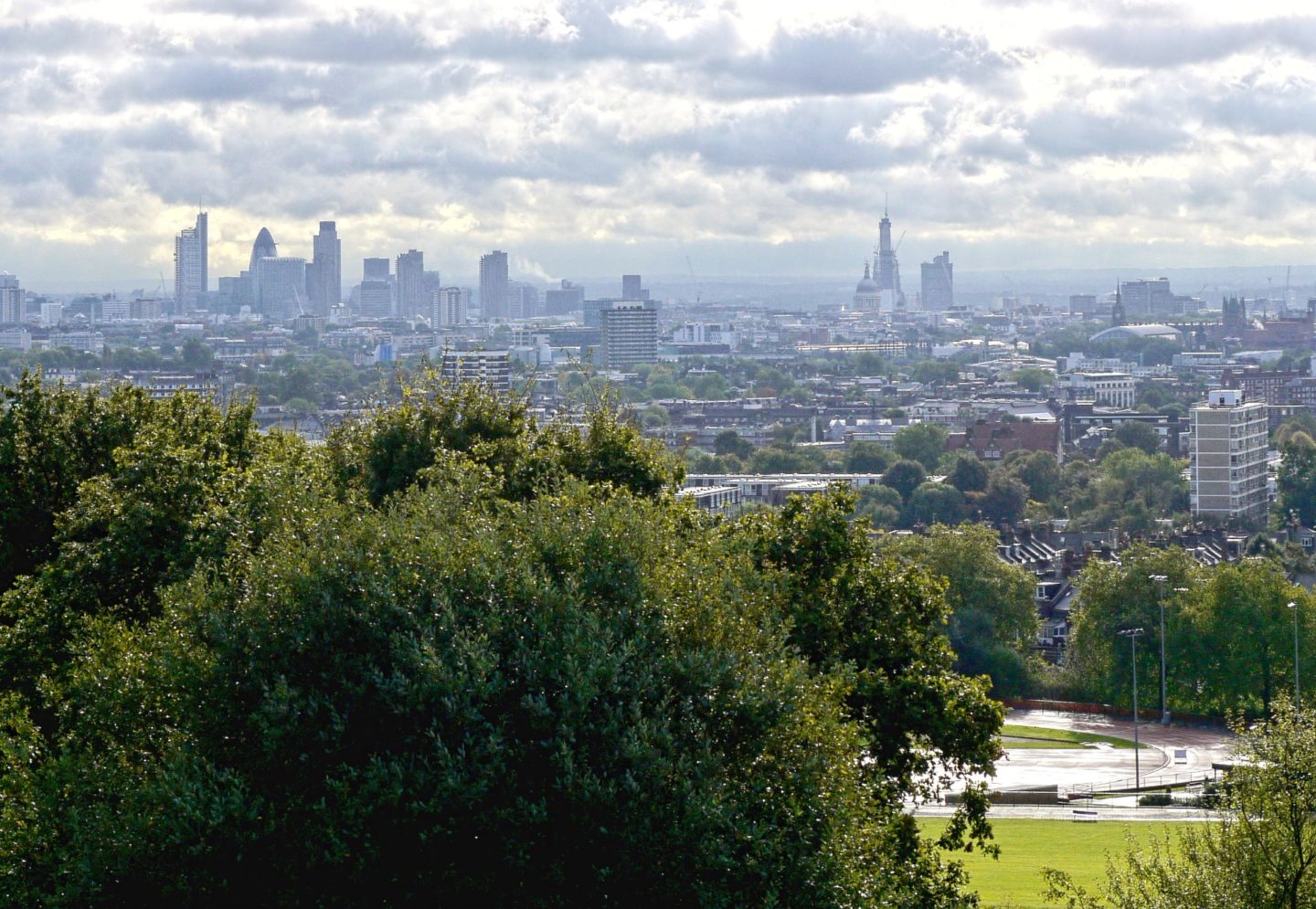 The Best Views:
London is a beautiful city and one of the best ways to see it is from above. If you're looking for the best free views of the capital then check out:
Sky Garden, City of London.
The rooftop terrace of One New Change, City of London.
The viewing platform at the Tate Modern, The Southbank.
Primrose Hill, Camden.
Parliament Hill, Hampstead.
The Royal Observatory, Greenwich.
Guided Tours:
There is so much to see and do in London that even as a local I often book myself onto guided tours! Here are a few of my favourites which I always recommend to my friends:
Secret London Runs. These guided tours can be tailored to specific themes (such as Christmas lights) or focused ticking off certain city sights. They're so much fun and an amazing way see a lot at once and stay active while exploring.
Street Art Tours. London is known for its incredible street art, I always recommend having a tour so you can learn more about the artists, their pieces and be shown some hidden gems.
Unseen Tours. A social enterprise sharing insider London tours while working with homeless, ex-homeless and vulnerably-housed Londoners.
An Afternoon Tea Bus Tour. Enjoy a traditional British afternoon tea aboard a bus while riding around the streets of London and taking in key sights along the way.
Staying Fit:
London is an incredible city to explore on foot, so I always recommend heading out for a run in the area you're staying in or going for a jog along the embankment. However if you want to try something a little more intense, the city is home to some of the most incredible boutique fitness classes in the world. I do have a full London Fitness Guide here (LINK) but here are some of my favourites:
Barrys Bootcamp. A brutal combination of treadmill and floor work, book far in advance to get in.
Sweat It. Intense intervals on treadmills, sleds, barbells, dumbbells and a rig.
Kobox. An empowering boxing class alternating between bags and floor work.
Frame. Fun classes covering all disciplines from pilates and HIIT to dance workouts.
Psycle. High intensity spinning classes.
Un1t. Group classes focused around strength, conditioning and building community.
Rowbots. A tough combination of rowing and floor work.
Unique Experiences:
London is home to some incredible unique experiences which are often overlooked by tourists. If you have time when you visit then definitely check out:
Escape Rooms. London has hundreds of escape rooms you can experience, I personally take on a different one every month with a group of friends and we love it. Our personal favourite is Cluequest.
Hackney City Farm. A inner city farm home to rescued and abandoned animals, which aims to educate visitors about food, nature and the environment.
Jetboating down the Thames. A thrill seekers dream way to see more of the city.
Flight Club. A bar where you play darts and eat pizza.
Bounce. A bar where you can play ping pong.
Ballie Ballerson. A bar which is a gigantic ball bit, heaven for your inner child.
Looking Glass Cocktail Club. A bar hidden behind a a mirror.
Darcie & May Green. A brunch spot on a colourful decorated canal boat.
Cereal Killer Cafe. A cafe serving nostalgic cereal, indulgent dishes and themed cocktails.
London in the Sky. Dine in the sky at a floating restaurant suspended 100ft above the city.
Hottug UK. Floating hot tubs and BBQ boats in Londons waterways.
The Seven Noses of Soho. An art installation hidden on the buildings of London, can you find them all?
Gods Own Junkyard. The biggest collection of neon lights and signs in Europe.
Morning Gloryville. Early morning sober raves fuelled by superfood smoothies. SO much fun!
Gingerline Events. The hottest tickets in town. These immersive events fuse art, performance, food, drink and design. They're one of my favourite experiences in London!
Secret Cinema. Similar to Gingerline, these guys focus on immersive theatre experiences. They take more planning through as you're often given a character and costume to prepare.
Edible Cinema. Each guest is given mystery boxes to consume at certain points during a film to heighten the experience.
Go Ape in Battersea Park. Take on an aerial obstacle course in the treetops above London.
Top tips:
Make sure you check out Time Out London before you arrive to see what seasonal events are happening, for example London Coffee Festival, Notting Hill Carnival or Chelsea Flower Show. If applicable, always book in advance as these experiences fill up and sell out pretty fast!
And that's it! All of my top London recommendations, I hope this has equipped you with the tools and information you need to have the most incredible experience in my home city! Want even more tips? Check out my London vegan food guide , green space guide and fitness guide.
Be sure to tag me on socials @zannavandijk if you use any of my tips!
Safe travels,
Zanna xx