Picos de Europa, otherwise known as the "peaks of Europe" is heaven for hikers. It encompasses a range of mountains in Northern Spain which stretch across three of the country's provinces – Cantabria, Asturias and Leon. The national park itself is absolutely stunning, renowned for its towering limestone mountains, green pastures, charming villages and deep gorges. Personally, I think it is a massively underrated hiking destination and one you should explore before everyone else finds out how incredible it is!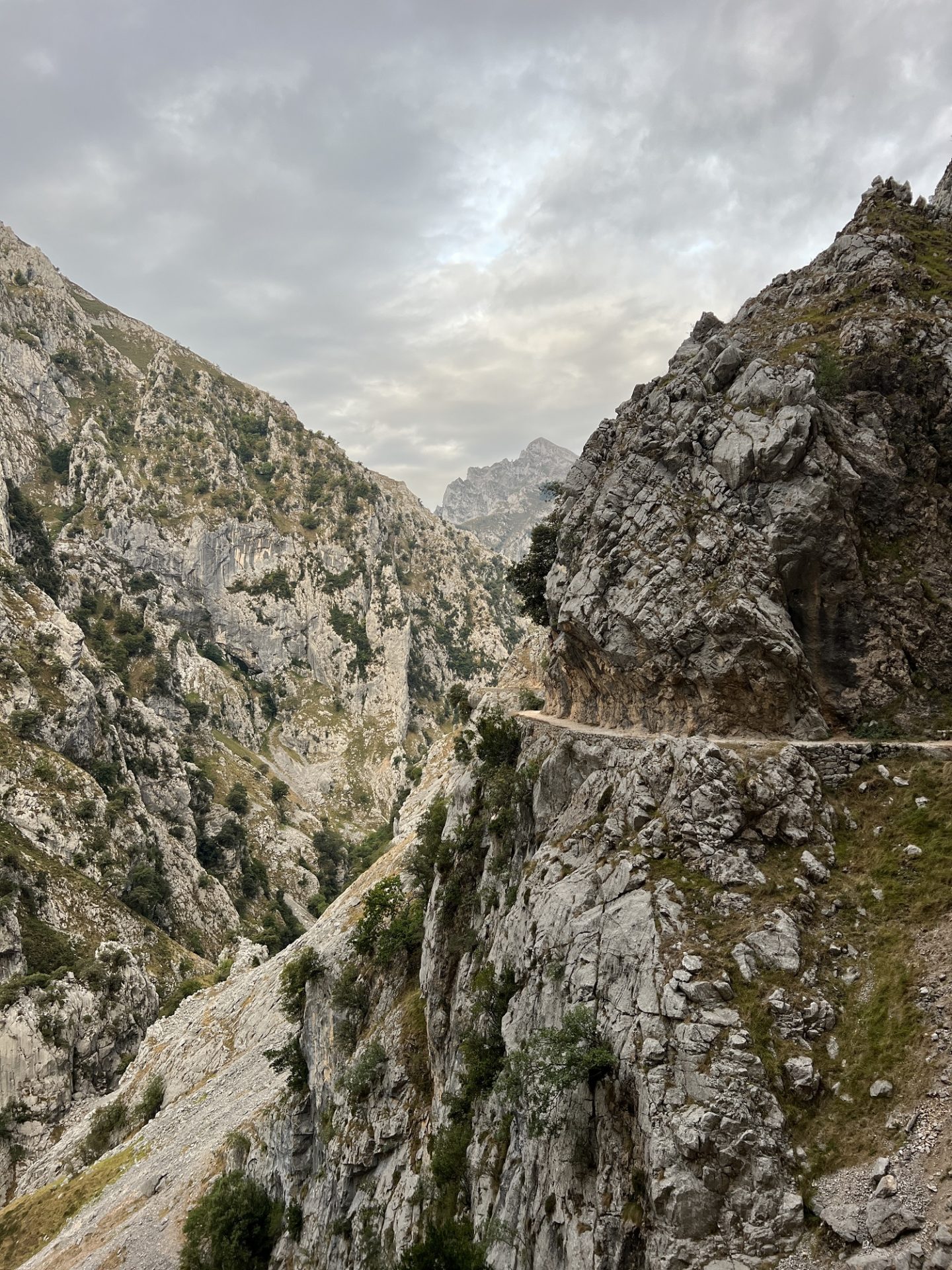 The Practicalities
Getting There: The nearest airports to Picos De Europa are Bilbao, Santander and Asturias. From there you can rent a car and drive to the national park in a couple of hours.
Getting Around: I highly recommend you rent a car. The public transport system is limited and it is tricky to navigate if you don't speak Spanish. Many of the best hikes start deep in the national park, on roads that the local buses don't access. I recommend opting for a nippy car to handle the hills.
When To Visit: The best time to visit is between late May and late September. The heat and crowds are more intense in July and August, but you can escape them by hiking early in the morning.
Where To Stay: The national park is pretty massive, so I actually recommend staying in a couple of locations if you can. Ideally Poncebos, Las Arenas or Sotres in the North, and then Potes, Funte Dé or the Camaleño Valley in the South.
Accommodation: There are a handful of hotels, airbnbs and guesthouses in the small towns surrounding the national park, but options are limited.
How Long To Stay: I would recommend visiting for a minimum of 3-4 full days (splitting your time equally between the north and south of the park), as there is so much to see and do. I could easily have spent 10 days+ exploring the region!
Prices: This region of Spain is actually pretty affordable. Our meals were very reasonably priced, the only time the cost crept up was in remote mountain huts which is understandable.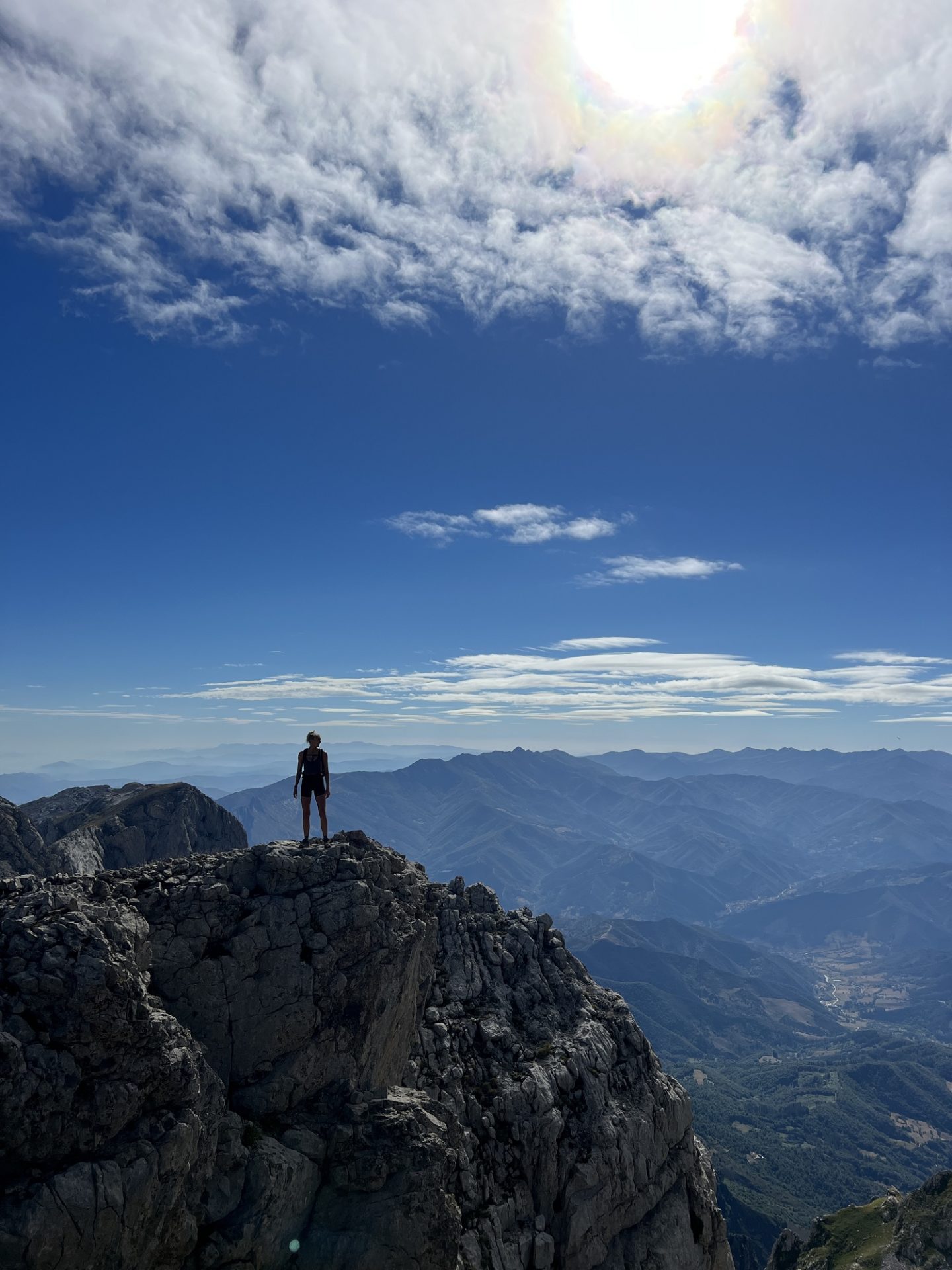 Picos de Europa Travel Tips:
Based on our experience in the national park, here are some tips and recommendations to help make your trip run a little smoother:
Food options are VERY limited if you're vegetarian. I honestly would recommend staying in an Airbnb and cooking your own meals if you're veggie as it's such a challenge to eat at restaurants.
Restaurants don't serve food until 8pm in most towns and villages, so again I recommend cooking your own meals if you want to eat early and sleep early.
The mountain refuges are limited in their facilities & supplies. If you're staying overnight, book your space ahead of time and check what facilities are available. Bring cash, plenty of your own water and snacks – I also recommend bringing a packed lunch if you have dietary requirements.
If you're travelling during the summer months, start the hikes early to avoid the heat of the day, the crowds and also to secure a parking spot – spaces are very limited at most of the trailheads.
Learn some basic Spanish phrases. As it's not a touristy region most people don't speak English. We were using the google translate app every day, and the camera feature to translate the food menus.
The lesser known and trafficked hiking routes are poorly way-marked, so ensure you download a digital GPS map to follow and carry a portable charger with you.
Book the Funte Dè cable car in advance if you plan on taking it, or you may have to wait hours to board.
Prepare for all weathers. Even in the height of summer, Picos de Europa can be hit by rain, cloud, mist and cold temperatures. Carry waterproofs and layers.
If you're looking for more hiking routes, I recommend this book. It is where I found most of the trails we hiked in Picos de Europa.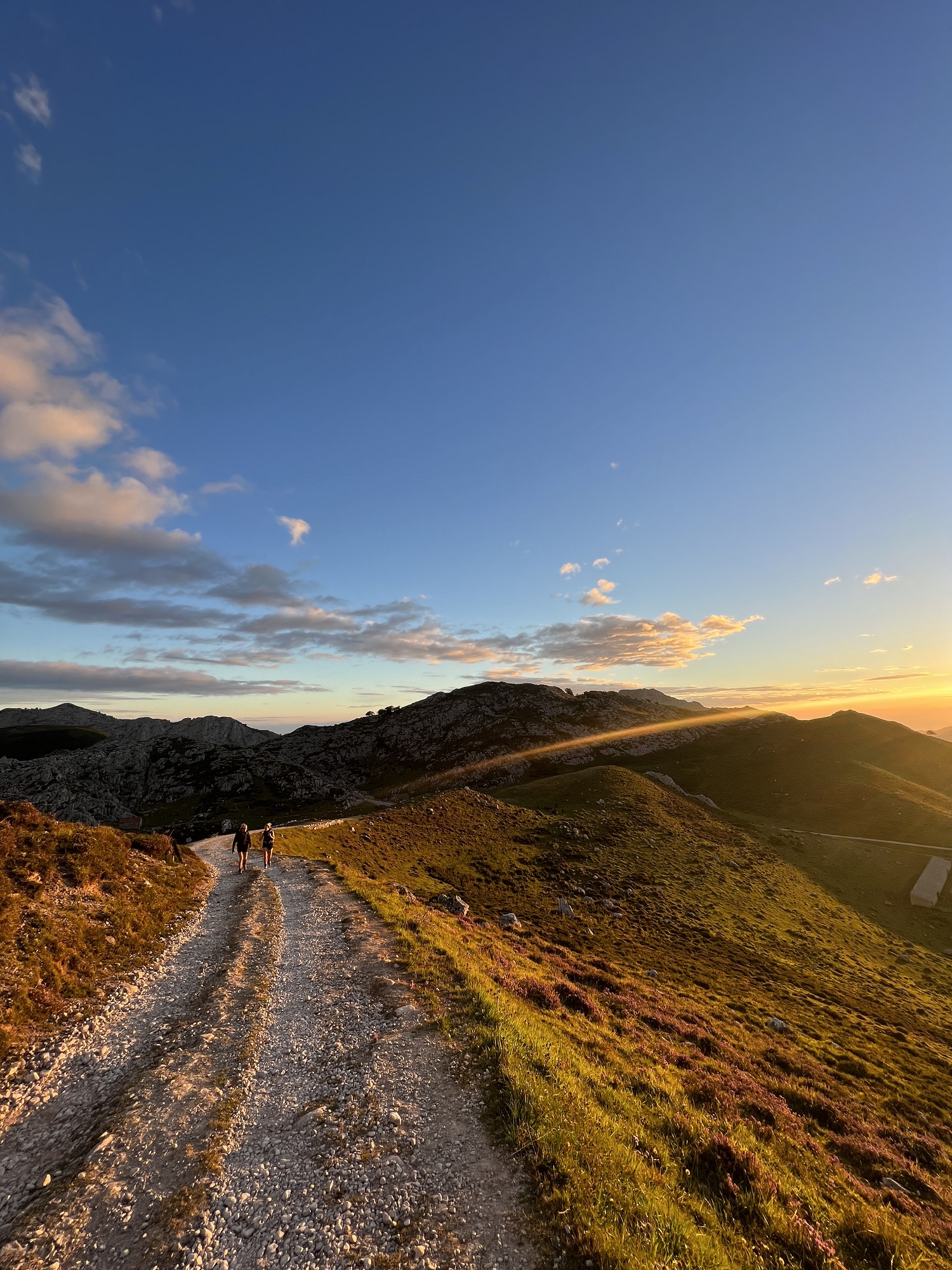 The Best Hikes In Picos De Europa:
The Picos de Europa national park is made up of three mountain massifs: The Cornion (Western) Massif, the Urrieles (Central) Massif and the Andara (Eastern) Massif. Here are some of the best hikes which explore these wild and rugged landscapes.
Ruta de Cares
No guide to the Picos de Europa would be complete without mentioning the famous Ruta de Cares, one of the most well-known hikes in Spain. This route runs between Poncebos in Asturias and Caín in León, following a deep gorge between the western and central massifs. It is a moderate out-and-back route that rewards you with non-stop views of towering peaks the whole way. I highly recommend completing it but ensure you start early to secure parking and avoid the crowds.
Distance: 23.7km
Elevation gain: 660m
Difficulty: Moderate
Trail Map: Click Here. (Note: the elevation listed on AllTrails is incorrect)
Puertos de Áliva
The work to reward ratio for this hike is incredible, you get phenomenal views for relatively little effort. After catching the Fuente Dé cable car (make sure you book this in advance), you weave through the central massif of Picos de Europa and back down into the valley. It is a stunning and varied trail with rocky crags, green meadows and dense forests.
Distance: 15km
Elevation Gain: 230m
Difficulty: Easy-Moderate
Trail Map: Click Here.
Pica el Jierru
This hike is my personal favourite in the region. It explores a more quiet area of Picos de Europa and you will most likely have the trail to yourself. It ascends up past a small mountain refuge and then climbs to the summit of Pica el Jierru at 2425m. The route is varied, giving incredible views of surrounding peaks and valleys, while taking you along exciting and sometimes airy paths. It is thrilling and beautiful, but I wouldn't recommend it to those who are inexperienced in the mountains or have a fear of heights. Some light scrambling is required at times.
Distance: 18.5km
Elevation Gain: 1200m
Difficulty: Challenging
Trail Map: Click Here.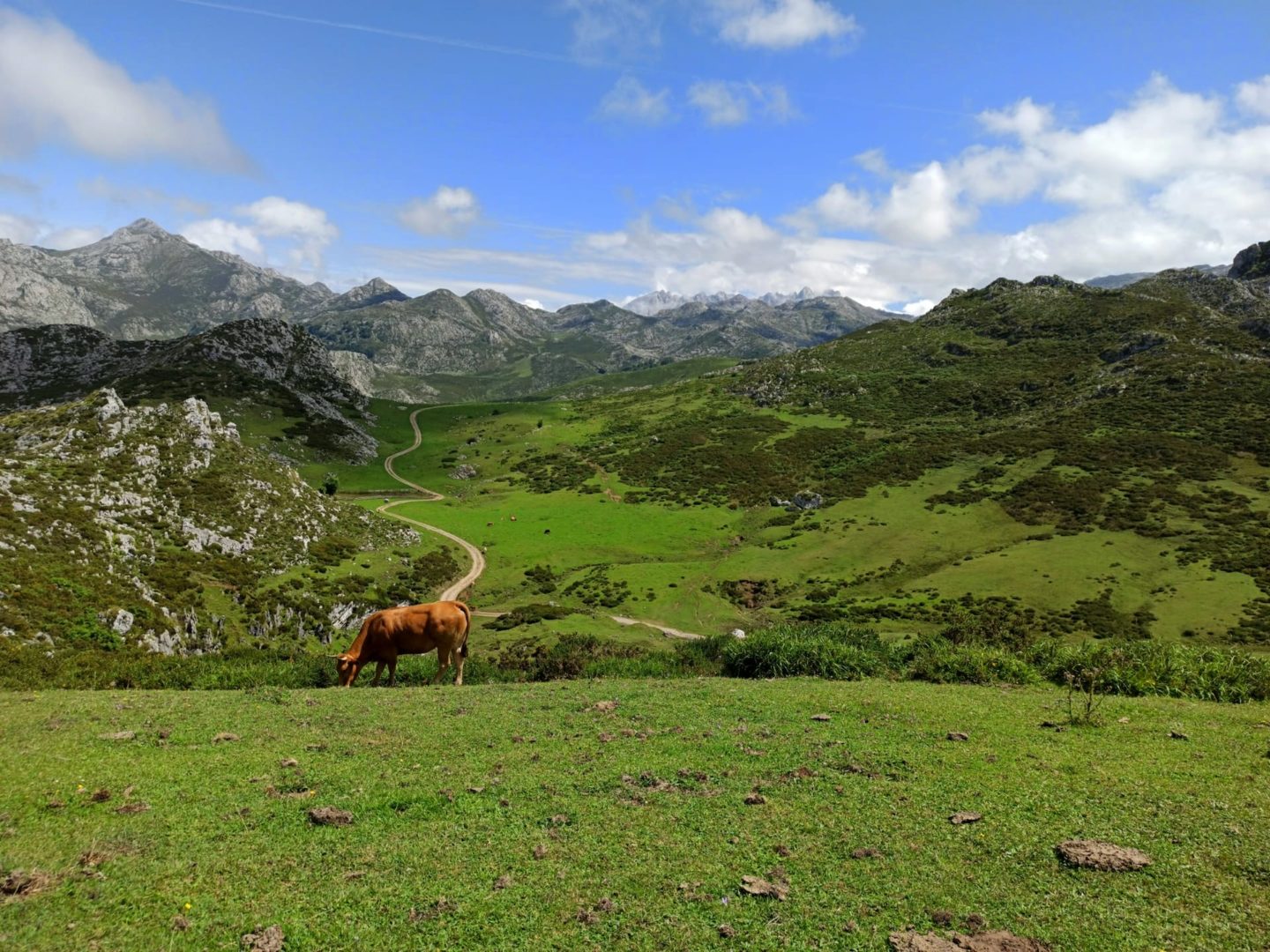 San Vicente Pot
If you're looking for a short afternoon stroll to a swim spot, give this route a go. It is an easy 5km out-and-back route that follows a river to a beautiful natural swimming pool carved by the flowing water. It is also worth noting, that you don't even need to do the hike to swim. You can just park at the start point and cross the road to the main river. Here there are many deep areas where you can take a dip.
Distance: 4.7km
Elevation Gain: 96m
Difficulty: Easy
Trail Map: Click Here.
Ponchos to Bulnes (Ruta de la Canal del Texu)
Bulnes is a beautiful, small and remote mountain village nestled deep in Picos de Europa. It's only reachable on foot or by using the funicular. This hiking route takes you up from the village of Poncebos to Bulnes, giving great views of the famous peace of Naranjo de Bulnes. Another option is to catch the funicular up to the village and hike back down.
Distance: 4km
Elevation Gain: 400m
Difficulty: Moderate
Trail Map: Click Here.
Horcados Rojos Summit
Starting from the Fuente Dé cable car station, this route climbs up to one of the most famous peaks in Picos de Europa. It is a pretty popular route, but if you're looking to summit a peak then this is one of the most accessible ones in the national park. Plus you will have incredible views the whole way up and back down!
Distance: 10.9km
Elevation Gain: 750m
Difficulty: Moderate to Challenging
Trail Map: Click Here.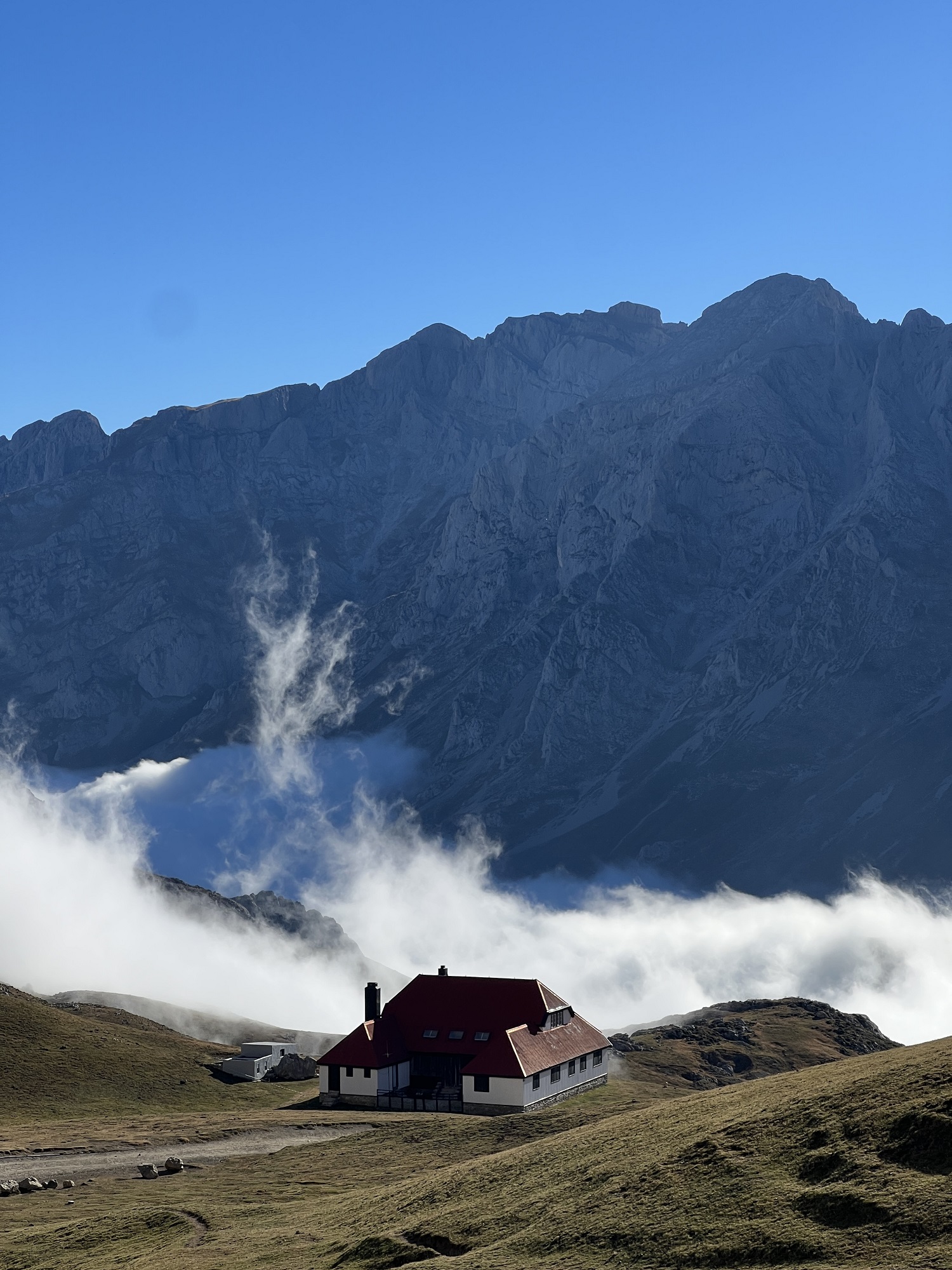 Lakes of Covadonga to Ario and El Jultayu
The Lakes of Covadonga are one of the most famous sights in the Picos De Europa national park, so they can get a little busy. However most visitors just wander around the shores of the lakes. If you have the energy to do a longer hike you will get to experience the beauty of the area while also escaping the crowds.
The route from the lakes up to Vega de Ario is often hailed as one of the most beautiful and iconic hikes in Spain. However, if you extend the hike all the way up to the summit of El Jultayu it takes this adventure to the next label. The views from the top are out of this world!
Distance: 19.6km
Elevation Gain: 1275m
Difficulty: Challenging
Trail Map: Click Here.
Top tip: During peak season the road to the lakes is closed to private vehicles between 7.30am-7pm. It is best to arrive before this time to secure a parking spot, you can drive back down from the lakes without restrictions.
Lakes of Covadonga to Mirador Ordiales
This hike is a classic in Picos de Europa. Starting at the famous Covadonga Lakes and climbing up to the Ordiales Scenic Balcony. It is a long day route that passes by the tomb of Pedro Pidal (the founding father of the Spanish national park system). It takes you to the incredible Mirador Ordiales where you will have phenomenal views in all directions. Well worth the effort!
Distance: 23.6km
Elevation Gain: 1135m
Difficulty: Challenging
Trail Map: Click Here. (This route also includes an optional add-on of summiting a neighbouring peak Pico Cotalba).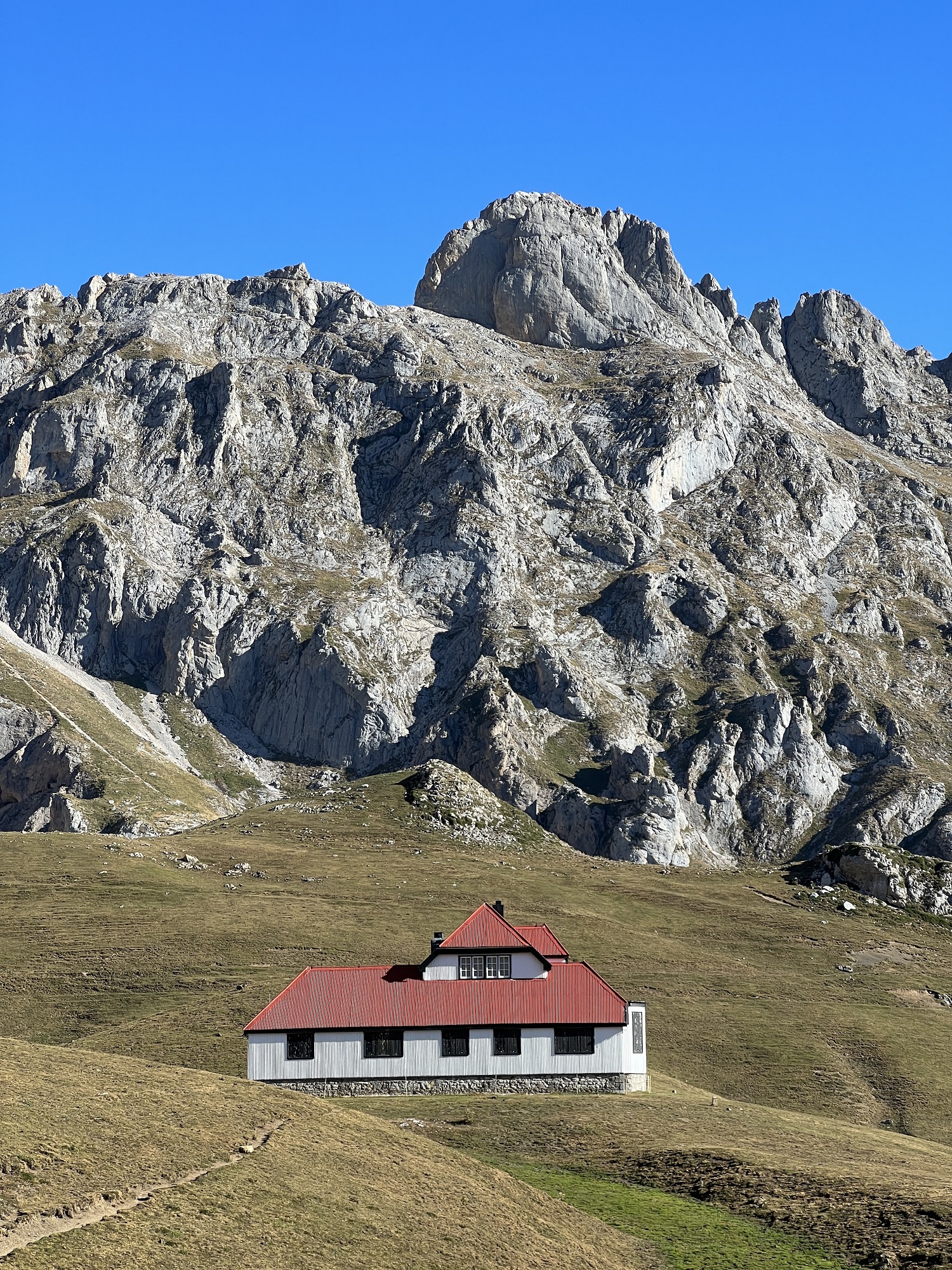 Peña Vieja
Starting from the Fuente Dé cable car station, this route conquers one of the most iconic peaks in Picos de Europa. It passes through a steep and rugged gully and then circles around the Vieja-Olvidada sub-massif to bring you out at the summit. It is a great challenging route for when your legs are feeling strong. The scenery is nothing short of stunning!
Distance: 11.8km
Elevation Gain: 1110m
Difficulty: Challenging
Trail Map: Click Here.
Overnight hike to Refugio Jou De Los Cabrones
If there is one hike I want to return to Picos de Europa to complete, it is this one! It ascends up to the highest mountain hut in Picos de Europa national park, far away from the more well-trodden trails. It is the perfect hike if you want to step off the beaten track and enjoy mind-blowing scenery away from the crowds. However, I only recommend this hike to experienced mountain hikers with strong navigation skills and confidence in the peaks.
Distance: 27.42km
Elevation Gain: 2244m
Difficulty: Very Challenging
Trail Map: Click Here.
Note: Make sure you book a sleeping spot in the refuge in advance. You can shave some elevation gain off but taking the funicular from Poncebos to Bulnes.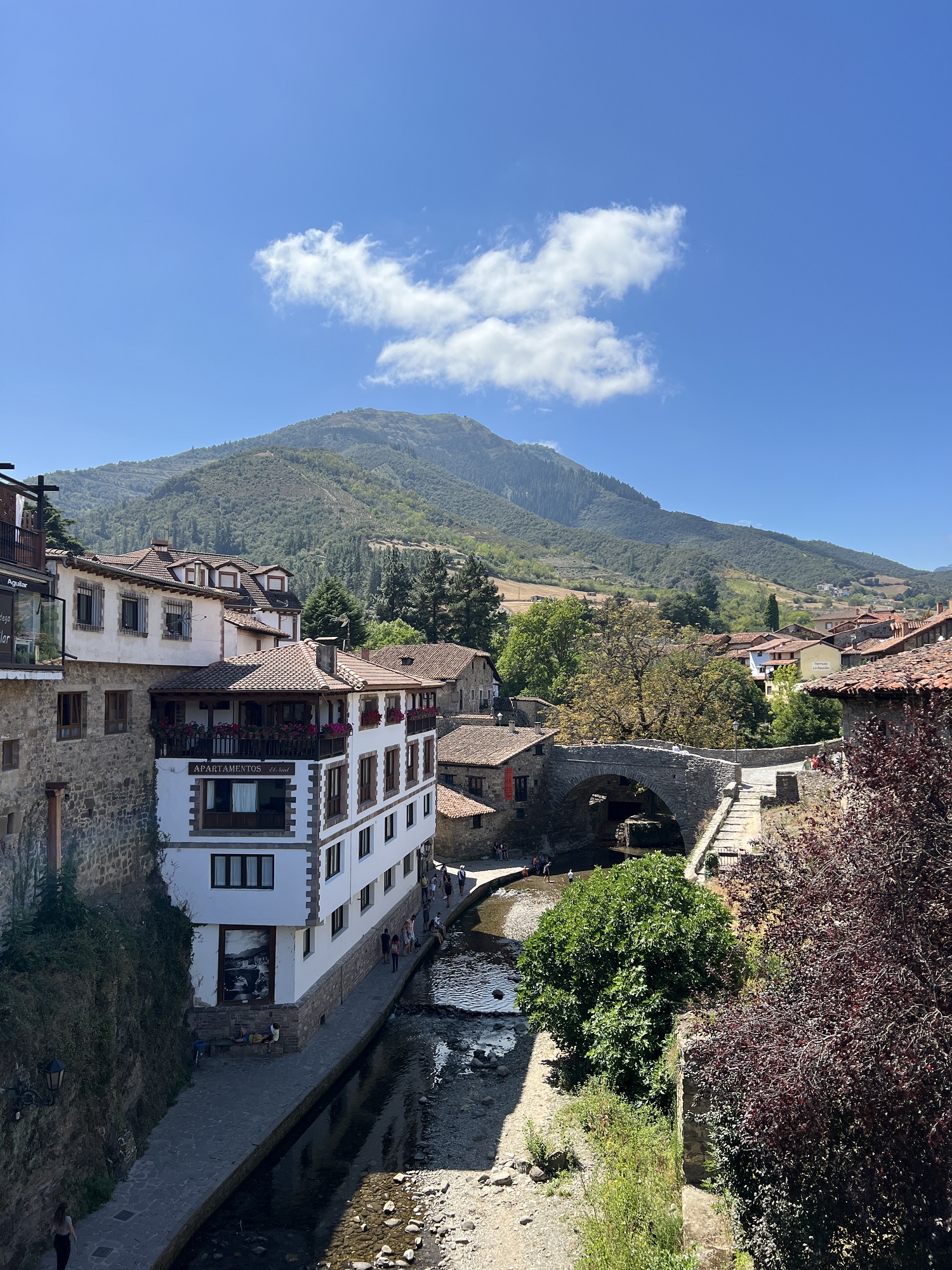 Did you like this post? Check out my other European hiking guides:
The Best Hikes in Cortina d'Ampezzo, Dolomites
Triglav National Park, Slovenia – One Week Itinerary and Travel Guide
Safe travels,
Zanna x