Flims, Switzerland is an incredible hiking destination with towering mountains, turquoise blue lakes, tumbling waterfalls and an extensive network of established trails. It is best known as a world renowned ski resort and is most busy during the winter months. The area becomes significantly quieter in summer as tourists flock to more well known regions such as Grindelwald and Zermatt, leaving Flims refreshingly peaceful. So, if you want to escape the crowds, have an active adventure and experience an abundance of natural beauty – add Flims to your bucket list!
The Practicalities
How To Get There: The nearest airport to Flims is Zurich. From here you can catch a train to Chur and then a bus to Flims. The public transport system in Switzerland is organised and reliable. If you have a car, you can also drive directly from Zurich.
How To Get Around: If you want freedom to travel at any time of day (such as sunrise or sunset), then I recommend having a rental car in Flims. Although most attractions are walkable or accessible by bus, it will allow you to have some more flexibility.
How Long To Stay: A long weekend is a great amount of time to experience a taste of the natural beauty in Flims. However if you want to tick all the boxes and see as much as possible, then 3-4 full days would be ideal.
When To Visit: I recommend visiting Flims in the summer months of late June to early September. Be sure to bring wet weather gear all year round, it is the mountains after all!
Is It Expensive? In a word, yes. Switzerland is notoriously expensive. You can save cash by staying in self-catering accommodation and cooking your own food, as eating out is particularly costly.
Any More Tips? This is the hiking map of the region. Make sure you download the Inside Laax App. You can use this to quickly and easily book tickets for lakes and gondolas, plus it can get you discounts on some services and attractions.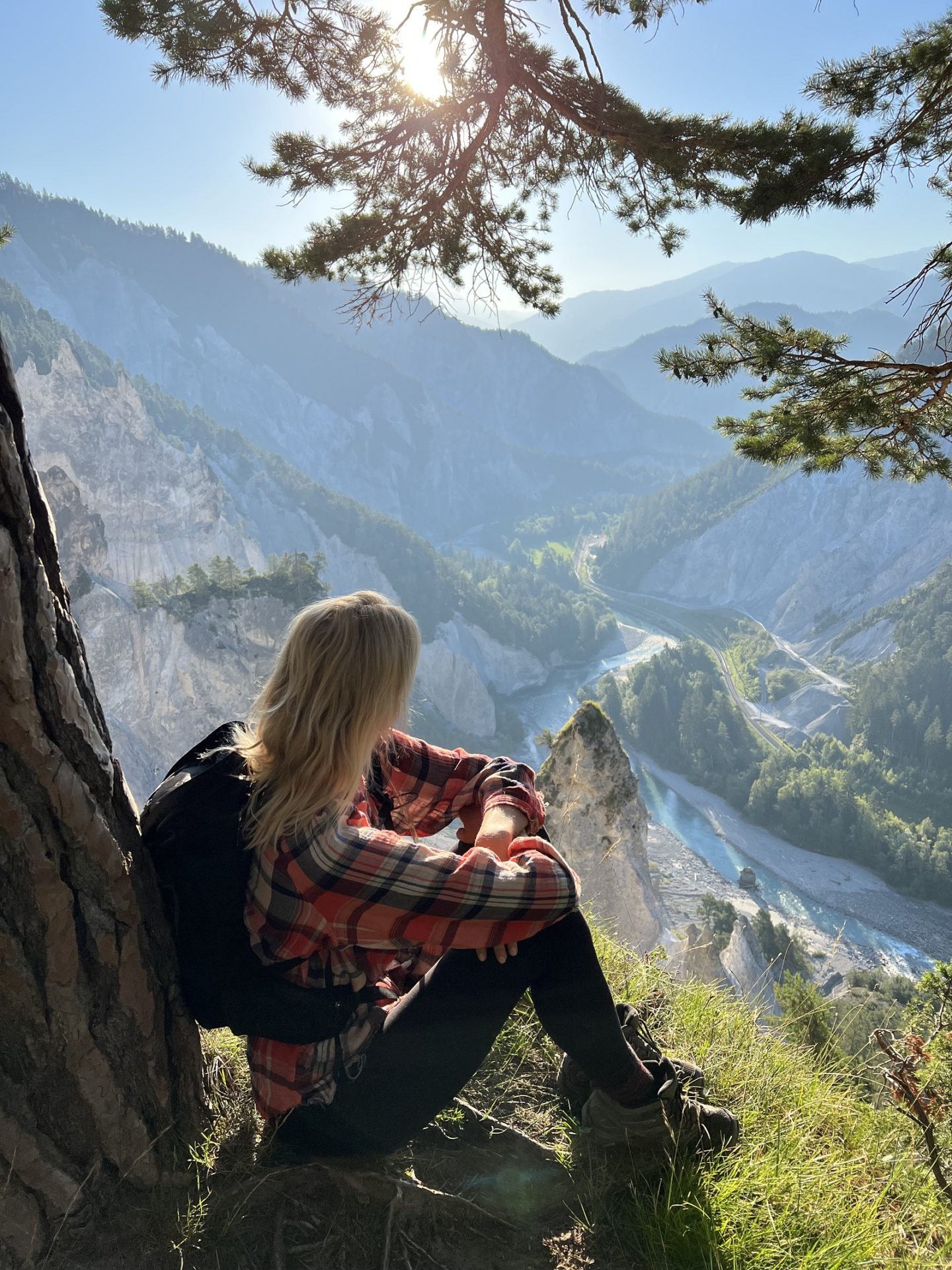 What To See & Do:
The Rhine Gorge "Rheinschlucht"
Otherwise known as "The Swiss Grand Canyon", this incredible gorge provides a unique landscape in the Alps and was one of the highlights of our trip. It can be experienced in a multitude of ways:
Hike along the canyon tim & take in the beautiful views. The most famous viewing platform is Il Spir – easily accessed on foot from Flims town.
Cycle alongside the river Rhine along trails of varying difficulty.
Ride the Rhine Gorge Adventure Train through the base of the canyon.
River raft, canoe or kayak along the waters of river Rhine.
Visit The Lakes
There are two famous lakes located right next to Flims town, both within walking distance. You can take in the beautiful scenery there by exploring them on foot, renting paddle boards and going for a swim in their turquoise blue waters. It is worth noting that you need to pay to enter both lakes.
Crestasee. The lesser known of the two lakes, Crestasee is a little quieter and has stunning mountain views.
Caumasee. Known as the "jewel of Flims", this more popular lake has a beautiful island you can swim to as well as a larger restaurant and more extensive facilities.
Trutg dil Flem
This beginner friendly and child-friendly hike is for water lovers! Starting in Upper Segnesboden, this trail goes from the source of the river Flem all the way down into the town centre. It winds through stunning valleys, giving panoramic views of the region and allowing you to experience unique ravine landscapes – with seven bridge crossings along the way.
Pinut Via Ferrata
If you want to experience the mountains in a new, exciting and adrenaline filled way then you need to give the Pinot Via Ferrata a go. This beginner friendly activity allows you to ascend up a 1000m vertical rock face through the use of ladders, stairs and gentle scrambling. The path also passes through caves, across wildflower meadows and into dense forests. Despite the via ferrata being easy in terms of technicality, you will need a good base level of fitness and a head for heights as parts of the climb are very exposed. Once you reach the top, you hike back down through the beautiful Bargis Valley and can stop off at the Berghaus Bargis mountain hut for lunch, cake or coffee.
Tip: You can rent via ferrata equipment (helmets and harnesses) from the Sport Beat shop in Flims town.
Alp Mora Natural Pools
Perhaps the most beautiful spot for a wild swim in Switzerland! This series of 20 natural glacial pools is nestled up in the mountains above Flims. Filled with turquoise blue water, you can take a refreshing dip in the summer months. They have incredible views over the Safien valley and can be accessed through two hikes. There is an easier and more challenging route, detailed here.
Segnesboden
Located in the mountains above Flims, Segnesböden is a stunning glacial trough with the UNESCO listed rugged Tschingelhörner mountains as a backdrop. Lower Segnesböden is woven with streams, rivers, gorges and lakes while Upper Segnesböden gives absolutely mind blowing views of the surrounding mountains. It is the perfect region to explore on foot as it is covered in numerous hiking trails. In my personal opinion it is one of my favourite areas I have ever explored in Switzerland. If you're feeling adventurous, you can hike up to the mountain hut at Segnes-Pass near the famous Martinsloch and stay overnight. Just make sure you book your bed in advance!
Tip: To plan your route, consult this local hiking map. I have made a custom map of the specific route we followed here. Be warned the ascent isn't for the faint hearted!
Flims is a unique Swiss hiking destination. It's got glacial plateaus, alpine forests and deep canyons as well as rugged mountains, tumbling gorges and crystal blue lakes. It's the perfect destination for active adventurers and ideal for hiking, with numerous routes, convenient mountain huts and multiple gondolas which take you directly to trail heads. Yes, like all Swiss destinations it is expensive but is worth every single penny!
Safe travels,
Zanna x