You've probably heard the hype about the Amalfi Coast and let me tell you – it's all true. This 50 km stretch of coastline in Southern Italy is a UNESCO listed landscape with towering mountains, lush green valleys and 13 colourful hillside towns. Whether you're looking to lace up your hiking boots, tuck into freshly made pasta or kick back in a bikini, this Amalfi Coast Travel Guide has it all.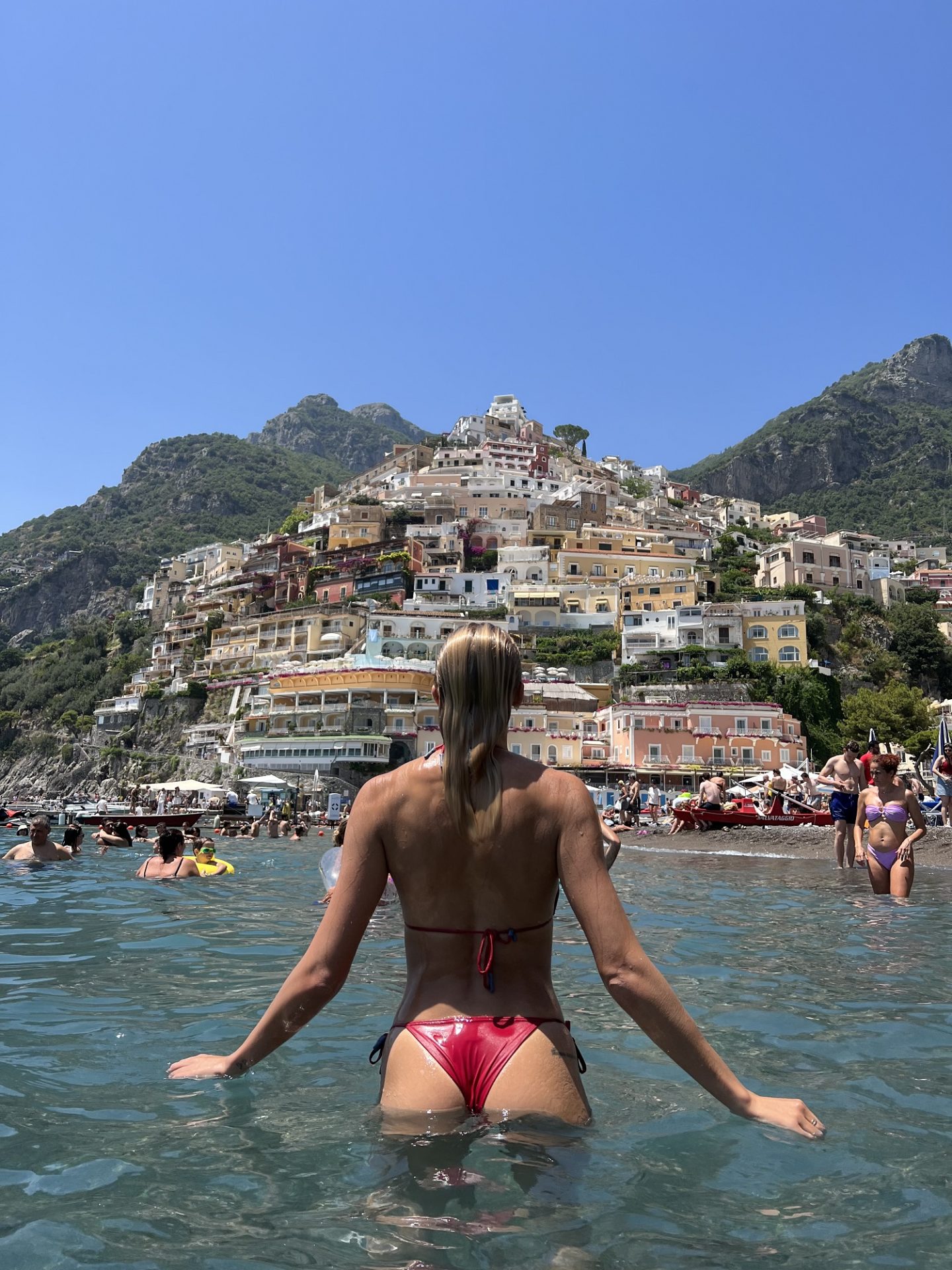 The Practicalities:
How To Get There: The nearest airport to the Amalfi Coast is Naples. From there you can travel to the coast in numerous ways – ferries, taxis and trains are the most common forms of transport used by tourists.
How To Get Around: I do not recommend you rent a car on the Amalfi coast as parking is limited and the roads are narrow, winding and very busy. Instead, take advantage of the incredible public transport system. There's a whole network of buses and boats you can use to hop along the coastline. Private taxis are extremely expensive, so I would stay clear of them if possible. Instead if you want to have maximum freedom when exploring the region, renting a moped would be the best and most enjoyable option.
How Long To Stay: A week is the perfect amount of time to experience the beauty of the Amalfi coast, any less and you would have to rush.
When To Visit: The time of year you should come totally depends on what you want to do in the region. If you're looking to enjoy the sea and sun, then the summer months of June to August will suit you. However if you're wanting to escape the crowds or do some hiking, then the shoulder seasons of May and September would be ideal.
Is It Expensive? In a word, yes. Especially if you're enjoying meals out, renting sunbeds or catching taxis. The costs can rack up really fast. Of course, as always there are ways to reduce your spending, for example by choosing lower priced accommodation and opting for public transport.
Any more tips? It is busy, very busy in peak season so get up early to avoid the crowds (and the heat of the day!).
My Amalfi Coast Itinerary
Day 1: Arrive & Explore Naples
Day 2: Hike Vesuvius & Visit Pompeii
Day 3: Hike to Fiordo di Furore and Praiano
Day 4: Hike The Footpath Of The Gods & Visit Positano
Day 5: Kayak From Amalfi & Explore Ravello
Day 6: Take A Day Trip To Capri
Day 7: Hike to Valle delle Ferriere
Day 8: Travel Home
What To See & Do On The Amalfi Coast:
Visit Mount Vesuvius & Pompeii
If you're travelling to the coast from Naples, definitely make a stop off en route at Mount Vesuvius and Pompeii.
Vesuvius. One of the world's most dangerous volcanoes is an incredible location for an easy morning hike. Make sure you book an entrance ticket in advance, then you can simply turn up and take on the short uphill trail to the crater rim. Not only is it a unique landscape to experience surrounded by lava flows, but you will be rewarded with stunning views over the Bay of Naples. If you want more of a challenge then read this article for longer trails in the region.
Pompeii. You simply can't visit Naples without experiencing the ruins of Pompeii. A city once engulfed by a Mount Vesuvius eruption which killed 16,000 people and now remarkably preserved. It gives an intimate insight into the lives of Roman citizens. To have the best experience, make sure you book tickets in advance (this is essential) and opt for an official guided tour if possible, so you can truly understand and appreciate what you're seeing.
Visit The Villages & Towns
The Amalfi Coast is known for the beautiful villages and towns dotted across its mountain landscapes, perching precariously on cliffs above the crashing sea below. You can easily spend a whole week hopping between them, here are the ones you need to push to the top of your hit list:
Amalfi
Atrani
Ravello
Praiano
Positano
Sorrento
Minori
Explore Fiordo di Furore & Praiano
One of the highlights of my time on the Amalfi Coast was hiking down from Agerola to Fiordo di Furore and across to Praiano.
Fiordo di Furore. The only "fjord" (actually a ria!) in Italy is one of the most beautiful destinations in the area. A pebbled sliver of beach is surrounded by towering cliffs, an iconic bridge and bright blue waters. Pack your bikini, take a dip and if you're feeling brave – try some cliff jumping! Just make sure you get there early as it is a very popular spot.
Praiano. This small village is only a short walk along the coast from the Fiordo and is worth wandering around. However the real highlight is Marina di Praia located below the town – a small cove with a beach, lots of cafes and a stone platform you can jump off. The perfect place for a relaxed afternoon.
Hike The Path Of The Gods
The most famous hike on the Amalfi Coast is definitely worth experiencing. The Path of the Gods or "Sentiero degli Dei" starts in Bomerano and follows a beautiful mountain ridge before winding down into Positano. The views are absolutely stunning, and it is an amazing way to escape the crowds and see the coastline from a new perspective. Just make sure you start early to get the trail to yourself, and stop off at Lemon Point in Nocelle for a refreshing zesty drink.
Indulge in Italian Food
Italian food is rich, decadent and delicious. The Amalfi coast is known for a whole host of regional dishes, so make sure you try these:
Mozzarella. The local mozzarella is famous worldwide and as a result is imported to cheese shops around the world. If you're a dairy eater, make sure you try a fresh caprese salad.
Neapolitan pizza. Pizza as we know it originated in Naples, so make sure you give the Neapolitan style a try.
Lemon Pasta. With the abundance of lemon trees in the area, this zesty but creamy pasta dish can't be missed!
Delizia al Limone. The ultimate dessert – lemon scented sponge with a lemon zest topping!
Stuffed Lemon. Yep, another lemon dish but trust me you need to try this one! A lemon is hollowed out and stuffed with lemon sorbet, providing a seriously refreshing afternoon pick me up.
Kayak Along The Coast
The Amalfi coast is truly beautiful when viewed from the water and what better way to do this than to kayak! It provides a great opportunity to work your arms, giving your legs a rest from all the walking and exploring. I recommend booking a tour through Amalfi Kayaks, who will take you on a guided trip along the shore – showing you caves, arches and even stopping at secret beaches only accessible from the water!
Wander The Streets of Ravello
By far my personal favourite village in the region is Ravello. Nestled up in the mountains, it has breathtaking views at every turn and much fewer tourists than other coastal towns. You can hike up from Amalfi or catch a local bus, depending on how energised you're feeling. My top recommendation is to make sure you visit the two famous villas there, Villa Cimbrone and Villa Rufolo, and explore their gardens. They are absolutely stunning!
Take A Boat To Capri
Capri is the most famous and notoriously expensive island in all of Italy, dotted with designer outlets and boutique hotels, but beyond the glitz and glamour there is so much more to see and do. The island is home to dramatic scenery, sapphire coloured seas and historic ruins. When you visit, add these activities to your hit list:
Sail around the island. Visit the blue grotto, go through the natural arch and stop off at the Faraglioni rocks.
Visit Giardini Du Augusto. Beautiful gardens with great views of the island.
Ride The Chair Lift. This unique experience takes you up to the summit of the main mountain on Capri, Monte Solaro, which gives panoramic views of the island. (You can also hike up!).
Visit Villa Jovis. This ruined home of former Emperor Tiberius is steeped in history and can be reached by a 45 minute hike.
Go Hiking. The island is strewn with routes varying in difficulty, so lace up your boots, browse AllTrails and hit the trails to avoid the crowds.
Enjoy The Beaches. The jury is out on which beach is the best in Capri, I personally loved Bagni di Tiberio but other popular spots include Marina Piccola and Faro di Punta Carena.
Hike from Amalfi to Valle Delle Ferriere
This was by far my favourite hike of the trip! You simply climb the stairs behind Amalfi up to the village of Pontone and then follow the paths up into the valley. There are phenomenal views along the trail. Once you enter Valle delle Ferriere you will find a unique microclimate which is much cooler than the surrounding area, leading to rare plants surviving and thriving. The route passes a series of waterfalls and ruined water mills, as well a deep pool where you can take a refreshing mid hike dip. The dream!
I have to admit, when I planned this trip to the Amalfi coast I worried that perhaps it was over-hyped and I would be a little disappointed. However, once I got there it well and truly surpassed all my expectations. The landscapes are nothing short of incredible, the cuisine is out of this world and the coastal towns are every bit as beautiful as I imagined. Yes it is busy and yes it is expensive, but it is 100% worth adding to your bucket list!
Zanna x
Did you find this post helpful? Save it to your travel pinterest board.
Hover on image, pin and save this blog post for later…