Canyonlands is one of Utah's largest and least visited national parks, covering an extensive 330,000 acre area that is filled with arches, canyons, buttes, mesas and stunning viewpoints. It is often overlooked by tourists who explore nearby Arches national park, but I am here to convince you to add it to your bucket list! I have taken all of my favourite experiences from my time exploring Canyonlands and condensed them down into a jam-packed two-day itinerary.
My top travel tips:
1. Purchase a National Park Pass (America The Beautiful Pass) as this is more cost efficient than paying for individual park entry.
2. Download the ATG action tour guide app and the guide for Canyonlands National Park. It is an audio guide that picks up on your GPS location and gives you information on the rock formations and sights around you, including local history. It is super informative and interesting!
3. When you get to the national park, I always recommend heading to the Visitors Centre first to get an update on any trail closures or tricky conditions you need to consider.
4. If you are visiting in spring or autumn, which is when I recommend you do so, then be sure to pack for all weather eventualities. It can be -6 in the morning and 25 degrees in the afternoon!
5. Stay at Red Cliffs Lodge, Moab. This accommodation has rave reviews and is well located in nearby Moab.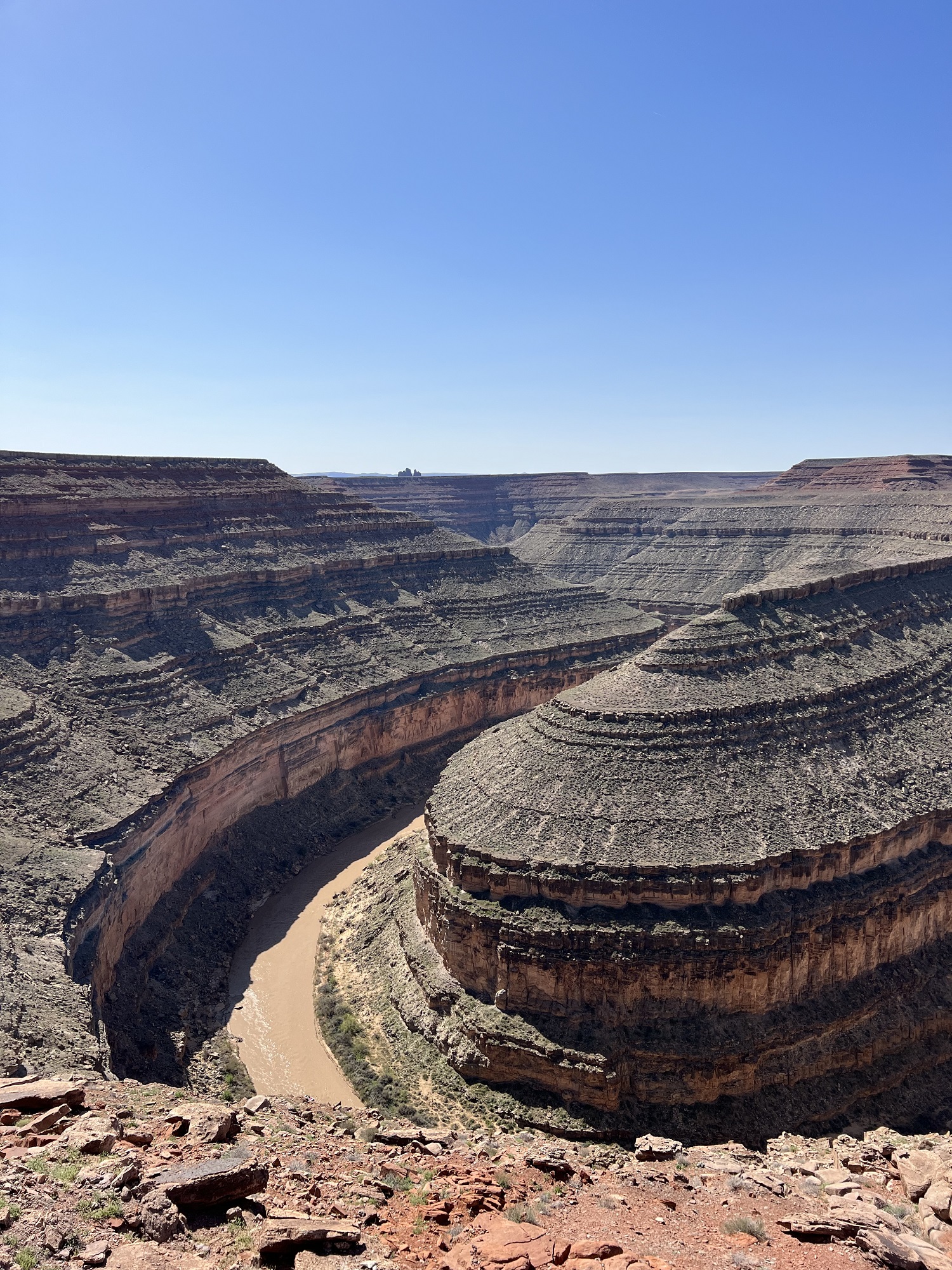 Day 1: Island In The Sky & Dead Horse State Park
It's time to explore the most popular region of Canyonlands national park, Island in the Sky. It is full to the brim with incredible canyons, buttes, mesas and arches that have been carved by the Green and Colorado rivers. Similarly to nearby Arches National Park, all the key viewpoints, overlooks and hiking trailheads are located along one key road, and you can easily tick them off in a single day.
Stop 1: Visit the iconic Mesa Arch for sunrise, for the most famous view in the park.
Stop 2: Take a short hike to either Grand View Point Overlook Trail or White Rim Overlook Trail. I recommend picking one of these two, as they both give similar views.
Stop 3: Hike the Murphy Point Trail. There is the option to extend this hike to make it a longer loop that goes down into the canyon, I highly recommend doing this if you have the time.
Stop 4: Explore Upheaval Dome. Walk around the rim of this mysterious and beautiful crater which scientists hypothesise was caused by a meteor.
Stop 5: Drive to nearby Dead Horse State Park. This stunning state park is located on the same road as Island In The Sky so it makes total sense to pop in on your way back to Moab. The best viewpoint is Dead Horse Point Overlook, but I also recommend strolling along the West Rim trail to Shafer Canyon Overlook and Rim Overlook.
So you want to watch the sunset? I recommend ending your day at Green River Overlook. This is a stunning sunset spot, and is actually where my partner and I got engaged.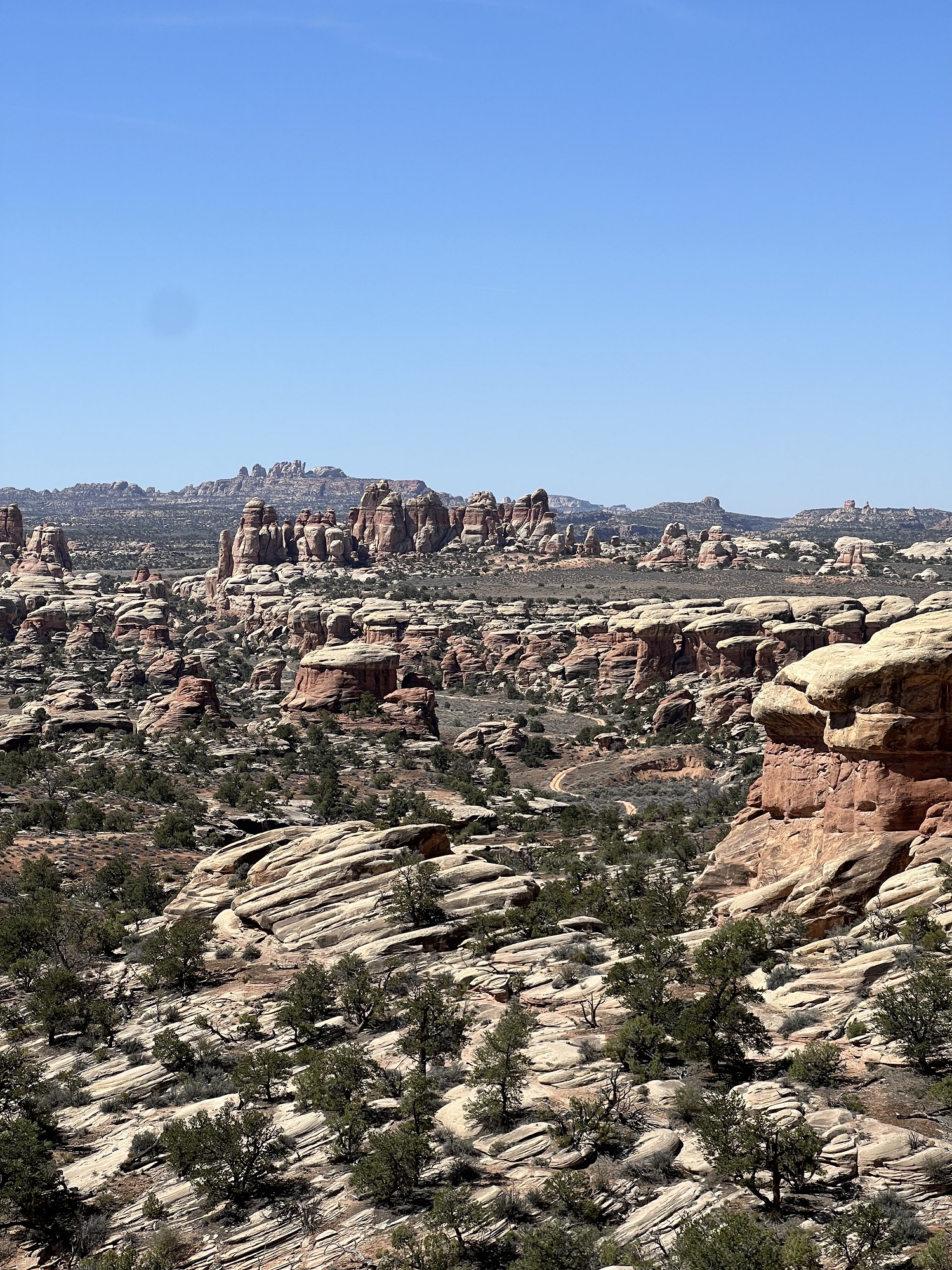 Day 2: The Needles District
The Needles is an often overlooked region of Canyonlands national park. I have to admit, it takes a bit of extra effort to get there. It is a 90-minute drive from Moab but I promise it is worth the journey. It ended up being one of our highlights of the whole road trip! The Needles District is home to some seriously unique landscapes including the famous striped sandstone spires aka "needles" as well as grey "mushroom" rocks and so much more. The best bit though? There is an abundance of hiking trails and hardly anyone there. It is the perfect place to escape the crowds and experience stunning desert landscapes to yourself.
There are a few key hiking routes in the region but I personally recommend choosing one of these two full day trails:
The Chesler Park Loop Trail. An 11 mile route that not only takes you up close and personal with the needles, it also passes through a cave and even an epic slot canyon (The Joint Trail). At many moments you feel like you're on another planet!
The Druid Arch Trail. Another 11 mile route, which again takes you up close and personal with the needles but this time misses the slot canyon. Instead head down Elephant Canyon to the beautiful towering Druid Arch, which requires some easy scrambling and a ladder climb.
Top tip: Make sure you take a packed lunch, water and lots of snacks. There aren't many facilities in The Needles District.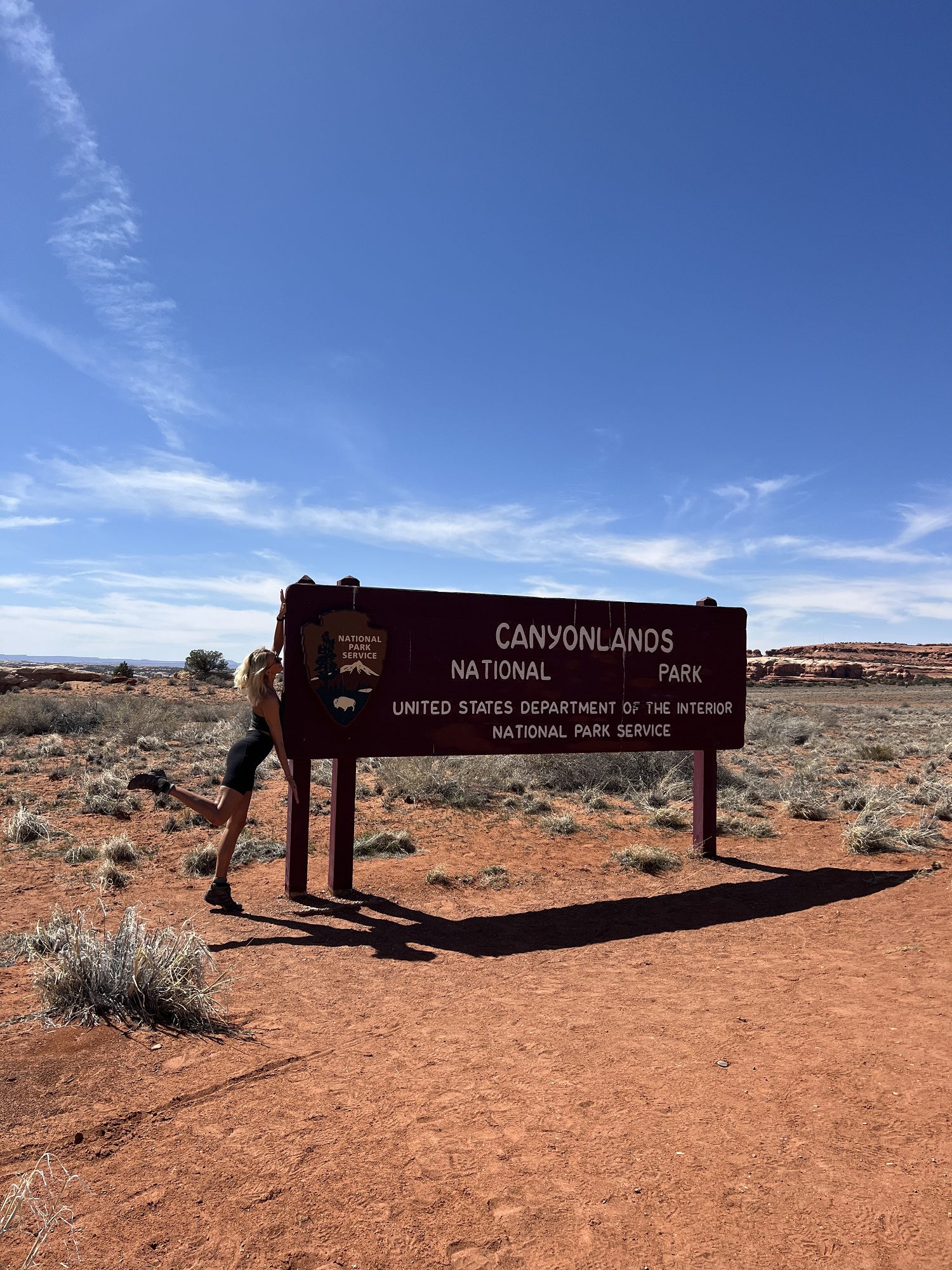 Do you have more time?
One of the biggest bucket list experiences in Canyonlands is driving along the 100 mile White Rim Road. This requires a little forward planning, a four wheel drive car and a permit, you can find out more on this comprehensive guide.
Did you like this post? Check out my other Utah articles:
Southern Utah Road Trip
One Day in Arches National Park

Safe travels,
Zanna x