Arches National Park is one of the most popular national parks not only in Utah but in the whole of the United States, and for good reason. It is home to over 2000 sandstone arches and numerous unique rock formations, including the famous Delicate Arch. I personally believe you can visit this small but mighty park in one day, as long as you're willing to wake up early, take a packed lunch and do multiple hikes. Here is the itinerary we used to tick off all the main sights in a single day!
The Practicalities:
Where to stay: Arches National Park is located just outside Moab. I recommend staying at Red Cliffs Lodge which has rave reviews.
When to visit: I highly recommend visiting in spring or autumn to avoid the heat and crowds of summer. We visited in mid-late April, it was the perfect temperature for hiking and not too busy. If you are visiting at this time, pack for all weather eventualities. It can be 0 in the morning and 25 degrees in the afternoon!
Getting around: You will need a car to get around the national park. Make sure when you arrive you head to the visitors centre and get an update on any trail closures or tricky conditions you need to consider.
National park entry: Arches operates a timed entry reservation system. Instead of using this, I recommend either buying a National Park Pass (America The Beautiful Pass) as this is more cost efficient than paying for individual park entry, or entering the park before 7am when the system comes into effect.

Top travel tip: Download the ATG action tour guide app and the guides for Arches National Park. It is an audio guide that picks up on your GPS location and gives you information on the rock formations and sights around you, including local history. It is super informative and interesting!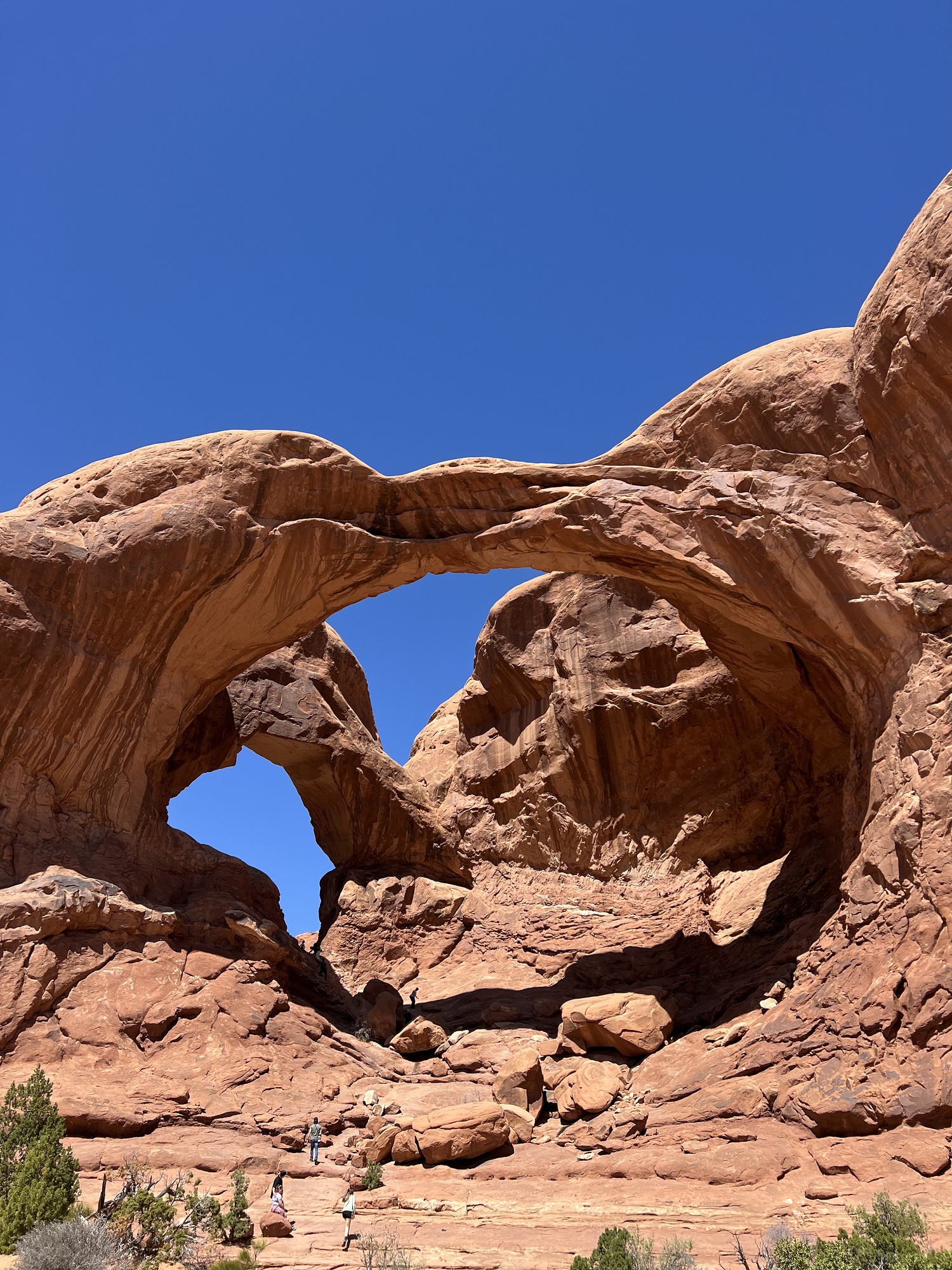 The Itinerary:
Arches is a small national park that is easy to navigate. It is based around one main road which cuts all the way through the park. You can drive along it and hop out at different viewpoints and hikes. I recommend driving to the furthest point first and working your way back. Here is how we did it:
Stop 1:
Delicate Arch Hike. This is the most famous arch in the whole national park, so it is definitely worth visiting. Most people go there for sunset, so instead I recommend hiking up at sunrise to avoid the crowds.
Stop 2:
Devils Garden Hike. This was our favourite hike in the park as it is long, scenic and a little challenging at times. It goes past the renowned Landscape Arch and our favourite, Double O Arch. Make sure you climb through the other side of this one and look back on yourself for the best views. I highly recommend doing the full "primitive" trail to get away from the crowds.
Stop 3:
Sand Dune Arch & Broken Arch Hike. This short and sweet hike connects Sand Dune Arch, which is tucked away in a beautiful sandy canyon, with the rugged Broken Arch.
Stop 4:
The Windows, Double Arch & Turret Arch. Another short but satisfying hike, this route takes in the famous Double Arch (which is seriously impressive) as well as Turret Arch, which perfectly frames the North and South Windows. I recommend doing the full primitive loop to see the arches from fresh perspectives and escape the crowds.
Stop 5:
The Viewpoints. Besides the hikes, you can also stop off at the viewpoint's for Balanced Rock, The Fiery Furnace, Garden of Eden and Park Avenue. Our personal favourite was Garden of Eden as we enjoyed watching a handful of climbers scaling the sheer rock faces there.
Stop 6:
Mill Creek. Once you have finished up in the National Park, I recommend driving to Mill Creek and taking a short walk to the waterfall. (Be warned, you have to make river crossings so I recommend going barefoot or bringing hiking sandals). Here you can have a peaceful and refreshing swim in a stunning secluded canyon. The perfect way to end the day.
Bonus Stop:
Corona Arch. If you have any spare time in Moab, I recommend driving 10 minutes out of town to the Corona Arch trailhead. This is the starting point for a short 2.4 mile easy trail that takes you to the stunning Corona arch. I actually think this was my favourite arch in the region (more than any inside Arches National Park), so don't miss it! Just make sure you walk beyond Corona Arch itself and look back to get the best views.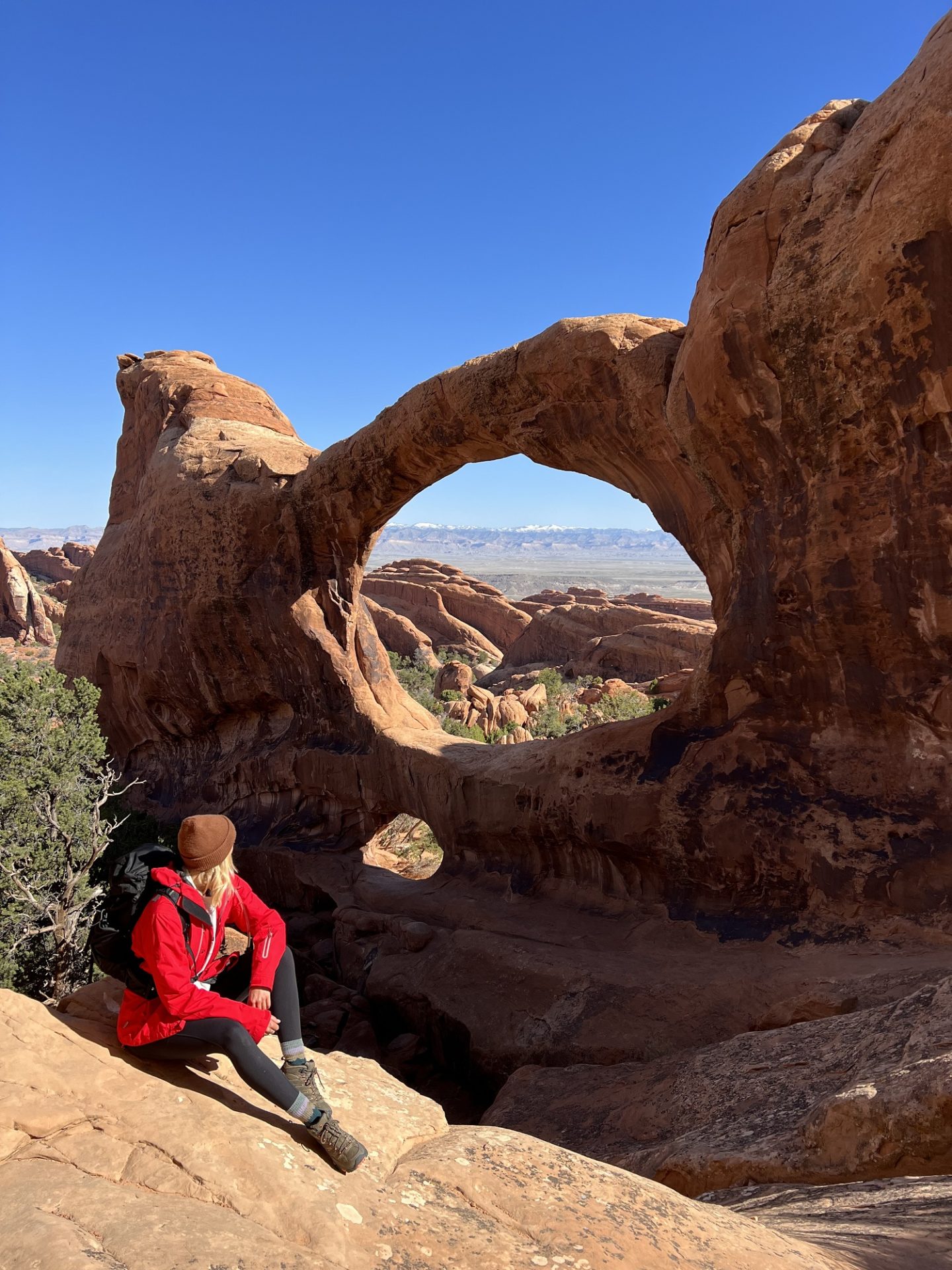 And that's it, the perfect one day itinerary for Arches National Park which ticks off all the main sights and totals to around 20km+ of hiking!
Happy hiking and safe travels,
Zanna x