Our Utah road trip is one of my favourite adventures I have ever been on! Two weeks of pure natural beauty, awe-inspiring views and incredible rock formations. Driving through the "mighty five" National Parks is the by far the most awesome way to experience the very best of this diverse and beautiful state. This itinerary takes in rugged red-rock mesas, winding slot canyons and off-the-beaten path hiking trails. Starting in the iconic Monument Valley it passes through Arches, Canyonlands, Capitol Reef, Bryce Canyon and Zion National Parks. If you're a nature lover looking for a trip of a lifetime, this is the itinerary for you!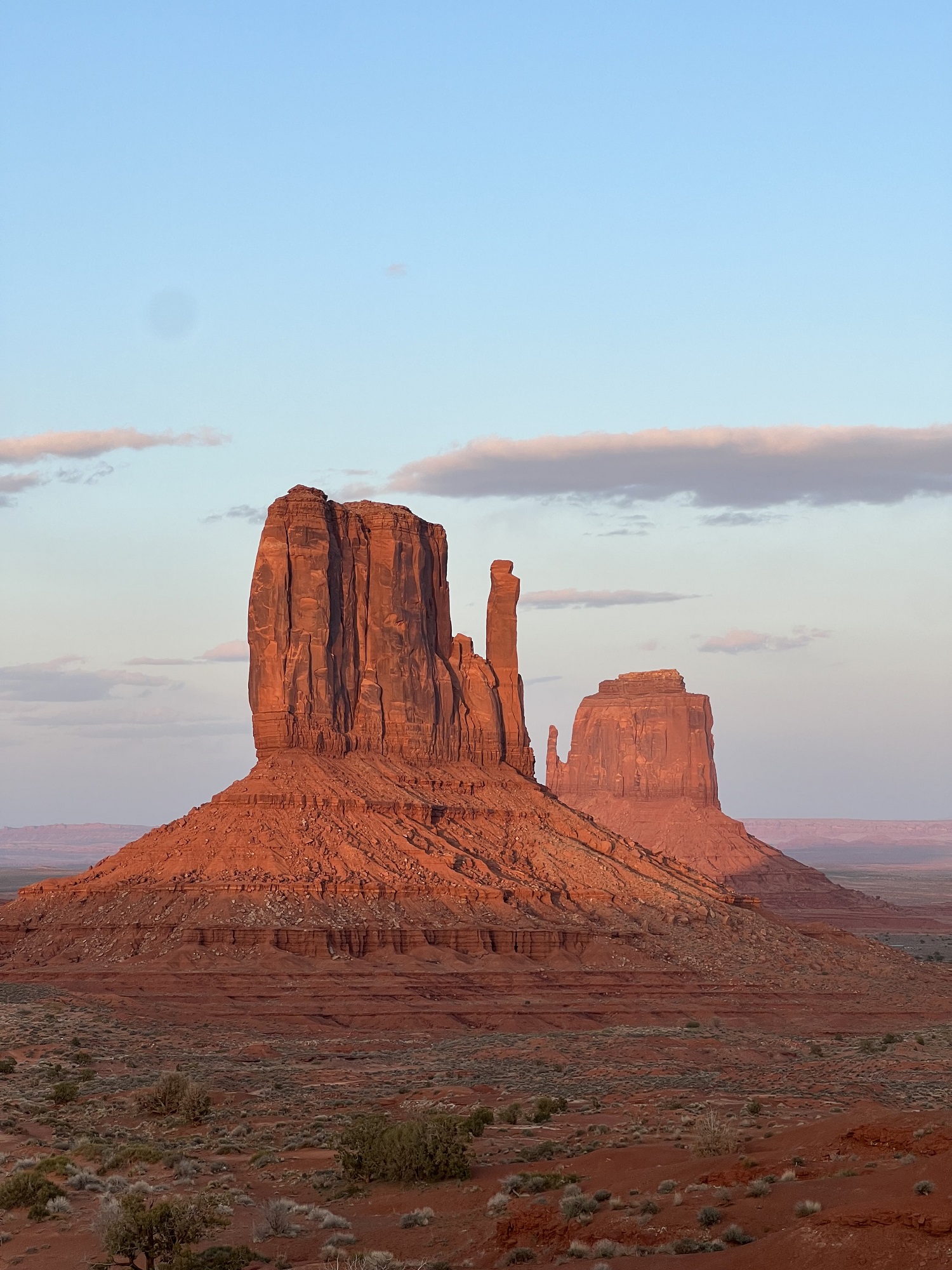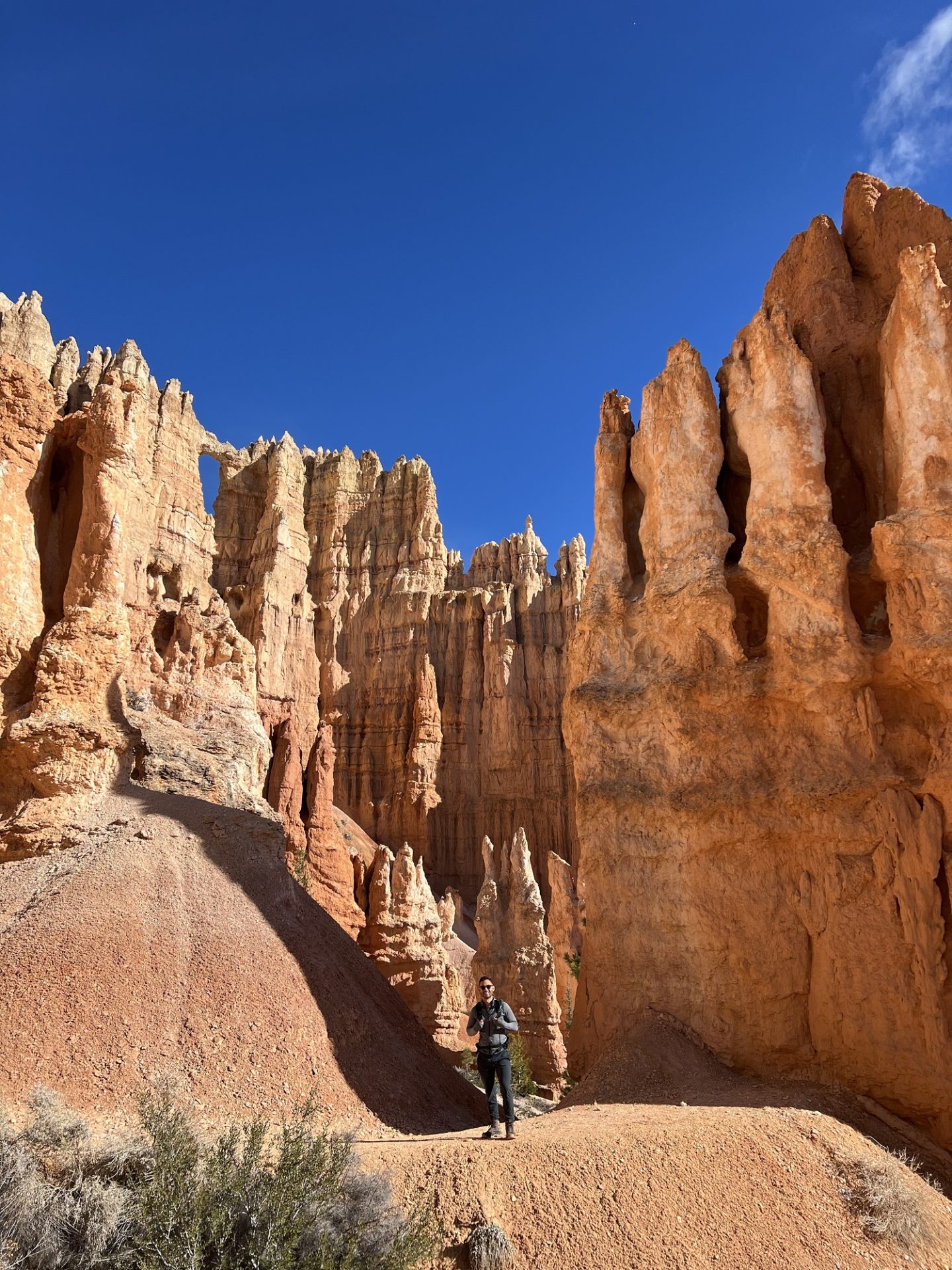 The Practicalities:
Getting there & getting around: Fly into one of the airports in and around Utah. This specific itinerary is based off flying into Phoenix but other options include Las Vegas and Salt Lake City.
When to go: I highly recommend visiting in spring or autumn to avoid the heat and crowds of summer. We visited in mid-late April, it was the perfect temperature for hiking and not too busy.
Price: This trip can be done in a more affordable way by staying in a camper van or using the national park campsites (which need to be reserved in advance). The one expense which really shocked us was food, it was surprisingly costly to shop at supermarkets and make our own packed lunches.
How long to stay: I would recommend two weeks to complete this road trip, doing it in any less would be a rush and involve a lot of driving in a short period of time.
My top travel tips:
1. Purchase a National Park Pass (America The Beautiful Pass) as this is more cost efficient than paying for individual park entry.
2. Download the ATG action tour guide app and the guides for each park. It is an audio guide that picks up on your GPS location and gives you information on the rock formations and sights around you, including local history. It is super informative and interesting!
3. When you get to the national parks, I always recommend heading to the Visitors Centre first to get an update on any trail closures or tricky conditions you need to consider.
4. If you are visiting in spring or autumn, pack for all weather eventualities. It can be -6 in the morning and 25 degrees in the afternoon!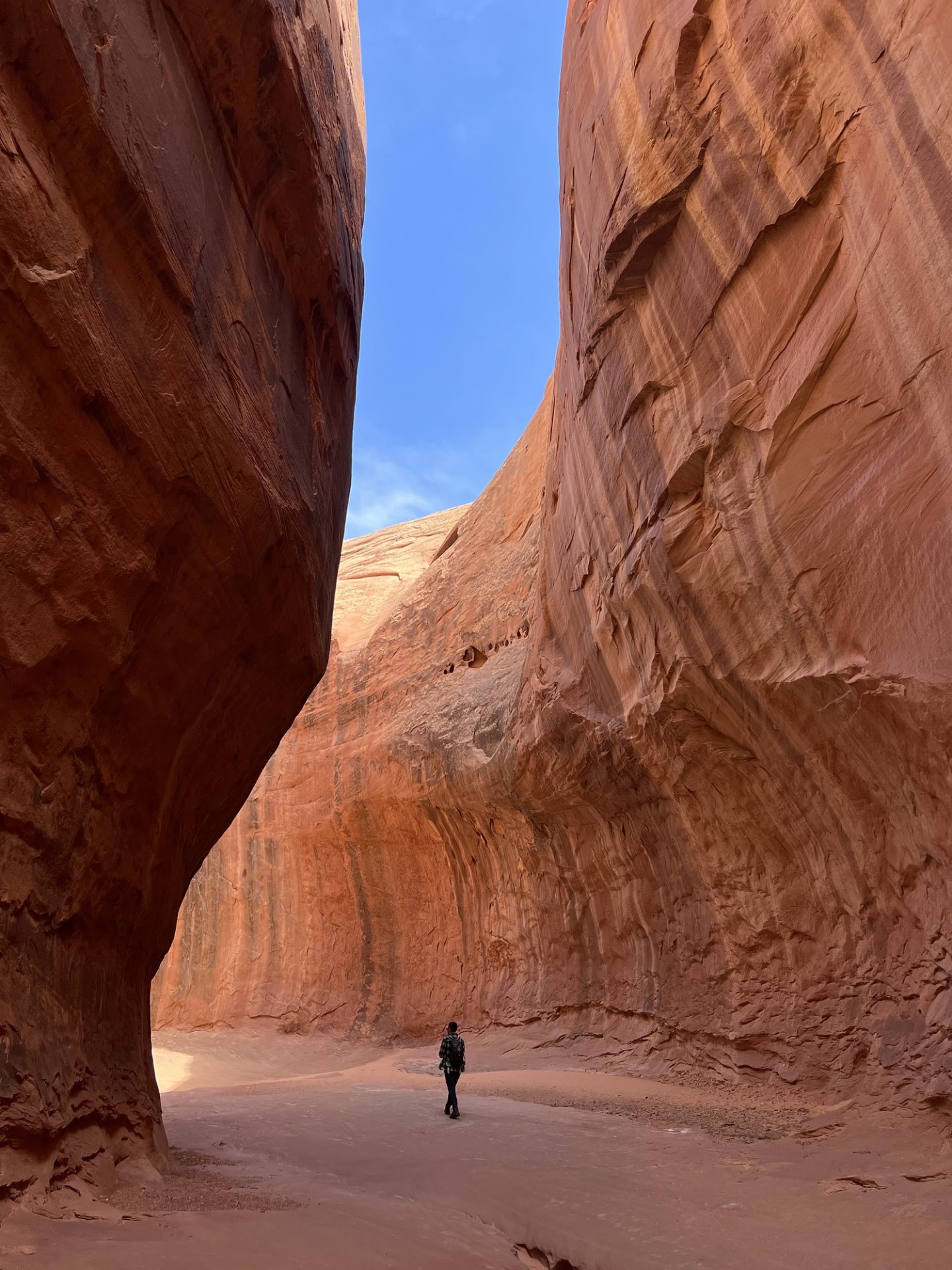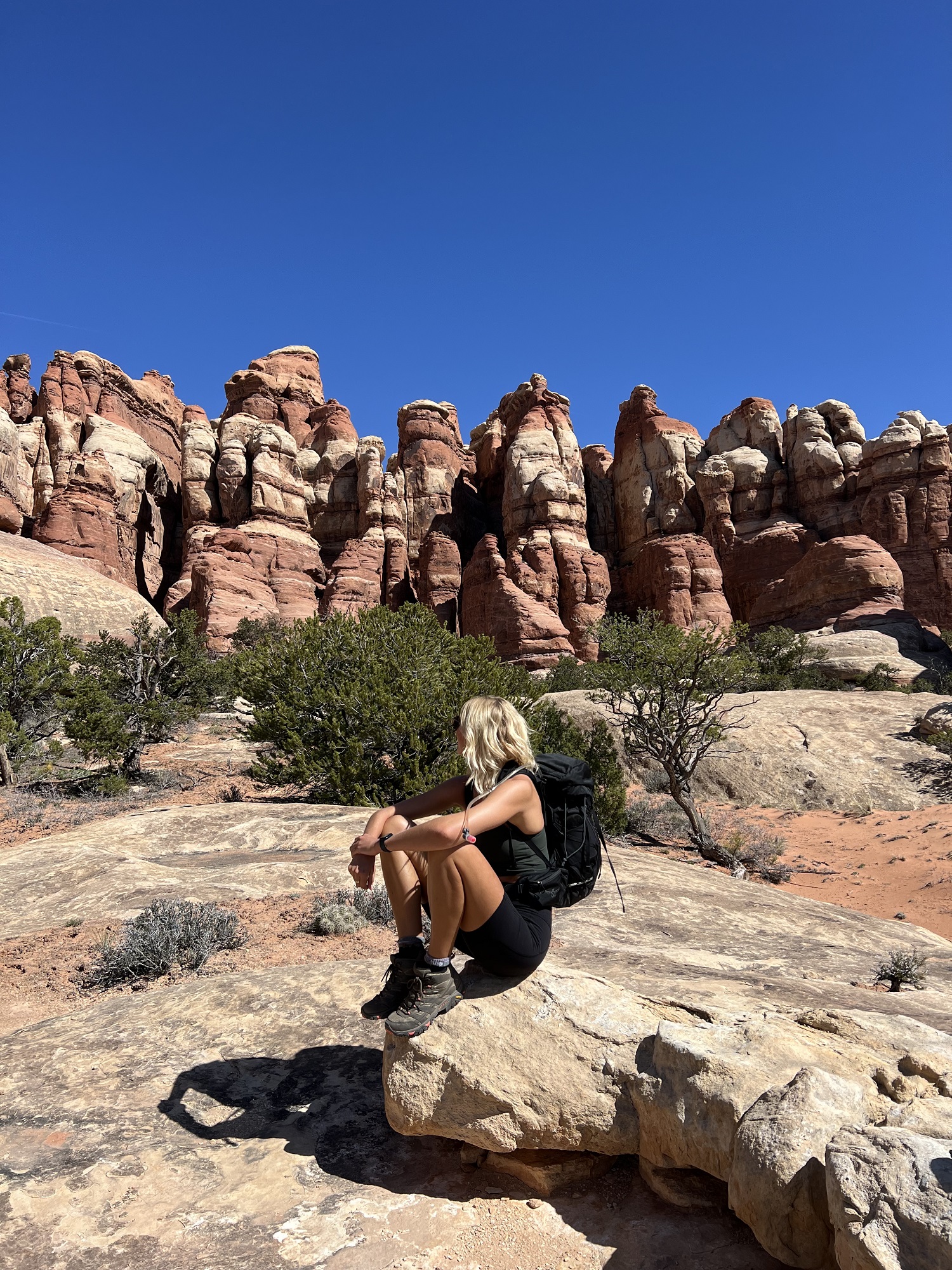 The Itinerary Overview:
Day 1: Land in Phoenix & drive to Flagstaff.
Day 2: Drive to & explore Monument Valley.
Day 3: Goosenecks State Park, Valley of the Gods & Drive to Moab.
Day 4: Arches National Park.
Day 5: The Needles District, Canyonlands National Park.
Day 6: Island in the Sky, Canyonlands National Park. Dead Horse Point.
Day 7: Goblin Valley & Drive to Capitol Reef.
Day 8: Capitol Reef National Park.
Day 9: Capitol Reef National Park. Willis Creek Slot Canyon. Drive to Bryce.
Day 10: Bryce Canyon National Park.
Day 11: Red Canyon & Drive to Zion.
Day 12: Zion National Park.
Day 13: Zion National Park.
Day 14: Zion National Park.
Day 15: Drive back to Phoenix via Page.
The 14 Day Utah Road Trip Itinerary – In Depth:
Day 1: Phoenix & Flagstaff.
Land in Phoenix, Arizona in the late afternoon and pick up a rental car. I recommend opting for a high clearance vehicle with four-wheel drive as the roads in Utah can be a little rough at times. Drive up to Flagstaff (2 hours) and stay in one of the many roadside hotels there for the night. We stayed at Country Inn & Suites.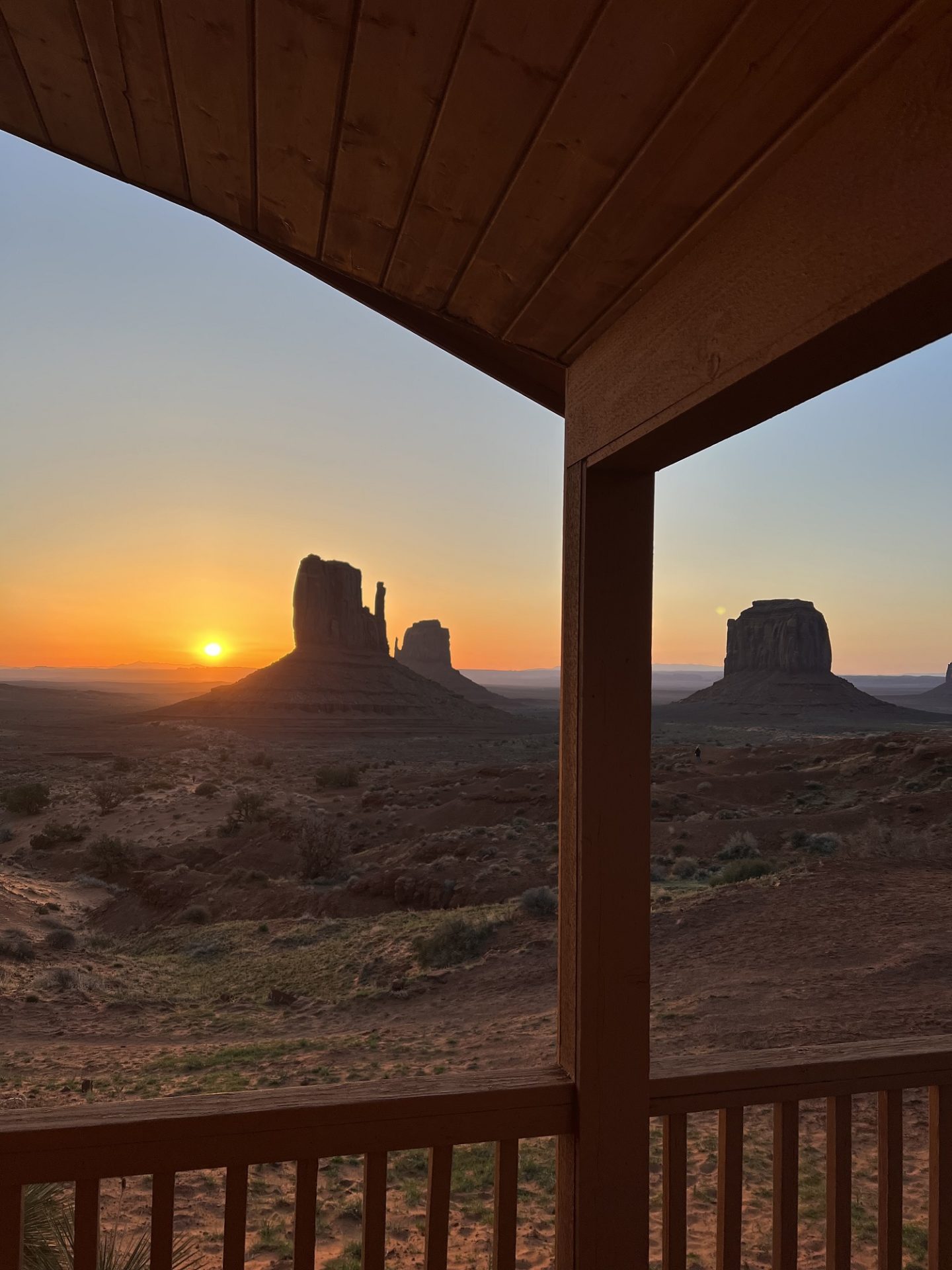 Day 2: Monument Valley.
Wake up bright and early and get on the road, it is time to drive to Monument Valley. This is a four-hour drive, but you will gain back an hour as you near the state crossing when the time zone changes. Once you arrive in Monument Valley it's time to explore! Here are the key things to do in the area, you only need one day to experience it all:
Complete the Valley Drive. This is a 17-mile bumpy route that passes by the most popular sights and viewpoints in the area. My favourite stop was John Fords viewpoint.
Hike the WildCat trail. Since this is a protected area, there is only one hiking route available. This 3.2-mile loop takes you around the base of the famous buttes and is well worth doing to see them from a fresh perspective.
If you have more time in your schedule, consider booking onto a guided tour as this is the only way to access more of the valley. For example tours to Lower Monument Valley, Teardrop Arch and Hunt's Mesa.
Accommodation: I highly recommend staying in The Premium Cabins at The View Hotel, Monument Valley. They are cosy, comfortable and give mind-blowing views – they're the perfect spot to watch sunrise, so make sure you wake up nice and early the next day!
Day 3: Goosenecks State Park, Valley of the Gods & Moab.
It is time to move on, wake up nice and early to watch the sunrise from your cabin before hitting the road and driving to Moab (2.5 hours). There are some incredible stop-offs en route:
Forrest Gump Point. The iconic road from this mega movie is well worth pulling over and having a look at!
Goosenecks State Park. This small but mighty state park is stunning, pop in and have a look at the incredible San Juan river winding through a deep canyon with multiple horseshoe bends.
The Valley of the Gods. A 17-mile bumpy route through a "mini monument valley". This is much quieter and you will likely have the road to yourself, so it's a great place to stop off if you want to escape the crowds.
Once you make it to Moab, you might have just about enough time for a short hike. If so, I recommend driving 10 minutes out of town to the Corona Arch trailhead. This is the starting point for a short 2.4 mile easy trail that takes you to the stunning Corona arch. I actually think this was my favourite arch in the region (more than any inside Arches National Park), so I don't miss it! Just make sure you walk beyond Corona Arch itself and look back to get the best views.
Accommodation: We stayed at Under Canvas Moab and found it to be disappointing. Instead, I recommend staying at Red Cliffs Lodge which has rave reviews.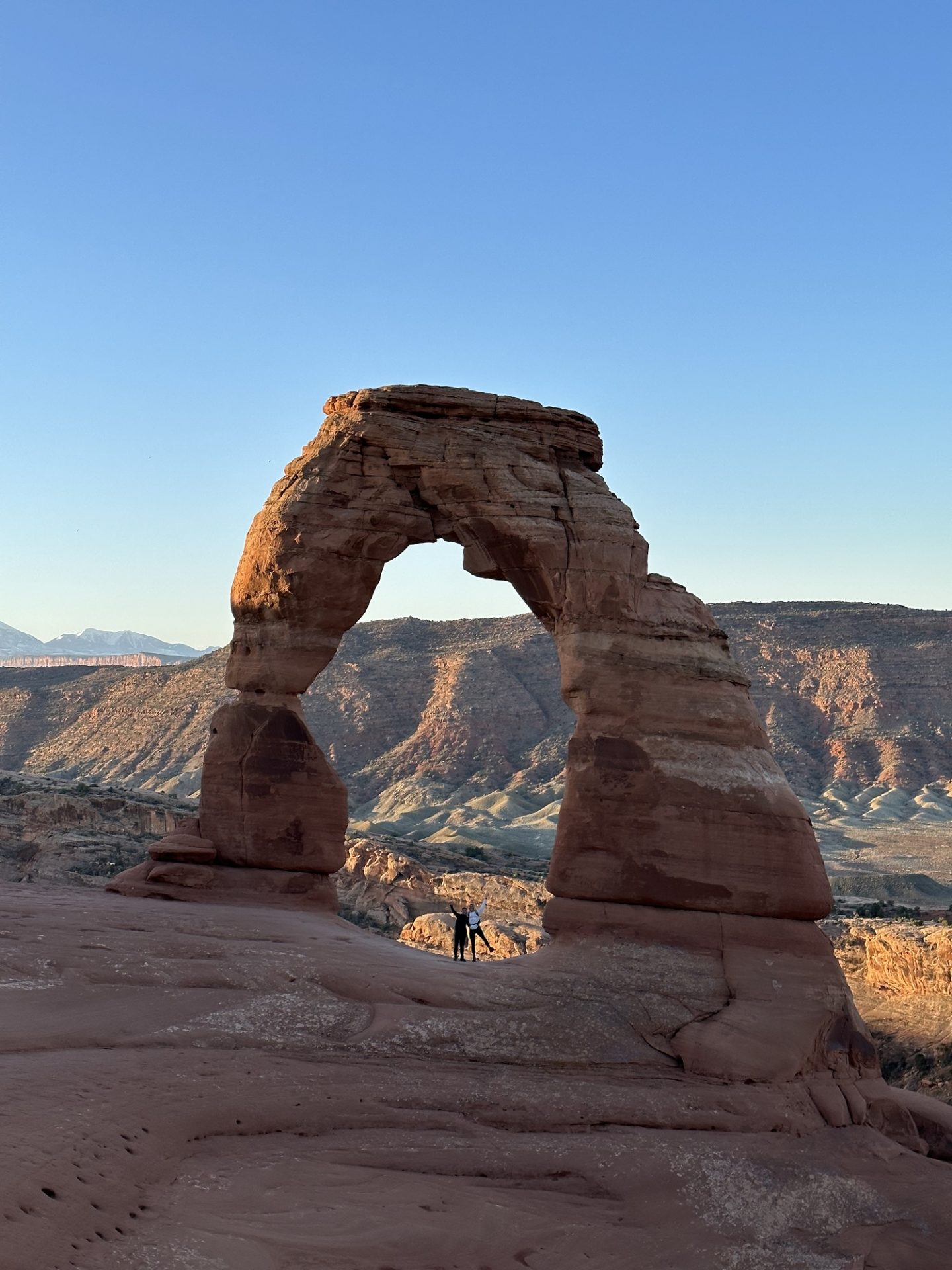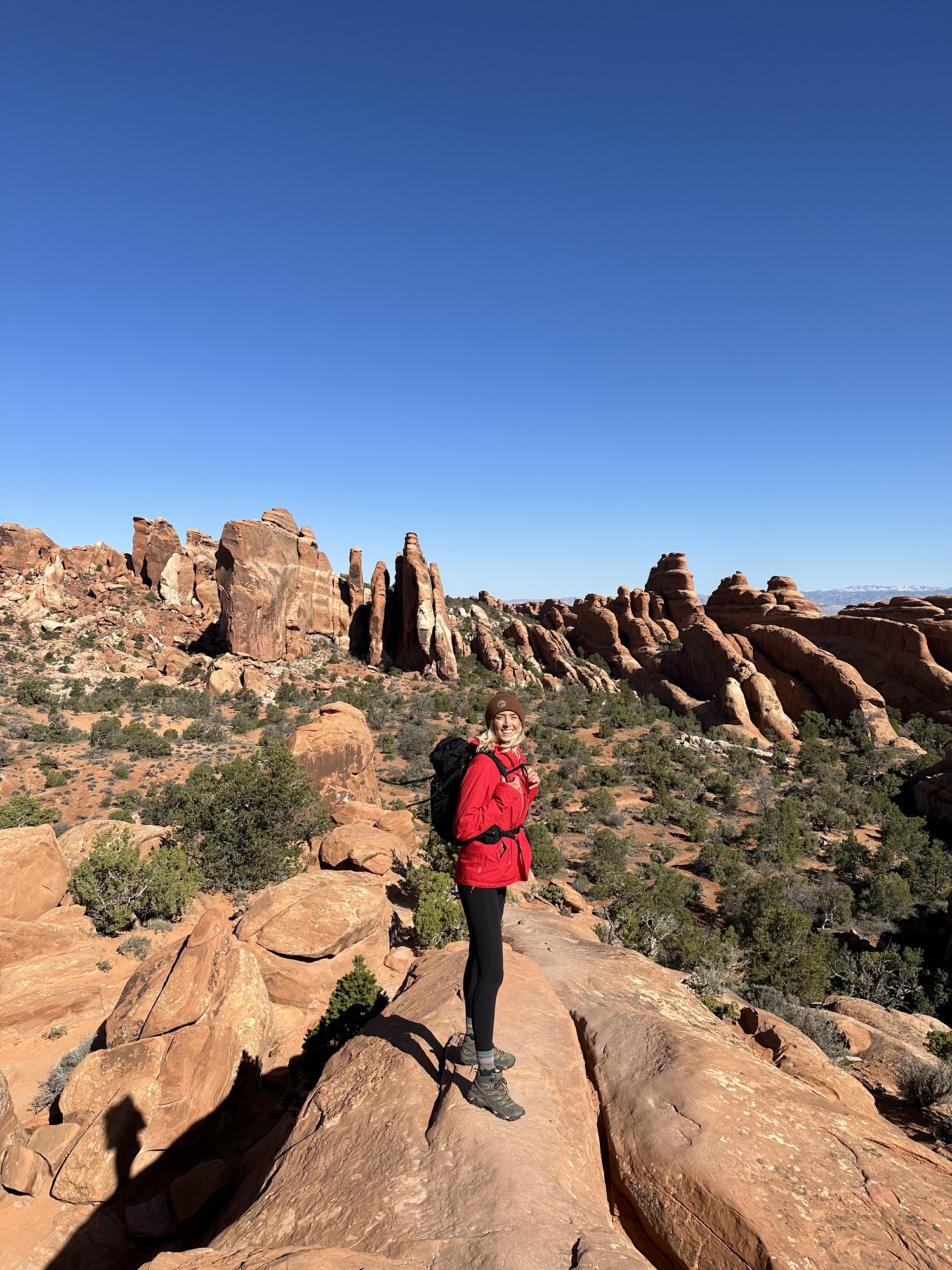 Day 4: Arches National Park.
It is time to explore the first of the Mighty Five national parks! Arches is a relatively small national park best known for, you guessed it, arches! You can easily tick off all the main sights in a single day if you're willing to get up early, take a packed lunch and do multiple hikes. There is basically one main road through the park which you drive along and then hop out for different viewpoints and hikes. Here are the highlights (in the order I recommend doing them):
Delicate Arch Hike. Most people go for sunset, go for sunrise to avoid the crowds.
Devils Garden Hike. Our favourite hike in the park, ensure you do the full "primitive" trail to get away from the crowds.
Besides the hikes, you can also stop off at the viewpoint's for Balanced Rock, The Fiery Furnace, Garden of Eden and Park Avenue.
Once you have finished off in the National Park, I recommend driving to Mill Creek and taking a short walk along the river to the waterfall. Here you can have a peaceful and refreshing swim in a beautiful secluded canyon – the perfect way to end the day.
Accommodation: Red Cliffs Lodge, Moab.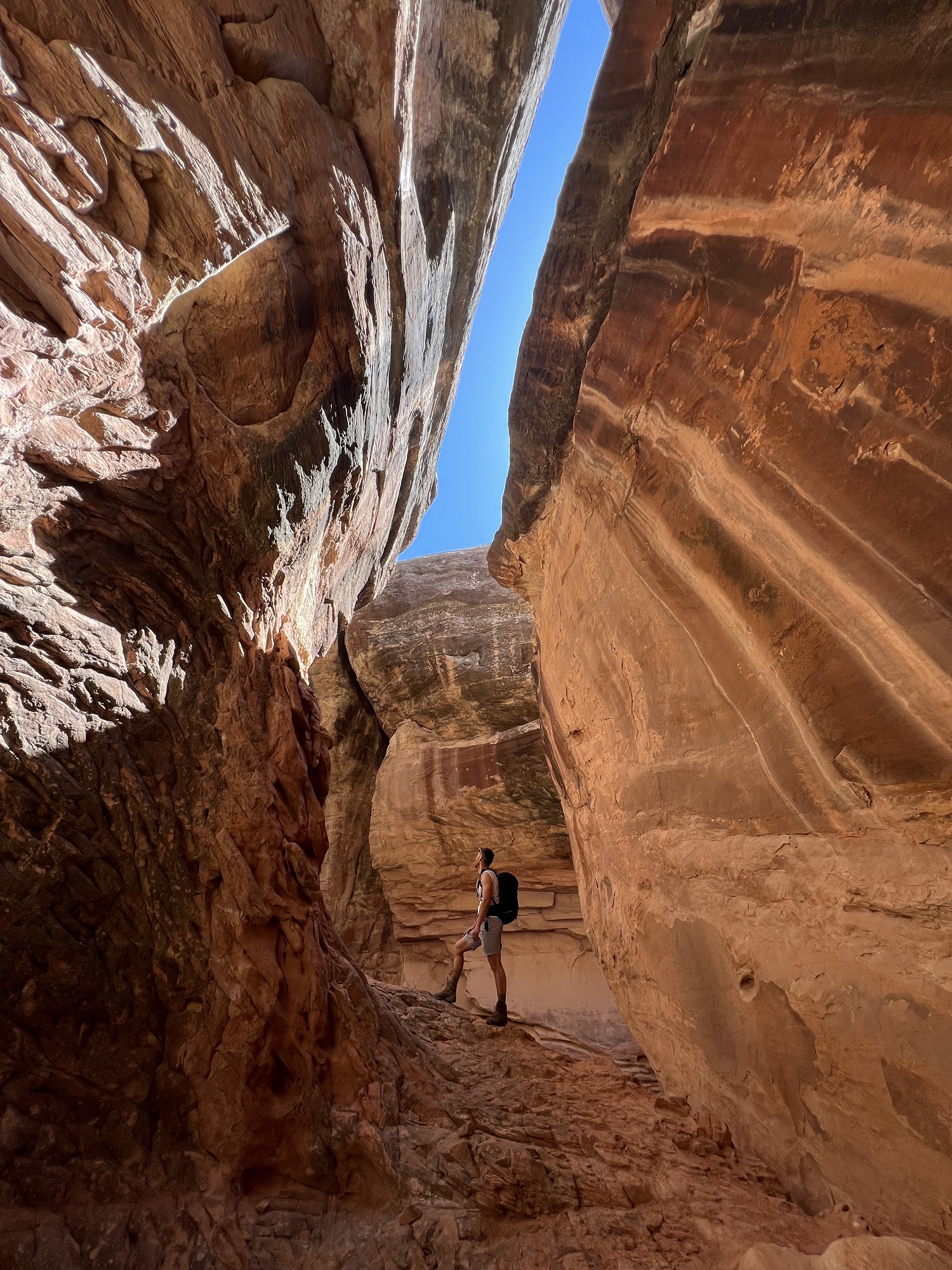 Day 5: The Needles District, Canyonlands National Park.
The Needles is an often overlooked region of Canyonlands national park and I have to admit, it takes a bit of extra effort to get there. It is a 90-minute drive from Moab but I promise it is worth the journey, it ended up being one of our highlights of the whole road trip!
The Needles District is home to some seriously unique landscapes including the famous striped sandstone spires aka "needles" as well as grey "mushroom" rocks and so much more. The best bit though? There is an abundance of hiking trails and hardly anyone there, it is the perfect place to escape the crowds and experience stunning desert landscapes to yourself.
There are a few key hiking routes in the region but if I had to choose one, I would recommend the 11-mile Chesler Park Loop Trail. This full-day hike not only takes you up close and personal with the needles, it also passes through a cave and even an epic slot canyon (The Joint Trail). At many moments you feel like you're on another planet! Definitely add it to your itinerary.
Accommodation: Red Cliffs Lodge, Moab.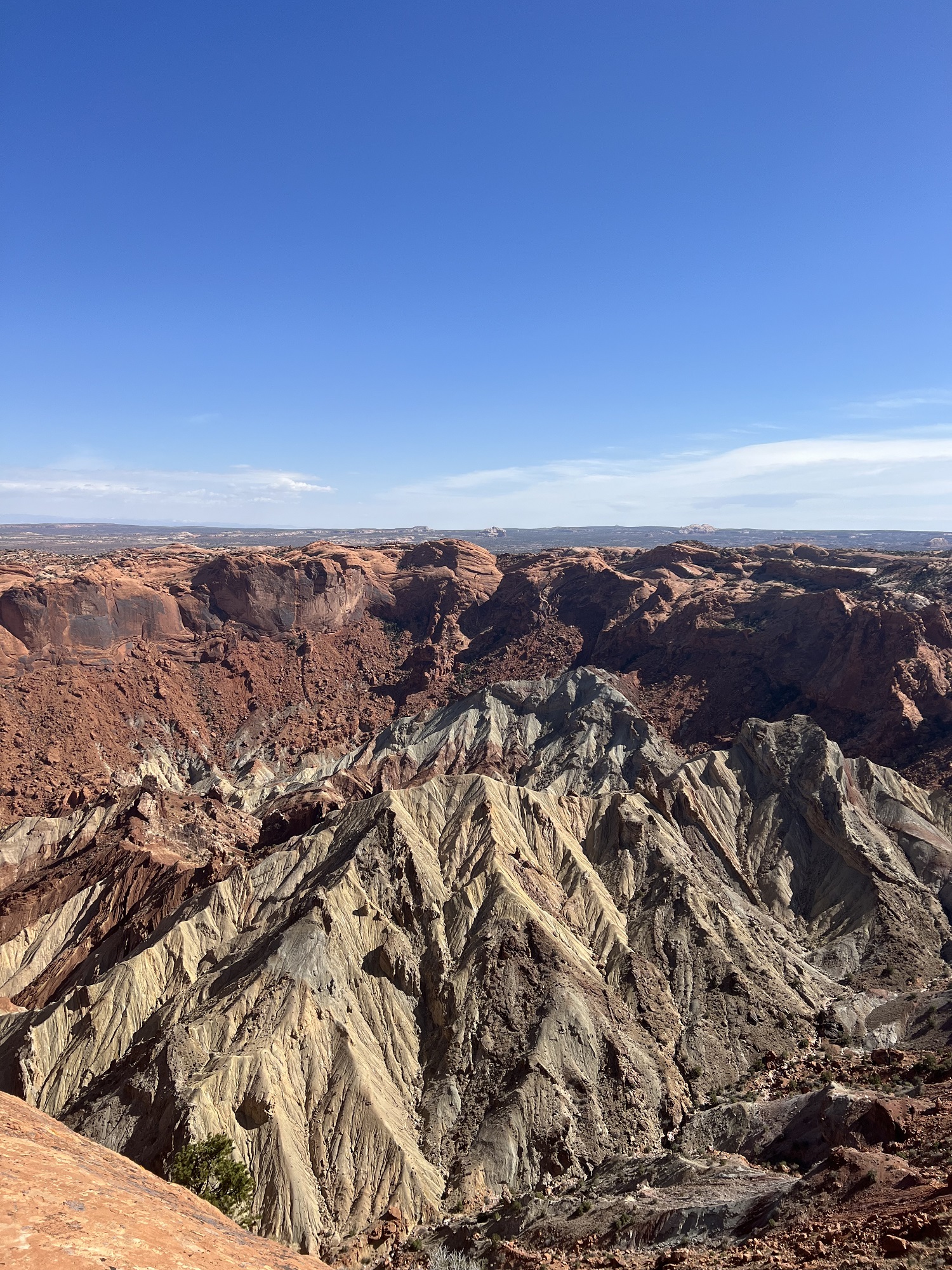 Day 6: Island in the Sky, Canyonlands National Park. Dead Horse Point.
It's time to explore the most popular region of Canyonlands national park, Island in the Sky. It is jam-packed with incredible canyons, buttes, mesas and arches that have been carved by the Green and Colorado rivers. Similarly to Arches, all the key viewpoints, overlooks and hiking trailheads are located along one key road, and you can easily tick them off in a single day.
Mesa Arch. Visit this iconic arch at sunrise for the most famous view in the park.
Grand View Point Overlook Trail & White Rim Overlook Trail. I recommend picking one of these two, as they both give similar views.
Murphy Point Trail. There is the option to extend this hike to make it a longer loop that goes down into the canyon, I highly recommend doing this if you have the time.
Upheaval Dome. Walk around the rim of this mysterious and beautiful crater which scientists hypothesise was caused by a meteor.
Green River Overlook. This is a great sunset spot, and is actually where my partner and I got engaged.
Dead Horse State Park. This stunning state park is located on the same road as Island In The Sky so it makes total sense to pop in on your way back to Moab. The best viewpoint is Dead Horse Point Overlook, but I also recommend strolling along the West Rim trail to Shafer Canyon Overlook and Rim Overlook.
Have more time? One of the biggest bucket list experiences in Canyonlands is driving along the 100 mile White Rim Road. This requires a little forward planning, a four wheel drive car and a permit, you can find out more on this comprehensive guide.
Accommodation: Red Cliffs Lodge, Moab.
Day 7: Goblin Valley & Drive to Capitol Reef.
The drive to Capitol Reef national park (2 hours) isn't complete without stopping at Goblin Valley and Little White Horse Canyon. Here is what to do in these unique destinations:
Goblin Valley State Park. This state park is a whole world of fun! It is best known for its unique hoodoo, toadstool and "goblin" rock formations. The best way to explore this park is by wandering through the three valleys it is home to, they have no designated trails so you can hike as you like. If you want to do a more structured route then I recommend the Goblins Lair or Carmel Canyon loop.
Little Wild Horse Canyon. A 10 minute drive from Goblin Valley is this incredible slot canyon. If you're keen to experience tight passageways and some fun rock scrambling, don't miss it. If you tackle this hike as an out-and-back trail it is 4.5 miles, or you can extend it to connect with Bell Canyon which creates an 8 mile loop.
Accommodation: Capitol Reef Resort. This perfectly located hotel is right on the edge of the national park, meaning it is only a 15 minute drive from some of the most popular trails. The rooms are comfortable and have lovely views over the surrounding hills and mountains.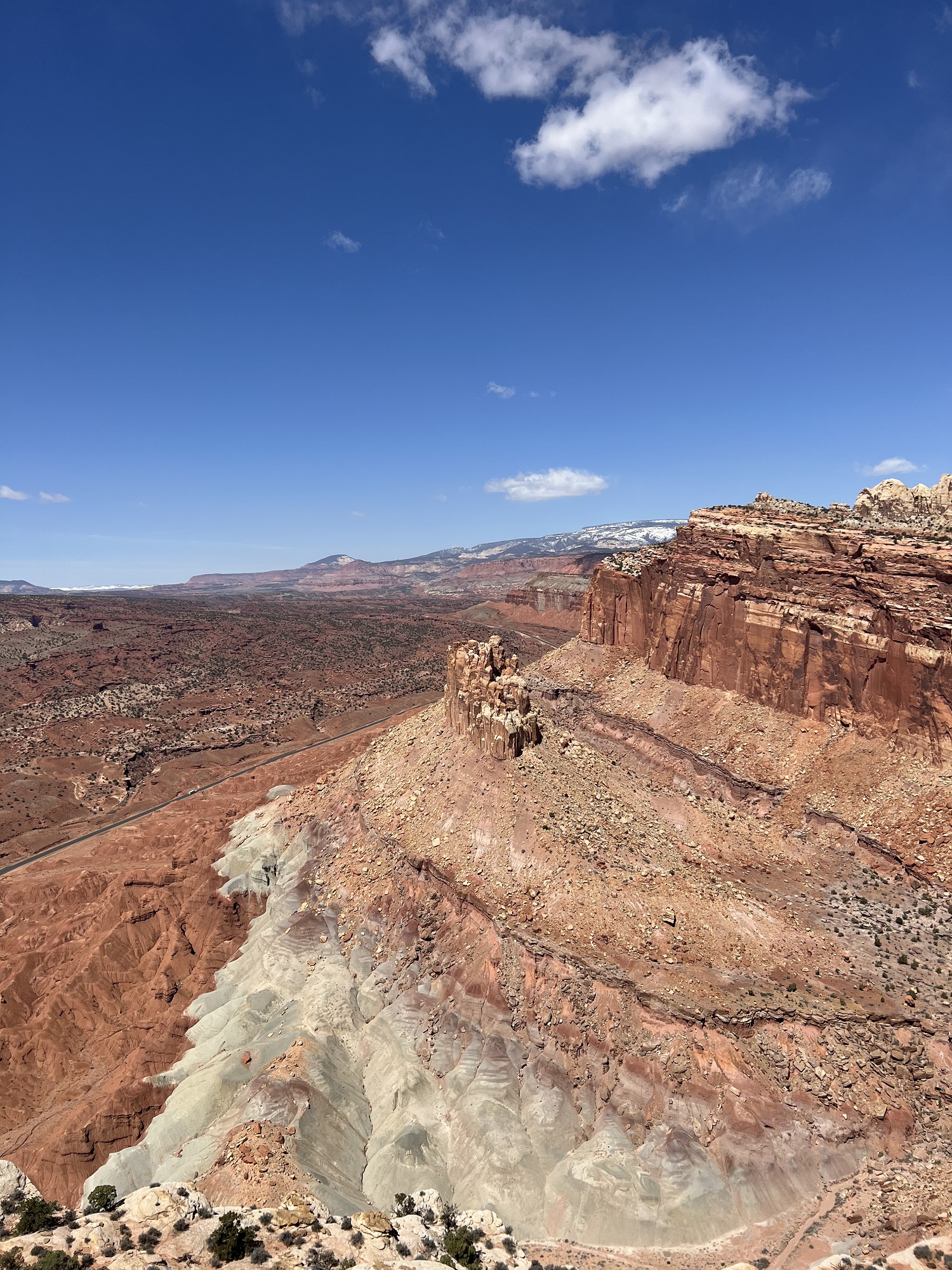 Day 8: Capitol Reef National Park.
Capitol Reef is perhaps the most underrated of the Mighty Five national parks, and by far the least visited. It is based around the Waterpocket Fold, a 100-mile-long wrinkle in the Earth's crust that has led to arches, canyons, domes and incredible coloured rock formations. If you're looking for scenic drives, varied hikes and beautiful landscapes then don't skip it! Here are the top sights you can't miss:
Drive along Highway 24 and stop off at all the viewpoints. Then continue along the 6 Mile Capitol Reef Scenic Drive. Extend this to include Capitol Gorge Road and hike along the Capitol Gorge Trail.
Hike up to Cassidy Arch. This was my favourite short and satisfying 3.5 mile hike in the park, I highly recommend doing it early in the morning. There is the option to extend this route by hiking along the Frying Pan Trail to Cohab Canyon.
Hike the Navajo Knobs Trail. I loved this 9.5 mile route! You climb up from the valley floor, taking in none-stop incredible panoramas of the park as you make your way to the peaks of Navajo Knobs. Here you have some of the best 360 degree views in the whole of Capitol Reef!
Visit Cathedral Valley. This lesser visited and more remote region of the park is home to incredible rock formations – most famously the Temple of the Sun & Moon. You will need to do some serious off-road driving to take on the 58 mile scenic drive through this region, so I recommend booking an organised tour if you're not prepared for this.
Pick up a pie at Gifford Homestead. Their homemade pies are absolutely delicious, just make sure you go in the morning to have a chance at choosing from a few flavours as they sell out fast! The apple was our favourite.
Accommodation: Capitol Reef Resort.
Day 9: Capitol Reef National Park. Willis Creek Slot Canyon. Drive to Bryce.
Wake up and tick off any Capitol Reef hikes and sights you didn't squeeze into the day before (we did Cassidy Arch & Gifford homestead on day 9). Then it is time to hit the road and drive to Bryce Canyon national park, via a couple of stops:
Drive along Scenic Byway 12. This adds about 30 minute to your travel time but is well worth it. It's one of the most beautiful roads in the whole state. Enjoy the incredible views as you weave your way to Bryce, making sure you stop off at Magnolias Street Food in Boulder for lunch. It's delicious!
Willis Creek Slot Canyon. This 3 mile easy trail was one of my personal highlights of the trip. It winds through the most incredible slot canyon which gets progressively deeper and more beautiful as you delve further into the trail. I have never seen such stunning curved rock, it blew me away! Plus there's hardly anyone there, which makes it even more special. Just a warning though, the road there is a little rough so only stop by if you have a high clearance vehicle.
Have more time? Add in a stop at Kodachrome Basin State Park. Explore the red rock mountains and sandstone spires on one of the short hiking trails in the area, my top recommendation is the 1.7 mile loop Shakespeare Arch and Sentinel Trail.
Accommodation: The Lodge at Bryce Canyon. This is the only accommodation located inside the national park, which means you can hike straight from the hotel – the dream! The rooms are basic but the on site restaurant exceeded our expectations.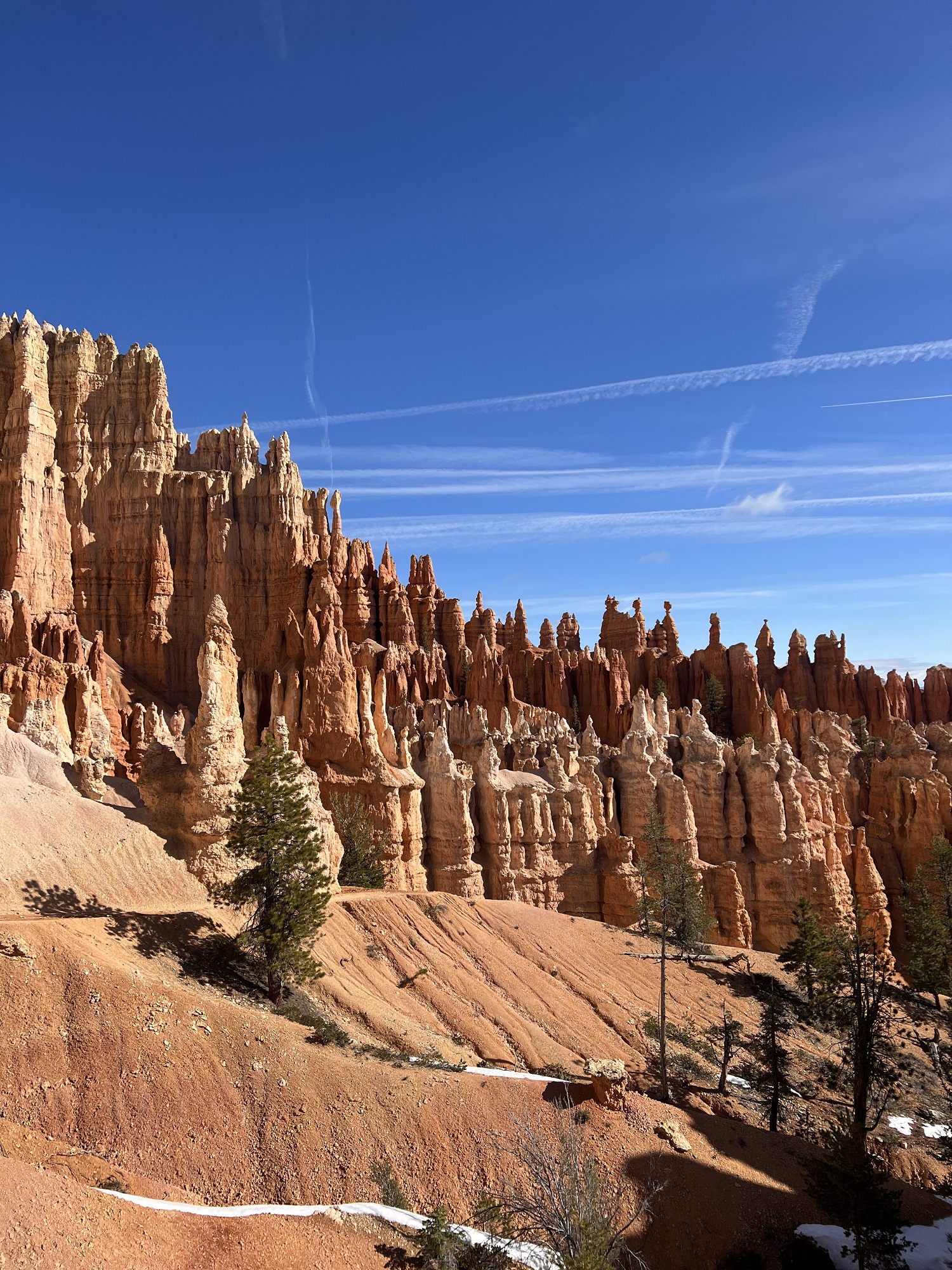 Day 10: Bryce Canyon National Park.
Bryce Canyon, the fourth national park on this Mighty Five road trip, is small but mighty. It is most famous for being home to thousands of unique "hoodoo" rock formations which are tall, thin rock spires in beautiful red and orange hues. Due to its small and accessible nature, this is a park which you can easily visit in one day and see all the key sights! Make sure you don't miss:
Navajo & Queens Garden Loop Hike. This 3 mile loop is the most popular hike in the park for good reason, it takes you down into the valley, up-close and personal with the hoodoos, sometimes even passing through them via tunnels! Make sure you take the route through Wall Street canyon, and start this hike early as it gets very busy.
Peekaboo Loop Hike. This 4.8 mile loop is similar to the Queens Garden hike in nature, but much quieter. I recommend doing the loop in a clockwise direction to get the best views. You can actually combine this with Navajo, Queens Garden and Wall Street into one mega hike – which is what we did and I highly recommend it!
The Rim Trail. Bryce Canyon is based around an amphitheatre filled with hoodoos, and the best way to get top down views of this is to walk along the Rim trail. You can choose how far you hike, whether that's just from Sunrise to Sunset Point (which is only a few hundred metres), or all the way down to Inspiration Point and Bryce Point (both of which you can also drive to).
Watch Sunrise. The best spot for sunrise is not Sunrise Point, it is Sunset Point! So be sure to wake up bright and early to see the sun come up over the beautiful hoodoos.
Got more time? Hike the Fairyland Loop. A longer 8 mile trail which again takes you down into the depths of the valley. A great option if you want something a little more challenging!
Accommodation: The Lodge at Bryce Canyon.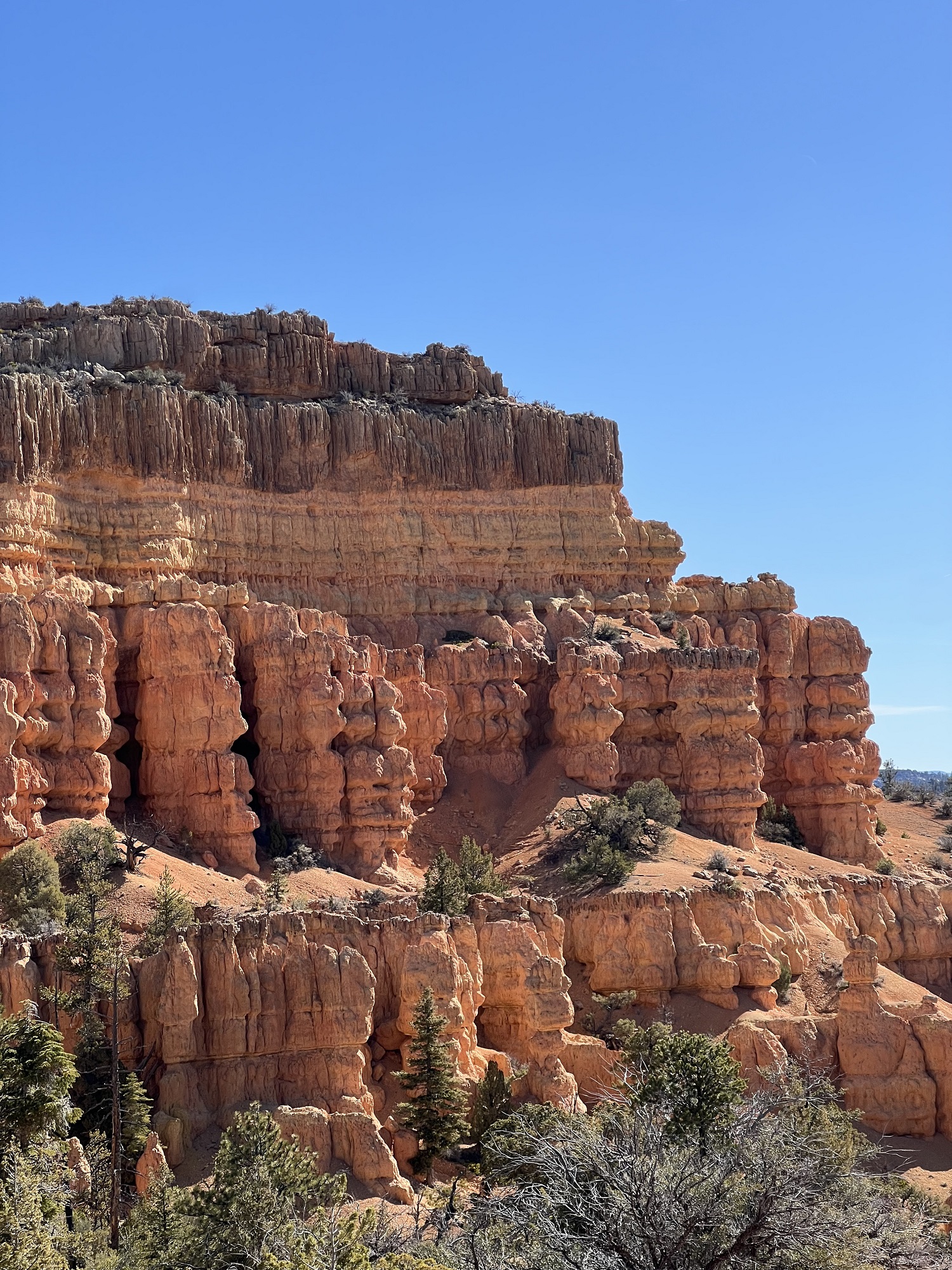 Day 11: Red Canyon & Drive to Zion.
It's time to drive to the fifth and final national park of the trip, but not without a stop at the beautiful Red Canyon first. Red Canyon is often described as a "mini Bryce without the crowds" and is home to an abundance of beautiful hoodoo rock formations. There are a handful of hikes in the region but if I had to recommend one, it would definitely be the Golden Wall and Buckhorn Loop. This is a 4.8 mile loop which takes you right through the base of a beautiful canyon filled with hoodoos before climbing up high to give incredible views. This was one of our favourite hikes of the trip simply because we didn't see a single soul on the whole trail! Other popular hikes in Red Canyon include the Pink Ledges Trail and Birds Eye Trail.
Once you have finished exploring Red Canyon, continue driving for roughly two hours to Zion national park, the final stop of the Mighty Five road trip.
Accommodation: Zion National Park Lodge. This is the only accommodation inside Zion national park and I can't recommend it enough. The rooms are basic but nothing beats waking up inside this incredible place and being able to hike from your doorstep.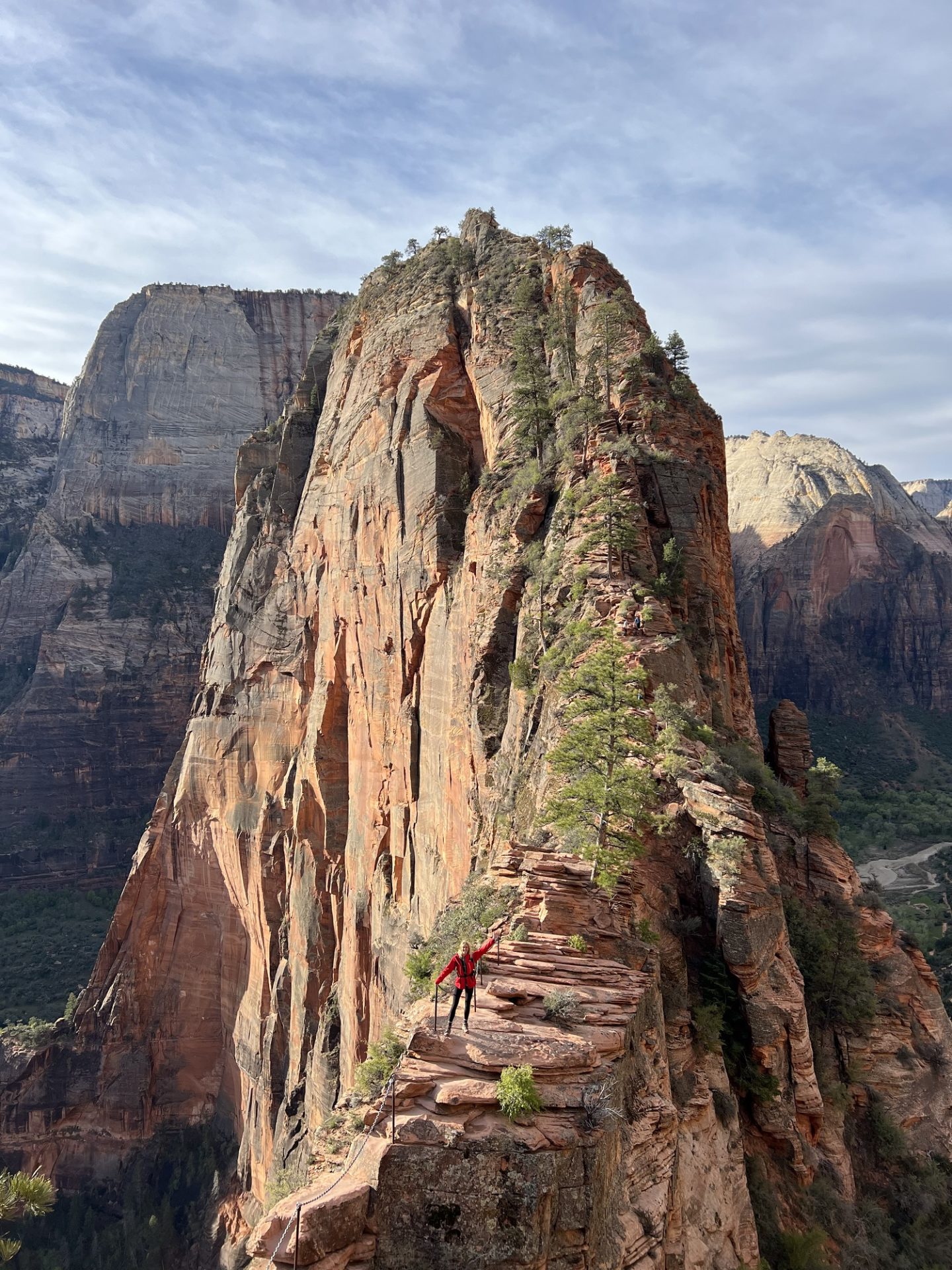 Day 12, 13 & 14: Zion National Park.
Zion national park is the third most visited park in the United States, so just brace yourself for things to get a little busier from here. But don't worry, if you're willing to get up early and take on more challenging hikes, you can escape the crowds!
Zion is based around a beautiful and expansive canyon that is around 2000 feet deep, offering hiking routes along its floor, rim, ridges and waterways. It is worth noting that you cannot just drive up to the trailheads in Zion valley, in the peak months there is a free shuttle service which takes you between them. It sounds like a faff but it's actually super efficient! When you're visiting Zion, here are the top experiences you cannot miss:
Angels Landing. This is the most popular hike in Zion and for good reason! The final climb takes you up a narrow ridge. You use a combination of chain asserted climbing and scrambling to get to the top. It isn't for those with a fear of heights! You need a permit to do this hike, which you can apply for here. I highly recommend getting up at the crack of dawn to take on this route. We started hiking from the lodge at 5.30am and summited without seeing a single soul. Once you have completed Angels Landing, I recommend continuing along the West Rim and Telephone Loop trail. It's a tough uphill hike but once you reach the rim of the canyon, the views are out of this world and you will have left the crowds far behind!
The Narrows. This famous route is unique because you literally hike up a river. You need to hire specialist gear such as waterproof shoes and trousers – which is widely available in nearby Springdale. The route follows one of the most beautiful slot canyons in the country, surrounded by sheer rock walls and flowing water. You can hike up the river as far as Big Springs without a permit, which is a 10 mile round trip. The Narrows can get seriously busy, so if you want a more peaceful experience I recommend applying for a permit to do the "top down" route through the canyon.
Observation Point. This was our favourite viewpoint over Zion Valley. To hike here you need to drive to Ponderosa Ranch, catch a shuttle to the trailhead and hike 6.4 miles along the East Mesa trail. It is well worth the effort! You can also do a couple of other longer hikes from this trailhead including Deertrap Mountain and Cable Mountain.
Shorter Hikes. There are numerous shorter hikes available inside the park. I did pretty much all of them and I would say the two most worth doing are Canyon Overlook and Emerald Pools. Canyon Overlook is a short 1 mile trail which gives incredible views and is a fantastic spot for sunset. Emerald Pools is a 2.5 mile loop which is best done in spring when water is flowing. I recommend hiking up from The Grotto via the Kayenta Trail which has beautiful views of the valley.
Kolob Canyons. This is a quieter region of Zion National Park which is a short drive away form the main valley, it is a great place to explore if you experience the beauty of Zion without the crowds. There are three key hikes in this area: the Timber Creek Trail, the Taylor Creek Trail and the La Verkin Creek Trail.
Canyoneering. If you're looking for a unique way to spend a day in and around Zion, I recommend adding canyoneering to your itinerary. We went with Zion Adventures and explored a water canyon through a series of rappels, but they also offer narrow slot canyons which look fun!
Got more time? Locals recommended Snow Canyon State Park to us as a hidden gem. It is known for its beautiful sandstone rock formations, lava flows and slot canyons. With 16 miles of hiking trails to explore, you could easily spend a day there.
Accommodation: Zion National Park Lodge.
Day 15: Drive back to Phoenix via Page
It is time for the road trip to come to an end! Wake up early and start your 7-hour drive back to Phoenix, Arizona. It sounds like a long journey and it is, but there are a couple of beautiful stops you can make along the way!
Horseshoe Bend, Page. This is an incredible viewpoint over a horseshoe shaped meander in the Colorado River. It is a short and easy 1.2 mile hike (round trip) to get to the overlook.
Antelope Canyon, Page. This famous and stunning slot canyon can only be explored on a guided tour, but if you don't have time to book into one then I recommend checking out alternative canyons nearby such as Horseshoe Bend Slot Canyon.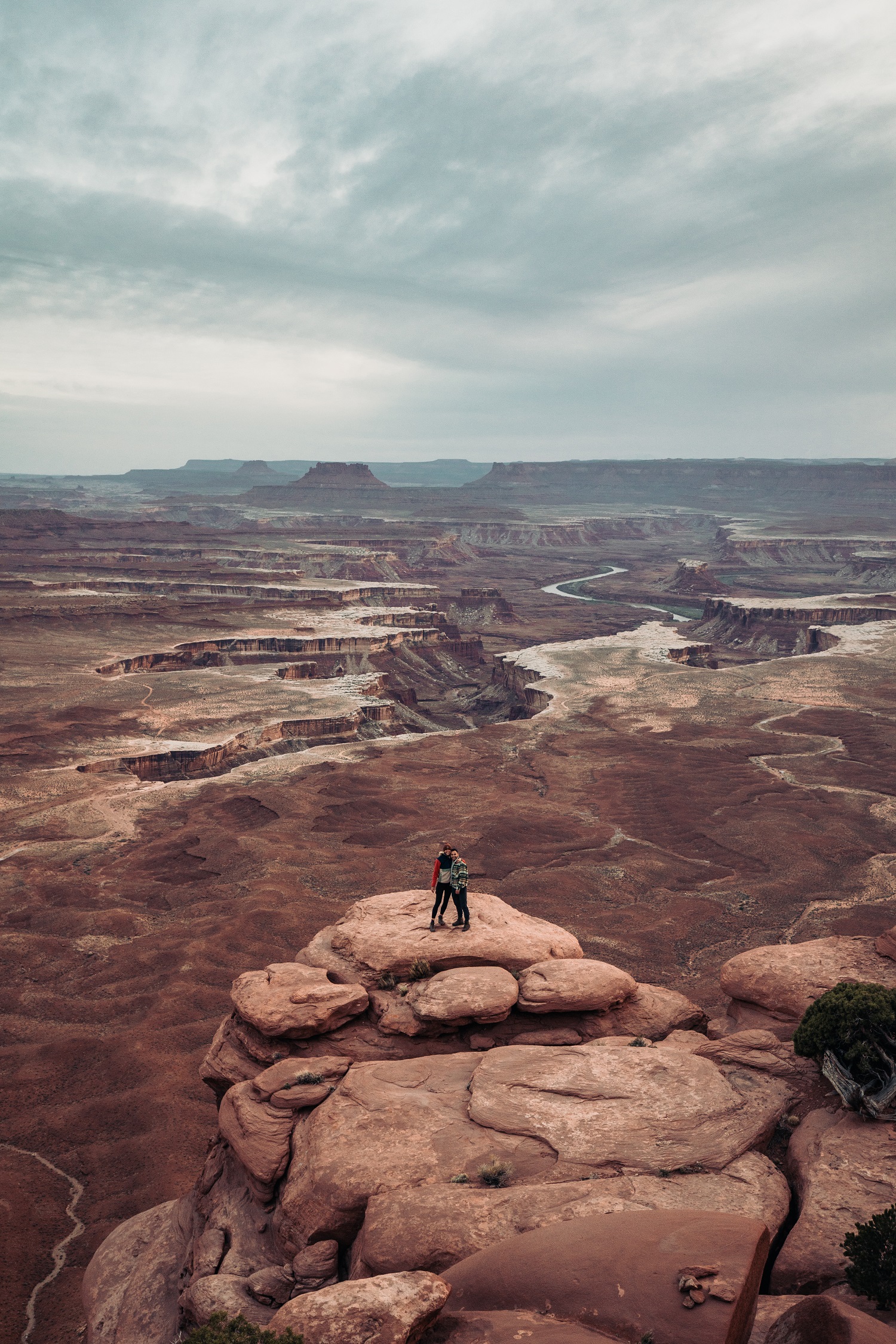 Over the course of our phenomenal two weeks in Utah we racked up over 250km of hiking and 2000 miles of driving. This Mighty Five road trip is truly a trip of a lifetime and one I recommend you push to the very top of your bucket list!
Safe travels,
Zanna