If you're travelling to Lanzarote, this is your complete guide to where to stay, when to visit and the key regions to explore – with a focus on active adventure travel, I share the best hikes In Lanzarote, the best beaches to relax on and a suggested itinerary.
Lanzarote is one of the Canary Islands, located just off the North-West coast of Africa. It is known for its beaches, wine and vast volcanic landscapes; but it's the year-round good weather and short flight time from Europe that makes it a real travel treasure. Lanzarote is the perfect accessible place to escape for winter sun or a unique hiking trip. I have never trekked through expansive lava fields or across volcanic craters before, it's an experience that isn't to be missed!
The practicalities:
Getting there & getting around: There are regular flights from the UK to Lanzarote. Once you get to the island, I highly recommend hiring a car so you can easily drive between the different hikes, sights and beaches.

Price: Lanzarote is a pretty affordable place, especially once you get away from the main tourist towns. We managed to get avocado & eggs on toast for under £5 and found a luxury 6 person villa for £36/a night – the dream!

How long to stay: I would recommend staying for a minimum of three full days, to allow you enough time to explore the different regions of the island.
When to go: Lanzarote is a year-round destination, but the best time of year for hiking is October/November and March/April. It isn't as busy as peak summer, but the weather is usually warm and stable. In late March we experienced around 25-28 degrees every day.
Where to stay: While most visitors who come to Lanzarote will stay on the coast, I actually recommend heading to the centre of the island if you're there to hike. This will allow you to quickly and easily drive to the different regions you can explore. We stayed in an absolutely epic Airbnb near a small village called Conil, which was peaceful and affordable, yet only a 10-minute drive from the coast.
Quick-fire travel tips: Don't leave any valuables in your rental car. Ensure you carry a small amount of cash with you. Set off early for hikes to avoid the crowds and the heat of the day. Download your hiking maps so they're available offline. Brace yourself for potential strong winds.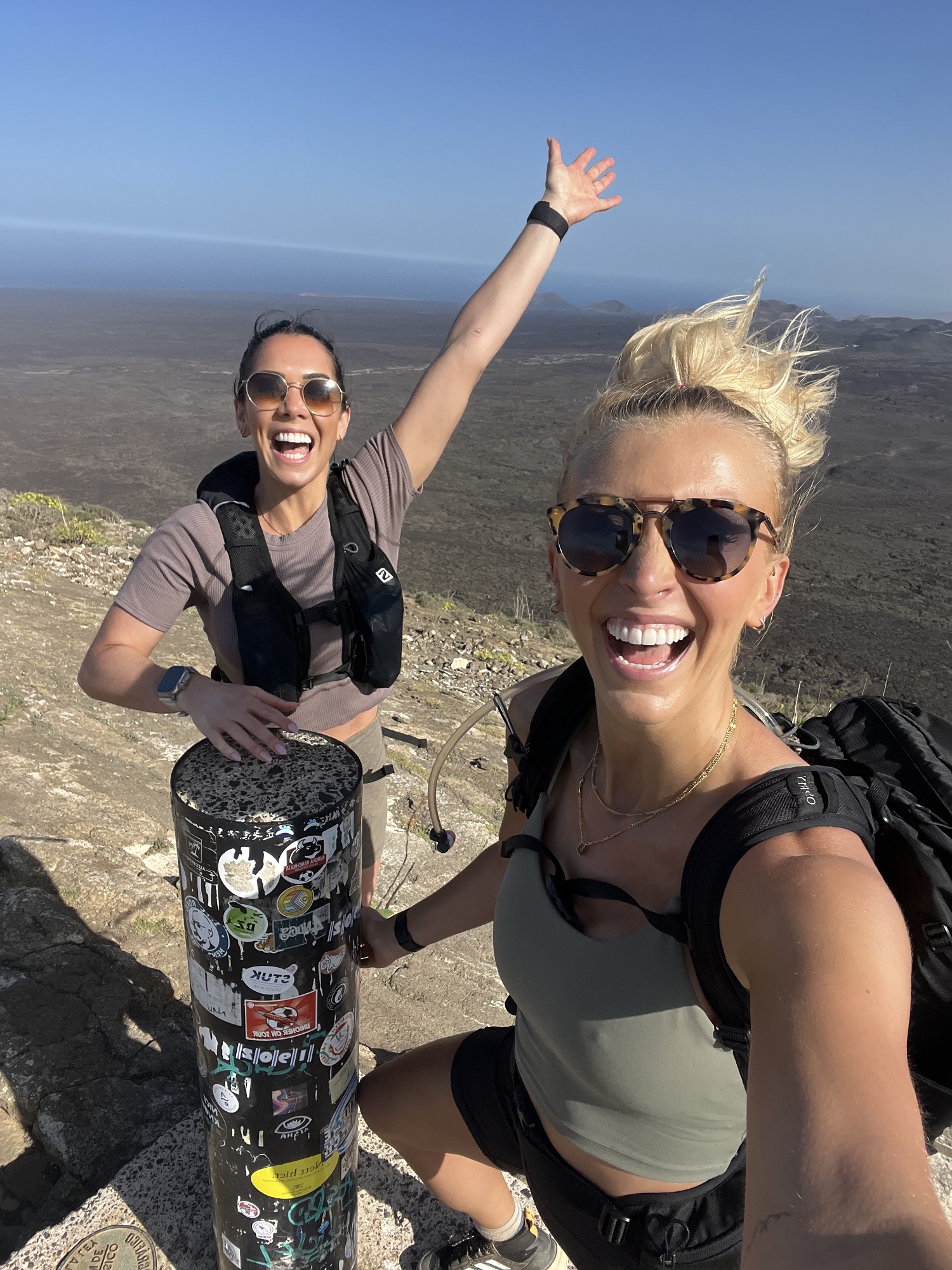 Key Hiking Regions to Explore:
Parque Natural de Los Volcanes/Timanfaya – A unique volcanic region covered in lava fields, craters and peaks.
Monumento Natural de los Ajaches – A large volcanic formation with mountains, plains and black sand beaches.
Ye, Haría & the surrounding area – The greenest region of the island, with towering cliffs, rolling hills and lush valleys.
The Best Hikes in Lanzarote:
If you only have three days in Lanzarote, then definitely do these three hikes. They will allow you to see and experience the diverse natural beauty of the island!
Caldera Blanca
A unique hike which crosses lava canals and flows, climbing up to the rim of the largest crater on the island. It gives absolutely mind blowing views over the surrounding volcanoes and lava fields.
Distance: 9.5km
Elevation Gain: 397m
Difficulty: Beginner – Intermediate
Trail link: Click here.
Haria to El Bosquecillo
A hike through the greenest region of the island, taking in rolling hills, beautiful views and dramatic cliffs. If you're feeling brave, make sure you extend the hike to explore Cueva de las Cabras – a hidden cave in the cliff face.
Distance: 12.2km
Elevation Gain: 387m
Difficulty: Beginner-Intermediate.
Trail Link: Click here.
Pico Redondo – Los Apaches
A varied and peaceful hike which loops through golden peaks, across rocky plains and past black sand beaches. There is an awesome secret garden you can only access on foot about halfway through the trail on Playa la Casa.
Distance: 13.7km
Elevation Gain: 636m
Difficulty: Intermediate
Trail Link: Click here.
Besides these hikes, there are a handful of others which I would recommend if you have more time on the island. Montana Tinasoria, Volcan de la Corona and Mirador del Rio are at the top of my personal hit list if I return but if you need more recommendations, check out my AllTrails Lanzarote list here.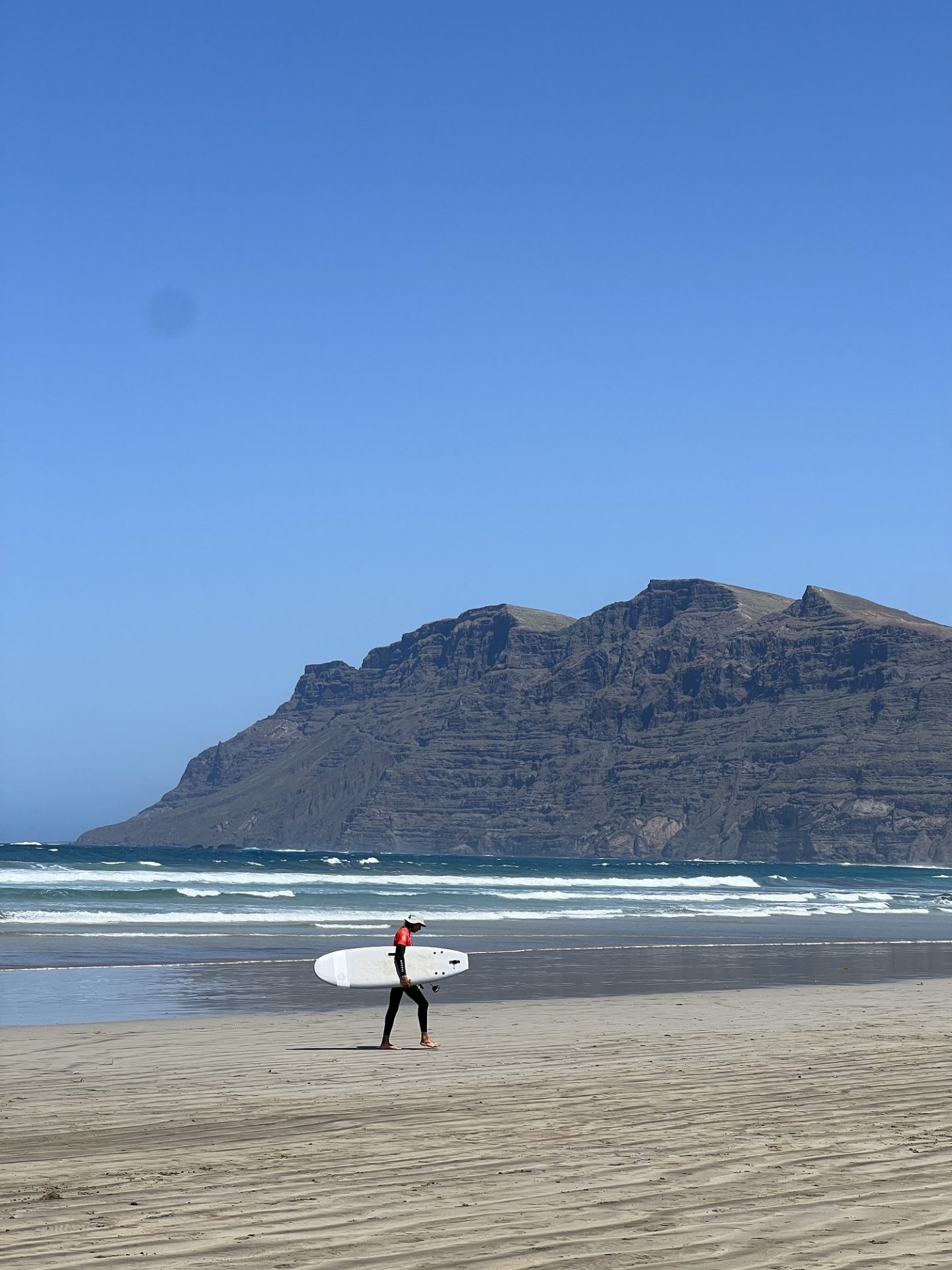 What to see & do in Lanzarote (besides hiking):
Visit the beautiful beaches. My top recommendations include:

Playa de Papagayo (the best!)
Playa de la Cera
Playa Mujeres
Playa del Risco
Playa la Casa
Playa de Famara
Mojon Blanco
Playa de Caleta del Mero

Take a day trip to La Graciosa island, which you can explore on foot, on a boat or with a bike. Make sure you visit Playa de las Conchas.
Explore the capital of Arrecife. Check out the handicraft market (on Saturdays), visit the Castle of Saint Gabriel and stroll around Charco san Gines.
Take a dip at Los Charcones. A series of beautiful and rugged natural pools. Just make sure you drive there in a high clearance vehicle and go at low tide.
Try an adventure activity. Lanzarote is a great place for kayaking, surfing, quad biking, windsurfing and paragliding.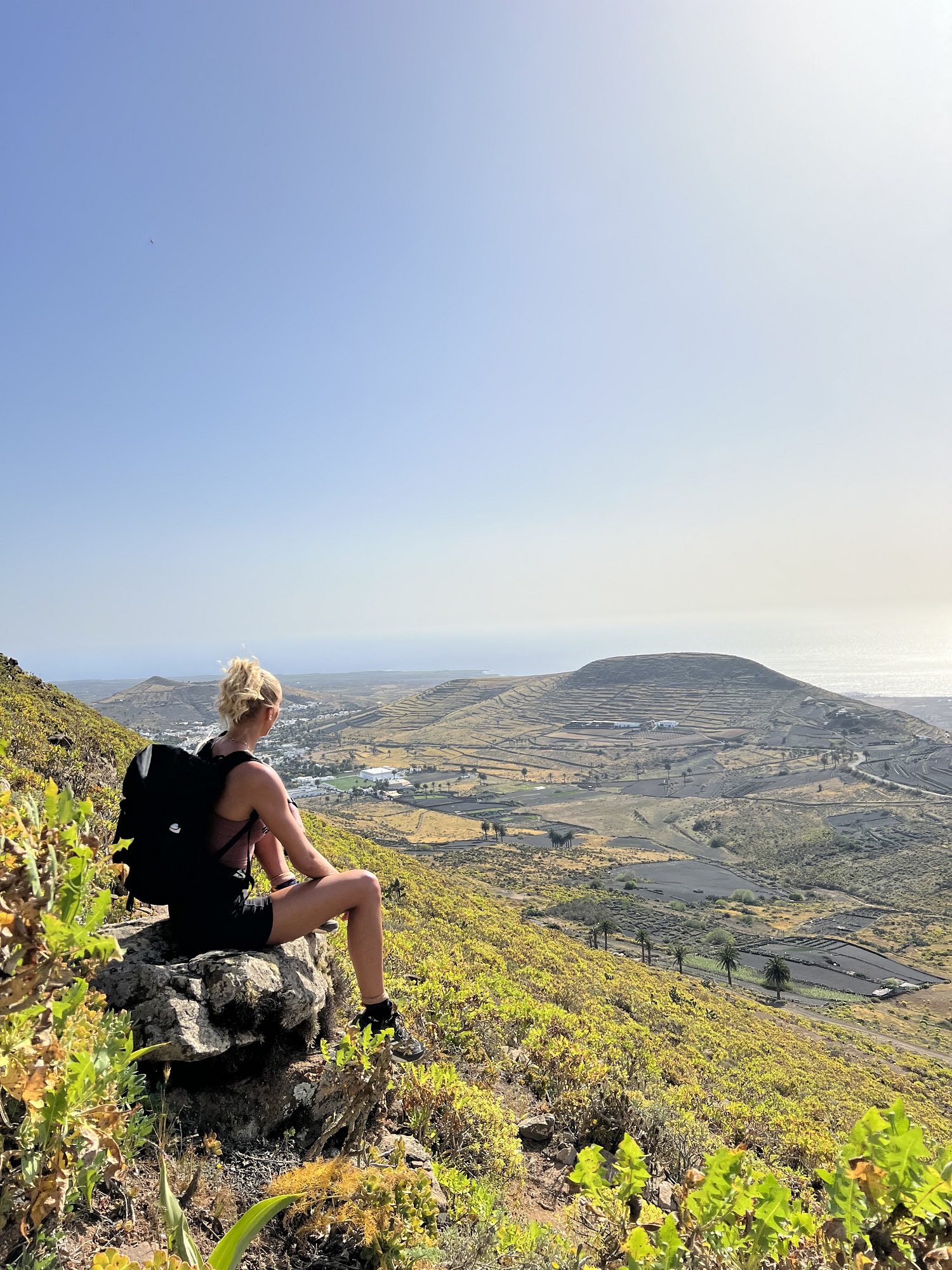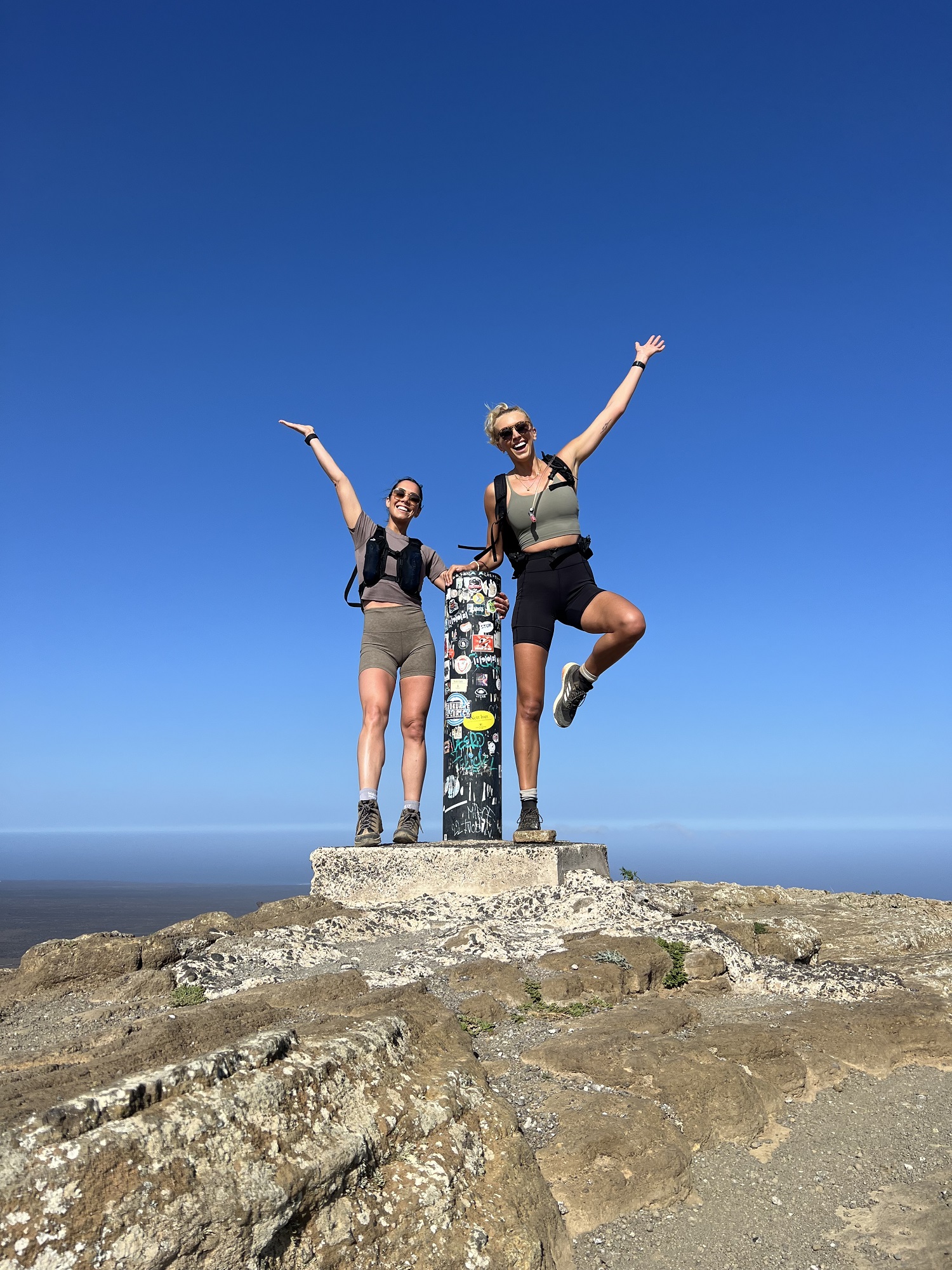 Suggested 3 day itinerary:
Day 1: Start your day with the Pico Redondo & Monumento Natural de los Ajaches hike. Grab post hike lunch in Femes before driving to Playa de Papagayo for the afternoon.
Day 2: Hike up Caldera Blanca in the morning then head to the town of Teguise for a local lunch. Spend the afternoon swimming and watching the surfers at Playa de Famara.
Day 3: Do a morning hike from Haria to Mirador El Bosquecillo then drive to Mirador del Rio and take in the view. Grab lunch in the quaint coastal town of Orzola before relaxing on nearby Playa de Caleta del Mero.
Lanzarote surpassed my expectations as a hiking destination, with unique trails, diverse landscapes, hidden gems and beautiful beaches. It is a great destination if you want to go on an adventure in the morning, relax on the coast in the afternoon and eat delicious Spanish food in the evening. The dream!
Safe travels!
Zanna