Going on a snowy winter holiday has been high on my bucket list for a long time now. Having seen many of my friends gorgeous photos on the slopes, I have been waiting for the day I got to try skiing… and now I've done it! I have just come back from a lovely long weekend in Val D'Isere – one of the top skiing resorts in the world, and it didn't disappoint. As a complete beginner to all things skiing, here is a breakdown of my short, sweet, jam-packed trip.
Getting There:
We flew from London Heathrow to Geneva and took a bus transfer across the border and up into the French mountains. The flight is short and sweet; the transfer not so much. However, time flies as you're surrounded by incredible scenery that looks like it has been plucked straight from a postcard.
The Chalet:
We stayed at a Powder White chalet (The Marwari) in the town centre – the location couldn't have been more perfect; a mere 5 minute walk from the slopes and directly above the main high street. The chalet itself was cosy yet luxurious – think log wood fires, underfloor heating and sofas that engulf you. My room had an incredible view of the mountains and most importantly, a powerful waterfall shower (am I the only person who judges rooms by the quality of the shower?!). On arrival we were greeted with champagne and canapes, which set the tone for our treatment by the lovely chalet girls who hosted us. They kept the whole place super tidy, and they cooked us breakfast, afternoon tea and a 3 course meal every day (more about that later!).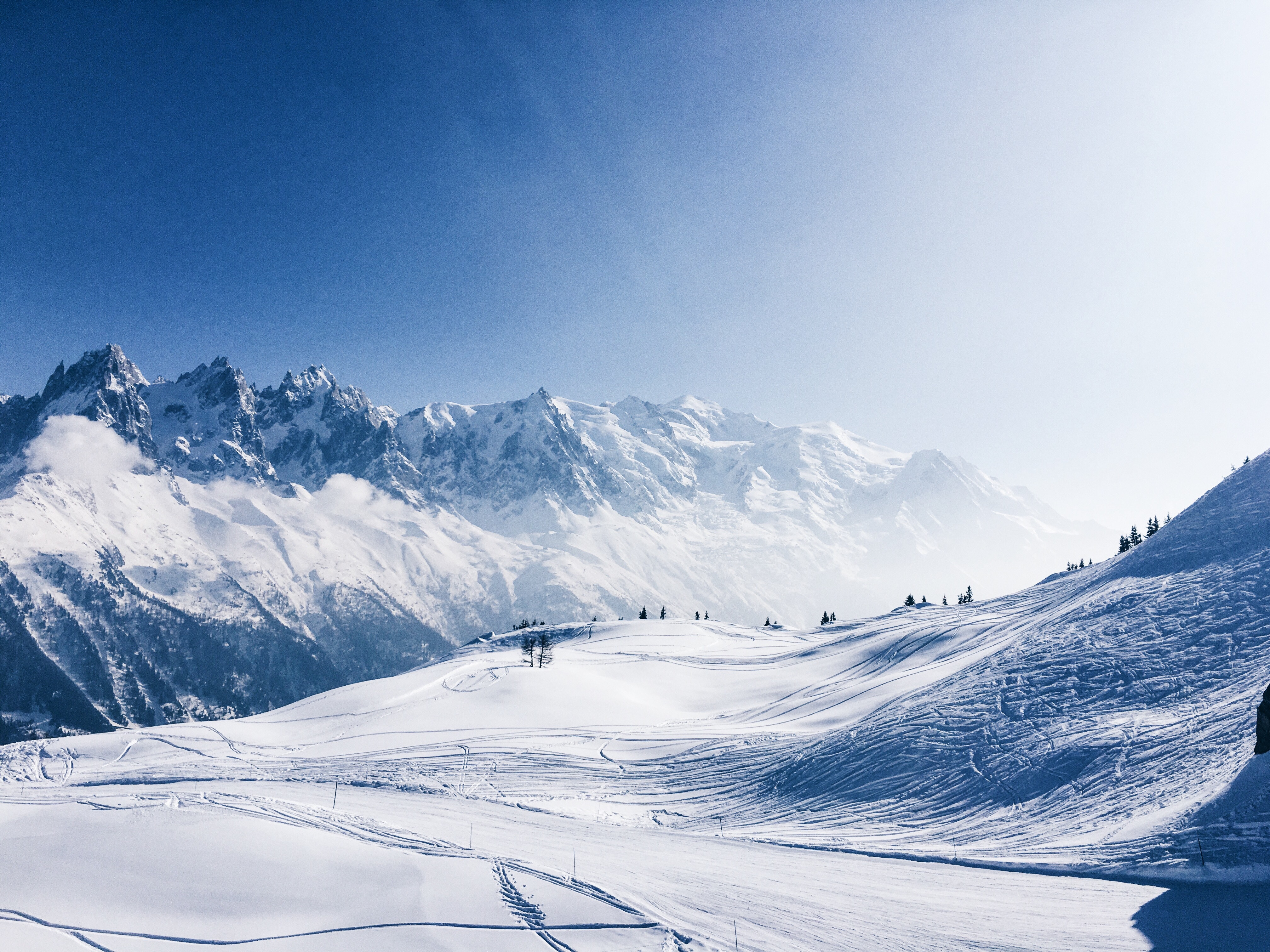 Our host was the founder of Powder White, Fraser, who was an absolute legend. He made the trip so much fun and his passion for his business was evident and infectious. He showed us around a range of incredible Power White chalets, from more traditional style houses to newly built modern apartments. He talked us through the flexible and tailor made approach that the company has to ski holidays. There are no restrictive package holidays and no strict schedules to stick to. The whole experience is designed to adapt to you and your preferences. As a first time skier, the extensive support and advice that Powder White provide to their clients is particularly useful and means that any stress is avoided.
The Surroundings:
The town of Val d'Isere is the image of Christmas. Think traditional alpine architecture with wooden chalets covered in twinkling lights. We went at the very beginning of the season which is risky as you could have little snow and poor weather. However, we got lucky as during our stay we had bluebird days, aka clear blue skies and sunshine. The snow was soft, the slopes were quiet and we pretty much had free reign of the resort. No queues, no crowded slopes. Just gorgeous weather in even more gorgeous surroundings. At every turn you saw an even more breathtaking landscape. I have never been anywhere like it – the snow-capped mountains on every side of us were truly phenomenal. It was hard to take it all in and a photo just couldn't capture the true beauty of it! On my final chairlift ride back down to the resort I was faced with what I have to say was one of the best views I have seen in my life. Pictures couldn't do it justice, so I just sat quietly and enjoyed the moment for myself… you'll just have to visit to see it!
Learning To Ski:
On recommendation of the Powder White team, we took lessons with New Generation Ski School. Our instructor was a hilarious guy called Danilo who made the whole process so much fun! We started with the basics – how to kit up, how to walk in our skis and how to snowplough. We then moved onto skiing down small slopes and turning; and soon our confidence grew and we advanced onto larger slopes. This all happened within 2 hours – it is amazing how much you can pick up in such a short period of time. By the end of the morning we were comfortably doing moderate slopes, and after lunch we started our first green runs (the easiest routes on the resort).
It is safe to say that learning to ski as an adult is challenging, as there is a huge element of fear and the movement patterns are very unnatural. The main thing I learned is that you just have to go for it. It is mind over matter. Honestly, your brain is thinking 'I am going to die!', but you just have to use the tips your instructor teaches you, push yourself out of your comfort zone, stick with it, and you will be fine! At the end of our second day, we tried out a HUGE green run. Seriously it was ginormous and super steep. However, after a couple of falls in the beginning, we all managed to make it down in one piece feeling very accomplished. The instructors told us that this sort of progress doesn't usually happen within two days. I personally think that the reason why we picked it up so quickly was due to the small group of us being taught together (6 girls), which meant we all got the attention and support we needed.
Top Tip: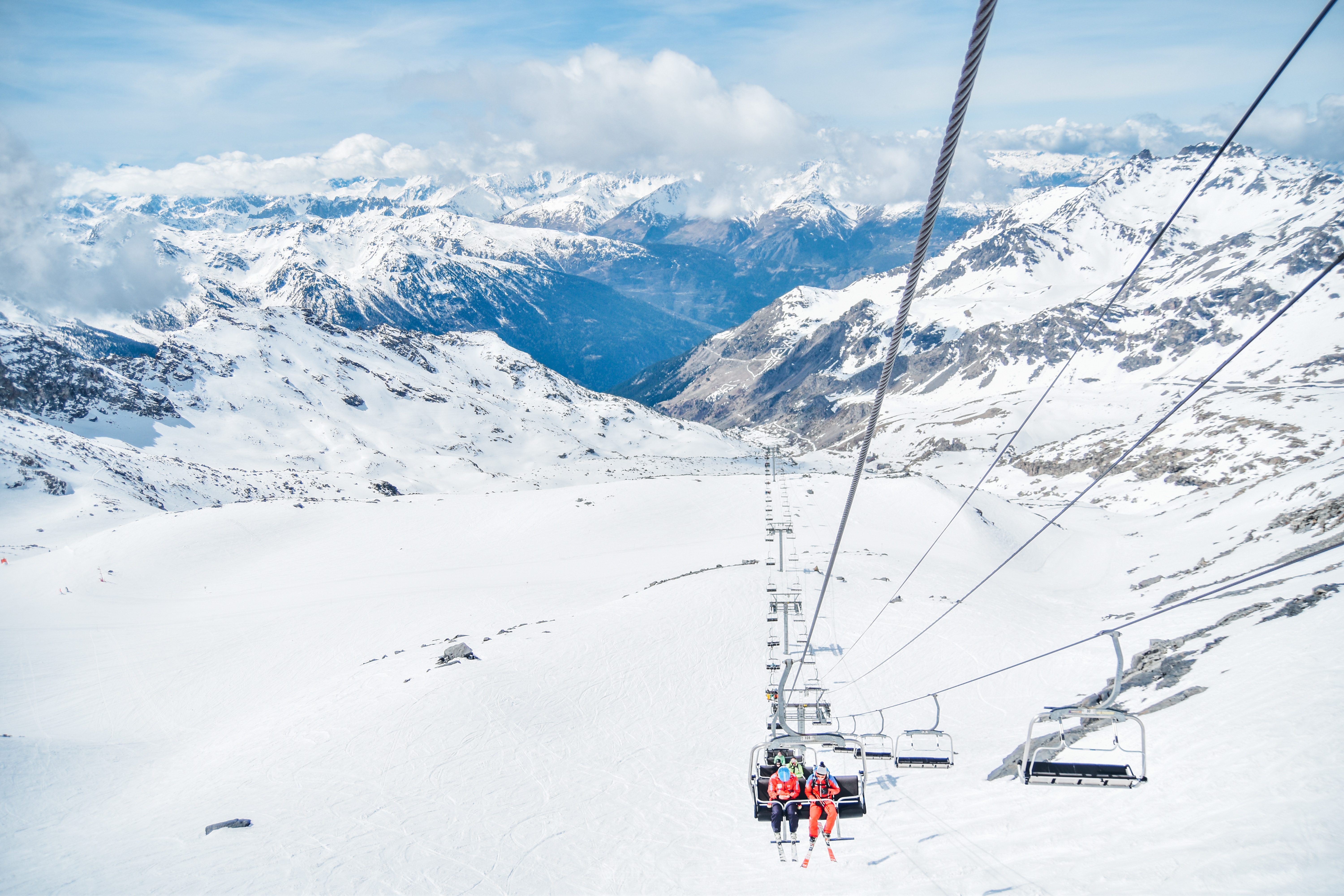 Chairlifts are a nightmare, I swear to god I fell over when I got off them 75% of the time. Although, this may be related to my gangly long legs and my high centre of gravity! When you're getting off them be sure to engage your core and push up into a low squat, and don't lean too far forward or you will faceplant – I know from experience!
The Food:
Now, lets talk about the most important bit…. the food! In the chalet, we were fed like kings. I'm talking a huge breakfast buffet, afternoon tea, canapes and a 3 course dinner (followed by a cheese board of course). It was all fresh, homemade and delicious. Having our evening meal together in the comfort of our chalet was a great way to unwind, catch up and reflect on our day. One of the highlights of the trip for me was having lunch outside on the slopes. Nothing beats sipping on a hot cup of coffee (or a hot chocolate!) in the sunshine while overlooking the snowy mountain tops. It is important to note that when you're skiing everyone seems to love a bit of wine. I swear wine was served any hour of the day at any location. As was cheese. On day one I entered into a satisfied cheese coma and I still don't think I have recovered.
The Nightlife:
Val d'Isere is known for its nightlife and features a wide array of bars and clubs. Admittedly, we went at the very start of the season and a few weren't open yet, but there was still more than enough to choose from. We headed to Le Petit Danois for some drinks before Dicks Tea Bar for dancing. Considering it was supposedly one of the quietest weeks of the season, both bars were full to the brim with people. The clientele varied from young school graduates there for a party to groups of parents having a weekend away, and everything in between. The atmosphere was electric and the drinks were flowing – despite them being particularly pricey. It is safe to say that we has a fantastic night, the music was on point and we danced until the clubs closed. Thankfully the next day we were heading home, as I could imagine skiing on an alpine hangover wouldn't be pleasant.
Summary:
Skiing certainly lived up to my expectations. It was an incredible experience and one that I throughly enjoyed. I have the skiing bug and I am already looking into returning to a Powder White chalet in the future. Skiing is a huge physical challenge – you use muscles you didn't know existed and you definitely get a sweat on (which is good after all that cheese!). I think that a trip to Val D'Isere is an ideal active escape. It strikes the perfect balance between activities and relaxation. One minute you're speeding down the slopes and pushing your body to new levels, and the next you're enjoying good food with great company. I'll be back!
To see more pictures check out my instagram/personal instagram/twitter/facebook. To see videos of my experience click here and here.
Ski Kit Info Goggles: Roxy Jacket: Roxy Trousers: Odlo Under layers: Odlo
Ski Hire: Snowberry
Other Info
Powder White: 7 nights at the Marwari Chalet = from £549 per person based on 8 people sharing in January. Includes fully catered chalet board. They can arrange lift passes, ski lessons, guiding and more.
Flights: Swiss Air, fares start from £34 one-way.