Tulum is exploding. It is fast becoming one of the most popular and hyped travel destinations in Mexico and its easy to see why, with beautiful beaches, exclusive resorts and stunning surroundings it appeals to the masses.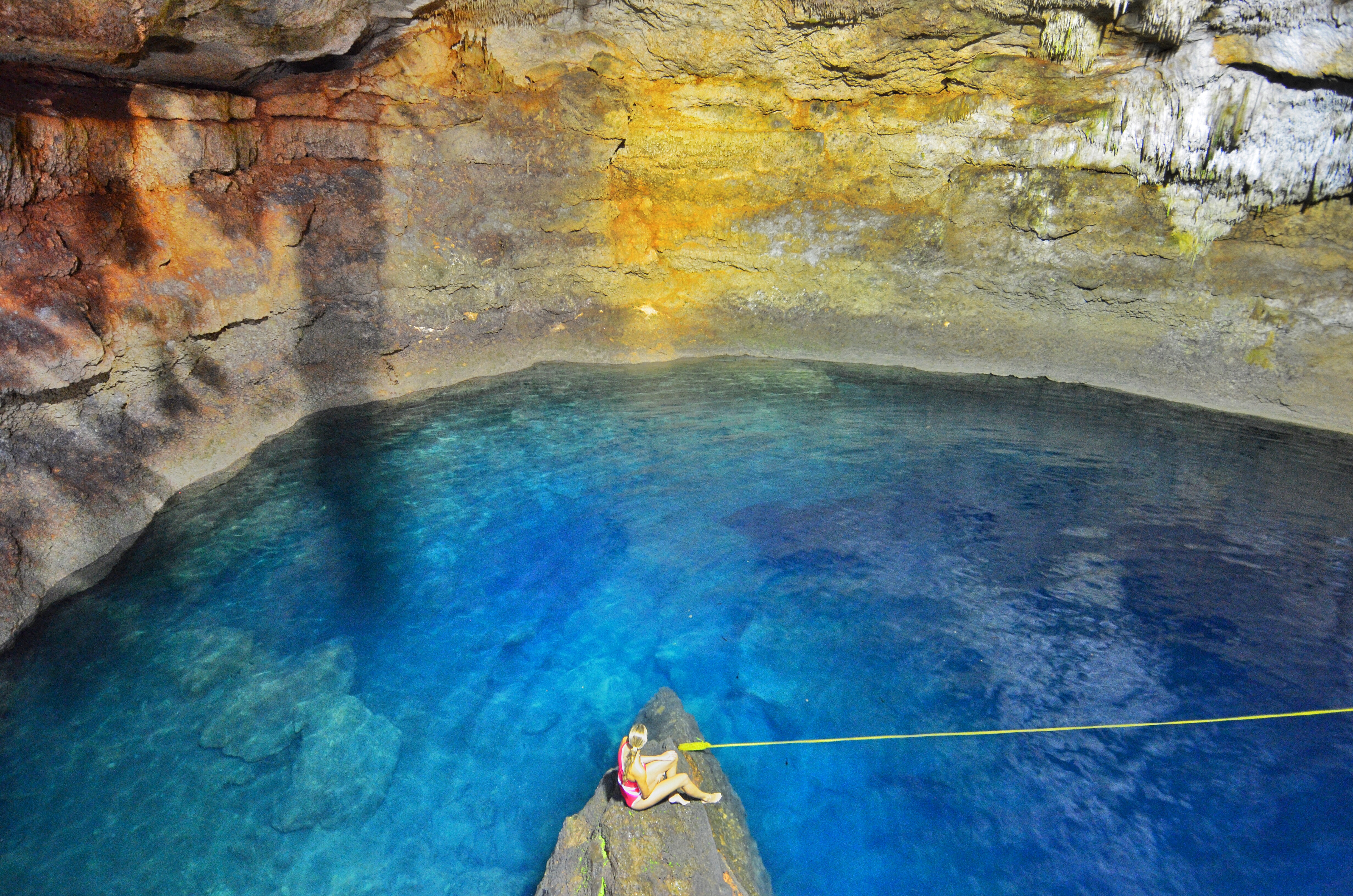 That being said, my biggest tip when visiting Tulum is the get outside of Tulum. Honestly, it is an overpriced bubble, one it is very easy to get sucked into. You can quite happily spend a week there never leaving the town centre or your resort which is a huge shame. Tulum is perfectly located within driving distance of a whole host of Mexicos beautiful highlights; from peaceful cenotes through to ancient Mayan ruins and untouched nature reserves. Take advantage of this!
Top Things To Do Near Tulum:
Cenotes
Cenotes are one of the most beautiful natural wonders in the Yucatan peninsula and Quintana Roo. These expansive underground sink holes are filled with pristine crystal clear waters and are the perfect location to go for a refreshing swim. The most famous one near Tulum is Gran Cenote, but this is far too busy for my liking. My personal favourites were Nicte-Ha, El Pit, Santa Cruz and Tamcach-Ha. I recommend arriving at these cenotes when they first open, usually 8 or 9am, to have the whole thing to yourself as they get super busy later in the day.
Scuba Diving
Mexico has some of the best diving around, and it would be a shame to miss out on it. Tulum is most famous for scuba diving the cenotes – a unique once in a lifetime experience which I cannot recommend enough. Swimming through underground caverns and caves is simply incredible; we used Agua Clara diving and they were fantastic. You can also dive the reefs off the coast of Tulum which are a great place to spot coral and underwater life in warm waters.
Visit The Surrounding Ruins
Tulum is located right next door to some of the most stunning Mayan ruins in Mexico. There are of course the Tulum ruins, which are a short cycle ride away from central Tulum and located on a stunning cliff overlooking the ocean. Coba ruins are around an hours drive away and contain a large pyramid which you can climb to the top of, for which you're rewarded with an amazing view over the surrounding area. For both these ruins I would recommend getting there for when they open, to avoid huge crowds which detract from there beauty. I also recommend getting a guide as there arent many/any signs to inform what you're seeing.
Explore Sian Ka'An
Tulum is located right next-door to the beautiful and expansive Sian Ka'an Bio-Reserve. This is home to stunning mangroves, forests, trails and local wildlife. It even has a natural lazy river you can float down! The best way to experience it is with a local (eco-conscious) guide – I recommend Your Green Guide who even includes beach cleans in his itineraries.
Tulum Travel Tips:
If you're travelling to Tulum (or Mexico in general) for the first time I hope that these quick fire travel tips help you out!
Take cash in the local currency (Mexican Pesos). A lot of shops, restaurants and cafes only take cash; and most ATMs charge extortionate withdrawal fees.
Rent a car. If you want to get outside Tulum, rent a car. The best cenotes and ruins are a drive away, and going with a tour company just means you'll be there with the crowds. A car enables you to get there on your own watch and agenda before anyone else.
Rent a bike. To get around the local area of Tulum, the centre as well as downtown, it is easiest to do this on bikes as there is little to no car parking. You can even cycle to nearby attractions like the Tulum ruins.
Take (eco-friendly) insect repellent. The mosquitos in Tulum are out in force.
Brace yourself. Tulum is painfully expensive. Eye-wateringly. Everything there is about 4 or 5 times the price of other cities ands towns in Mexico, so save up!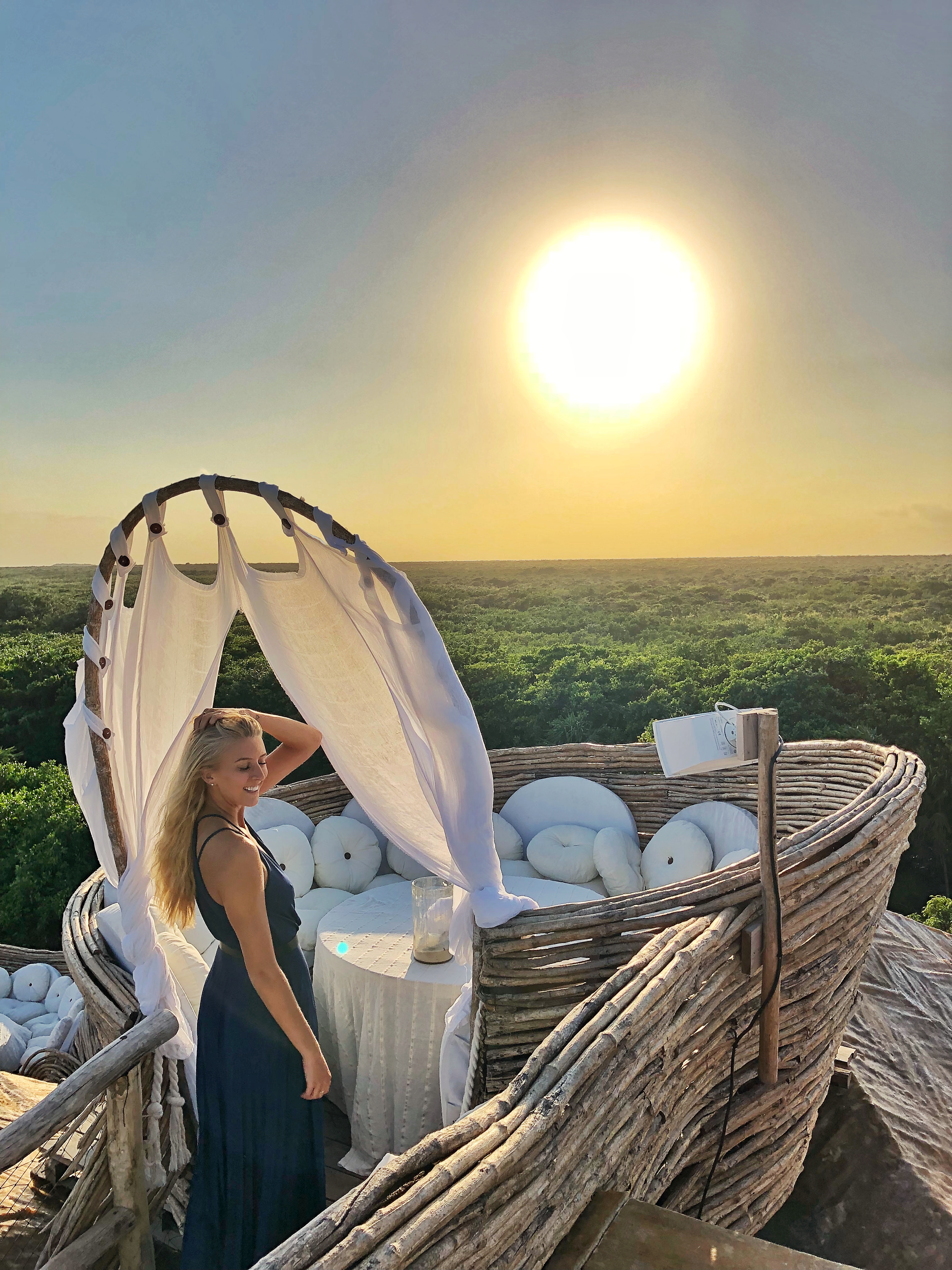 Conscious Travel:
Tulum has grown as a holiday destination faster than ever expected, and faster than the town can handle. The population has exploded from 500 to 35,000 in 40 years and the community, land, eco system and local infrastructure is struggling to support this. The tourism industry is poorly regulated and there are huge issues in the "dark side of Tulum" such as excessive plastic waste, air pollution from continuous road traffic as well as a sewage and water system which cannot handle the 2 million visitors a year.
The destination markets itself as "eco-friendly", even though much of it is anything but eco-friendly. In fact most of the "eco" resorts are run by huge petrol fuelled generators which are hidden behind wooden walls. The sewage and waste systems from these hotels contaminate the local fresh water system. There is plastic everywhere – and I mean everywhere – with mountains of it piling up on the side of the street and in the bushes. When travelling down the main strip of Tulum you will see huge tankers bringing in water and supplies, as the local area cannot meet the needs of the huge footfall. And don't even get me started on the ocean; Mexico has started to ban suncream in certain regions and many cenotes are enforcing compulsory showers prior to swimming in them. A lot of visitors enter the cenotes or ocean with toxic and damaging chemicals on their skin from suncreams, insect repellents and body lotions. These damage wildlife, for example the turtles in a nearby town of Akumel are suffering with tumours and a herpes-type virus due to stress as well as the toxic chemicals in suncream worn by swimmers.
As a result I encourage you to get a conscious traveller. Ultimately the vast majority of large tourist destinations, especially in developing countries, are unsustainable in nature. You can of course still visit them, just try and be a little more conscious when you get there:
Use eco-friendly products. Invest in eco friendly suncream, body lotions, mosquito repellents and skincare. If you don't, please shower thoroughly before entering the ocean or a cenote.
Avoid single use plastic. Ask for no straw with your smoothie. Request to drink your coffee in a mug rather than a takeaway cup. Take a reusable water bottle around with you. Do your best!
Choose an eco-friendly hotel. There are some more genuinely eco friendly hotels in Tulum, just do your research. If you do go to one which claims it is "eco" but gives you a plastic straw with every drink, call them out. Change comes from issues being raised and discussed. You never know, you could make them change their policy.
Use local businesses where possible. I always get my laundry done by local laundrettes, eat at local restaurants and hail local taxis rather than just using the hotel services. I also encourage you to use local tour companies who use people from the surrounding area as their guides, rather than freelancers who are just passing through.
Want to know more? Click here.
Further Reading:
Wondering where to eat? Click here to read my Tulum Food Guide.
Hopefully the guide above has provided you with enough insight and information to plan an epic trip through Tulum!
Safe travels,
Zanna x