Monterrey is the capital city of Nuevo Leon, located in North East Mexico, and is known as "the king of mountains". Despite it being a cosmopolitan city rich with history, culture and tradition – it is most renowned for the landscapes it is surrounded by. It sits in the foothills of the Sierra Madre Oriental mountain range and within a mere 10 minute drive from the centre you can be immersed in natural beauty. It has some of the most dramatic landscapes I have ever seen with soaring peaks, unique caves and sheer rock faces scattered with hiking trails.
The best bit? Monterrey is not yet a well known tourist destination and when we visited we met a grand total of zero other international visitors. So if you're looking to get off the beaten path and experience Mexico's mountains without the crowds, this is the destination for you. This Monterrey Travel Guide will provide you with practical information as well as the best hikes.
The Practicalities:
Getting There & Getting Around:
There is a large international airport in Monterrey. We used Uber, authorised taxis and tours to get around the city, but if you want more freedom then rental cars are readily available.
How Long To Stay:
You can see the highlights of Monterrey in 3-4 full days, if you stay a little longer you can travel to further away attractions such as El Puerto Chico and Cascada Chipitin.
Where To Stay:
I recommend basing yourself in central Monterrey in the area called Barrio Antigua. It is the most picturesque neighbourhood which is within walking distance of many of the cities attractions.
When To Go:
Monterrey has different activities for different seasons. For hiking the best months are late October to mid December and early April through to late May. If you want to try the world famous canyoning then visit in the summer months of June to August, but it will most likely be too hot to hike.
Price:
Monterrey is known to be the richest city in Mexico, but since it is not a well known tourist destination it is still significantly more affordable than more popular regions such as Tulum.
Travel Tips:
Water. Do not drink the local water. Drink bottled water (buy large gallons and decant into reusable bottles to reduce plastic consumption). Avoid salads washed in local water, stick to cooked foods and ask for cold drinks without ice. Take some immodium with you.
Language. The most dominant language in Mexico is Spanish and many locals do not speak English. Do yourself a favour and learn the basics to help you get by. It is also useful to have google translate on hand to assist, for example with translating menus which are often in Spanish.
Safety. In general, Monterrey is a safe place as long as you keep your wits about you and take basic precautions. Click here for a Mexico safety guide.
Cash. It is wise to carry a small amount of cash with you as not everywhere takes card, the local currency is Pesos.
Phones. I recommend purchasing a local SIM card to get the best phone coverage at the most affordable price.
Hiking in Monterrey:
There are four key areas to hike in Monterrey:
Chipinique Ecological Park
La Huasteca Ecological Park (my favourite!)
Cerro de las Mitras
Cerra de la Silla
There are a couple of things to keep in mind before you go hiking in Monterrey.
Most of the hikes are challenging. I didn't encounter any "easy" or even "moderate" hikes in Monterrey. The trails are often steep, long and tough on the mind and body. This is not a destination for hiking newbies or those who lack physical fitness.
During many of the hikes you will need to do some basic rock climbing and/or scrambling to get to the top (not requiring equipment), so ensure you are confident with this.
Permits and passes are required for some of the parks. These can be booked in advance, but one way to avoid the admin is by using a local hiking guide. They can organise these for you. Here are a few companies I found who do guided hikes: Hiking Mty, Yeti Adventures and Gaia Xtreme. My top recommendation is Fran from Aventuras Remotas who specialises in rock climbing but also offers guided hikes.
The Best Hikes in Monterrey:
El Nido aka The Nest Of The Eagle
This was the highlight of our time in Monterrey and an adventure you definitely need an experienced and trusted guide for. You hike up to the base of the mountains in La Huasteca and then do some simple rock climbing up to a height of 1250m. The route takes on narrow ridges with steep drops on either side so you definitely need a head for heights. Once you reach the top you descend through a series of three rappels, including one which free falls into a cave. It is an incredible mental and physical challenge, one which rewards you with some of the most stunning views in the region. If you can, try to climb up during sunrise. The tour took us five hours from 6am to 11am, but if you go with a group it can take longer.
Cerro de la Silla
Cerro de la Silla is perhaps the most iconic mountain and hike in the whole of Monterrey. There are a selection of trails you can take to reach its four different peaks and range of viewpoints. The most popular is to Antenas (a 10km round trip with 1100m elevation gain) but if you want to push yourself even further, you can go with a mountain guide up to Pico Norte.
La M
This peak in Chipinique Ecological Park is one I recommend conquering with a guide. It is a long and challenging ascent with simple rock climbing required as you get close to the 2200 metre high summit. You will be rewarded with the best views (in my personal opinion) of Monterrey and the surrounding area. It is a truly incredible 360 degree panorama. It is around a 9km round trip with over 1000m elevation gain which takes anything from 5-8 hours depending on your speed.
Psst. If you want another challenge there is also The Tuft Of The Eagles nearby. This is a hike of similar terrain length and difficulty in Chipinique which takes you to the highest peak in Monterrey.
Pico Horcones
This hike is one you could easily do without a guide. It is still fairly strenuous but requires minimal technical skill, with only a short easy rock climb near the summit. Compared to La M and Cerro de la Silla the elevation gain is significantly less, at 619m over the course of a 6.5km route. At the top you will have stunning 360 degree views of the city, La Huasteca Ecological Park and the surrounding mountains.
Pico Perico
A guide is recommended for this hike as there are narrow ridge walks and steep rock climbs using chains and cables. The trail is diverse, passing through forests, over rocks and across streams. The peak itself is 1980m tall and the third highest in Monterrey, so it is a pretty challenging hike up to the top. Of course, as always you are rewarded with mind blowing views over the city and mountains so it is well worth the sweat!
The Cave of the Virgin
Nestled into the rock faces of La Huasteca is this famous and beautiful cave, which can be conquered in two ways. You can either hike and climb up from the base of the mountain without any equipment, which is what we did with our guide, or you can integrate it into a rappelling adventure. If you choose to rappel (with an experienced and trusted professional) then there will be a hike, some simple climbing and three rappels – taking roughly 5-8 hours depending on your speed and the size of your group.
La Raya
If you're short on time and want a quick but satisfying hike then this is for you. La Raya is a 2km out and back trail with only 200m elevation gain, so it is basically a short steep climb up to a stunning viewpoint. The only downside is that because it is so accessible, there is a lot of graffiti on the rocks and rubbish on the trails. If you have the energy, I would recommend taking on one of the more challenging hikes in the region.
Other Adventures:
Beyond hiking, Monterrey is also a great base for a whole host of adventurous activities. If you have time then add these to your bucket list:
Canyoning. In the summer months Monterrey is on the doorstep of some of the most renowned canyoning experiences in the whole of Latin America. Matacanes is probably the most famous canyon you can take on, with a 12km route taking in caves, underground rivers, waterfalls, natural slides and rappelling. It is considered mother nature's water park! Other popular canyoning spots include Hidrofobia and Chipitin.
Paragliding. Monterrey is an amazing destination for paragliding, with numerous peaks you can launch from. We even met some base jumpers in the mountains!
Rock Climbing. An hour or so's drive away is the world famous La Potrero Chico, the rock climbing capital of Mexico. If you want to take your climbing skills to the next level and immerse yourself in the climbing community, this is the place to do it.
Waterfalls. There are a handful of waterfalls near to Monterrey. The closest notable one is Cascada Cola de Caballo which is 27 metres tall, but the most dramatic waterfall takes a bit of work to get to. A couple of hours drive away is the incredible Cascada Chipitin, one of the most beautiful waterfalls in northern Mexico. You can visit the waterfall as part of a multi-day canyoning trip as Matacanes is nearby.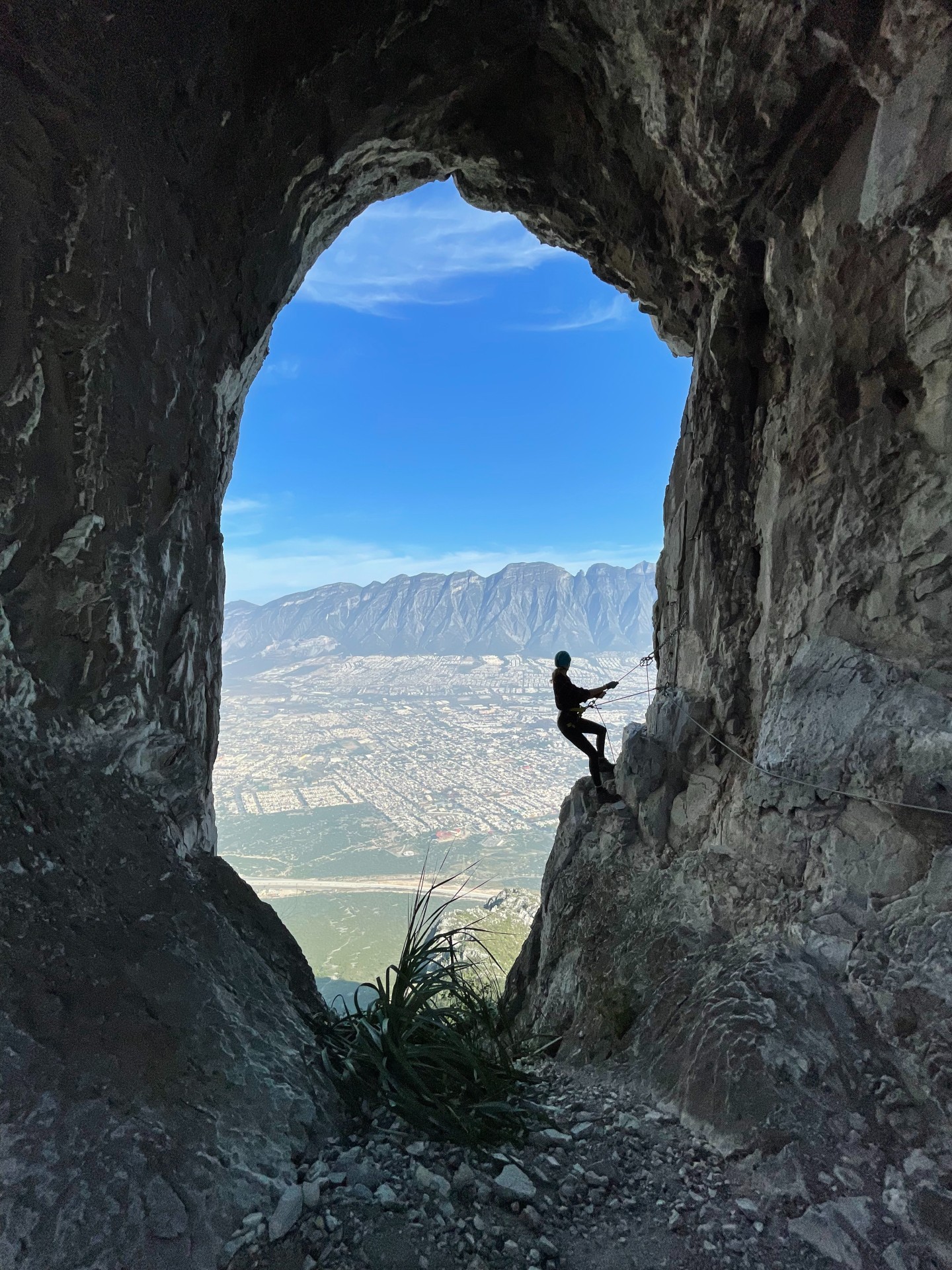 What Else To See & Do In Monterrey:
If your legs need a break from all the hiking then the city of Monterrey has a whole range of other attractions you can experience. Give these a go:
My top recommendation: Explore the old Spanish Quarter, Barrio Antiguo, which is full of colour and character.
The Museums. The Museum of Contemporary Art and The Mexican History Museum.
The Metropolitan Cathedral Of Our Lady of Monterrey.
Monterrey Macroplaza. Including the Government Palace and the Neptune Fountain.
The Santa Lucia Riverwalk.
Somehow Monterrey has managed to stay under the tourist radar until now but I don't know how much longer it will remain such a little known spot for outdoor lovers. (Sorry for letting the cat out the bag!). I recommend visiting this incredible destination when you can so you are able to explore its abundance of natural beauty without the crowds. It is truly a hidden gem in Mexico's crown!
Zanna x
If you are planning an extended trip to Mexico to explore other less known spots, you may want to take a look at my Travel Guide to Chipas.