Chiapas is the perfect destination for those of you who want to experience cascading waterfalls, ancient Mayan ruins, colourful indigenous culture and dramatic natural wonders. It may be one of the economically poorest states in Mexico but it is the richest in terms of diversity and beauty. This Chiapas Travel Guide proves it's the ideal destination for active adventurers who want to get off the beaten path and avoid the crowds of more well-known regions in the country.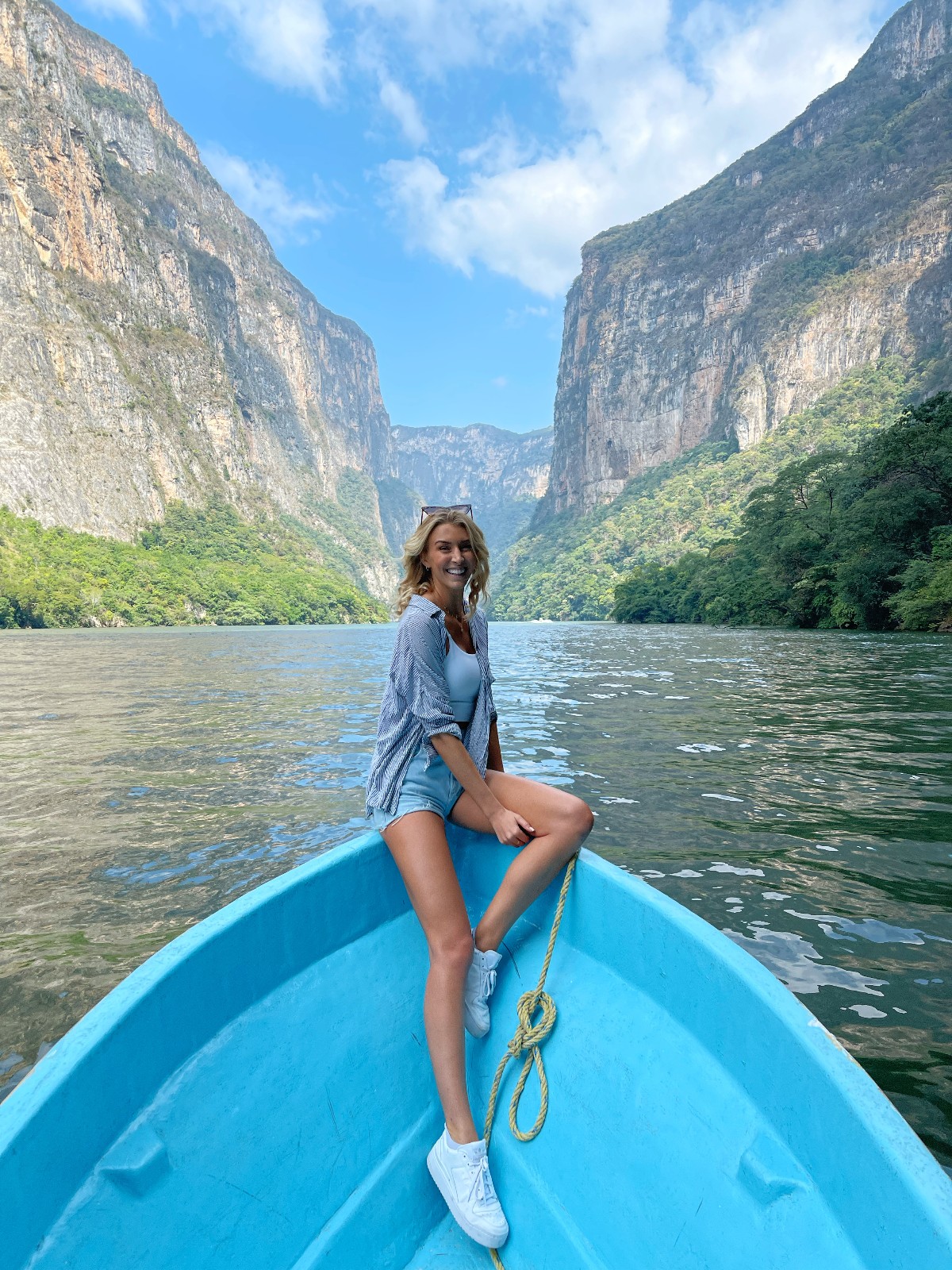 The Practicalities:
Getting There & Getting Around:
There is only one main airport in Chiapas, Tuxtla Gutierrez International Airport. From here you can easily catch a taxi or transfer to San Cristobal. We used authorized taxis and tours to get around the state. If you want more freedom then rental cars are readily available.
How Long To Stay:
You can see the highlights of Chiapas in 3-4 full days but staying longer means you won't be rushing and can see a lot more of this beautiful destination.
Where To Stay:
I recommend basing yourself in San Cristobal de Las Casas while exploring the state. You can also do overnight stays elsewhere if you visit attractions that are further afield such as Palenque and El Chiflon.
When To Go:
If you're visiting inland Chiapas, which is what this travel guide focuses on, then the dry months from November to May are the best time. If you're venturing the coast then November to March would be ideal.
Price:
Chiapas is one of the economically poorest states in Mexico and as a result one of the most affordable. For example, we had a three-course meal of sharing plates with drinks for £14 total in Tuxtla.
Chiapas Travel Tips:
Water. Do not drink the local water. Drink bottled water (buy large gallons and decant into reusable bottles to reduce plastic consumption). Avoid salads washed in local water, stick to cooked foods and ask for cold drinks without ice. Take some imodium with you.
Language. The most dominant language in Mexico is Spanish and many locals do not speak English. Do yourself a favour and learn the basics to help you get by. It is also useful to have google translate on hand to assist, for example with translating menus which are often in Spanish.
Safety. In general, Chiapas is a safe place as long as you keep your wits about you and take basic precautions. Click here for a Mexico safety guide.
Cash. It is wise to carry a small amount of cash with you as not everywhere takes card, the local currency is Pesos.
Phones. I recommend purchasing a local SIM card to get the best phone coverage at the most affordable price.
What To See & Do in Chiapas:
Parque Nacional Canon del Sumidero
This was the highlight of Chiapas for us. A spectacular canyon – so beautiful it rivals the Grand Canyon – with walls almost a kilometer high at its deepest point. It is absolutely beautiful and a haven for wildlife such as river crocodiles, spider monkeys, and numerous birds. The two most popular ways to explore the canyon are by boat (which takes around 2-3 hours) and by driving up to the viewpoints above it. You can easily do both of these activities in one day. Personally, we hired a local taxi for the day to drive us to the boat, lunch (which we had in Chiapa de Corzo) and viewpoints and it worked well.
You can also partake in more adventurous activities here such as hiking, rock climbing and mountain biking. However to do these there is a little bit of admin with forms and fees, so the best thing to do is use a local tour guide company to help facilitate your plan. This is a great in-depth guide to the canyon.
San Cristobal de Las Casas
San Cristobal is known as a Mexican "Pueblo Magico" i.e. magical town, and it lives up to the title. It is set up in the Chiapas highlands so is a few degrees cooler than other regions (take an extra layer) and is a hub for cultural and historic attractions – as well as some of the best food in the state. I recommend exploring the city on foot with a guided walking tour but if you want to explore of your own accord, here are a few things you shouldn't miss:
The Coffee. Chiapas is known as the source of the best coffee in Mexico and San Cristobal is a great place to grab a cup or even a bag of beans. Black Love Coffee is a cute spot.
The Churches & Cathedrals. San Cristobal has a whole selection of beautiful ones, head to the central Cathedral and Templo Santo Domingo for stunning facades.
Walk Up To Inglesia de Gaudalupe. The walk up Calle Real de Guadalupe to this church gives some of the most beautiful views over the city, and at the top you might even encounter some live music.
The Veggie Food. San Cristobal is super vegan and veggie friendly. Check out Veganos la Taqueria, Aguacate Veggie Bar and Todo Vegano.
Mercado de Artisanias de Santo Domingo. This artisan market below Templo Santo Domingo is where you can purchase some beautiful handmade local textiles.
Psst. If you would like an adventurous day in San Cristobal, you can hike up to the nearby Cerro Don Lauro viewpoint where you can also explore a series of rock climbing routes.
Visit The Indigenous Villages
Over 12 indigenous groups call Chiapas home and many welcome tourists into their villages to show their way of life. This is an incredible way to learn more about the local culture while supporting these communities. Two popular villages to visit are:
Chamula. Here the Tzotzil Mayas make live animal sacrifices and use Coca Cola (mixed with a local liquor) for ceremonial purposes, where they "burp out" evil spirits, which can be seen in their churches. Please do not take photos inside the churches out of respect. (Fact: Chiapas as a whole has the highest consumption of Coca Cola in the world. An average of 2l per person per day including children, as it is cheaper to purchase than clean water).
Zinacantan. Here the Tzotzil Mayans are well known for their women's weaving. You can find stunning embroidered textiles featuring decorative floral patterns and purchase their handmade items directly from them. Again, this is a lovely way to support the community and their craft.
The Waterfalls
Chiapas is known for its array of beautiful waterfalls. Pack your swimming kit and don't miss these:
El Chiflon. Near the border of Guatemala, El Chiflon has five waterfalls you can explore. It's perhaps the most famous waterfall destination in Chiapas. You can hike, swim, zip line and camp here. It is 2.5 hours from San Cristobal so it is worth making an overnight stay and exploring other attractions nearby such as Chucumaltik Cenote.
Agua Azul, Misol-Ha and Roberto Barrios. These three incredible waterfalls are all located close to one another, so can easily be combined into a single day trip. Plus they are on the road to Palenque so why not stop off on your way there or back? Just a warning, Aqua Azul is by far the most busy and touristy. If you want less crowds and a more natural experience, then Roberto Barrios is your best bet of the three.
Cascada El Chorreadero. This slightly smaller but still stunning waterfall just outside Tuxtla is worth stopping off at if you're passing by. It's super easy to access. It is deep enough to swim underneath and you can easily climb into the cave where the waterfall begins. There are even longer guided caving experiences where you rappel deep into the water source.
Cascada Poyok Manok. An hour outside of Tuxtla is this little known but incredibly beautiful waterfall. It requires a drive down a dirt track and a short 20-30 minute hike to get there. You will most likely have this beautiful cascada to yourself, as well as its very photogenic suspension bridge.
Cascada La Aguacero. This lesser known waterfall is a series of cascades down the side of a remote canyon located inside the Biosphere Reserve Selva Ocote. You climb down over 700 steps to get there and once you reach it, it feels like a hidden tropical paradise you have all to yourself.
Cascada la Conchuda. This waterfall is located on the same river as Cascada La Aguacero but is even more remote. It requires a two hour hike further into the canyon, a truly hidden gem.
Bonus experience: Nearby to Cascada La Aguacero is Sima de Las Cotorras. A huge sinkhole that is filled with a forest. You can rappel down into the sinkhole and see unique wall paintings from thousands of years ago.
Arco Del Tiempo
This is the one thing we didn't do in Chiapas which I am really kicking myself for, it looks truly phenomenal. The arch is nestled deep in the Mexican jungle and is the highest natural arch in the world. Its walls are home to cave art which was etched there between 5,000-10,000 years ago. And the best bit? It is almost untouched by tourism because it takes some serious effort to get there.
In order to get to the Arch you embark on a 3-4 hour drive into the jungle from Tuxtla, then stay overnight and set off for an early morning 4 hour guided hike through the wild and rugged landscape. You then rappel down Canyon Rio La Venta walls into the water below. You can head back in the afternoon or camp underneath the arch on small sandy inlets. This is truly an incredible adventure for intrepid travelers who want to have a unique and unrivaled experience. I need to go back and do it myself!!!
Palenque
Palenque is a UNESCO world heritage site, perhaps the most well known tourist destination in Chiapas and for a good reason. It is a hugely famous Mayan archeological site where you can explore well preserved Mayan ruins dating back thousands of years (226 BC to 799 AD). It is a true testament to the creative genius of this ancient civilization. I recommend taking a guided tour around the ruins to hear about their rich history.
If you're traveling to Palenque from San Cristobal it is a long way, so I recommend staying overnight so you can explore the site and nearby attractions without rushing. There are other lesser-known Mayan ruins within reaching distance such as Yaxchilan, Piedras Negras and Bonampak as well as waterfalls such as Agua Azul, Misol-Ha and Robertos Barrios which are well worth exploring.
Montebello Lakes
The Lagos de Montebello include 59 natural lakes in Southeastern Chiapas, right on the border with Guatemala. This destination is well off the beaten tourist path and only a handful of the lakes are accessible, but it is definitely worth heading there on a sunny day to experience their beautiful turquoise waters. A great way to tick off a few of the lakes in a day is by taking a local Tuk-tuk tour which will set you back about $14-24 for three hours. There are numerous activities in the region including swimming, hiking (try the El Perol trail), kayaking, horseback riding and even renting a Balsa (a raft made of logs tied together) and paddling around the lakes. If you want to extend your trip there, you can rent a cute little lakeside cabin.
Regrettably, we only spent 4 days in Chiapas, we could easily have spent well over 2 weeks there! It has everything – pine-covered mountains, warm sandy beaches, ancient Mayan ruins, unique immersive cultures, diverse local wildlife and phenomenal natural landscapes. Let me tell you, you simply won't regret an adventure in this underrated region of Mexico.
Safe travels,
Zanna x