I had the absolute pleasure of meeting Kayla at the Women's Health photoshoot last month. (If you don't know what I am talking about then click here). She was super lovely and down to earth and agreed to do an interview for my blog, so here it is. I hope you guys enjoy learning more about the girl behind the worldwide 'Kayla Movement'.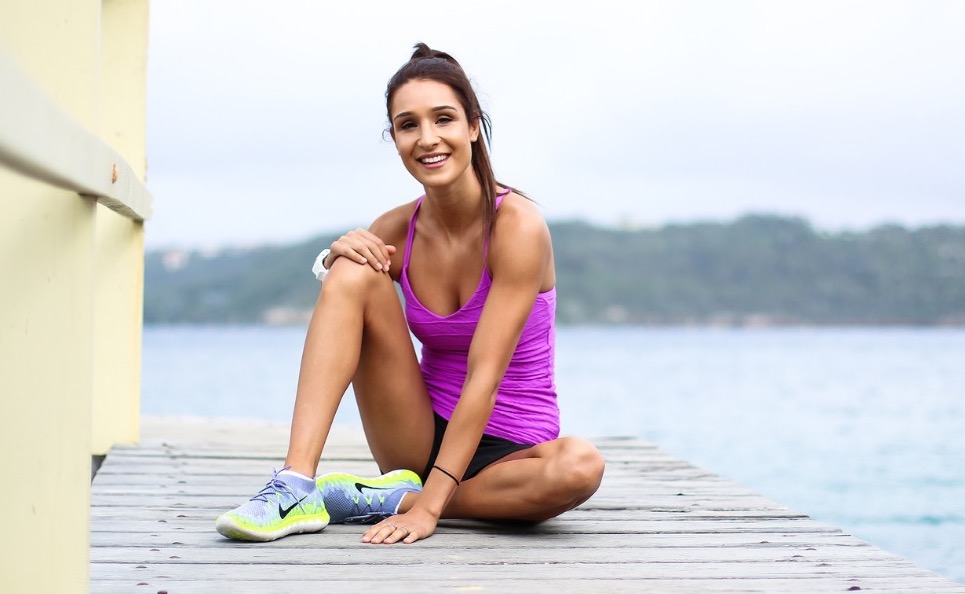 1. Tell us a bit about yourself and how you got into personal training?
I'm a 24-year-old Personal Trainer from Adelaide, South Australia. I live with my partner, Tobi and our two Siberian huskies, Ace and TJ. My love for sport growing up, particularly basketball, and passion for helping people is what lead me to study Personal Training at the Australian Institute of Fitness after graduating high school. This career has given me the opportunity to educate women on the importance of a healthy, maintainable lifestyle in order to become both healthier and happier long-term. I feel extremely lucky to be able to do what I love and what I most passionate about, every single day.
2. Obviously you're world renowned for your incredible ebooks. Can you talk us through the story behind their creation?
It all started when I began to upload the transformation photos of my Adelaide based clients to my Instagram account. Their motivating transformations gained attention from girls around the world who were curious about how my clients and I were training and achieving those kind of results. It made me upset that I wasn't able to help all these women achieve their health and fitness goals, so this inspired me to create my Bikini Body Training Guide and my Healthy Eating Lifestyle Plan (HELP). It was my clients that inspired me to continue to grow and learn as they were finally feeling the confidence they deserved, and nothing made me happier than seeing them work towards and achieve their health and fitness goals.
3. Can you summarise your own personal approach to health and fitness?
I don't believe in 'diets' or 'quick fixes'. I believe that being active and healthy is something that should not have an end date. Women deserve to feel confident and fit all year around, not just for a special occasion or just the summer months. Feeling fit and healthy is a lifestyle, so it is important to establish a routine that works for YOU and one that you can maintain all 12 months of the year. My biggest tips would be to remind yourself why you have started, take regular progress photos and remember that you are working towards being a healthier version of YOU.
4. I can imagine you're pretty busy – what is a typical day in your life?
I wake up at 5:30am to run my first bootcamp session. I then go home, eat breakfast and take Ace and TJ for a walk. I spend the rest of the day at the office with my team working before heading to the gym to work out. Then I get ready to run my second bootcamp session. Once that's finished, I go home, have dinner with Tobi and relax with a nice big mug of peppermint tea 🙂
5. What does a typical day in your diet look like?
Breakfast:
Poached eggs on rye toast with avocado, tomato and spinach
Lunch:
Turkey and salad wrap – with delicious vegetables that are in season!
Snack:
Fresh fruit – I love mangoes
Dinner:
Green chicken vegetable curry with basmati rice. Or if I'm cooking for Tobi and I, Avgolemono is my favourite! It's a fluffy, Greek chicken and rice soup.
I'm an advocate for a wholesome diet incorporating foods from all 5 food groups as shown in my Nutrition HELP Guide. Eating many different foods from all these food groups, with the occasional treat, helps maintain a healthy, well-balanced and interesting diet that provides my body with the fuel and nutrients that it needs.
6. I am an advocate for balance and allowing yourself some flexibility in your diet (aka chocolate!). What is your favourite foodie treat?
I have a weak spot for Tiramisu, which is a Greek coffee-flavoured dessert. I am however, lactose sensitive and as this has dairy in it, it means that I can only have it once every so often… but this is probably a good thing 😉
7. Everyone else seems to hate burpees, but I personally love them! What is your ultimate favourite exercise move?
I love ab workouts! Whether it's training my clients or doing a workout at home, abs are my favourite! Box jumps are also a great challenge as you can aim to jump higher and higher. It's a great form of motivation when you can see your own personal progress.
8. If you could go back and give yourself one piece of health/fitness advice what would it be?
Start now and be consistent. Before I began training regularly, I was like most girls who would "yo-yo" between working out regularly and then doing nothing at all. The best thing for me was starting a regular exercise routine which I enjoyed. Consistency really is key.
9. You're smashing life right now! What are your future plans?
Thank you so much! The last 12 months have been such an incredible journey. I have to pinch myself when I think about my very first world tour! It was truly amazing and something I will never forget. I have so many exciting announcements coming up soon. I'll give you some hints – new products and translations! You'll have to stay tuned for more details 🙂
Check Kayla out online: