Austria is one of the most beautiful places I have visited in the world and that is saying something! The mountain landscapes I experienced during my stay took my breath away. It literally felt like you were walking through a postcard. We stayed in a small town called Saalfelden in the district of Zell Am See in the state of Salzburg. This area came recommended by a friend and is perfect for hiking, exploring and general epic nature experiences.
Never before have I had a more highly requested blog post than this one! As I shared content from our Austrian mountain adventure on Instagram, I received around 100 requests a day for our hikes, routes and recommendations. You asked, I've answered and here they are!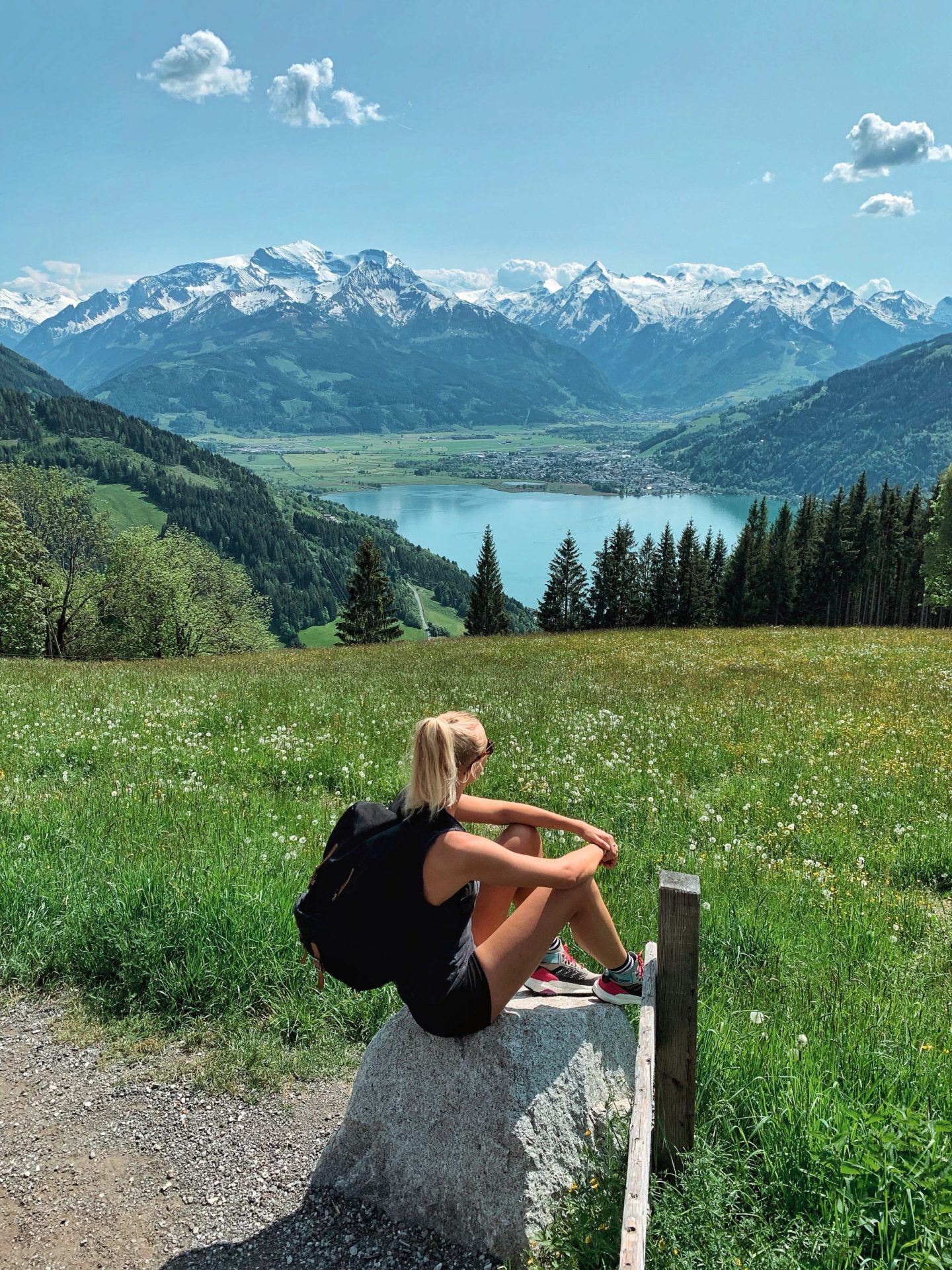 Our Hikes:
A brief disclaimer: The hikes we chose are pretty much all moderate to difficult in nature. This means there are significant extended uphill climbs. You will need a good base level of fitness to complete these comfortably.
This is a 4-5 hour long 11.5km hike which is moderate to strenuous, with the first 4-5km being uphill, a killer for your legs. The views over Zell Am See lake are absolutely phenomenal though and totally worth the sweat. They are some of the best we had on our trip! Plus we saw a wild marmot at the top of the mountain which was definitely a highlight.
This moderate 12.8km circular trail takes you through woodlands and pastures, with a solid uphill climb to start including a stream crossing. The views from the top are stunning over the surrounding landscape and if you're there in summer you can access two mountain huts filled with traditional alpine snacks!
We did this hike immediately after the Griessner Almen hike as it was just down the road. It is an easy 5km hike with beautiful views over the valley and mountain tops. Plus we met some friendly cows who loved an ear tickle along the way! A great hike if your legs are a little sore.
Königssee Lake, Germany – Obersee Lake, Röthbachfall And The Secret Waterfall.
Germany's Berchtesgaden National Park in the state of Bavaria is about an hours drive from Saalfelden. They are definitely worth a visit, just drive over the border! I recommend getting there for the first morning boat from Königssee (8.30-9am) and catching it to the very end of the lake, Salet. Then follow the signs to Obersee Lake and onto the Röthbach Waterfall. The trail is moderate difficulty and absolutely mind-blowingly beautiful. It takes a couple of hours and is easy to follow due to regular signage.
Head back to the main town of Königssee and then you can hike to the secret waterfall. Instructions on how to get there are here and here. Be warned, the trail is closed to the public, more than a little sketchy and you take it at your own risk. For us, it was totally worth it as we had the waterfall and a panoramic lake view all to ourselves.
Don't forget to take your swimming kit to have a dip in the lake at the end of the day!
Wow, what an amazing hike to finish our trip with! This moderate 11.5km trail takes about 3-4 hours. The first two hours are purely uphill but the gradient is gentle and manageable. Not to mention the views along the way are stunning. Once you get to the top there is the Berggasthof Biberg mountain restaurant where you can stop for a drink. Then you can either hike or ride a high-speed toboggan down the mountain. I can't recommend the toboggan enough, it was SO fun and one of the most fun activities of our trip!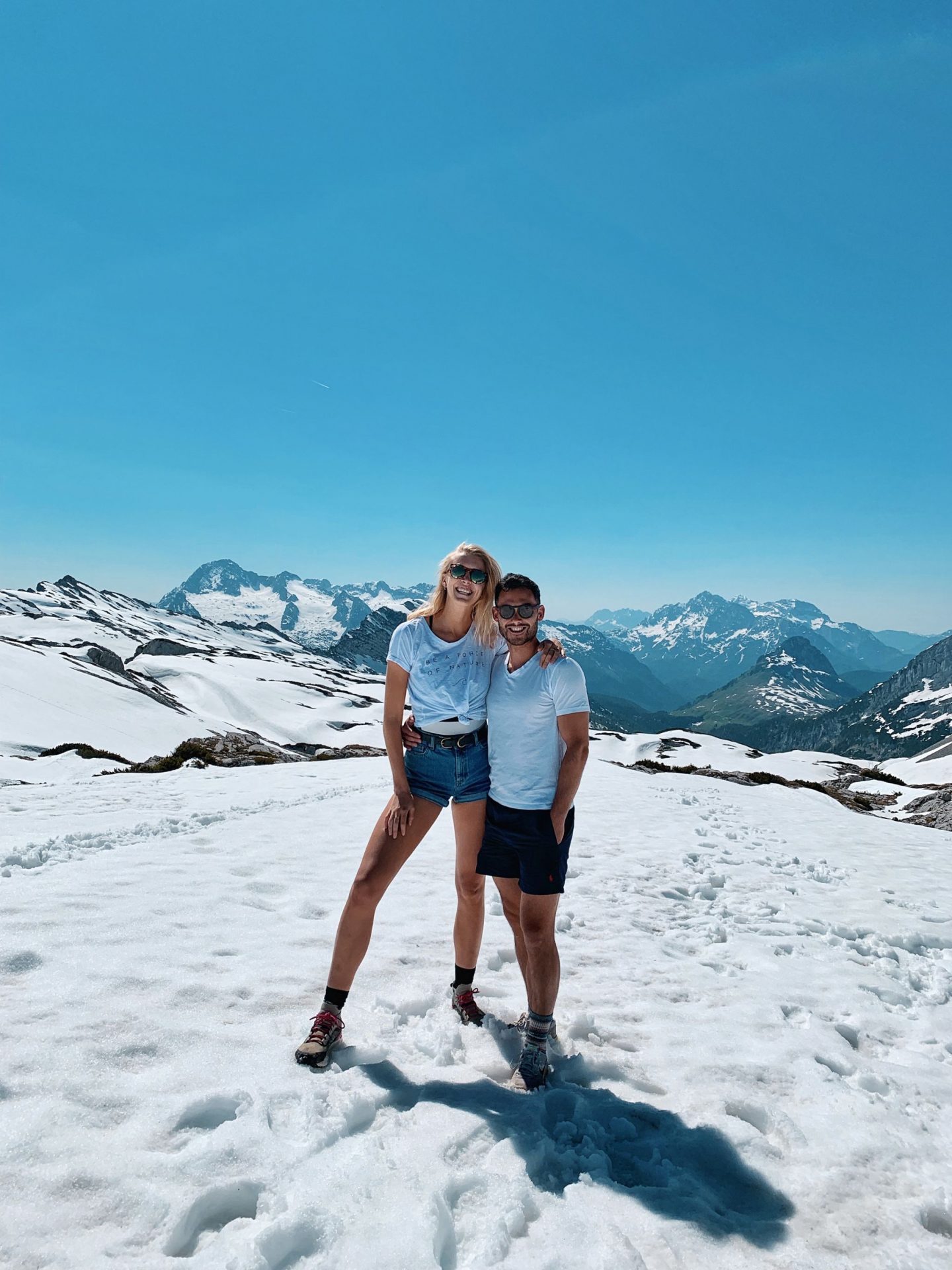 Bonus activities:
A Sennair Helicopter Ride. We took a group helicopter ride with SennAir over Saalfelden, Zell Am See and Königssee. Flying over the snowy mountain tops, we reached heights of over 3000m and came face to face with the sheer rock faces of the peaks. We even stopped off at a mountain hut which is only reachable by helicopter and took in the surrounding panoramic views. I don't recommend this for the faint hearted or those afraid of heights. It's a pretty wild ride, but it was an adrenaline-pumping highlight of our trip!
Swimming in Zell Am See. We swam in the lake pretty much everyday after our hikes. We just pulled over on the side of the road, laid down our towels and went for a dip. It is the perfect way to refresh after a long sweaty hike!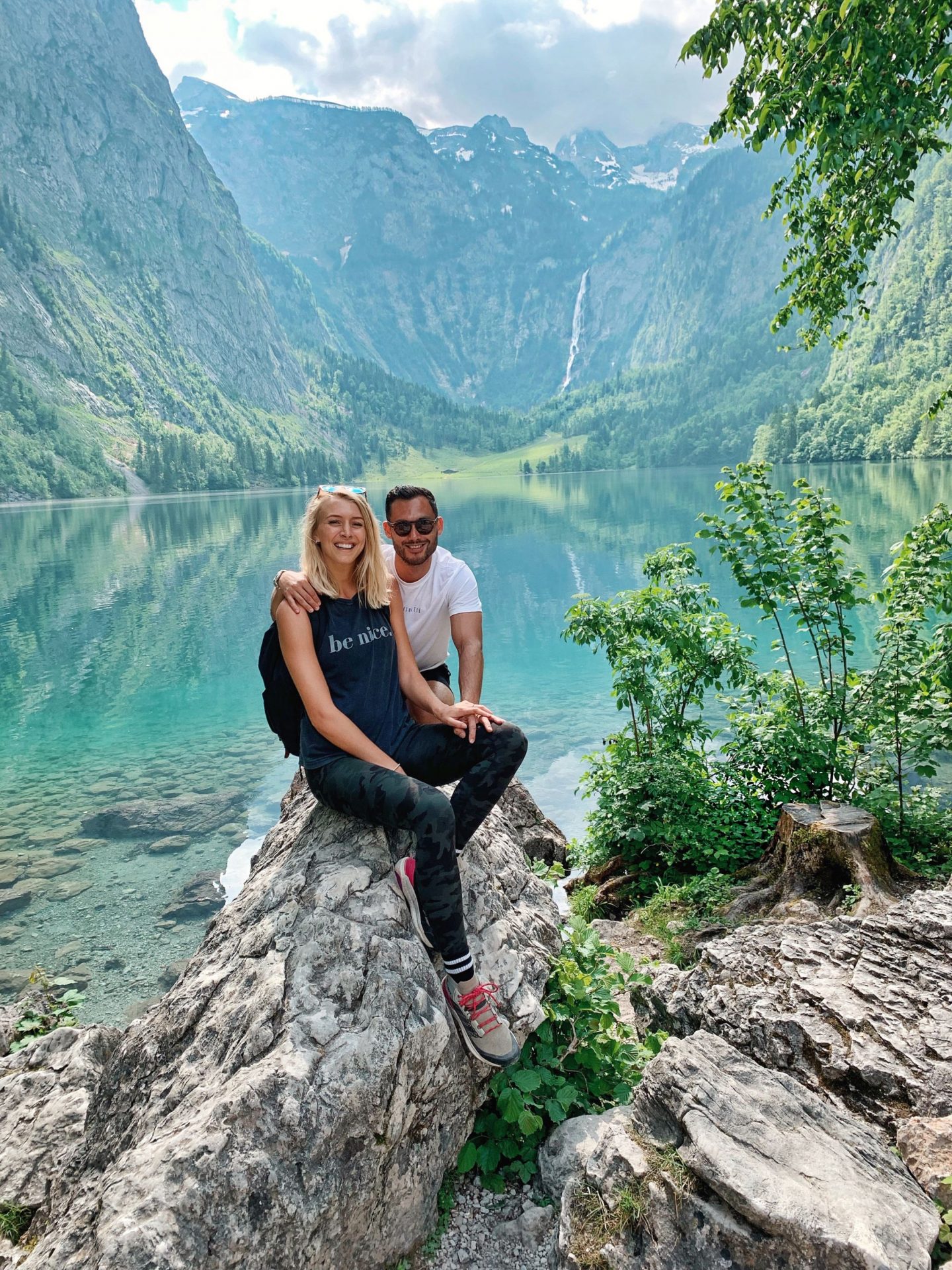 Other Hikes & Sights:
These are hikes and sights we wished we could have completed, but sadly couldn't due to time or weather limitations. When we come back, which we definitely will one day, we will hit these up!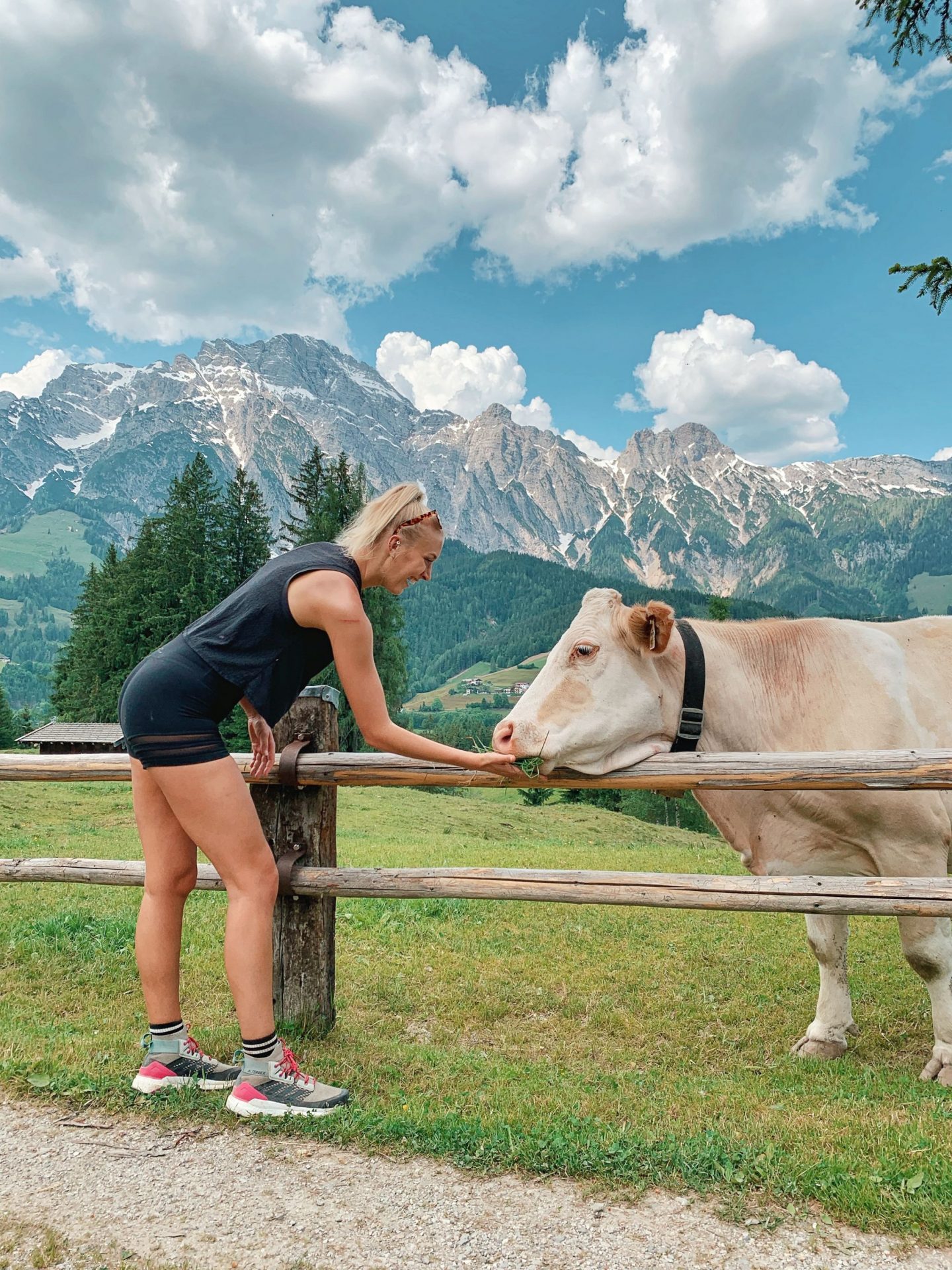 Our Travel Tips, Tricks & Experiences:
We chose hikes which were moderate to difficult as we enjoy a challenge. We did not do any specific hiking training for this trip but we both had a strong base level of fitness before we came.
I always recommend hiking with a backpack filled with lots of water, snacks and clothing layers. We were blessed with beautiful weather, but always took raincoats, hats, gloves and jumpers just in case. There are only sporadic water refill stations on the trails, so bring more fluids than you think you need, and electrolytes if you can.
We found our hikes through extensive online research, using local tourism board websites and searching through outdoor active trails, but there are many hiking trail books and guides you can use too.
There is strong phone signal in most of the areas surrounding Zell Am See so you can use your phone to track your GPS location as you hike. Most of the trails I have linked above have interactive maps. You can use to check your progress as you go.
I hiked in adidas Terrex Free Hiker trainers and found them to be suitable for the terrain. However, if you take on any of the summit hikes you will most likely need more technical footwear.
We visited the area in early June which comes with pros and cons. We loved it because it is before the crowds arrive. Not seeing a single person on most of our hikes was incredible – it felt like we had the mountains to ourselves. However, due to our early arrival, a lot of the summit trails weren't open due to residual snow on the peaks. Most of the mountain huts weren't open as it wasn't the high season.
We stayed in an AirBnb and cooked all of our own meals to save money, there are tonnes of supermarkets in Saalfelden and plenty of plant-based options on the shelves.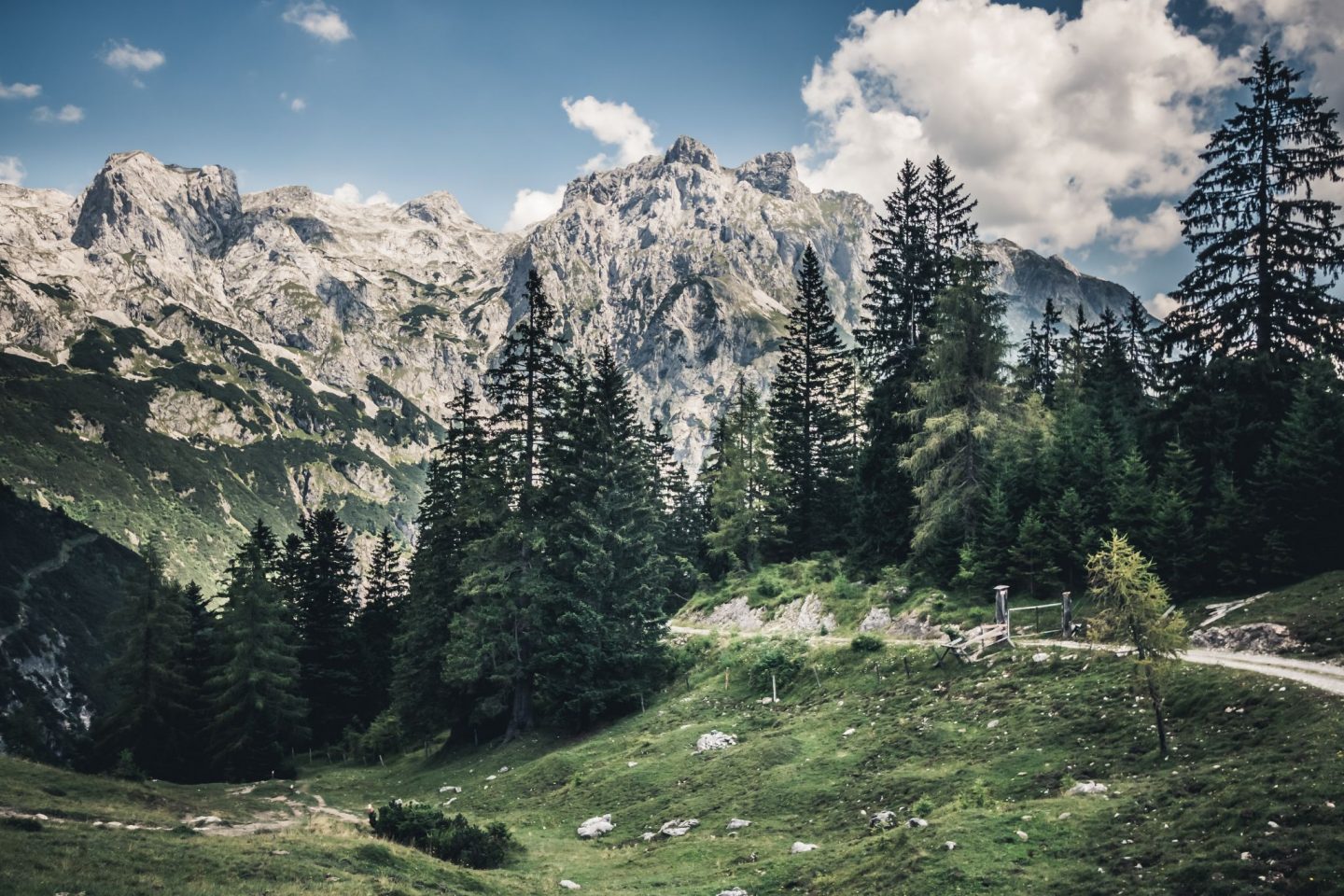 Let me know if you do any of these hikes or book a trip to Austria by messaging and tagging me @zannavandijk. If you are flying to Vienna, you may also want to see my City Travel Guide here.
Happy hiking!
Zanna xx