Daios Cove is a luxury resort in a quiet inlet in the North of Crete. Boasting its own private beach, expansive suites and breathtaking views, it was the perfect place for me to leave the hustle and bustle of London and escape to for a long weekend.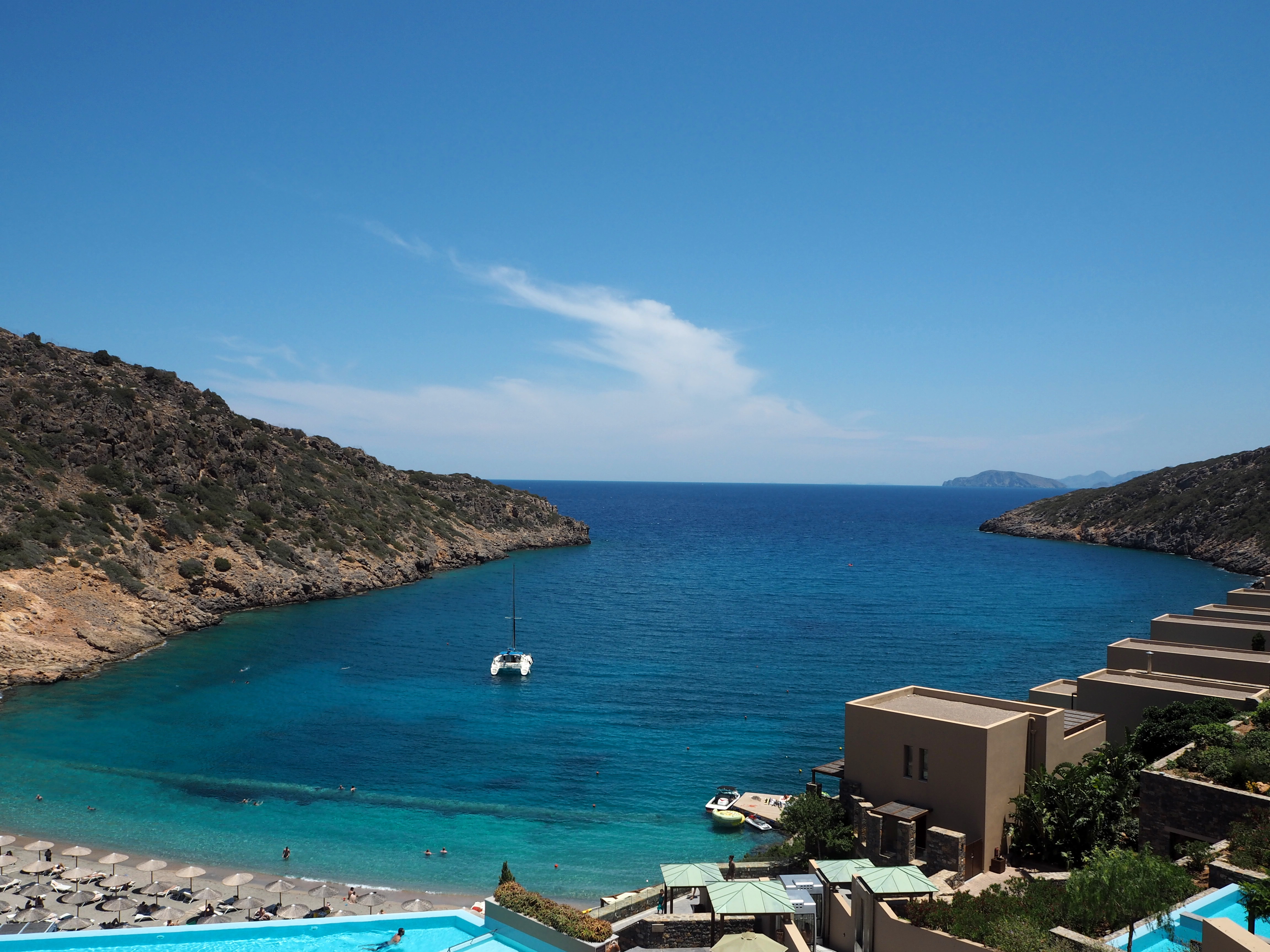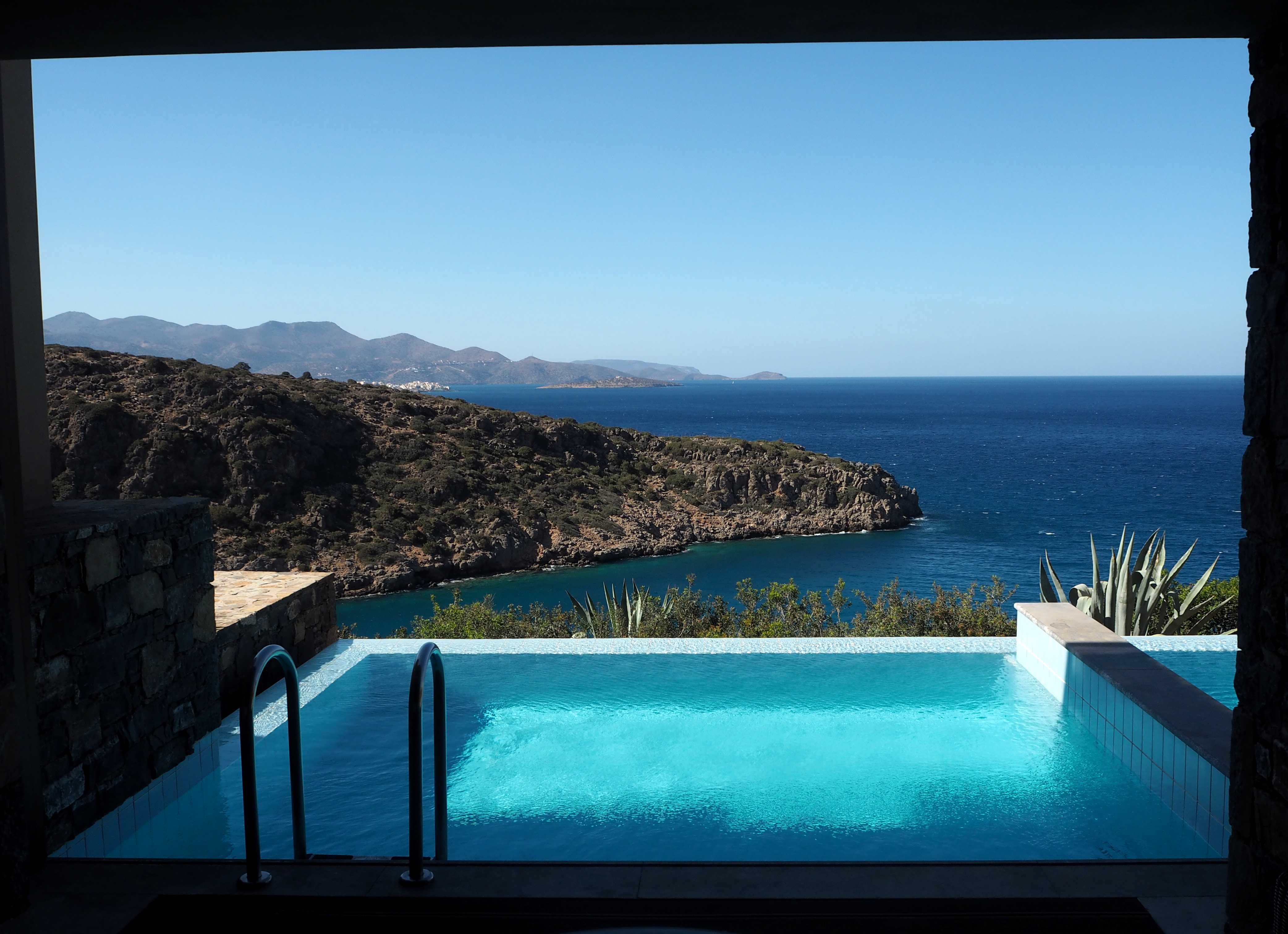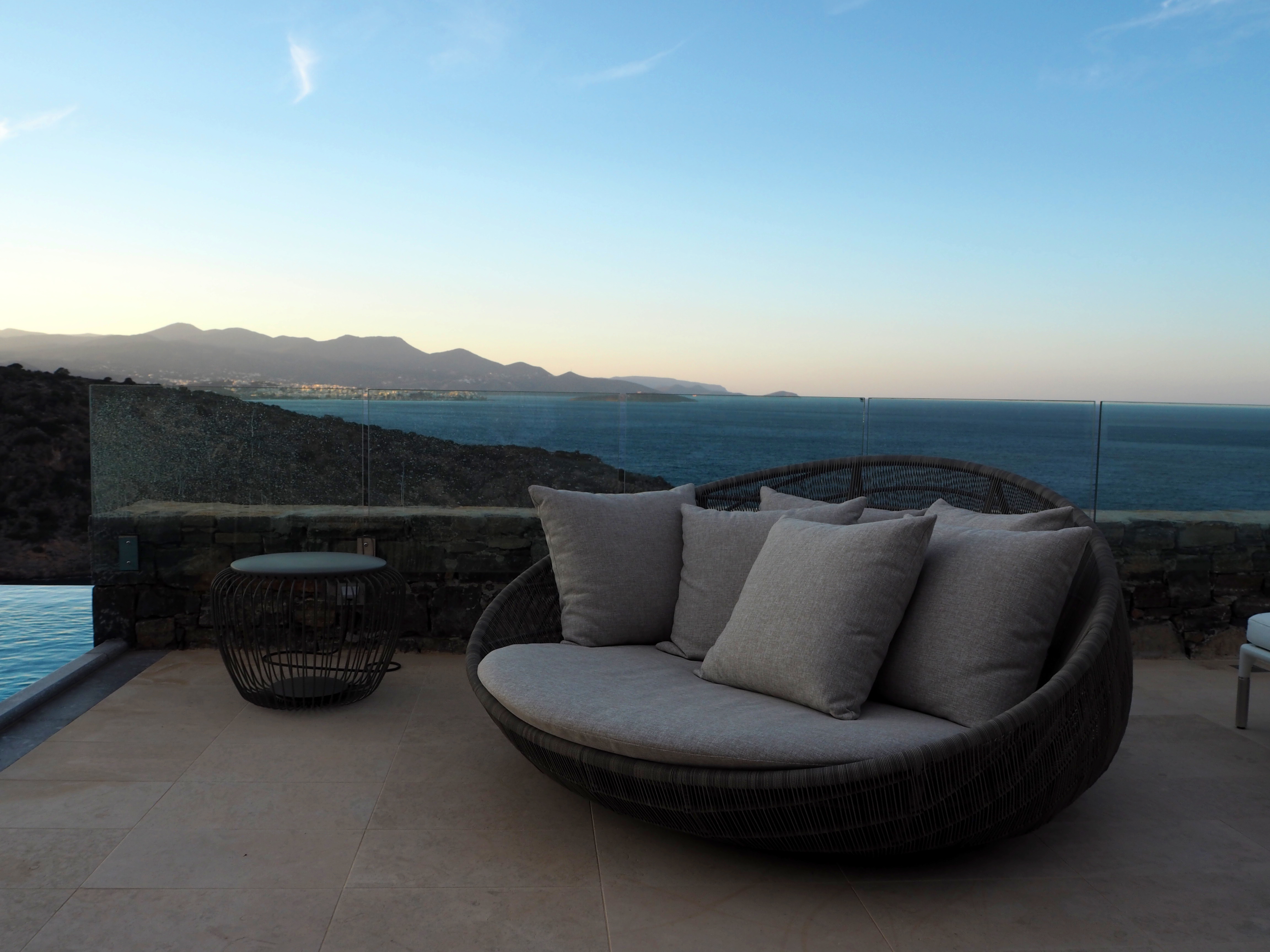 The Resort
Daios Cove is pretty massive. As someone who is a fan of small boutique hotels, it is a challenge for a large resort to win me over. However, this one certainly did. Admittedly it is so huge that it can be a challenge to get from A to B in a hurry. However, they do have golf buggies which can take you anywhere in the resort. I mean, who doesn't love a good golf buggy?!
The rooms range from suites through to villas and even a mansion (which is epic, but comes with a price tag to match!). I stayed in a deluxe suite with a private pool. Yep, a private pool. With an amazing view of the Cretan coastline. I was literally living the dream! The room itself was spacious and the bed was so big that I didn't have to sleep diagonally (a common issue being 6'2!).
With its own private beach not being enough, there is also an infinity pool with a pool bar. In the daytime there are scuba diving and water sports available; or you can treat yourself in the spa. I had a full body massage which left me feeling like I was floating on a cloud. The resort literally has everything you could ever imagine… I mean it even has a mini-market!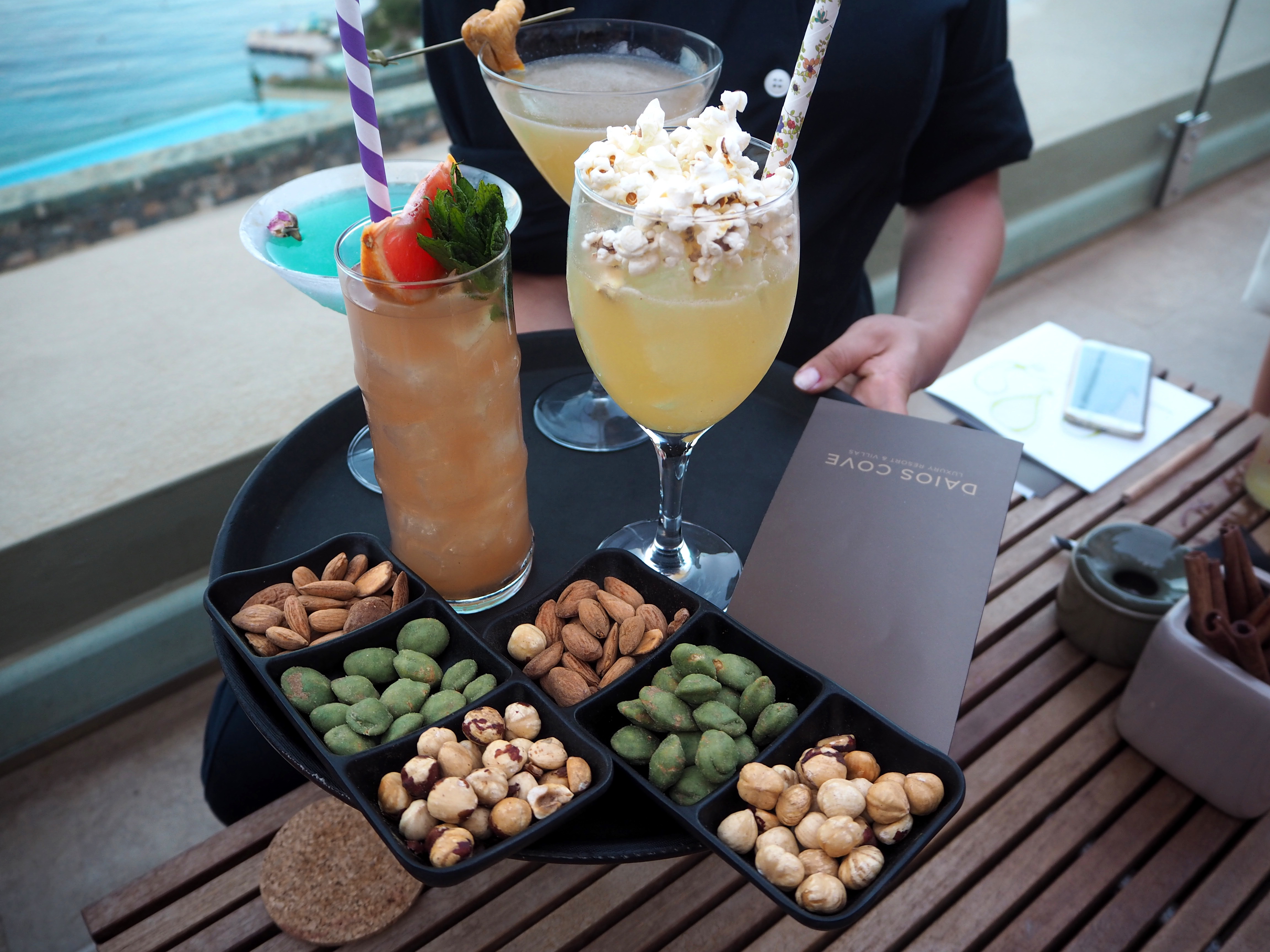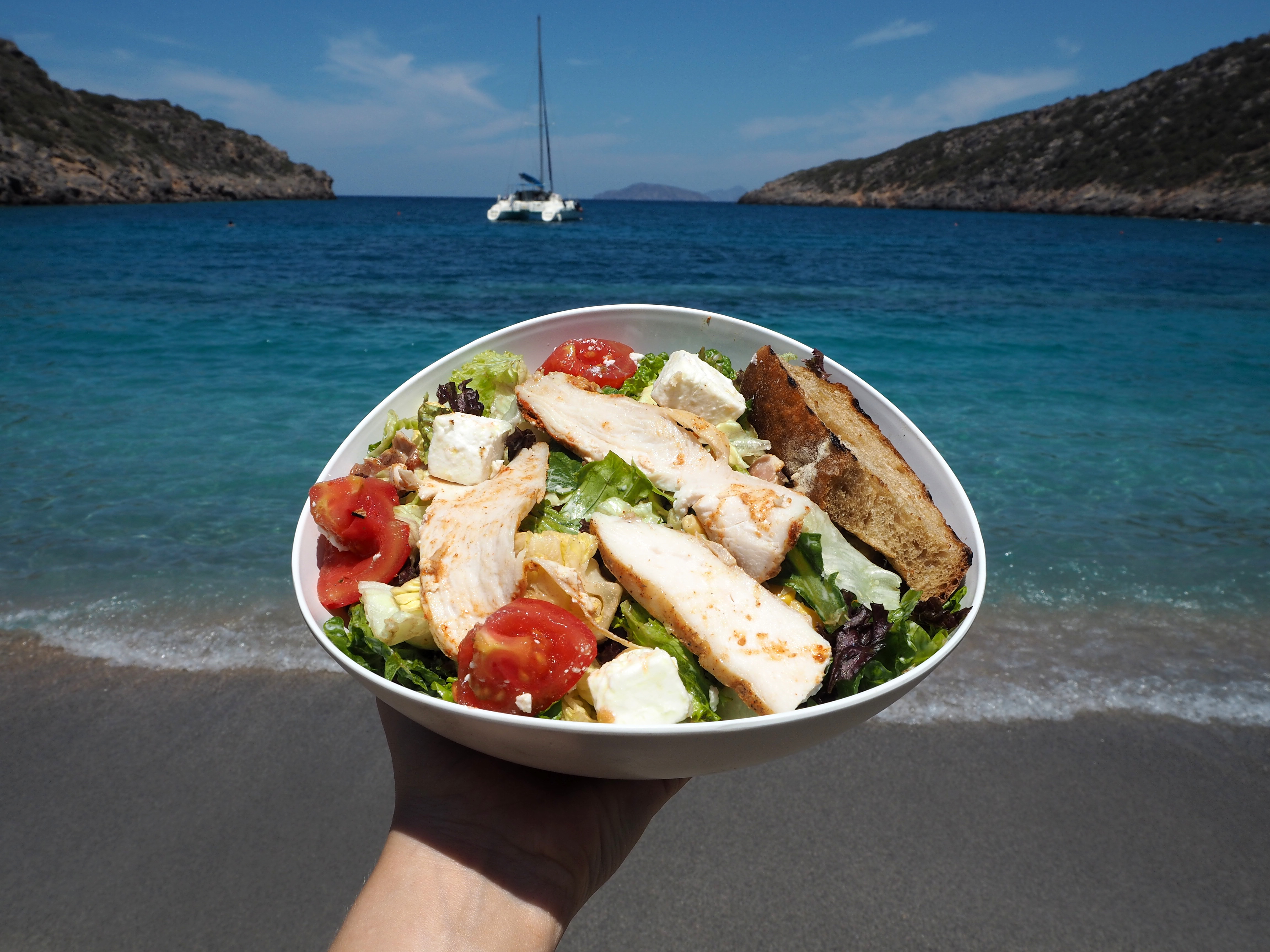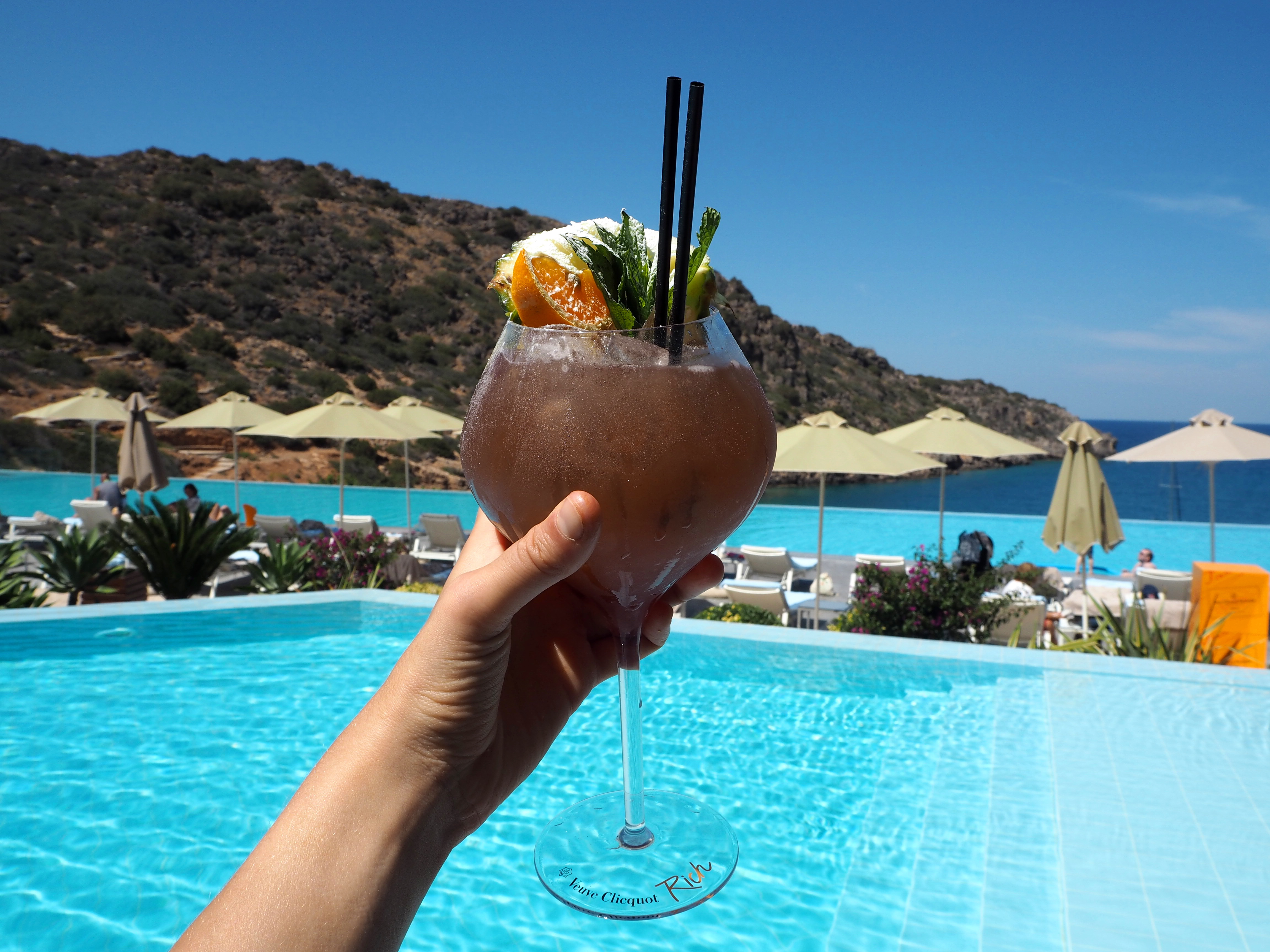 Food & Drink
Daios Cove has so many restaurants that I lost count. I want to give a big shoutout to the insanely good breakfast buffet. Guys. It is legit. I'm talking authentic greek yoghurt, mountains of fresh fruit, homemade pastries and granola bars, freshly cooked eggs, smoothies.. the lot! I looked forward to breakfast every day.
For lunch I loved the huge fresh salads they served at the beach bar, which can be brought to your lounger if you don't fancy moving (maximum tan time!). When it came to dinner, I enjoyed all the restaurants. However, my favourite meal of the trip was from the Taverna restaurant which serves up traditional Greek food that is packed full of flavour.
Let's get to the good stuff, the cocktails. Daios Cove certainly didn't let me down in this department. In the evening I loved sitting on the top balcony overlooking the cove and sipping on a cheeky cocktail or two. The menu selection is expansive but of course my favourites were the Caramel Popcorn and Peanut Butter ones… I am so predictable!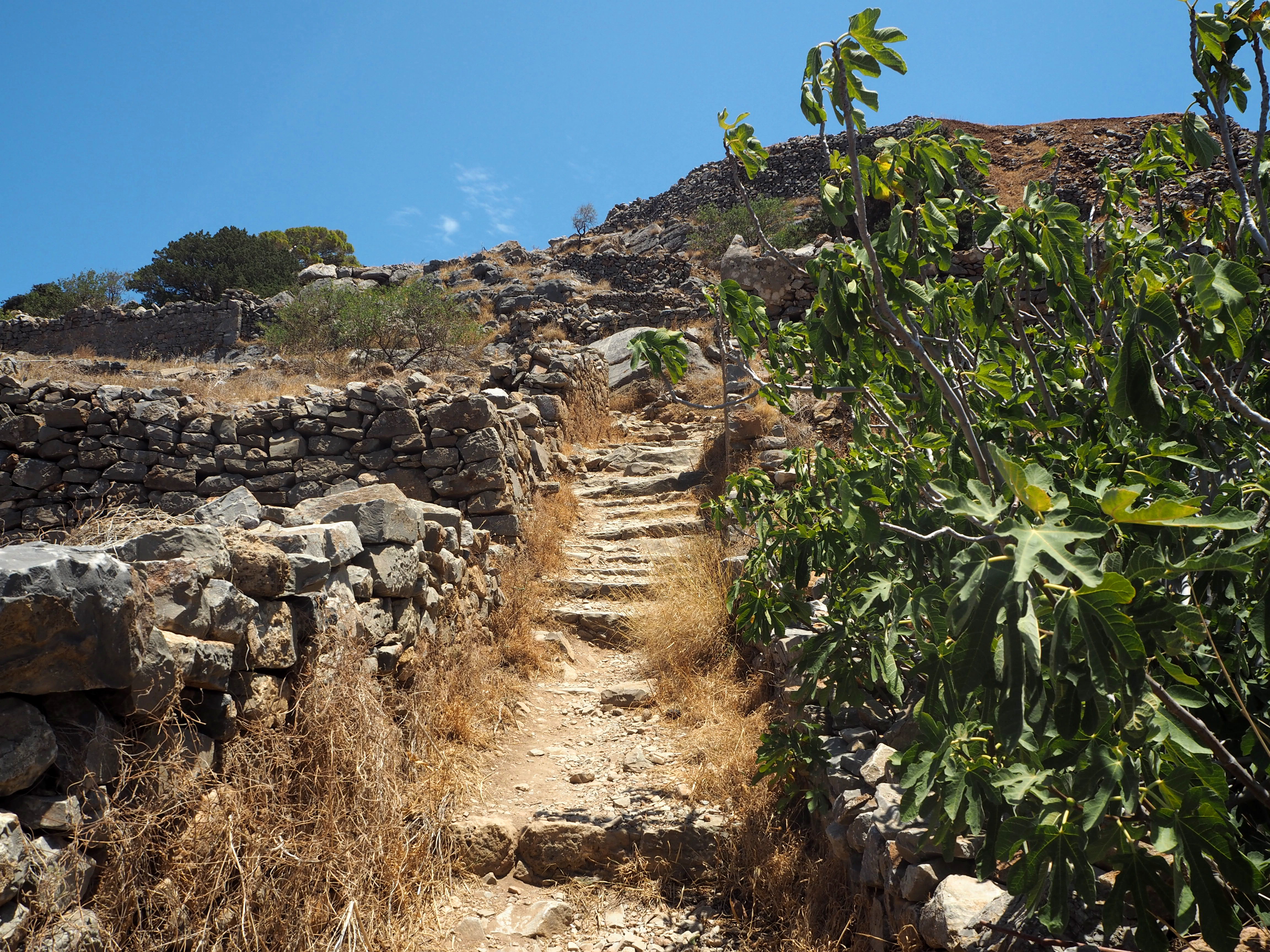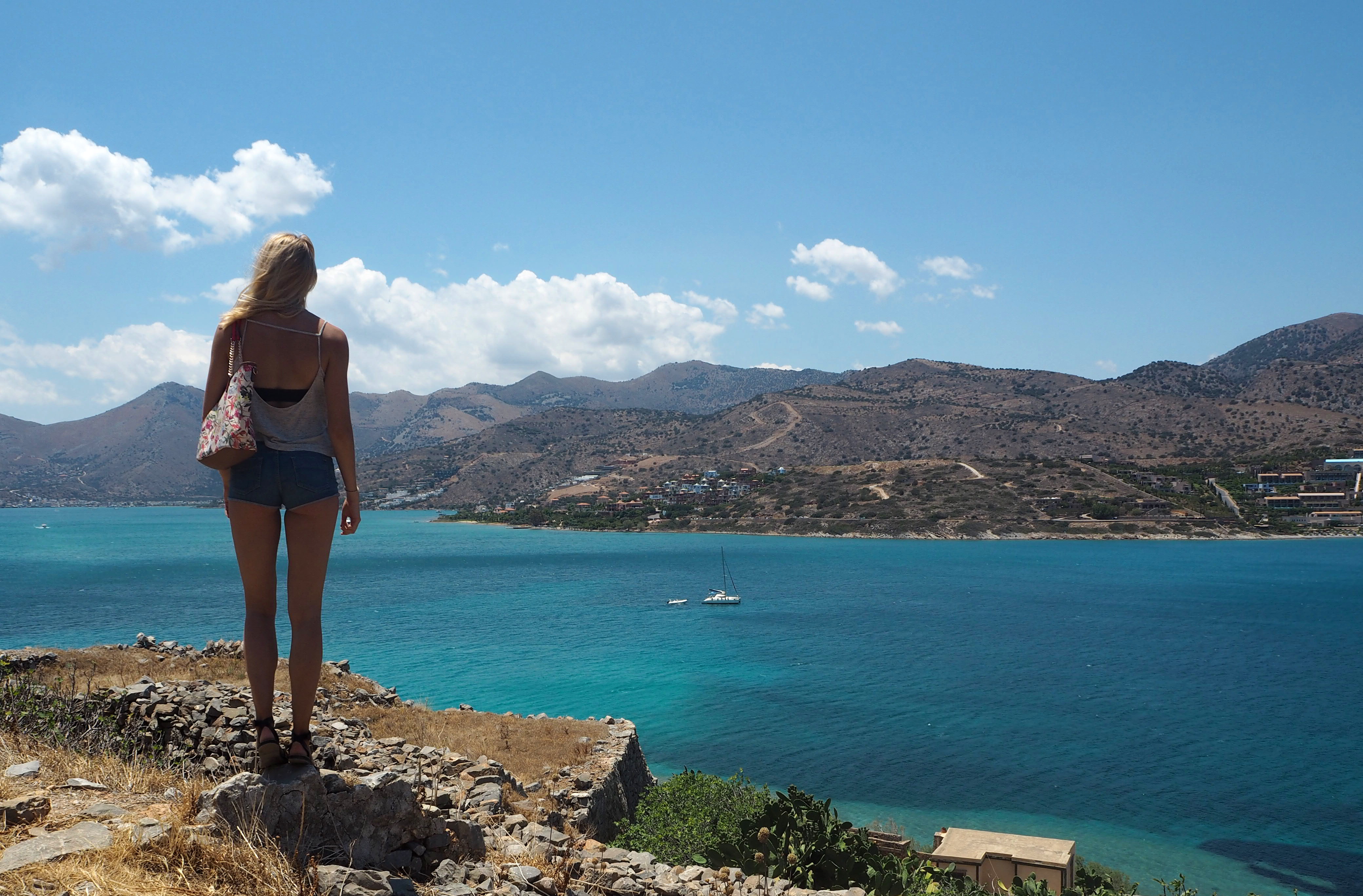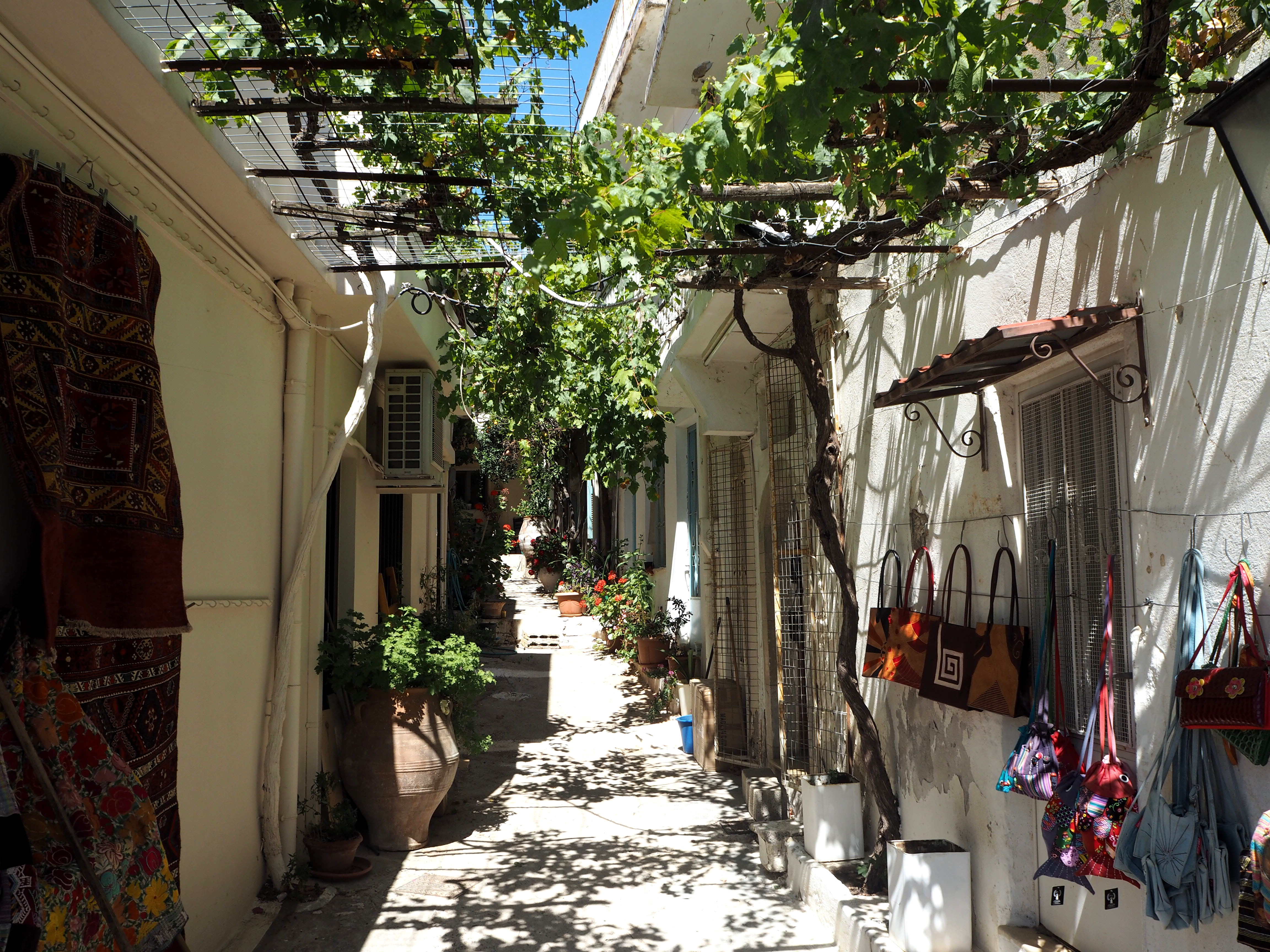 Activities
Admittedly I did spend a lot of my time sunbathing, swimming, eating and drinking. Who could blame me?! However I did go on a few little trips out to nearby sights. One day we drove to a village called Kritsa. It is an extremely picturesque village packed full of unique shops which are perfect to pick up some authentic Greek crafts or food products in.
A personal highlight was when we hired a catamaran and sailed to Spinalonga island. The initial boat ride over was super relaxing and a perfect time to switch off, sunbathe or read a book. Once we got there we explored the beautiful island itself, a fortress inhabited by a former leper colony which is steeped in history. I could've spent hours and hours there! On our sail home we stopped off in a crystal blue bay and took a dip before tucking into a picnic style lunch on board. It was dreamy.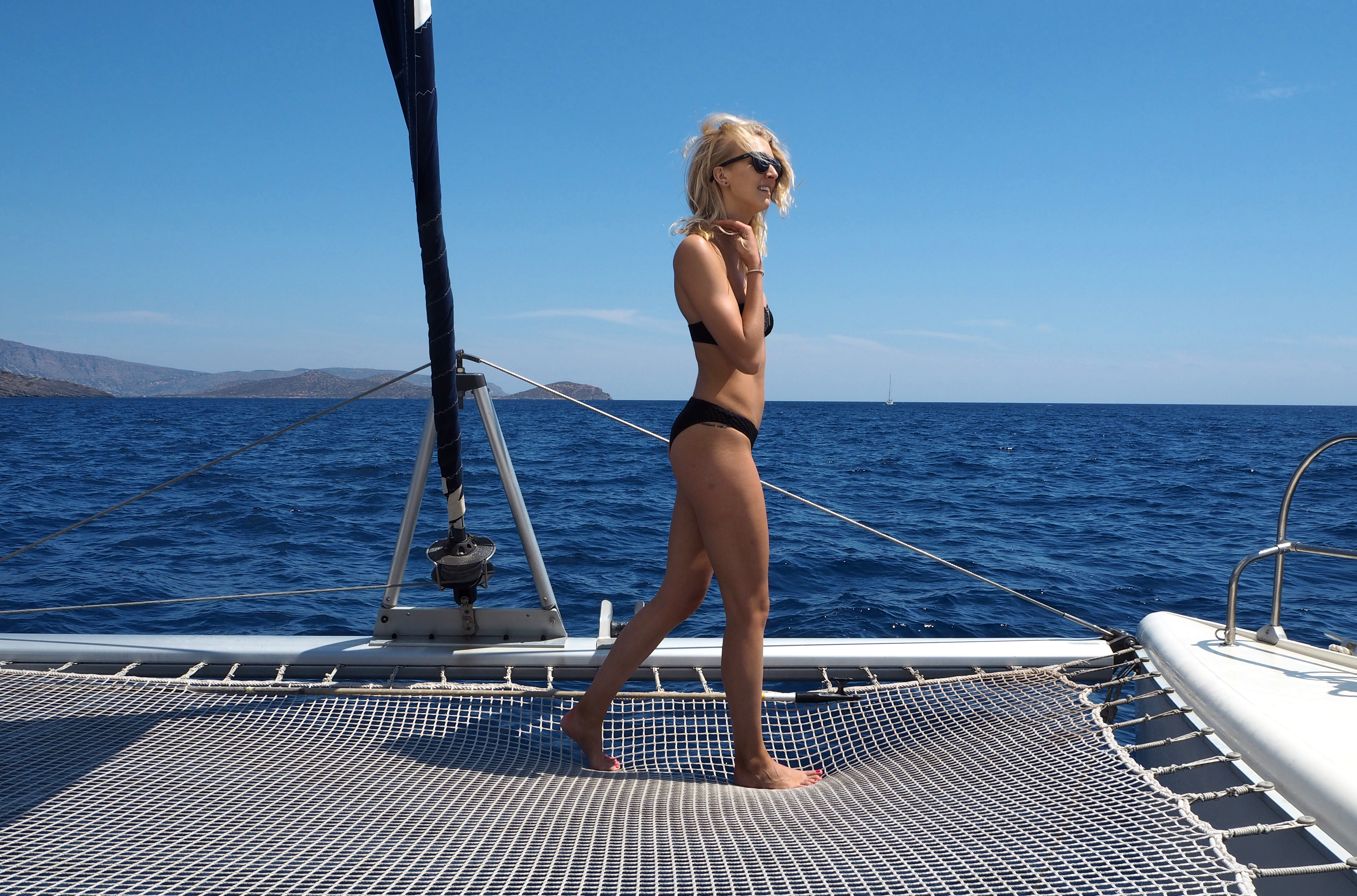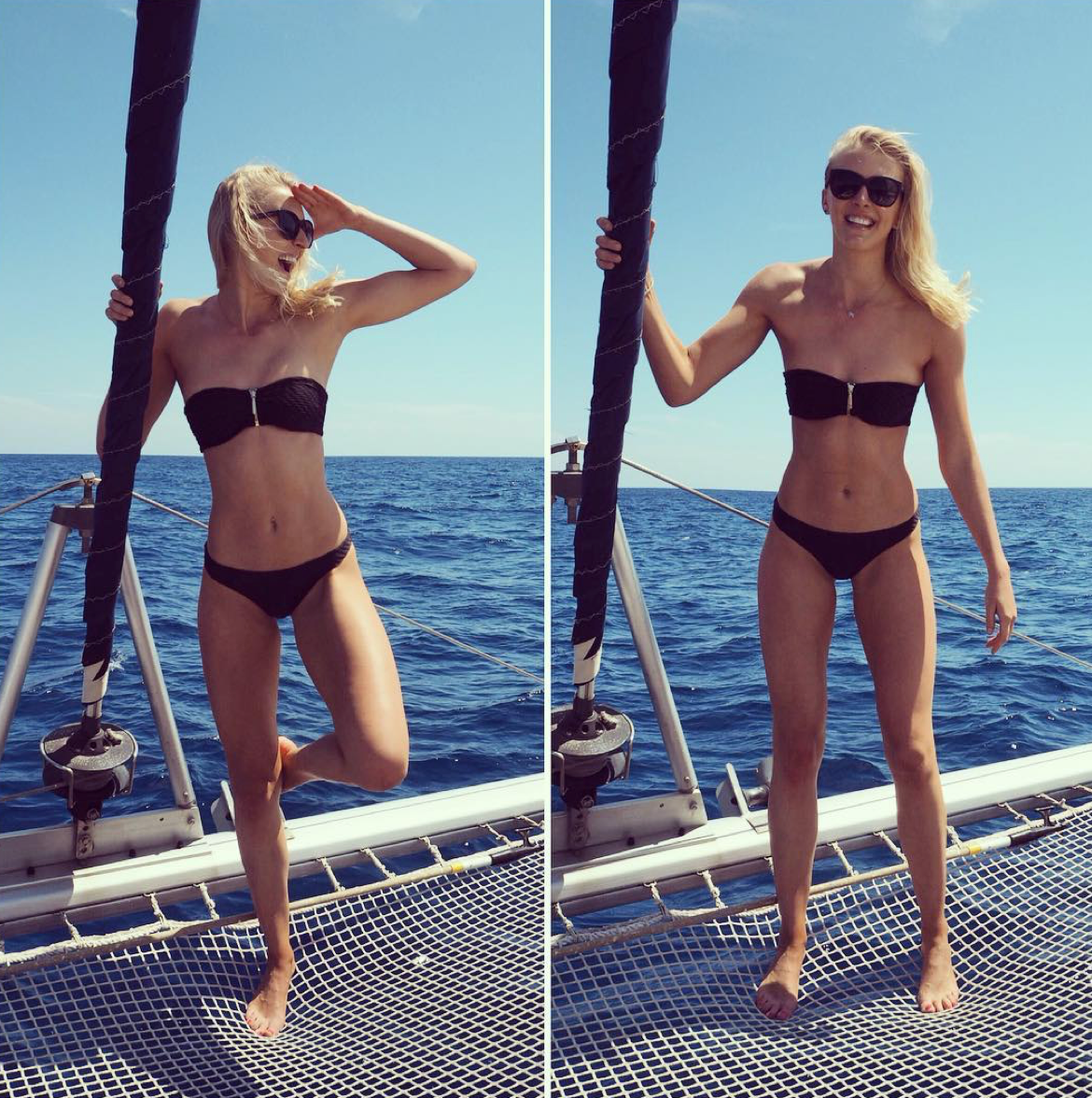 Staying Healthy
Daios Cove is an ideal destination for fitness freaks like me. The gym is much bigger than I expected with a selection of cardio and weighted machines as well as dumbbells and a barbell. Admittedly the air-con isn't quite strong enough to prevent the Cretan heat turning you into a sweaty mess within minutes, but you've just got to embrace it! If you fancy training outdoors, on the opposite side of the cove there is a huge set of stairs which is perfect for a morning HIIT session. There are also yoga, pilates and fitness classes included in standard room rates which guests can take advantage of.
In terms of food, it is easy to stay on track at the resort. The breakfast buffet is packed with healthy selections and all the lunch and dinner restaurants have lighter options too. The staff are also more than happy to adapt any menu items to suit your needs, so don't be afraid to ask for switches or substitutes.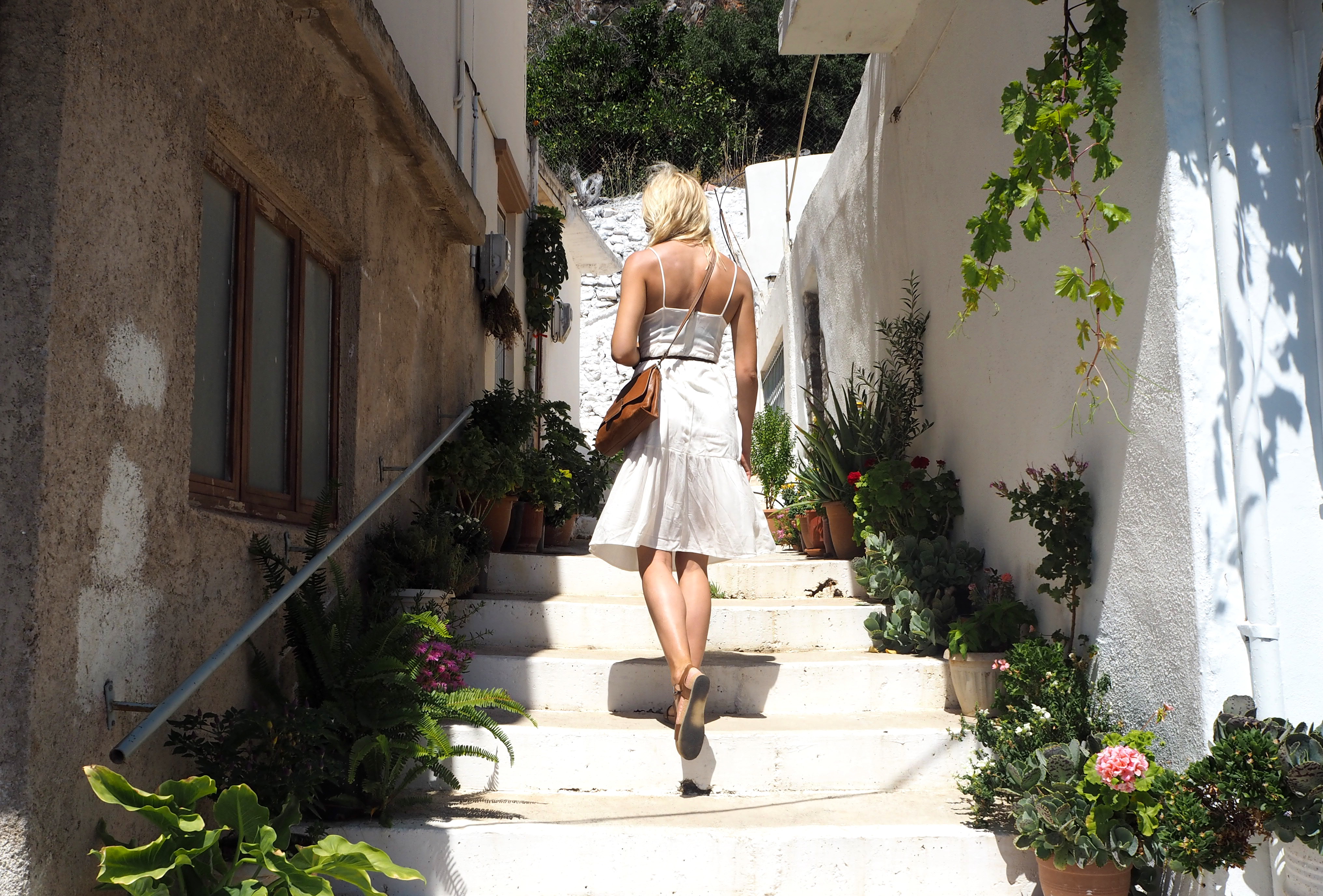 All in all…
My stay at Daios Cove was exactly what I needed; some time out from the chaos of London and a chance to really relax and switch off. The luxurious surroundings, delicious food and slow pace of life combined with beautiful blue sea, clear skies and bright sunshine left me feeling refreshed and renewed… and ready to tackle writing the rest of my book!
Zanna xx
Nightly rates at Daios Cove start from €464 half-board based on two adults sharing a Deluxe Sea View Room. To book call +30 28410 62600 or visit www.daioscove.com for more details and reservations. This blog post is not sponsored.