The Peak District is the UK's original National Park and one of the most visited. With around 555 square miles of land and 1600 miles of rights of way to explore, it's perfect for hiking. It is known for its rolling peaks, dramatic crags, numerous reservoirs, deep caves and varied wildlife. It is even home to three dark sky sites where you can see the milky way with your bare eyes on a clear night. I hate to admit it, but for four years I lived in Sheffield right on the doorstep of the Peaks, and I didn't take advantage of it's rugged natural beauty. It is heaven for hiking, cycling and climbing. Plus it is easily accessible from many areas of the UK, I was surprised to find it is only a three-hour drive from my home just outside London!
If you're looking to plan an outdoor adventure here in the UK then The PeakDistrict ticks all the boxes. It has an abundance of walks for all abilities, plenty of wild swimming spots and of course, country pubs to cosy up in afterwards. Here are the top routes in the region to add to your hiking bucket list!

The Hikes:
Dovedale Circular
Distance: 21km
Elevation Gain: 800m
Difficulty: Moderate
The Route: Click here.
An absolutely stunning hike through some quintessential Peak District valleys, including the popular Dovedale and its famous stepping stones. The majority of the trail is very gentle, with a handful of steep climbs scattered throughout. You're exposed to varied landscapes and beautiful views along the route, but just ensure you start early as it is a well known region and can get busy later in the day.
Mam Tor & The Great Ridge
Distance: 13km
Elevation Gain: 646m
Difficulty: Moderate
The Route: Click here
This is one of the most popular hikes in The Peaks and it is easy to see why. Once you have made the climb up to Mam Tor you have non-stop panoramic views as you make your way along the great ridge looking over Edale valley and Hope valley. If you want, you can start the route in Castleton which is a great place to grab some food pre or post hike; and don't miss a drive through nearby Winnats Pass!

Bamford Edge & Stanage Edge
Distance: 8.7km
Elevation Gain: 298m
Difficulty: Moderate
The Route: Click here
Bamford Edge is a great spot to watch sunrise and if you want to, you can easily nip up and down in under an hour. However if you're looking for a longer loop then this route goes past Stanage Edge too, giving you even more stunning views.

The Roaches & Lud's Church
Distance: 12.4km
Elevation Gain: 425m
Difficulty: Moderate
The Route: Click here
A super varied hike which not only walks through a woodland and along a ridge with beautiful views, but the route also passes through Lud's Church. This is not a physical church but a 60 foot deep chasm with dramatic rock walls you can walk through. The rock faces are stunning and often covered with moss, lichen and dripping water.

Three Shires Head
Distance: 6km
Elevation Gain: 237m
Difficulty: Easy/Moderate
The Route: Click here
If wild swimming is on your agenda, then don't miss this hike. It takes you to the famous Three Shires Head, a point where the counties of Derbyshire, Cheshire and Stafforshire meet at a waterfall and collection of pools on the River Dane. It is a stunning spot for a dip!
Win Hill from Heatherdene
Distance: 13.8km
Elevation gain: 482m
Difficulty: Moderate
The Route: Click here
Win Hill is a peak you need to conquer if you want truly panoramic views since it is not a part of a ridge and instead stands alone overlooking its neighbouring peaks, reservoirs and valleys. This route is particularly beautiful when the heather is blooming bright purple in late summer.
Teggs Nose Loop
Distance: 10km
Elevation Gain: 465m
Difficulty: Moderate
The Route: Click here
If you want a trail which gives you a little bit of everything then the Teggs Nose Loop is a great option, especially in the autumn months when the golden colours come around. It passes through woodland, farmland, beside reservoirs and finishes with a climb up Teggs Nose for wonderful views.
Kinder Scout
Distance: 13.7km
Elevation Gain: 583m
Difficulty: Moderate
The Route: Click here
A tough but rewarding walk to the highest point in the Peaks, best done on a clear day. It features a waterfall, reservoir and a climb up to the iconic Kinder Scout peak and plateau. Your legs will be burning but your eyes will thank you, the views from the top are incredible. If you're looking for a more challenging route, give this one a go.
Baslow Circular
Distance: 12.4km
Elevation Gain: 470m
Difficulty: Moderate
The Route: Click here
Another varied route which has farmland, woodland, rivers, bridges, crags and epic views. There are even Highland Cows often spotted on the route and in spring Froggatt Wood is full of beautiful bluebells. The best part (in my opinion) are the views at Curbar Edge and Baslow Edge. I recommend going this hike in an anti-clockwise direction to avoid a long slog of a climb.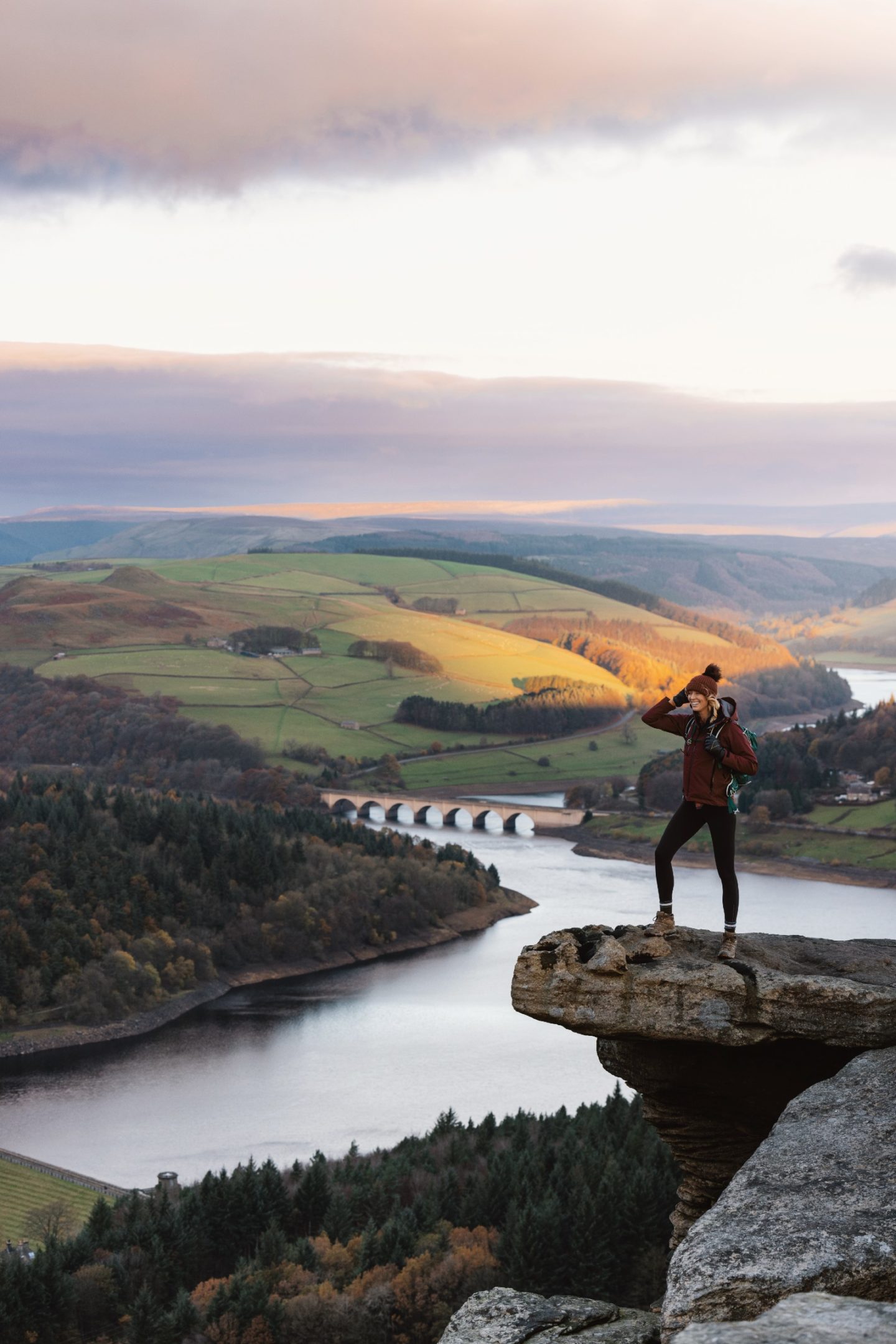 I hope these hikes have provided some inspiration for your next adventure in the Peak District. As always, arrive early to avoid the crowds and secure parking, ensure you pack for all weathers – this is England after all – and take enough water with you.
Happy hiking!
Zanna x