Koh Tao is a small island in Southern Thailand, accessible by a short boat ride from the larger island of Koh Samui. Having travelled pretty extensively through Thailand, I can safely say this little patch of paradise is definitely one of my favourite spots in the country. If you're heading there, don't miss these activities:
Scuba Diving
Koh Tao is one of the most popular diving spots in the world, especially for those looking to qualify as a scuba diver. There are over 80 dive schools on the island which offer affordable courses. Once you get in the warm water you will see an abundance of marine life and coral!
Snorkeling
If scuba diving isn't your thing, I highly recommend snorkelling. You can do this from the many beaches on the island, or you can hop on a snorkelling boat trip which you can easily book. You don't want to miss the underwater world surrounding Koh Tao.
Rent A Bike
You can easily hire a moped or "moto" on the island for a super low price. They are the easiest way to get around Koh Tao and give you the freedom to explore as you please. They are great fun but just a warning; drive safely, on average one serious motorbike accident a day happens in Koh Tao and you will often see tourists walking around with bandages on from their falls. Be sensible and if a road looks too rough, turn back!
Beach Hop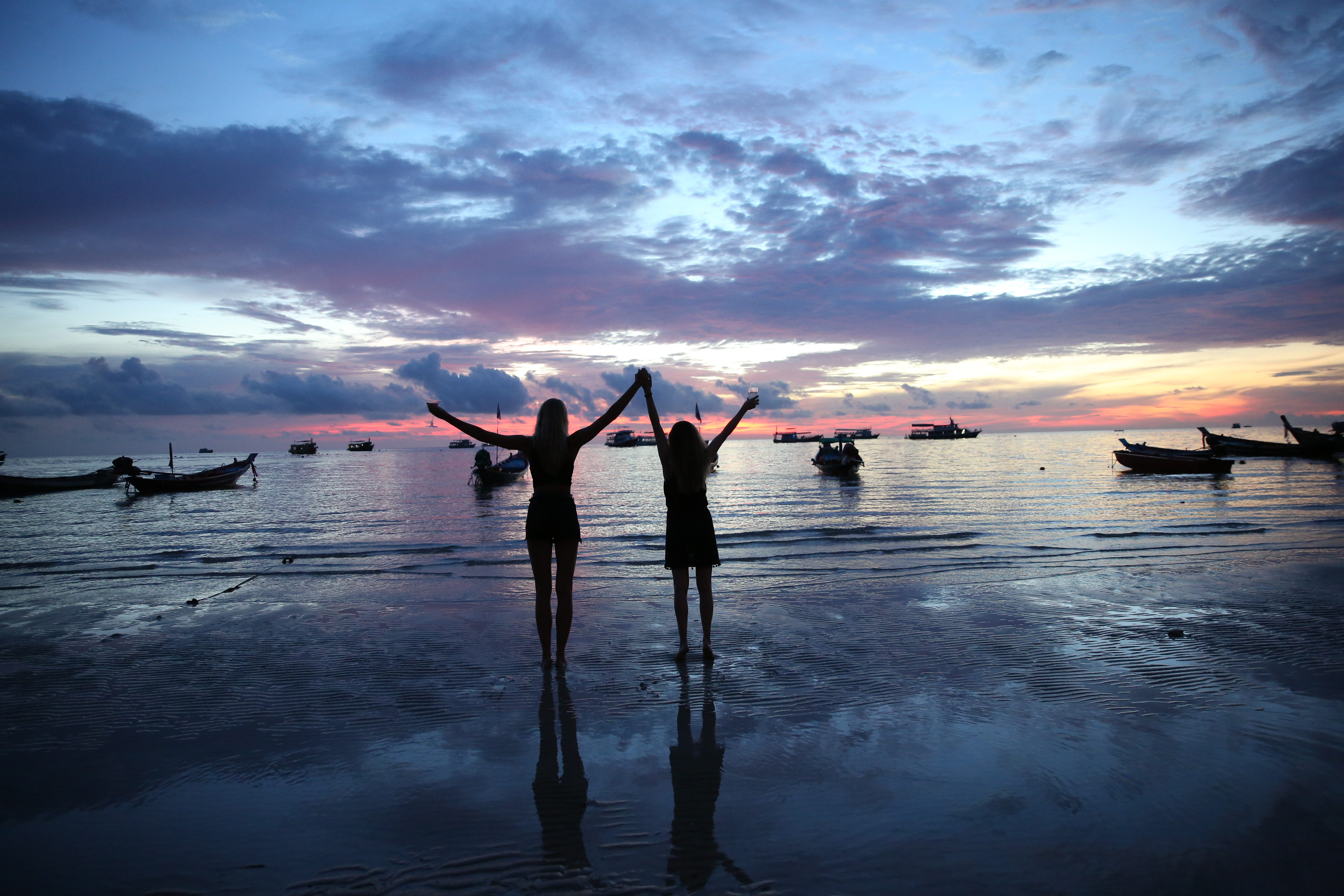 Now you've got a bike, use it! Grab a map and explore the island. There are tonnes of beaches you will stumble upon as you drive around Koh Tao. My personal favourite is Chalok Bay which is super quiet with white sands and beautiful swings over the water.
Rock Climbing
There are some seriously epic rock climbing, bouldering and abseiling opportunities in Koh Tao. I recommend going with Good Times adventures. Not only will you conquer fears and take on a physical challenge but you will be rewarded with gorgeous views.
Get A Massage
As with everywhere in Thailand, there is an abundance of cheap massage parlours on Koh Tao. You can get a one hour massage for as little as £6. Ludicrous! I recommend Majestic Massage in Sairee if you're looking for a good quality spot.
Sunset
Speaking of Sairee, it is the perfect spot to watch sunset. Head to a bar on the beach (I recommend Blue Water or Fizz), grab a drink and watch the sun go down. You will see the most beautiful shades of pink and purple light up the sky.
Beach Party
If you want to stay out a little later, then head to Fish Bowl, Lotus or Fizz bars on Sairee Beach. They are the perfect spots for a cocktail (or five) and some dancing on the sand!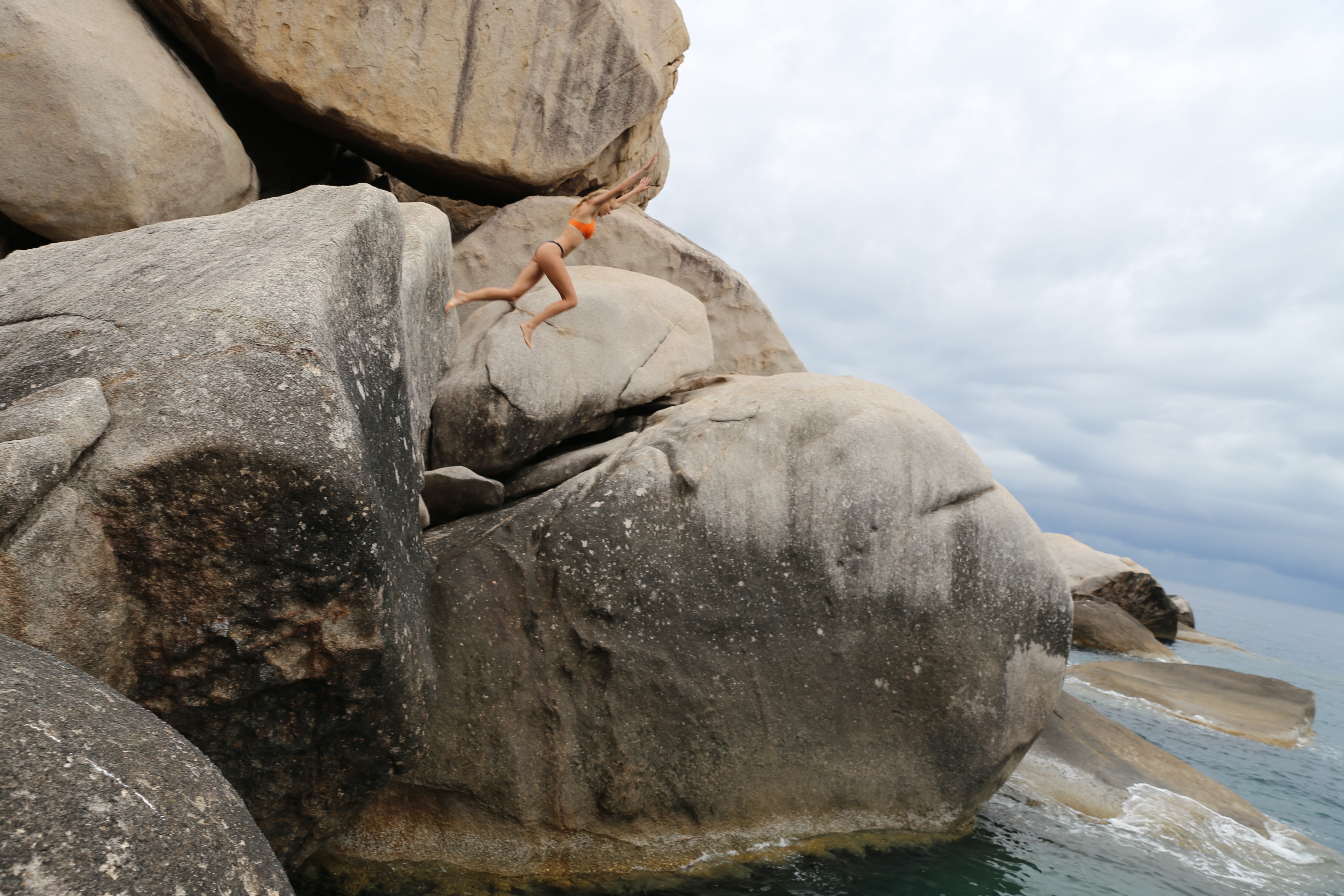 Muay Thai
This is the national sport of Thailand and there are a whole host of different Muay Thai schools and classes available on Koh Tao. Book in for an hour or two introductory class to learn the ropes. You're guaranteed to not only get a sweat on, but to meet some interesting characters too!
Cliff Jumping
If you fancy a thrill, book yourself into a Cliff Jumping excursion. I went with Good Times Adventures and got to do 3, 9 and 12 metre jumps into the most beautiful crystal blue waters. It is a great way to see more of the island as well as get your adrenaline pumping.
Koh NangYuan
If there is one thing you need to do in Koh Tao, it's this. Hop on a boat and visit the neighbouring archipelago of Koh NangYuan. It is like something out of a postcard. Three beautiful, islands connected by a narrow sandbar. You can sunbathe, snorkel and climb up to a view point which gives one of the best views in Thailand – don't miss it. A warning though: the island closes at 5pm and there are no towels or plastic bottles allowed.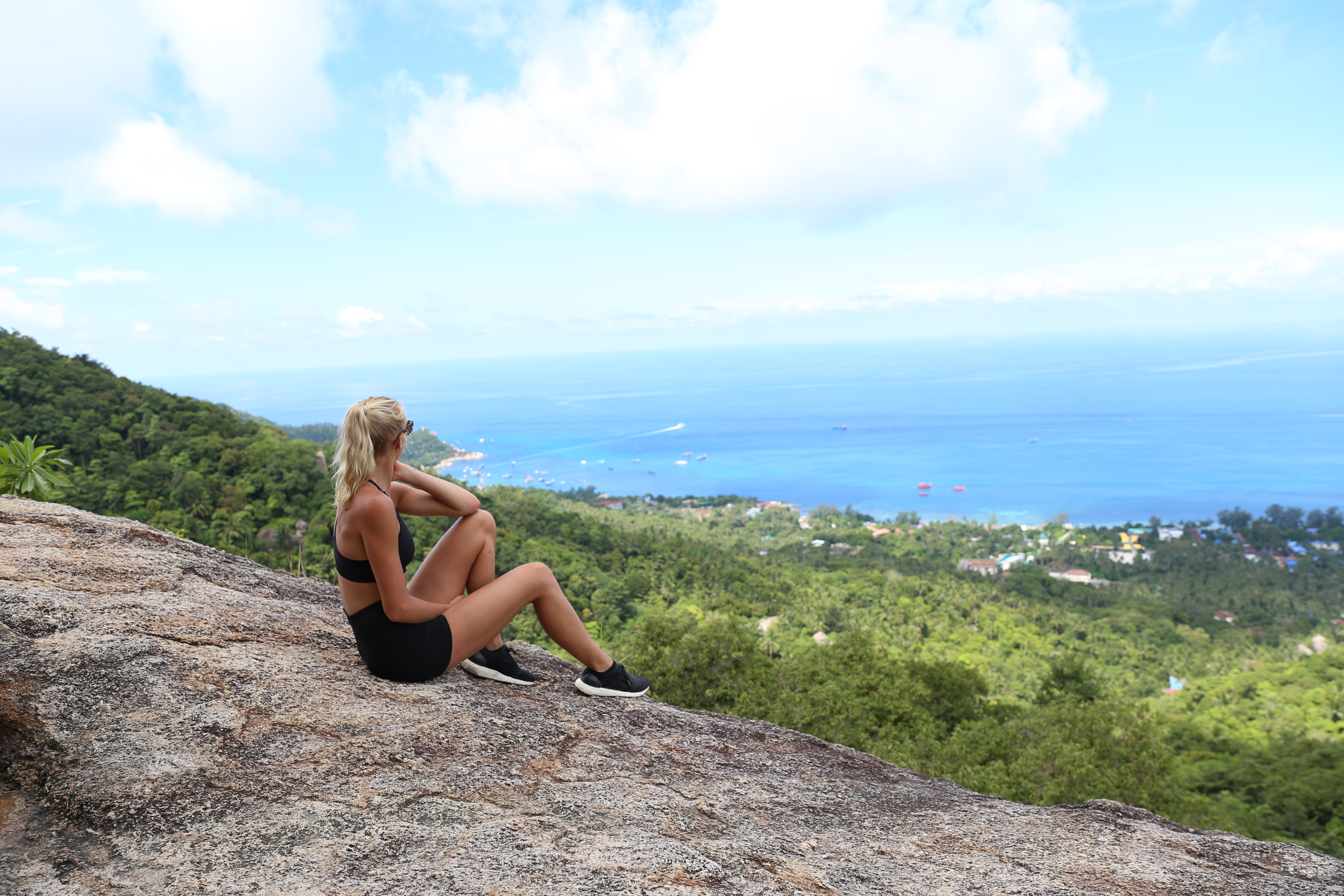 Hiking
I'm not going to lie, it's pretty hot in Koh Tao so hiking is a sweaty experience. However, it was one of the highlights of my whole trip! There are so many hiking trails you can tackle but here are my favourites:
The simply named View Point One & View Point Two. The hike to these is short, sweet and sweaty. However they are deserted and you most likely won't see another person, meaning you have the views to yourself!
A coastal hike from Mae Head to Chalok. A quiet trail which goes through deserted bays. A full guide is here.
John Suwan View Point & Mango View Point. These view points are more well known so go early to avoid the crowds.
Remember: Take plenty of water, slather yourself in natural mosquito repellant and plan your route. You can go unguided with some research, as we did, or with a hiking excursion.
New Horizon Escapes
I actually had all of the amazing experiences above on a New Horizon Escapes fitness retreat in Koh Tao. These week long active escapes combine exploring beautiful destinations with staying fit and healthy. The dream. Use the code ZVD200 to get £200 off any of their retreats; I am teaching on the Sri Lanka and Koh Samui retreats in 2018!
If you're looking for healthy cafes on the island, then check out my guide here.
Safe travels,
Zanna x