Just over two years ago I backpacked through south east Asia and I fell in love with Cambodia, it was by far my favourite country of the handful I explored. I slept on local peoples floors, rode on the roof of trucks, volunteered at schools, helped build a house for a family and even got stung by a scorpion! My time there was rough around the edges. The culture was unapologetically authentic and the people were honestly some of the kindest and most genuine I had ever met. I knew I had to return one day.
This time, I did Cambodia a different way, an admittedly more luxurious experience of the still developing country. I was not sure how I would feel about staying in a five star resort in a country still steeped in poverty. However, as soon as I touched down on Song Saa Private Island I knew I was in the right place. They manage to strike the perfect balance of incredible luxury, sustainability and a taste of the true local culture.
Song Saaa Private Island is actually a pair of tropical islands in the Koh Rong archipelago off the southern coast of Cambodia. It was founded by a couple, Rory and Melita, who fell in love with the islands and made it their goal to set up a sustainable sanctuary there which supported the local community. So, Song Saa was born. It has a small collection of 27 villas which are made from sustainable materials, including a selection of driftwood which was collected from the local area. The islands are also surrounded by a marine reserve to preserve the ecosystem and wildlife. You access them by a short speedboat journey from Sihanoukville and are greeted by the enthusiastic island staff waving at you from the shore. The perfect welcome!
To give you a taste of what life is like at Song Saa, here are the four key things I recommend you do during your time there.
Relax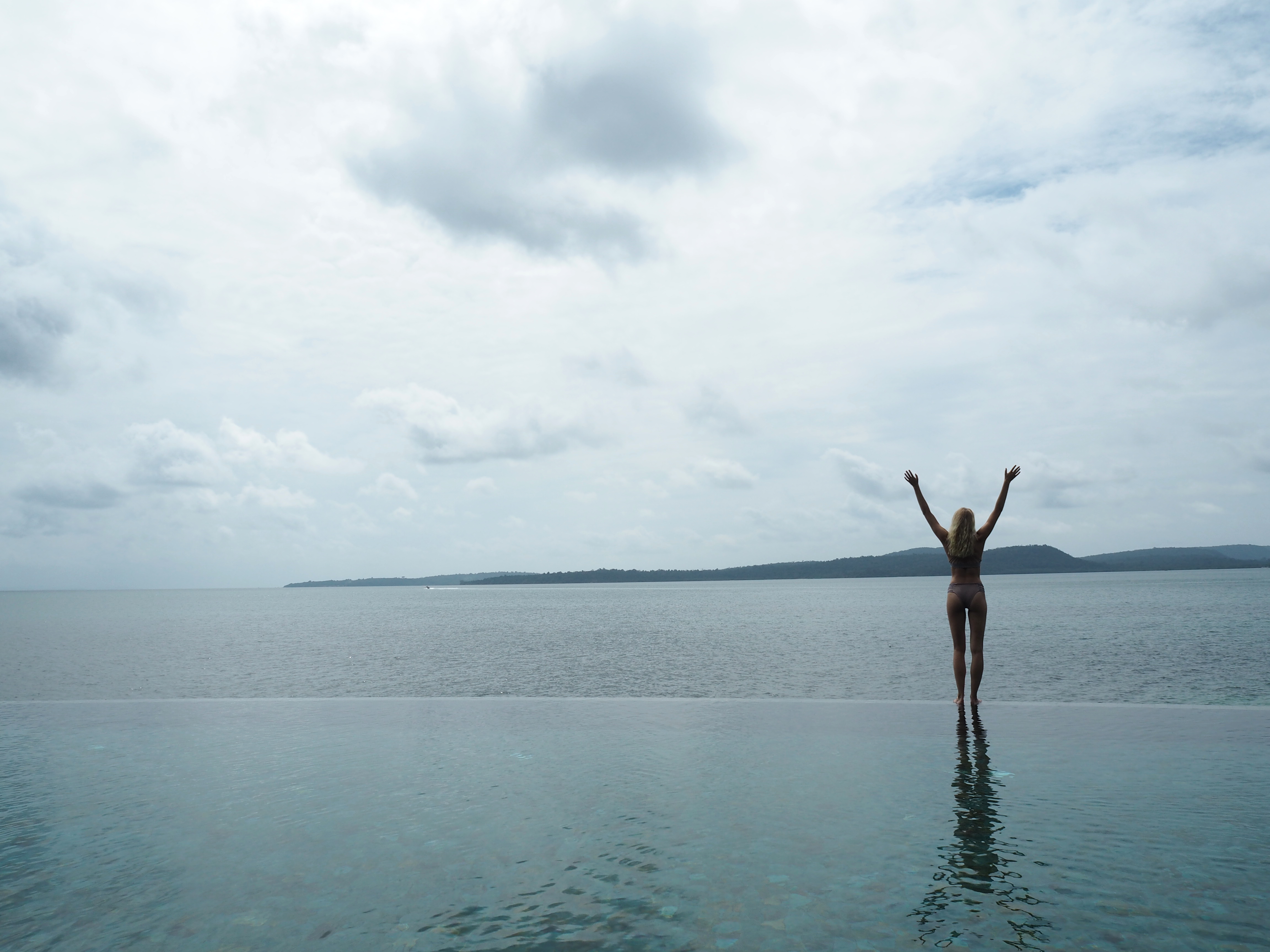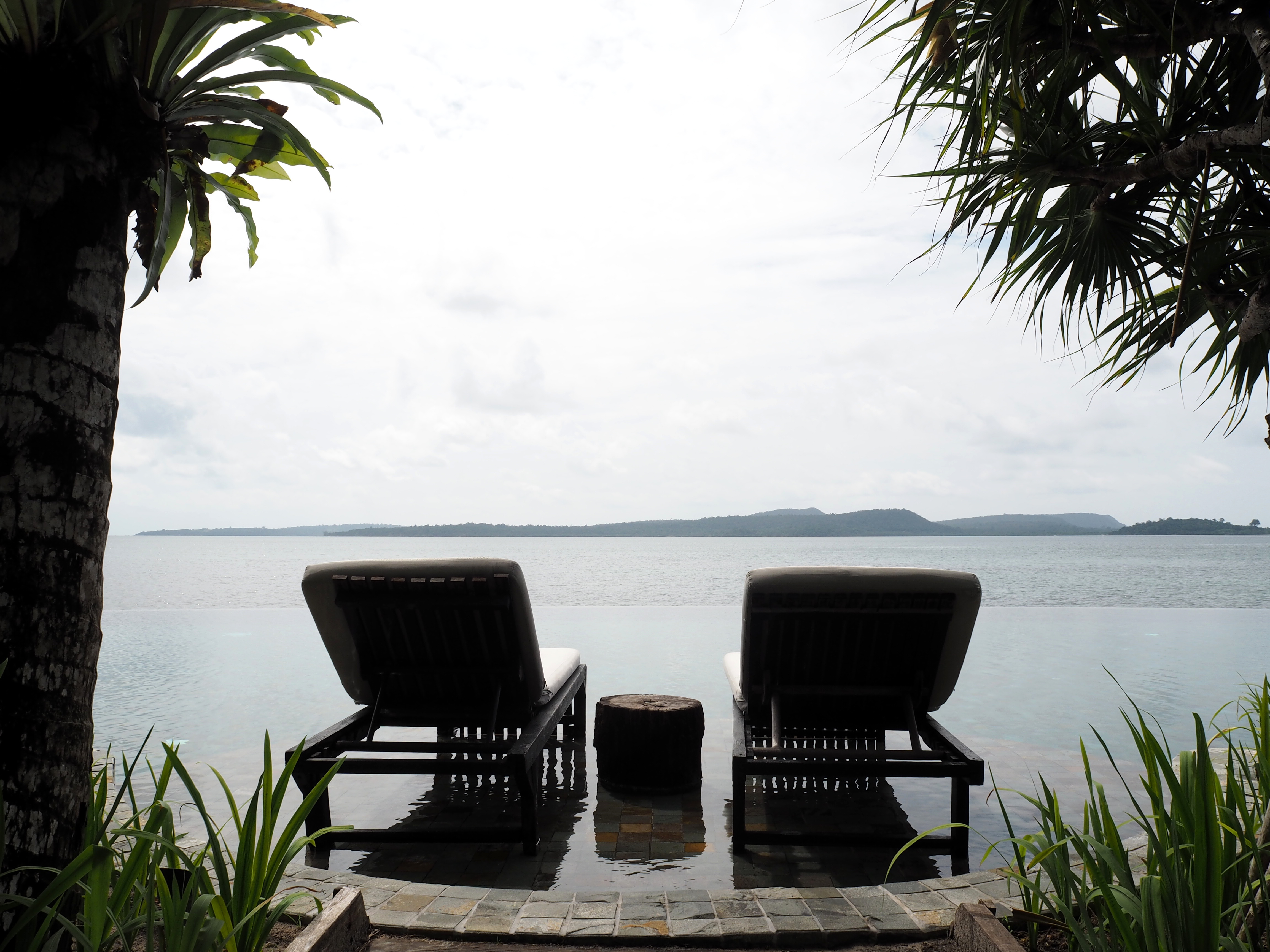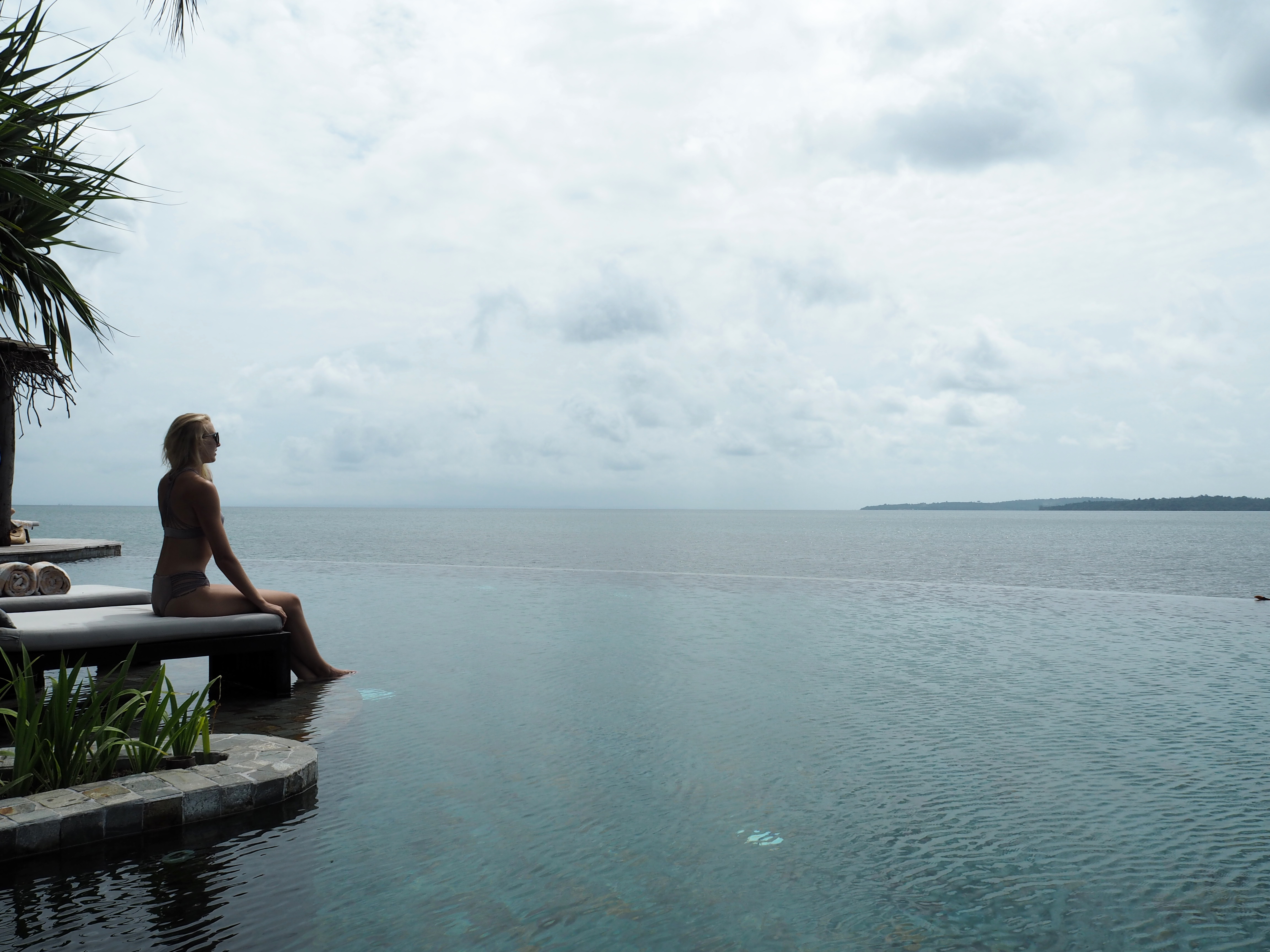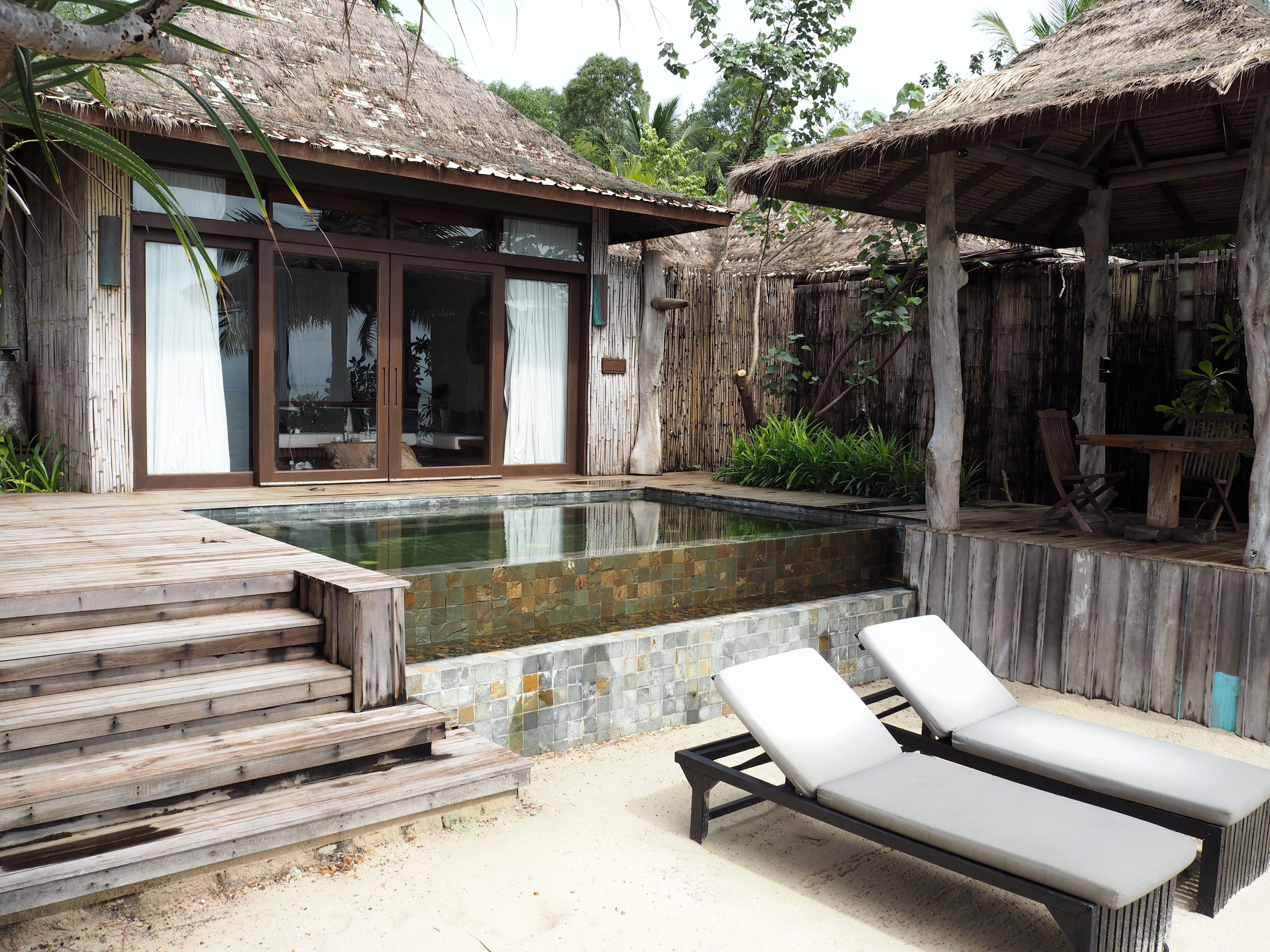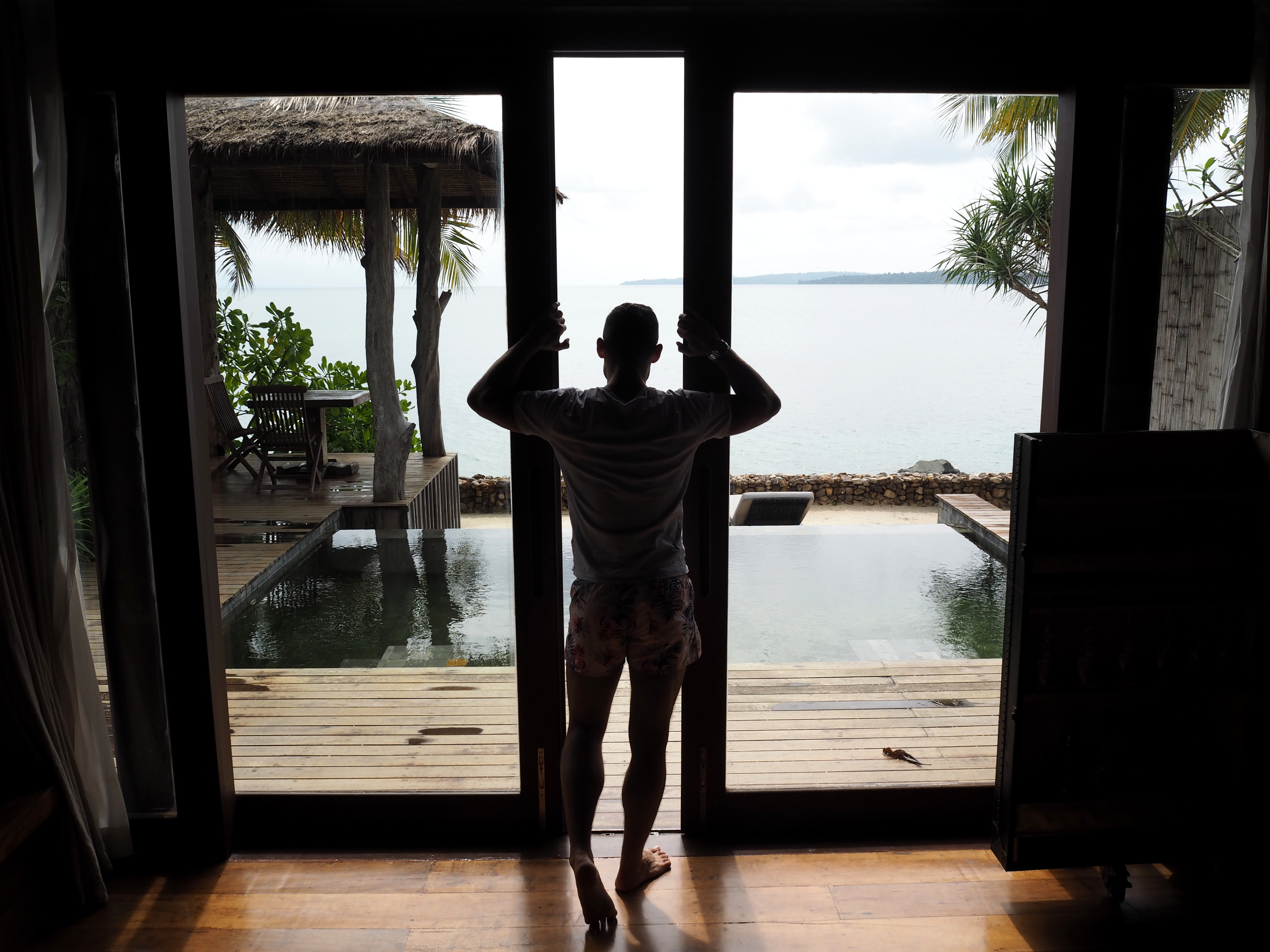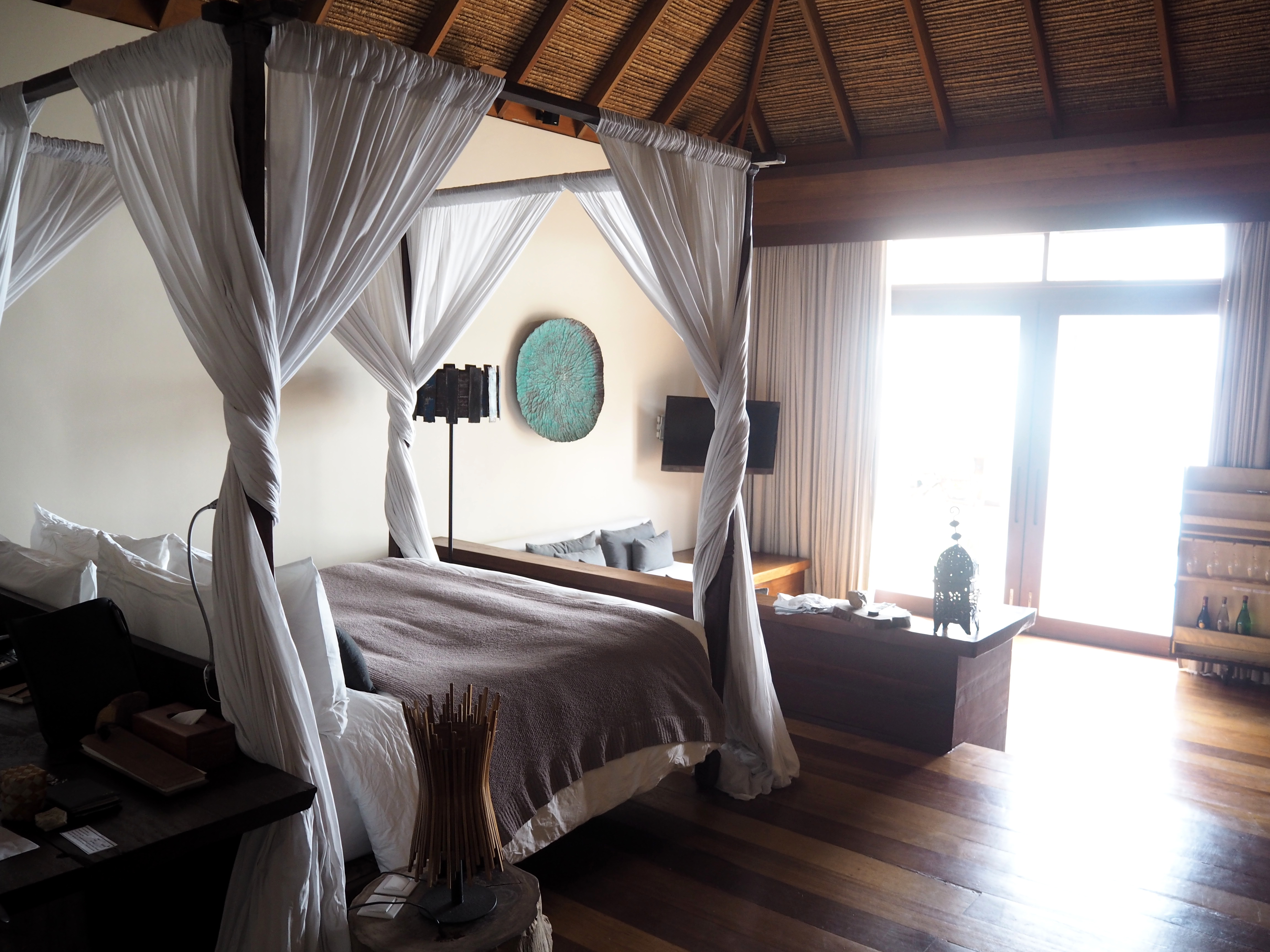 It is almost impossible not to relax on this secluded island. The moment you arrive you can take off your shoes and feel sand between your toes. Walking barefoot is standard and you don't need to put your sandals back on until you leave. Each room is a little slice of paradise and every single suite has a private pool. You can get a jungle villa which has an amazing view of sunset, an ocean view villa which has a private beach or an overwater villa where you can jump straight into the sea. The suites are incredible with four poster beds and the comfiest duvets I have ever snuggled up in, not to mention the huge baths surrounded by floor to ceiling windows and stunning views.
At Song Saa most people go for an all inclusive package, which I highly recommend. The service is absolutely phenomenal. Everything is taken care of and nothing is too much to ask. It is incredibly easy to relax when there are enthusiastic staff waiting to cater to your every need. There is even a "guest experience" team who specifically work with the guests and staff to ensure that all your needs are tended to. For example, one day Ant and I mentioned in passing that we fancied a good old cuppa tea and some biscuits. The next thing you know we had a knock at our villa door with a surprise snack delivery!
I can't talk about relaxation without mentioning the spa. You could say I am a massage connoisseur, or perhaps just a massage addict! Basically, I know a good massage from a bad one. At Song Saa I tried out the traditional Khmer Karuna Kaya treatment and was extremely impressed. I actually think it was one of the best massages I have ever had, and that is saying something! Not only was the setting stunning, in a private spa villa with a gorgeous view; but the treatment was completely tailored to my needs. The masseuse really targeted my problem areas and used her hands as well as hot towels to throughly loosen up my muscles. I left feeling as light as air.
Eat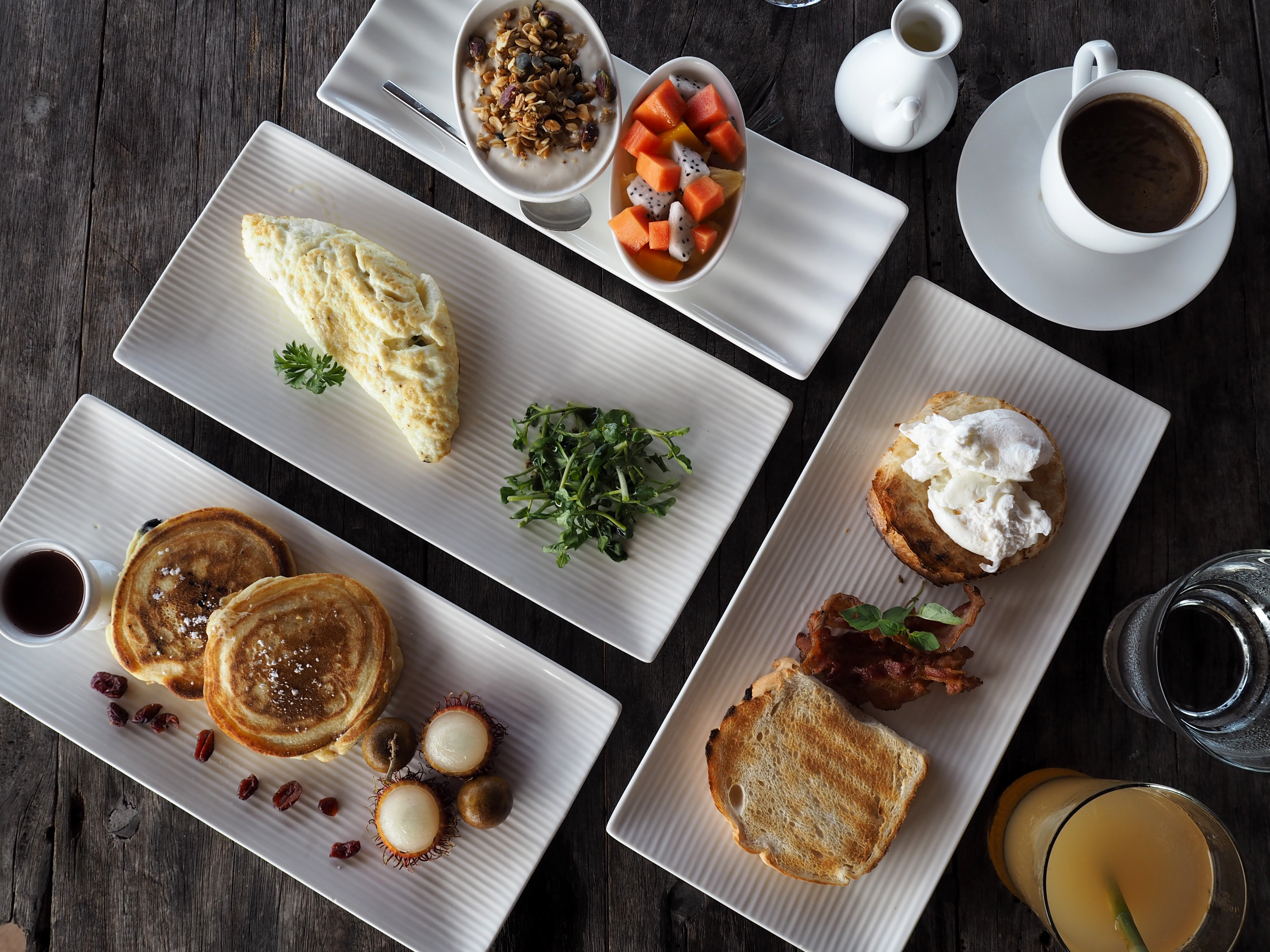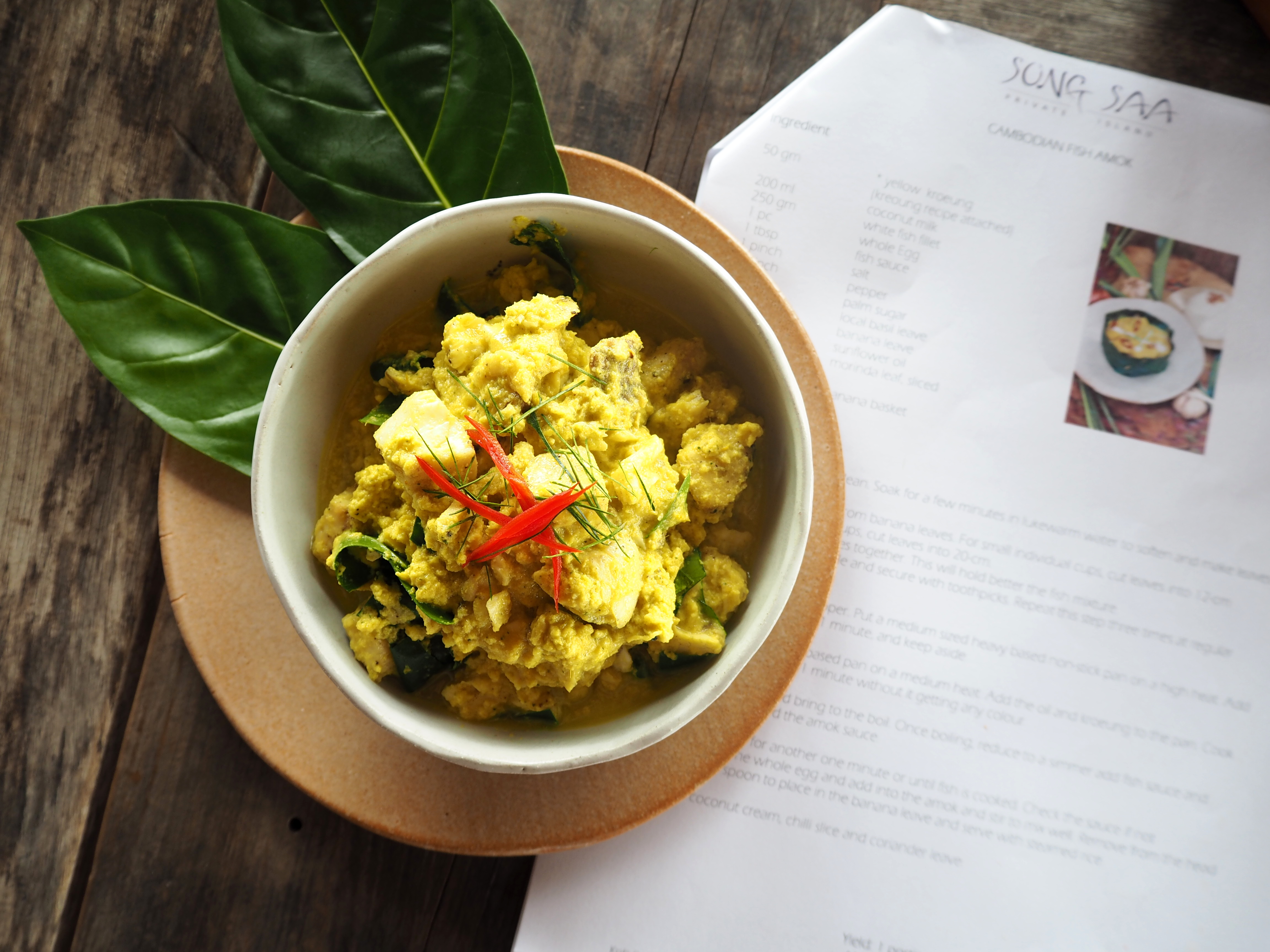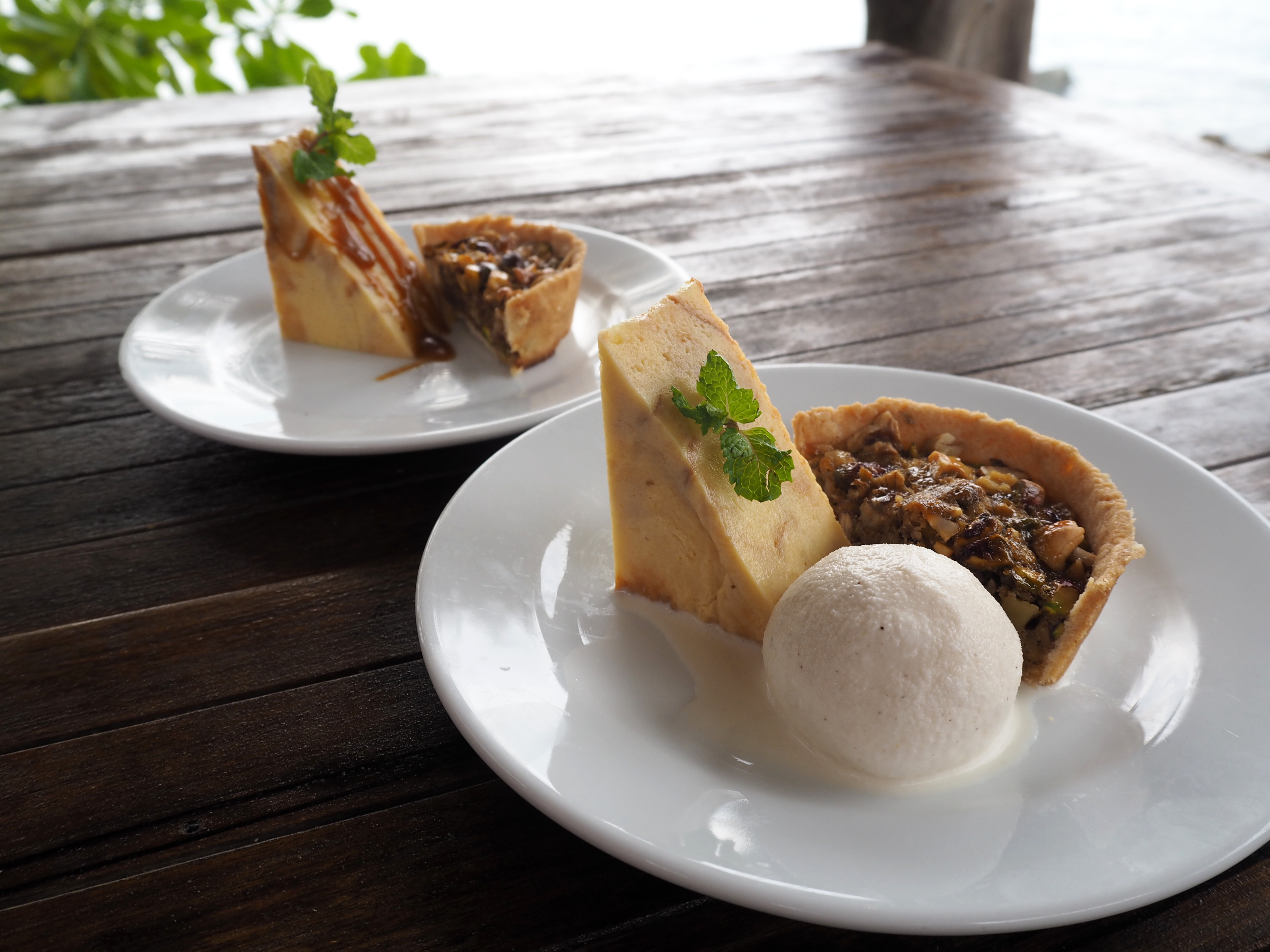 Considering Song Saa is such a small and secluded island, the food available is outstanding. There are two main restaurants; Driftwood is a more casual beachside restaurant while Vista has an accompanying bar and floats above the ocean. Every afternoon you will find a small note on your door which features the evening menu and location. As well as dining at the two main restaurants, the island offers "destination dining" where you eat at more exotic spots such as on a private pier, on the beach or even in the pool (yep, with your toes getting wet!). The food served varies from traditional Khmer dishes through to more international cuisine, all of which is high quality, fresh and delicious.
The island also offer cookery classes with their chefs which I throughly enjoyed. We learnt to cook a selection of traditional Khmer recipes from mango salads through to the famous Cambodian dish of fish amok. Not only was the chef extremely patient and kind, but we got to do it in the beautiful setting of Vista restaurant overlooking the ocean, and then eat our creations for lunch!
Experience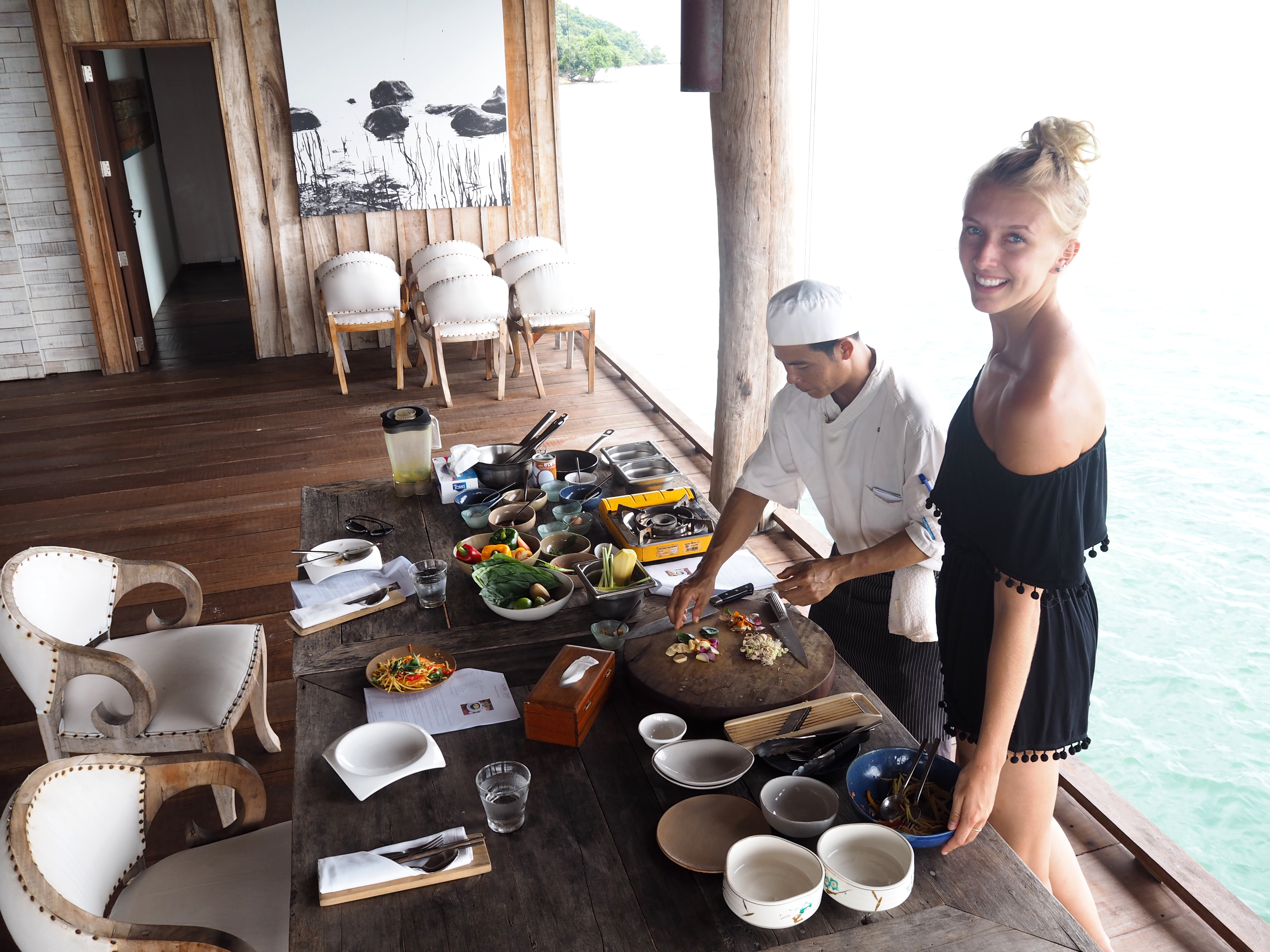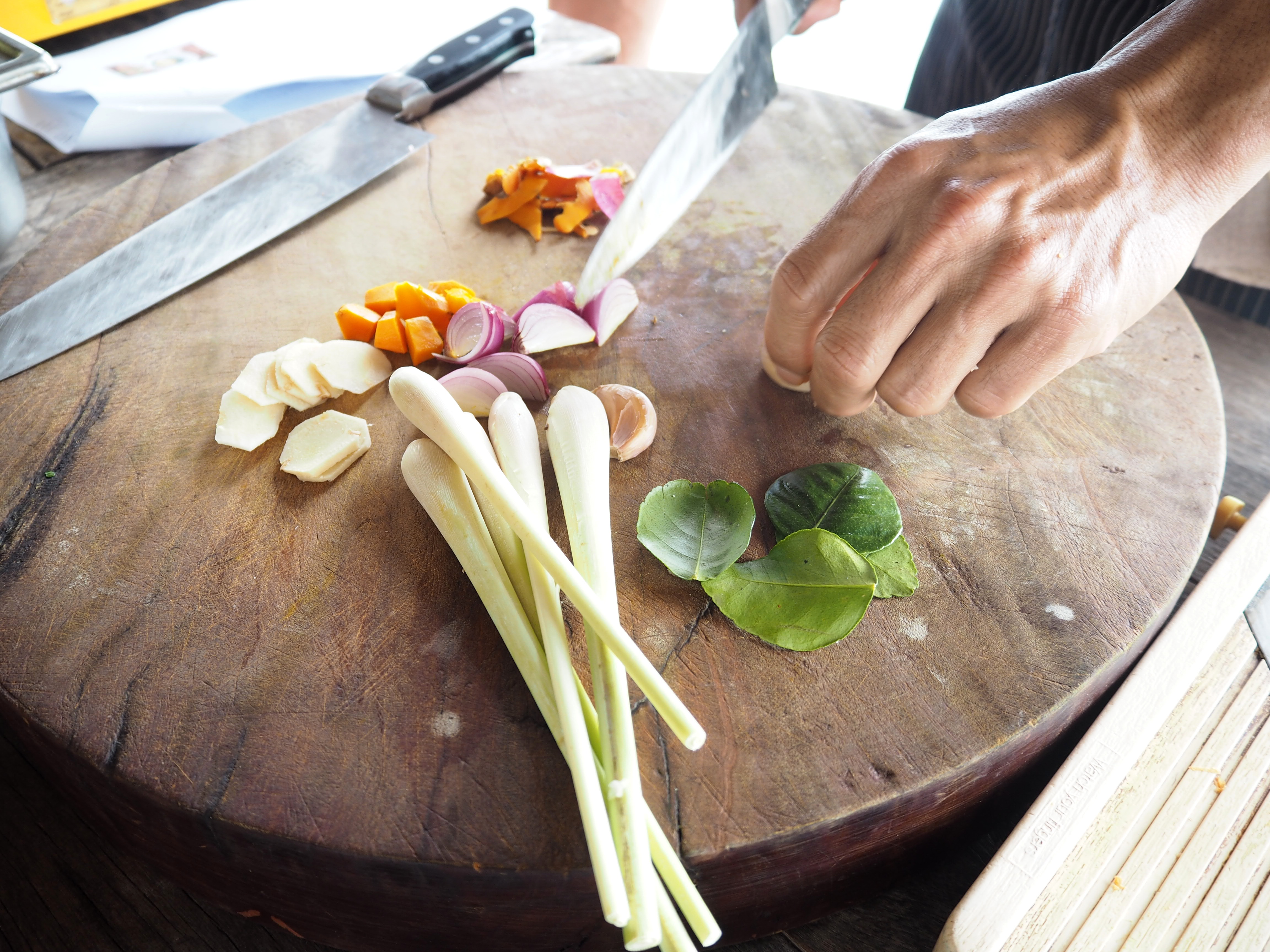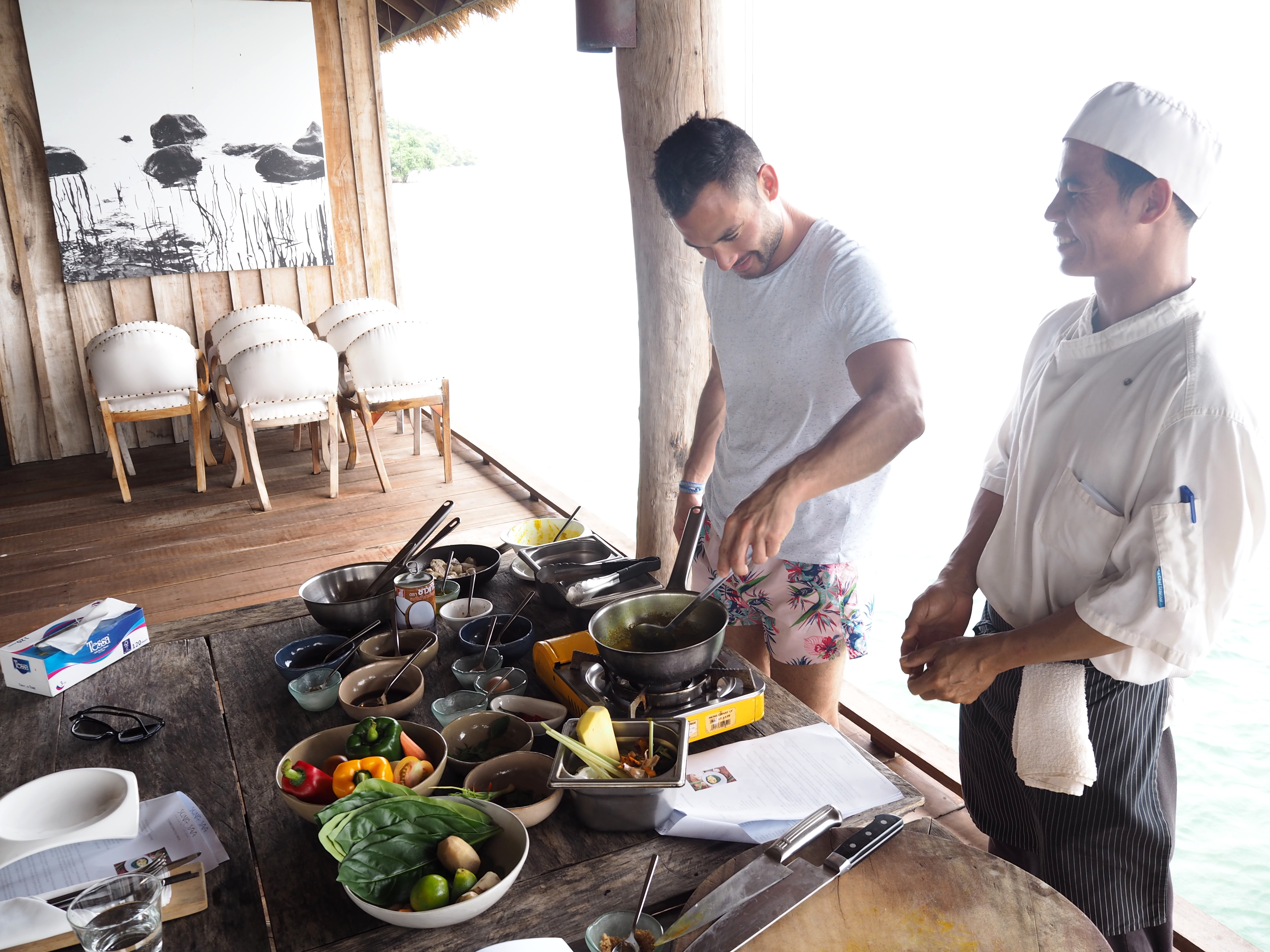 I understand that for many, a visit to a secluded island offers an opportunity to completely switch off, sit back, relax and not move from your sun bed. However, I love getting involved in as many activities as I can when I travel and luckily Song Saa have an extensive list you can choose from.
There are tonnes of active activities you can sign up for. The watersports available range from snorkelling, paddle boarding and kayaking through to banana boats, scuba diving and wake boarding and everything in between. I particularly enjoyed paddle boarding around the islands which provides a serious core workout. If you love hiking like me, there are a selection available from lighter beach hikes to more challenging (and beautiful) waterfall ones, each concluding with picnics and biscuits at your end destination. There are also complimentary yoga and meditation sessions available on request. If you're craving a classic gym workout, there is a fitness centre which has a selection of dumbbells, swiss balls and cardio machines; all with an ocean view.
An activity which I can't recommend enough is the night-time swim with bioluminescent plankton. These plankton glow in response to any movement in the water creating a magical effect. I have actually experienced this before in southern Thailand and it is still one of my most treasured memories. However, at Song Saa the experience is even better as they take you on a speed boat to the darkest area, allowing you to see the plankton glow even more brightly! It is truly breath-taking. The resort also offer a whole host of other activities from movie nights in your villa complete with popcorn and treats, through to authentic blessing ceremonies from the local monks. It is impossible to not find something you will enjoy.
Care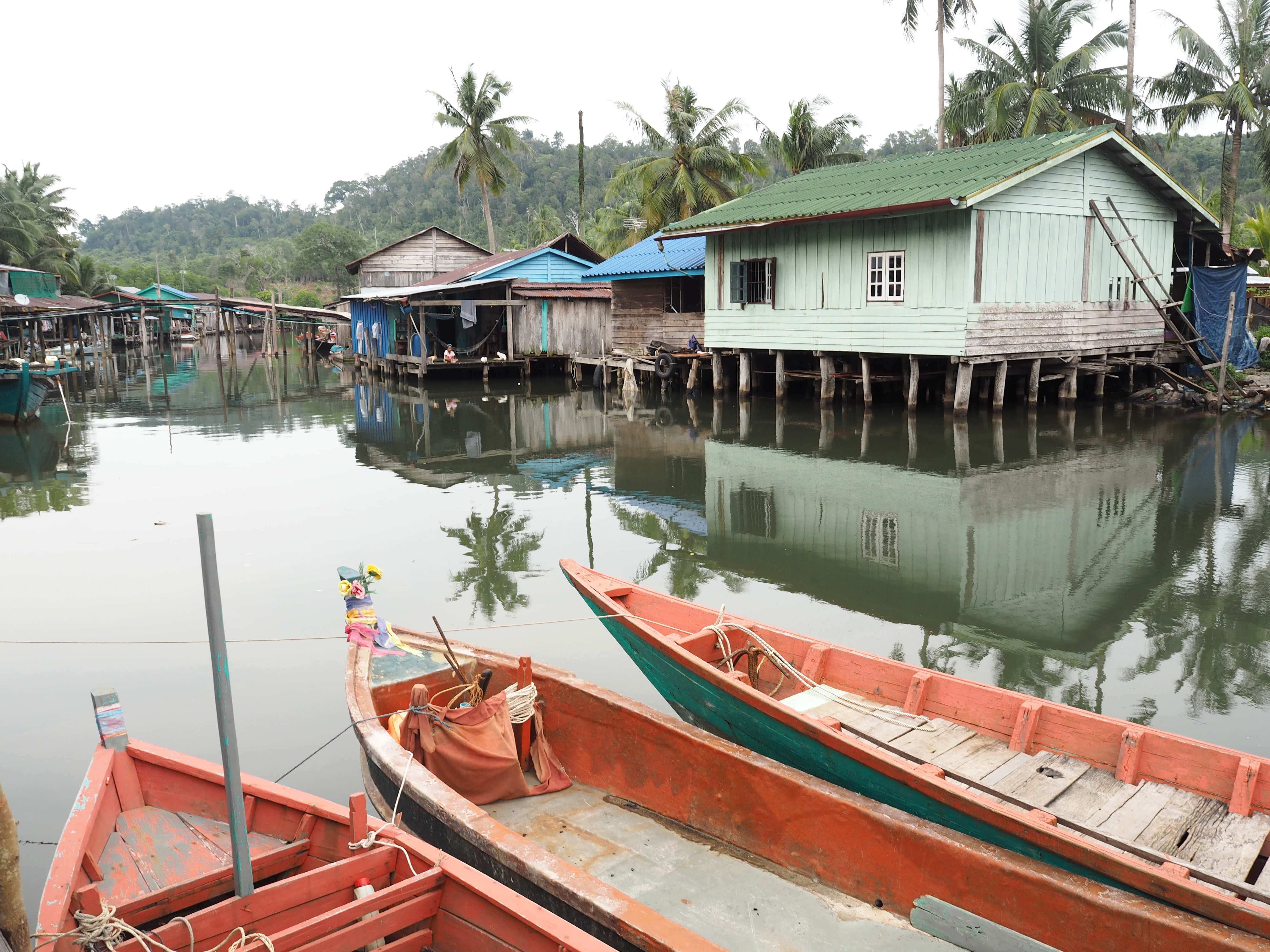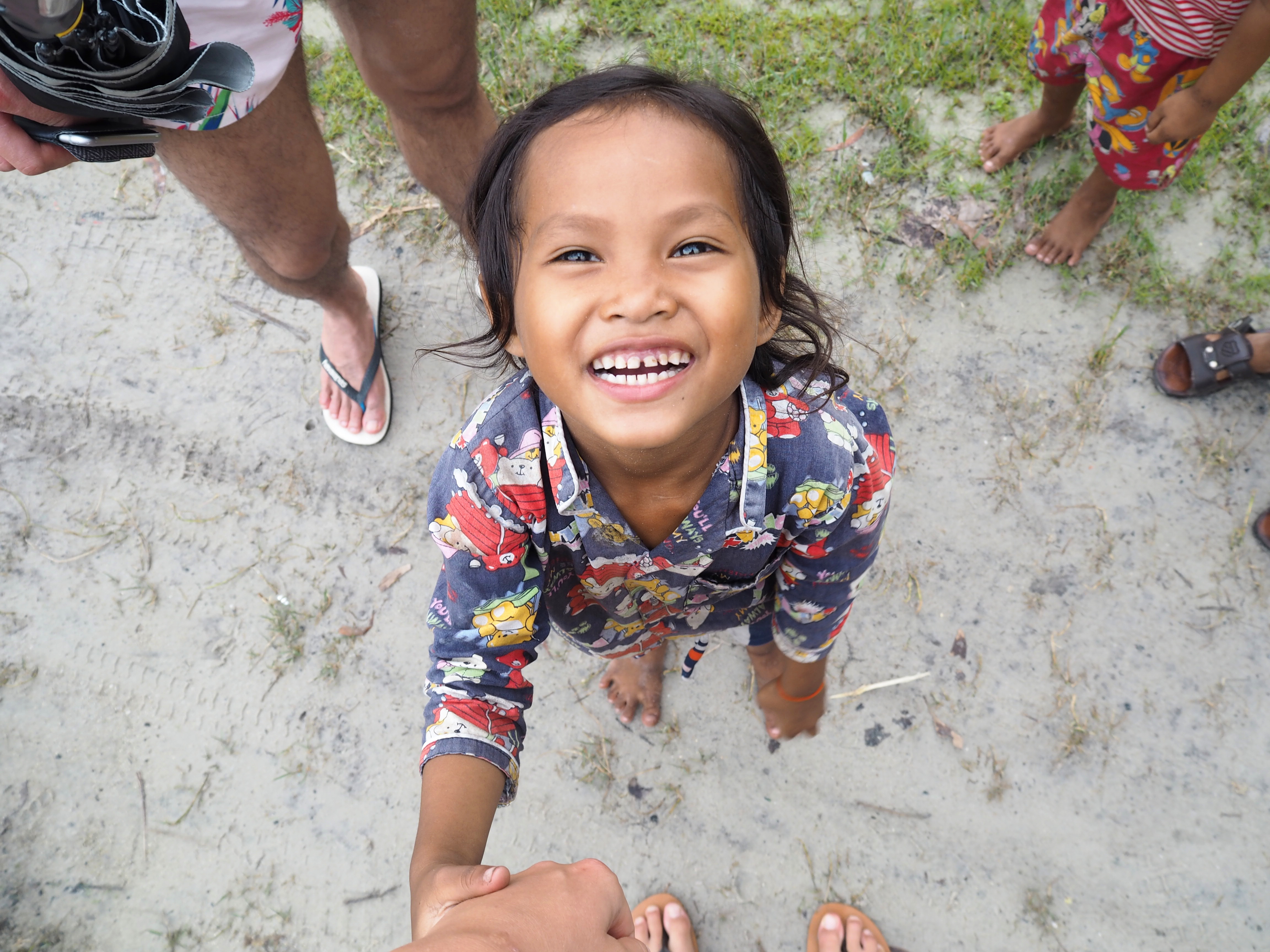 Song Saa Private Island describe their resort as "luxury that treads lightly". They actually have their own associated charity the Song Saa Foundation which operates in the local Koh Rong area. They work on projects such as the marine reserve, waste-management programmes, education on sustainable organic agriculture for the villagers and development of schools and education programs. Not to mention the fact that the island itself provides well over 100 jobs to the local population.
Visitors to the resort can get involved in the foundation in multiple ways. The most common being taking a trip to nearby islands in the Koh Rong archipelago, seeing how the projects work and meeting the local people. I think this is absolutely vital, as from the comfort of your five star villa it can be easy to forget that Cambodia is still a developing country. It provides a much needed reality check. You can also get involved in the projects themselves if you feel so inclined and learn more about specific areas which interest you, and of course donate to support the cause.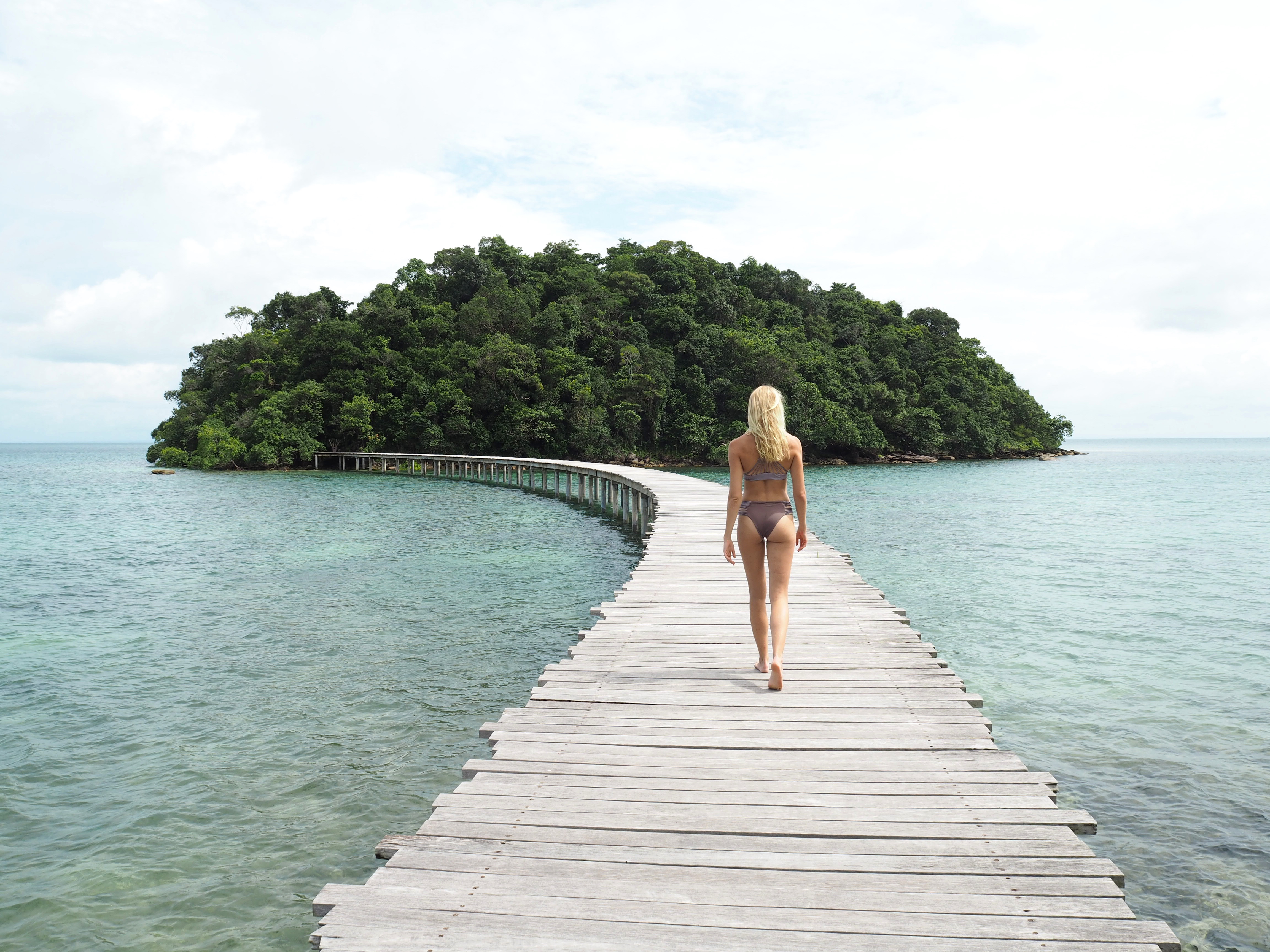 All in all, Song Saa Private Island blew me away. It reminded me of the tropical idyllic setting of the Maldives, but even more authentic. The service was outstanding. The villas were exceptional. The people were extremely friendly. And most importantly, the ethos behind it all fell in line with my own. Cambodia can be (and should be!) experienced two ways, as a backpacking destination and as a luxurious escape, and I think Song Saa provides the perfect location for the latter.
To see more from my trip check out my instagram posts here and here, as well as my youtube vlogs!
Happy travels,
Zanna xx
To read more about Song Saa and room rates check out their website. If you're interested in supporting the Song Saa Foundation then click here.