Having spent the past two weeks living in central Sydney and eating out three times a day, you could say I know the food scene quite well. I didn't want to waste a single meal, so I made sure that I knew the best places to go like the back of my hand. I even had locals saying to me that they hadn't heard of the spots I was recommending to them! I am an avid researcher and I did an awful lot of scouring the web, blogs and even instagram to find the best healthy cafes and restaurants in the city. At times it was a struggle, as most websites focus on eateries in areas like Bondi or Paddington. As a result, I am going to go where no blogger has gone before and I have created a healthy food guide specifically for central Sydney. Enjoy!
Breakfast & Brunch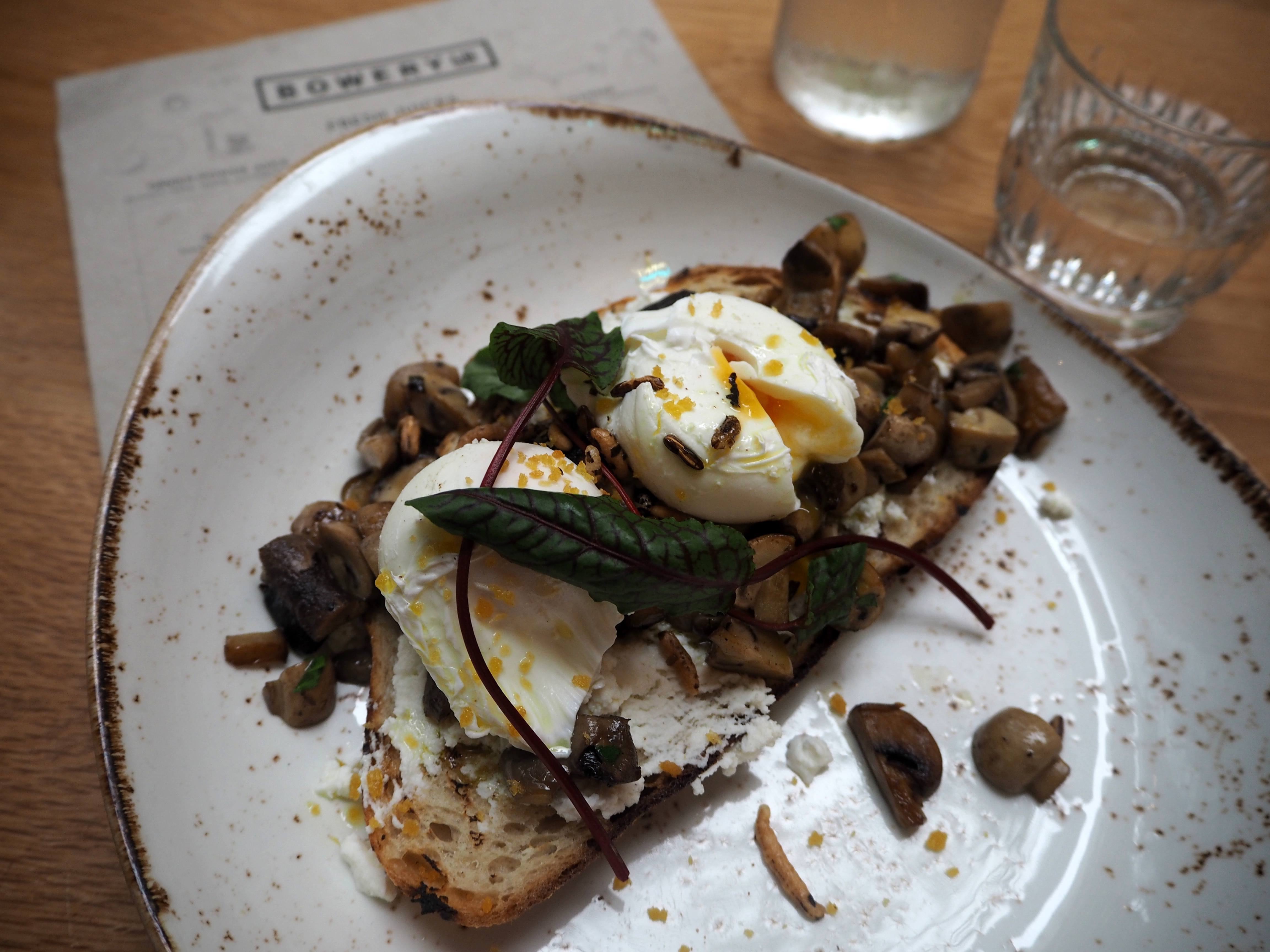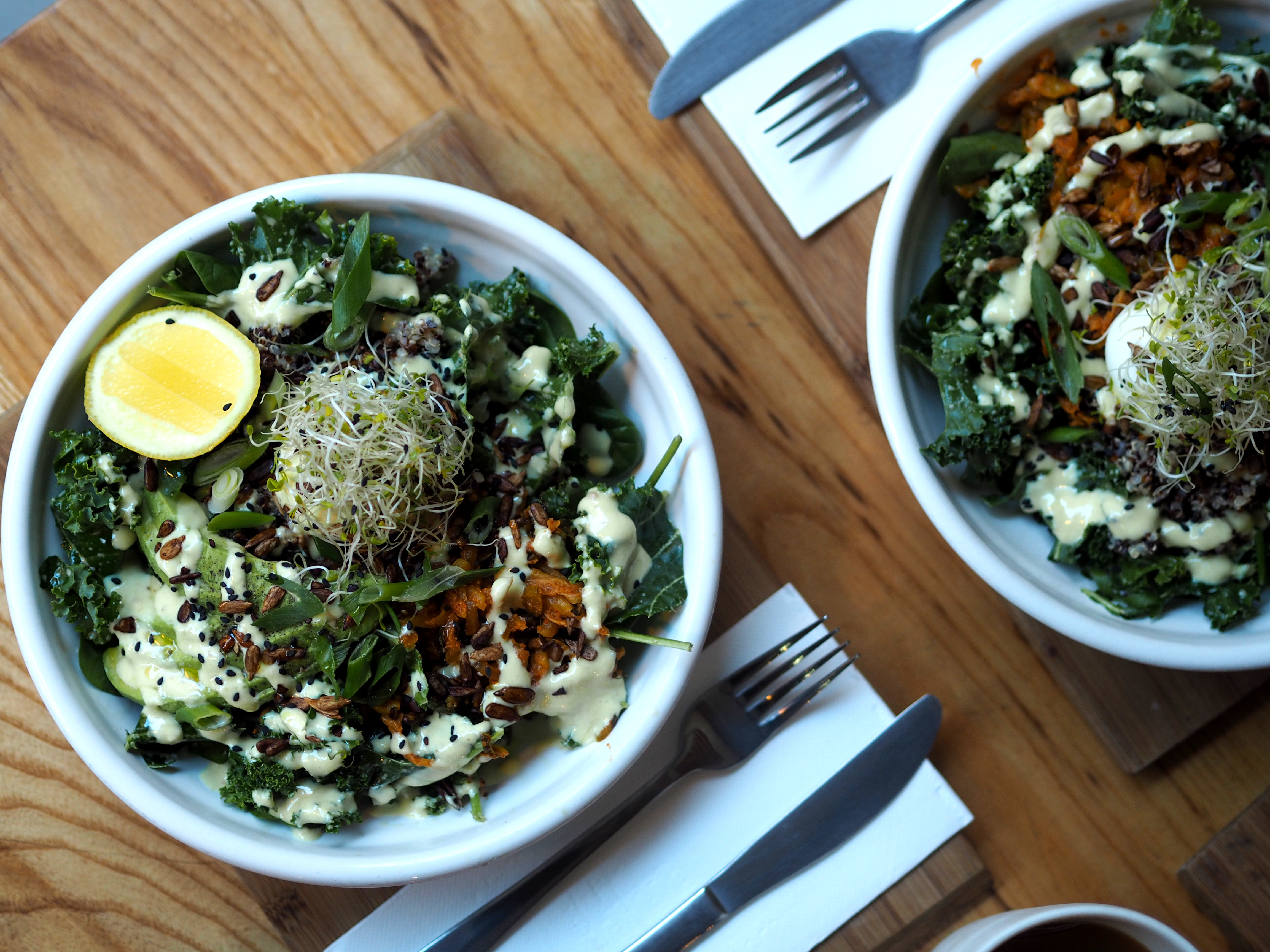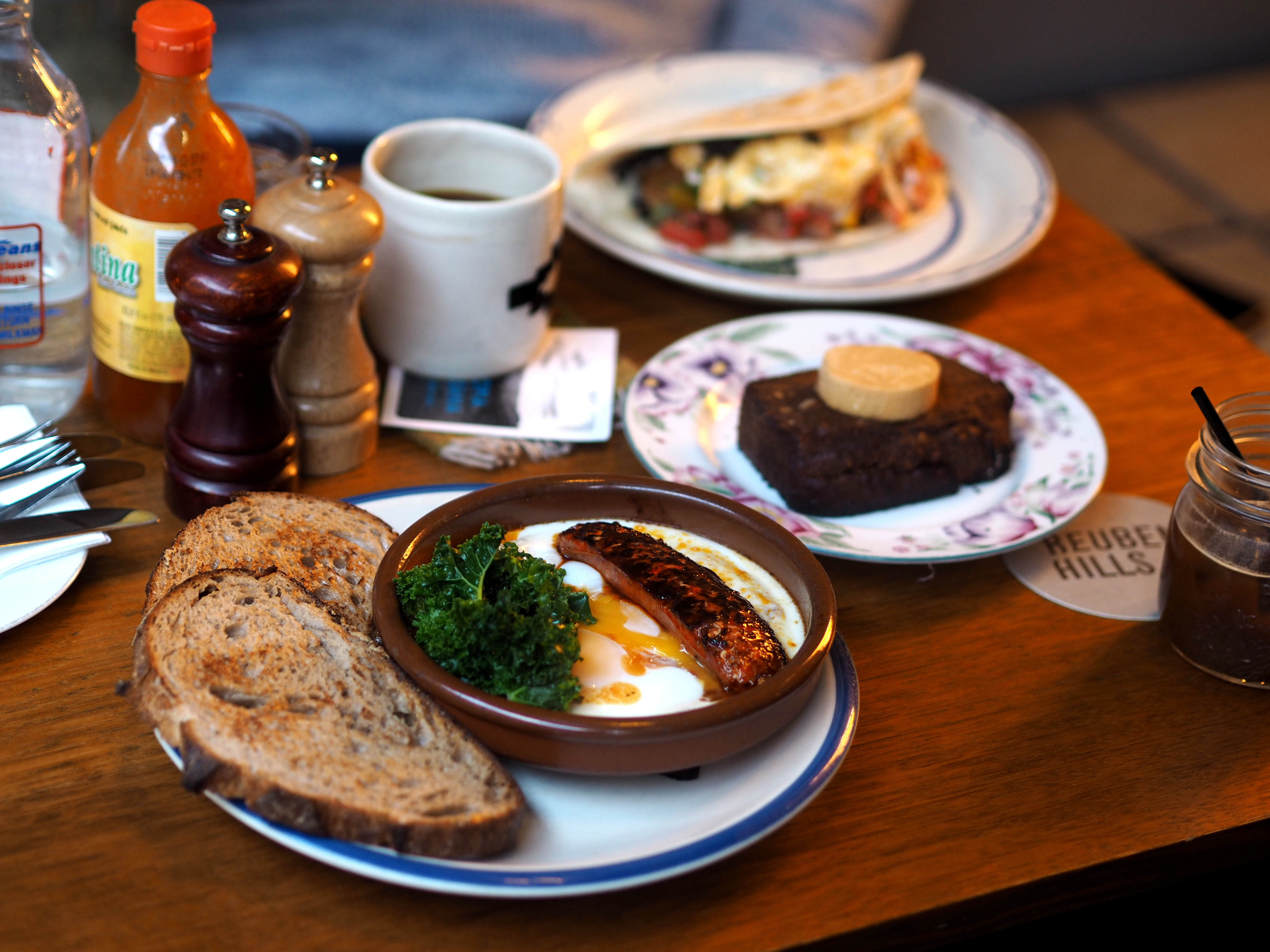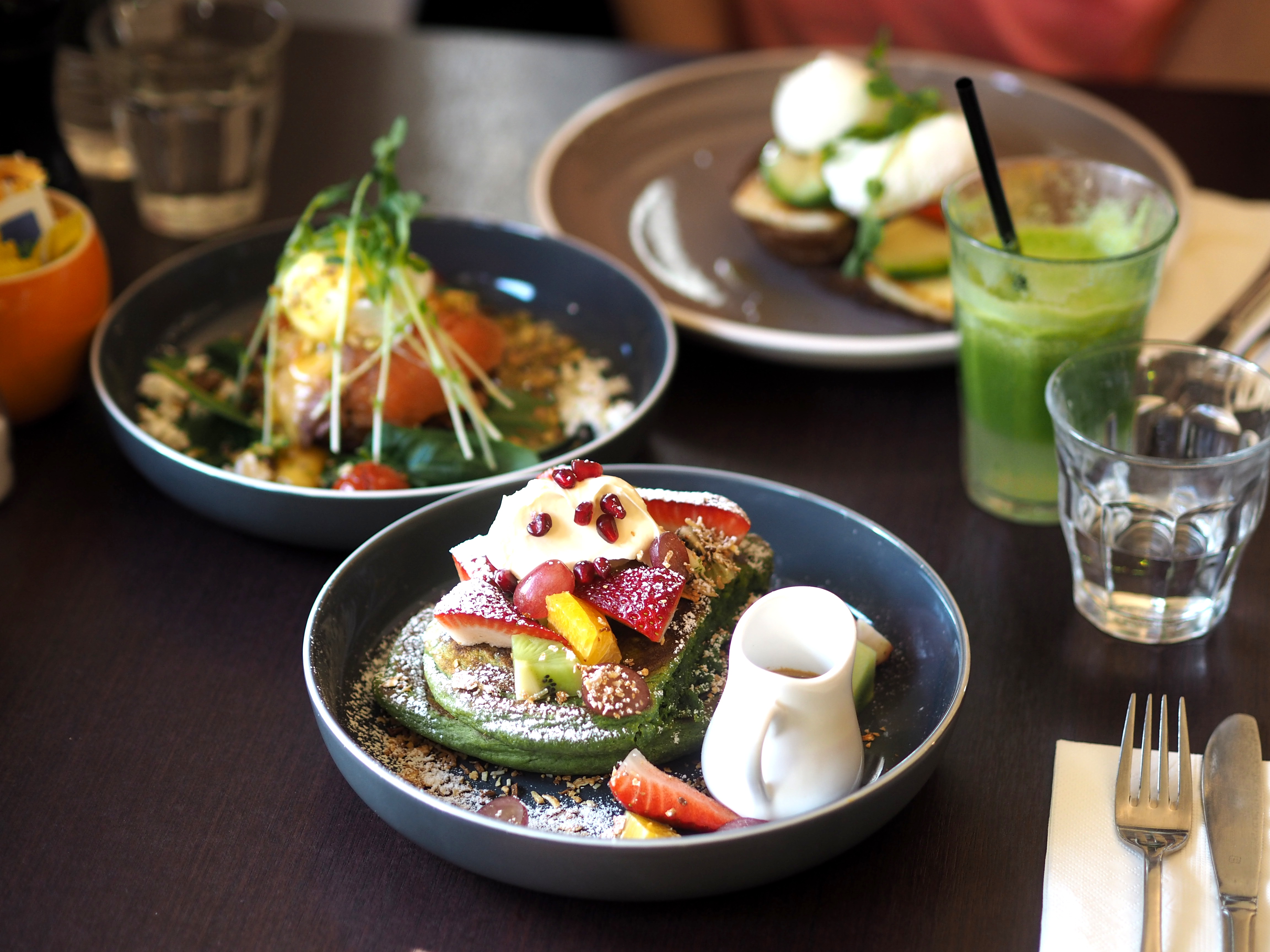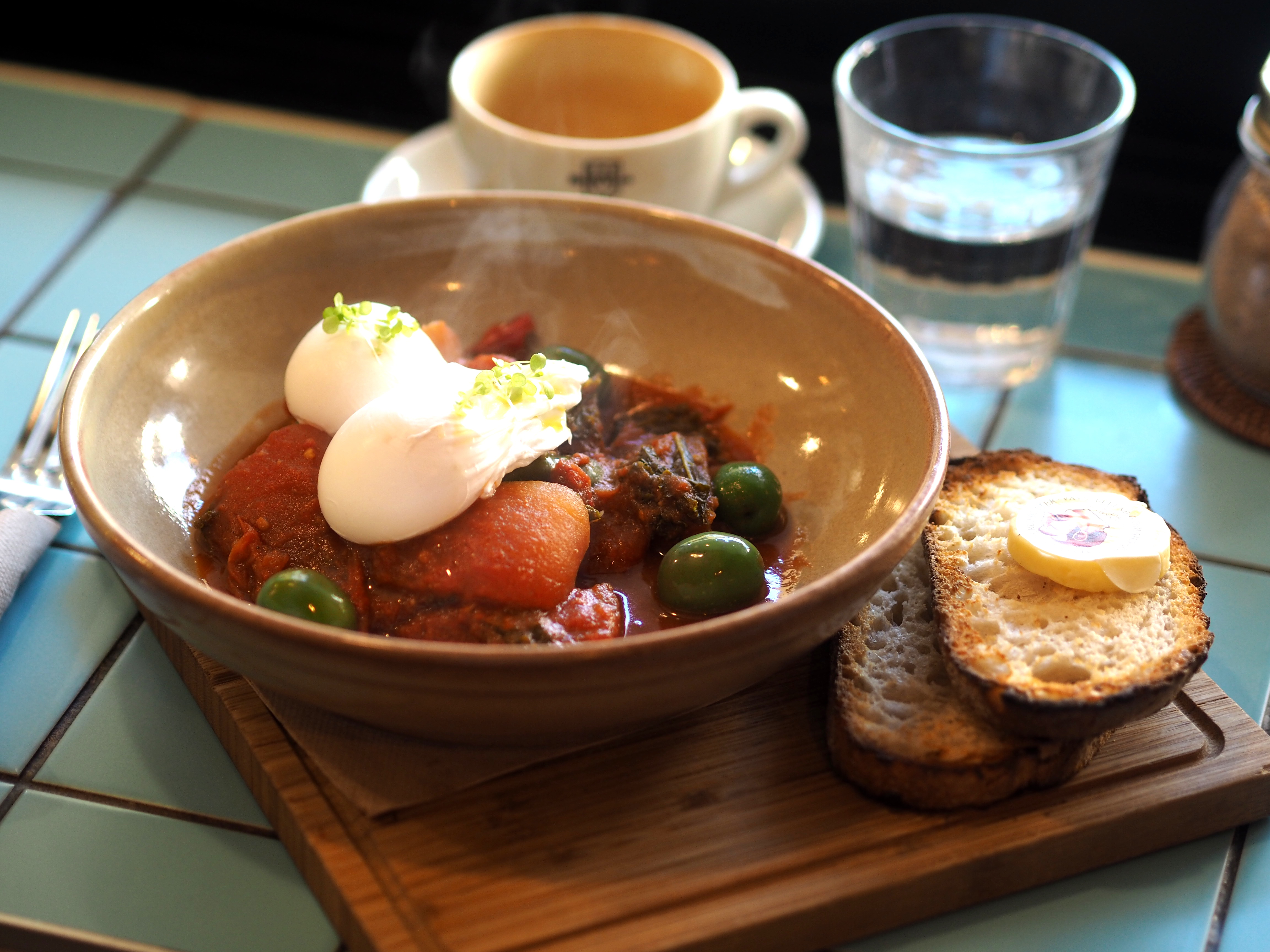 Let's just say that Australians know how to do breakfast. They take avocado on toast to a whole new level! My favourite spot right in the heart of the CBD was Bowery Lane which has a bustling atmosphere and cosy wooden decor. I personally loved their poached eggs, ricotta and mushrooms on sourdough. About 10 minutes walk from Bowery Lane, over near the Harbour Bridge is The Fine Food Company. This spot is hidden down a back alley yet manages to be absolutely packed. They are known for their toast toppings but I loved their shakshuka with kale.
Surry Hills is an area about 10 minutes walk from the CBD which is brimming with healthy food spots. I found Le Monde Cafe on instagram and just knew I had to visit. Be sure to try their "signature dishes" which include the matcha hotcakes with marscapone and the potato rosti with smoked salmon and poached eggs – both of which are delicious. Just around the corner is Venus Wholefoods, a small cafe which is known for their luminous purple bircher muesli and their green and nutrition "venus bowls". I enjoyed everything I tried there. Finally, a very popular breakfast spot on the street next-door is Reuben hills.This place is packed on weekends, so book if you can. They are known for their high quality coffee, instagram-famous french toast and unique urban decor. I loved their banana peanut and expresso bread with salted caramel butter (!!!!!) and their baked eggs with chorizo.
On The Go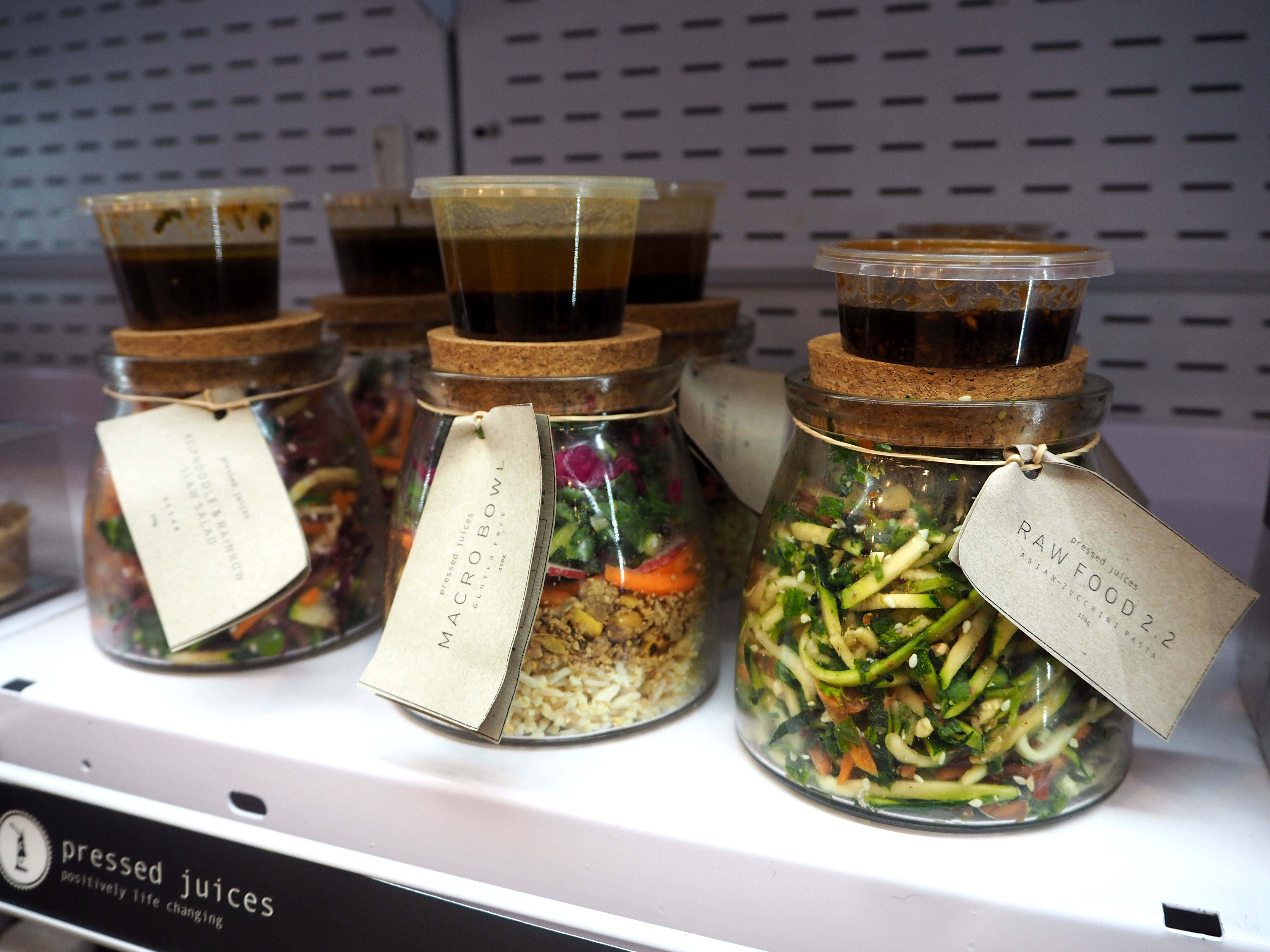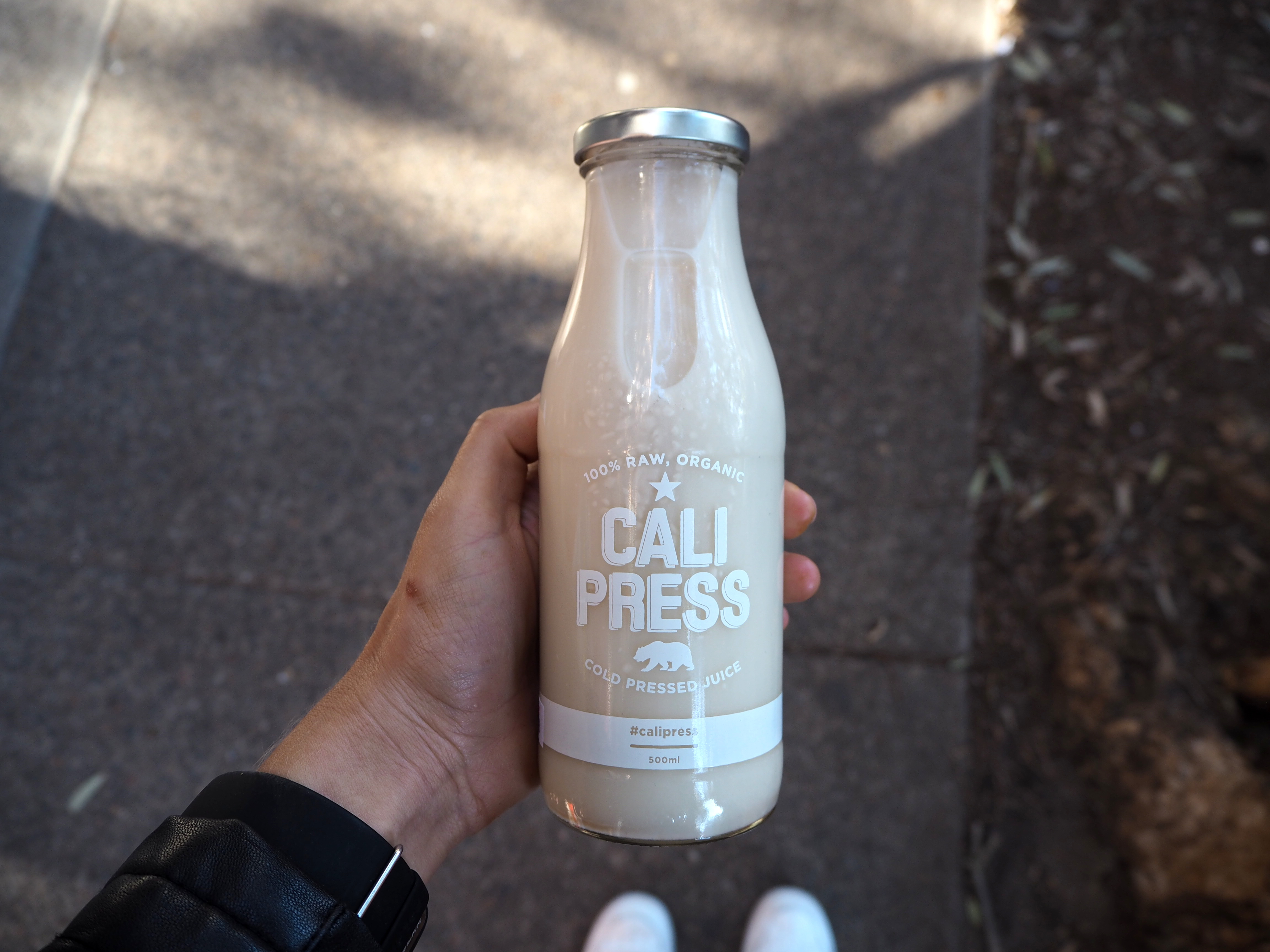 Since I was working during my time in Sydney, I had to grab food on the go on an almost daily basis. My staple spot was Thrive in the MLC Centre. They offer a range of breakfast and lunch bowls which are balanced and nutritious – with all the macronutrient information available on their website. I must have gone there for breakfast 4 or 5 times and my favourite meal was their Zeus Bowl which features sweet potato and bacon mash… need I say more?! Also in the MLC Centre I loved Pressed Juices. Although their food is expensive, it is incredibly nutrient dense and justifiable as an occasional treat. I loved their banana salted caramel smoothie and their raw courgette salad.
Just outside the MLC I found Sanduba and Nutrition Station. Sanduba is a little shop crammed with healthy snacks, salads and smoothies; and I throughly enjoyed their acai bowl. Nutrition Station is a little more hardcore. They create custom lunches featuring lean meats, veggies, fat sources and greens; each served up in a little tupperware box. They may not be aesthetically pleasing but they are nutritionally balanced, full of flavour and perfect if you're in a pinch. Their breakfast menu is a bit more varied and includes a delicious green smoothie bowl which you can add protein powder to and comes with a whole host of yummy toppings.
Just outside the CBD is Cali Press, Surry Hills. This cafe is a haven for any healthy foodie.They offer fresh juices, Allpress coffee and an epic selection of smoothies. Their most famous is the Godfather – a blend of coffee, dates, banana and almond butter. Delish! The best part is that every smoothie can be made into a smoothie bowl and packaged to be taken on the go. Plus they also sell salads, light breakfasts and a selection of healthy treats – a highlight being the rich gooey sweet potato brownies!
Finally, for coffee in the CBD I recommend Bonds cafe just opposite Deutche Bank. I sampled an awful lot of different coffees on this trip and theirs was by far the best. My favourite was the almond milk flat white which was ridiculously creamy.
Indulgences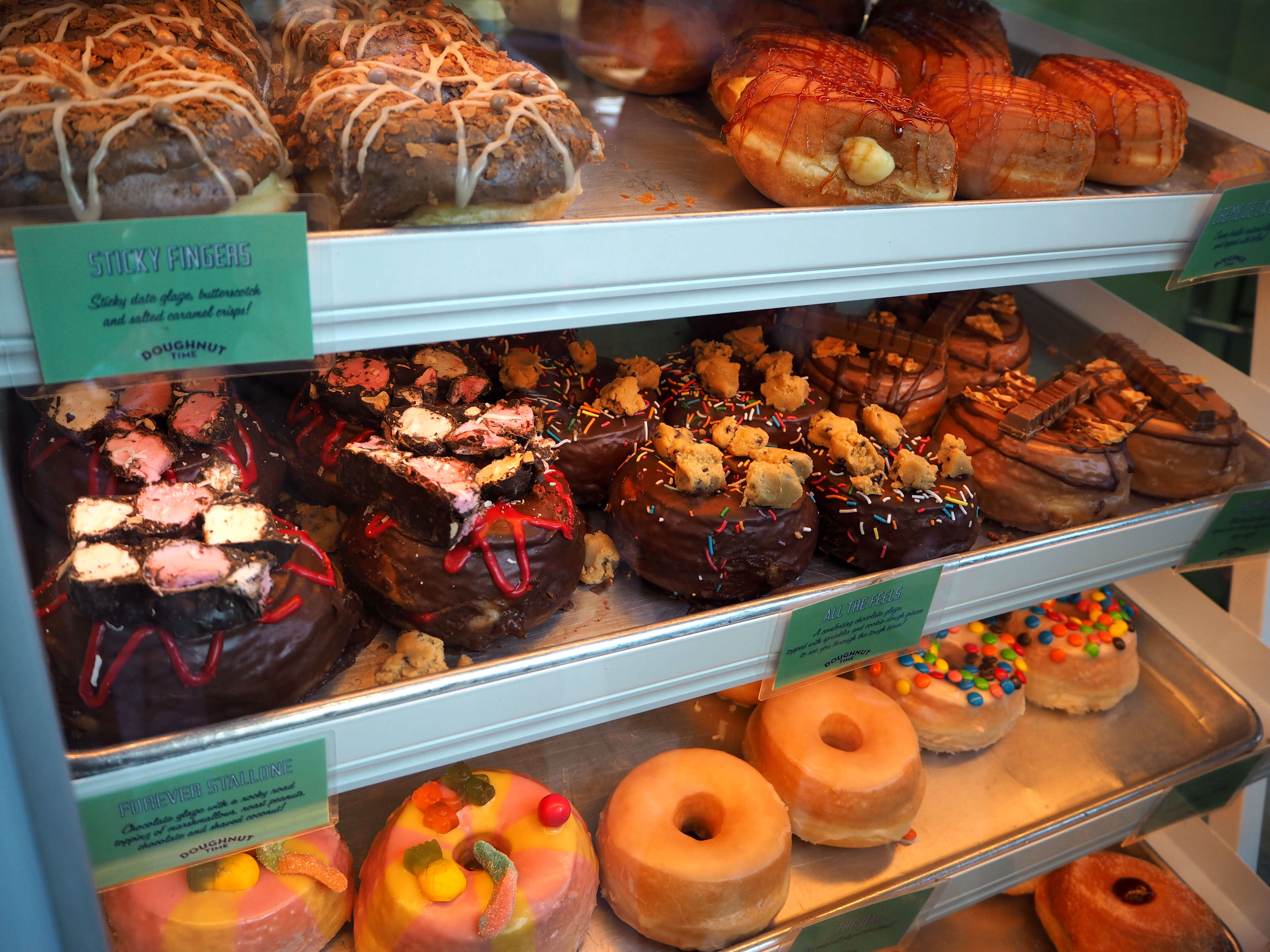 You guys know I am all about balance and I am certainly not afraid to indulge every once in a while. A personal highlight was the Lindt Cafe which serves a Lindt Mocha. It was literally the most delicious coffee I have ever tasted, and I went back for more on multiple occasions. The cafes also offer insanely tasty waffles, cakes and treats; and have a selection of unique Lindt items to purchase such as Lindt Nutella; which tastes as amazing as it sounds. A similar concept is the Guerlain cafe which is located out towards the Harbour Bridge. This also serves up a wide variety of chocolate treats including a divine rich chocolate machiatto.
If you're fancying something seriously sweet, then head to Doughnut Time. This is a chain of shops which are all over Australia. They serve the most insanely indulgent doughnuts I have ever seen. I mean, they recovered in chocolate bars, jelly sweets and nut butter… it doesn't get much better than that! My final recommendation is to pop your head into the small convenience stores located all over the CBD and check out the snacks on offer. Australia have all sorts of chocolate bars and treats which we don't have in the UK; from salted caramel Kitkats through to toasted coconut Milky bars. My boyfriend and I loved taste tasting them all!
Dinner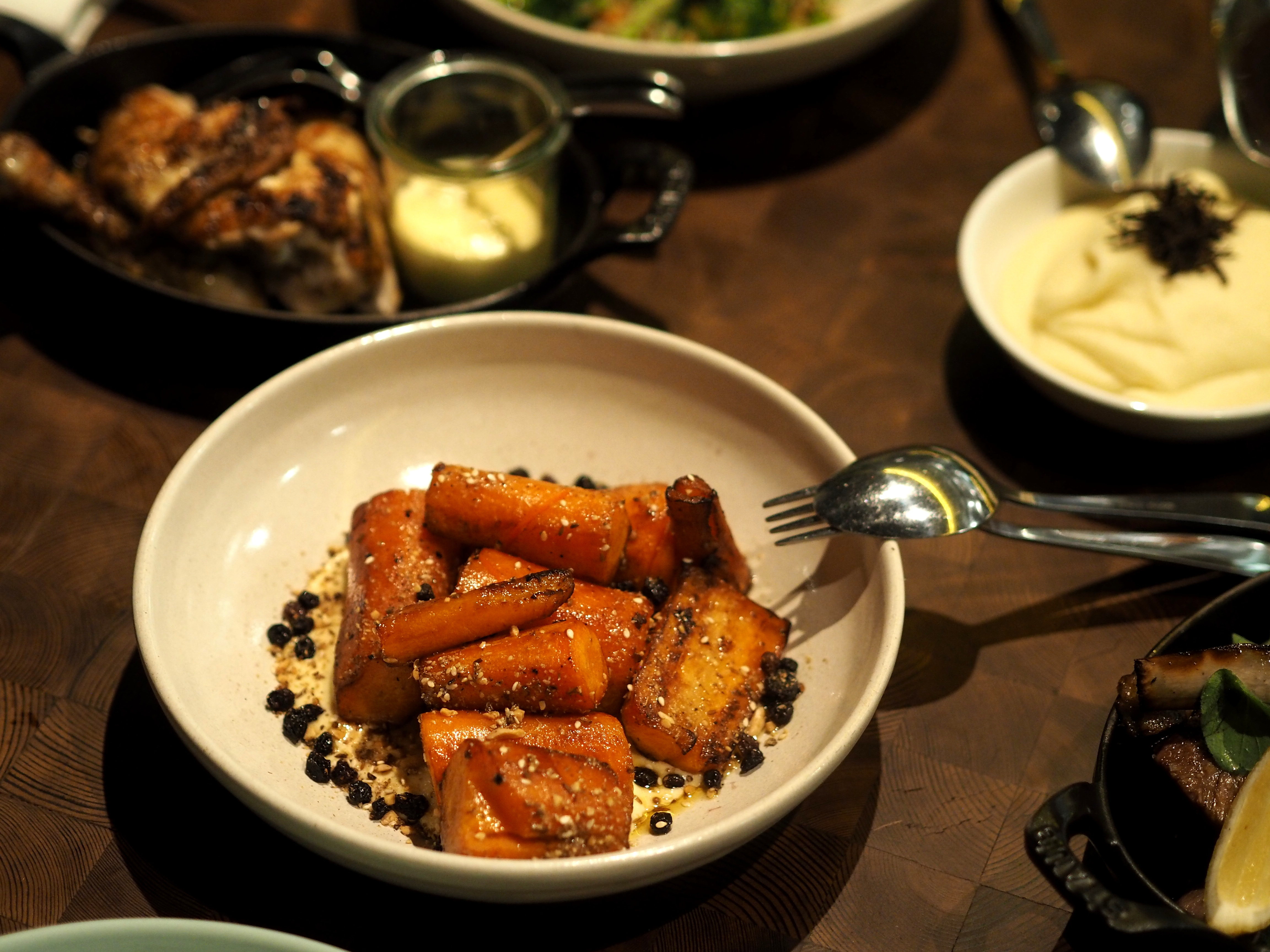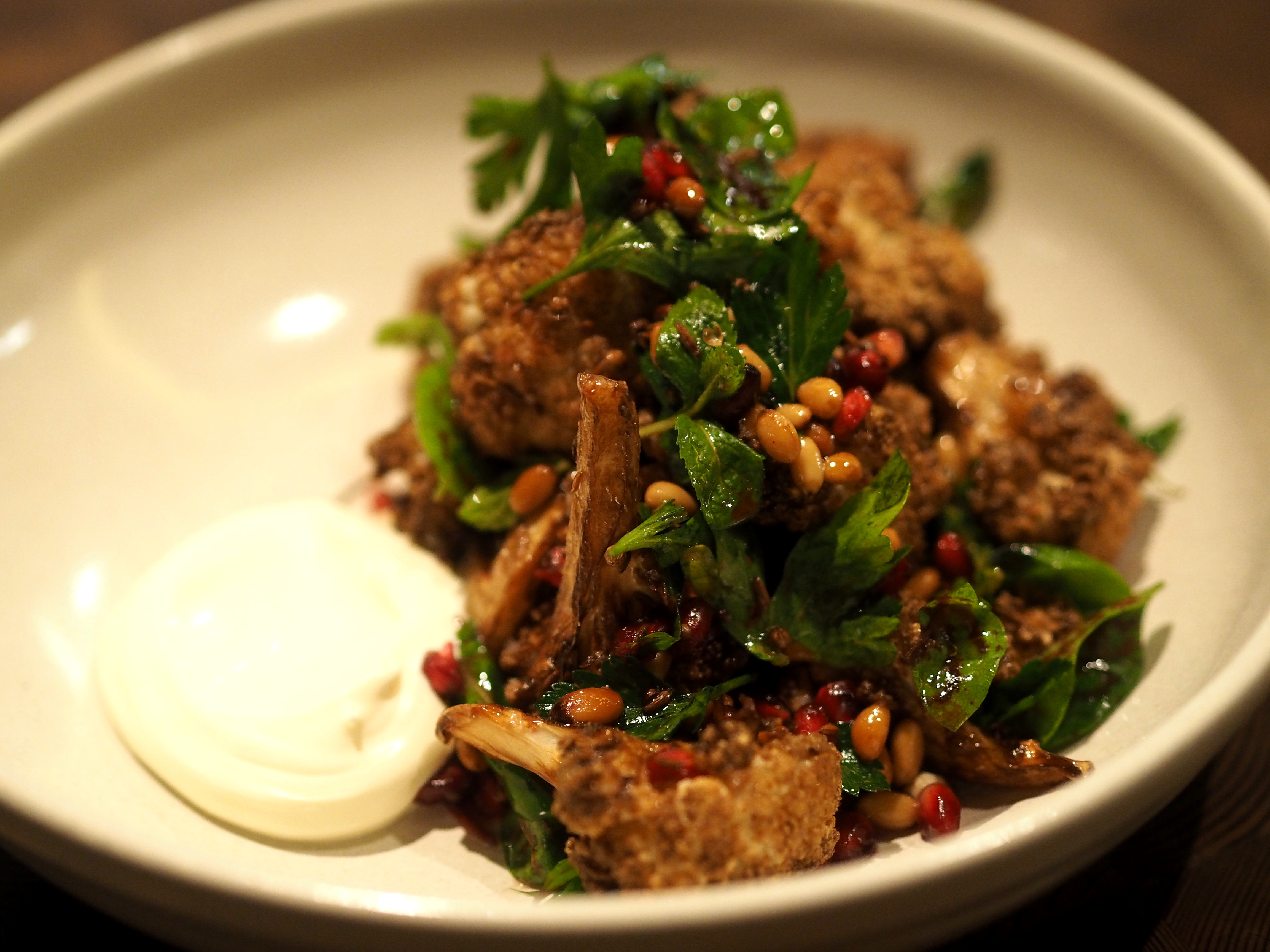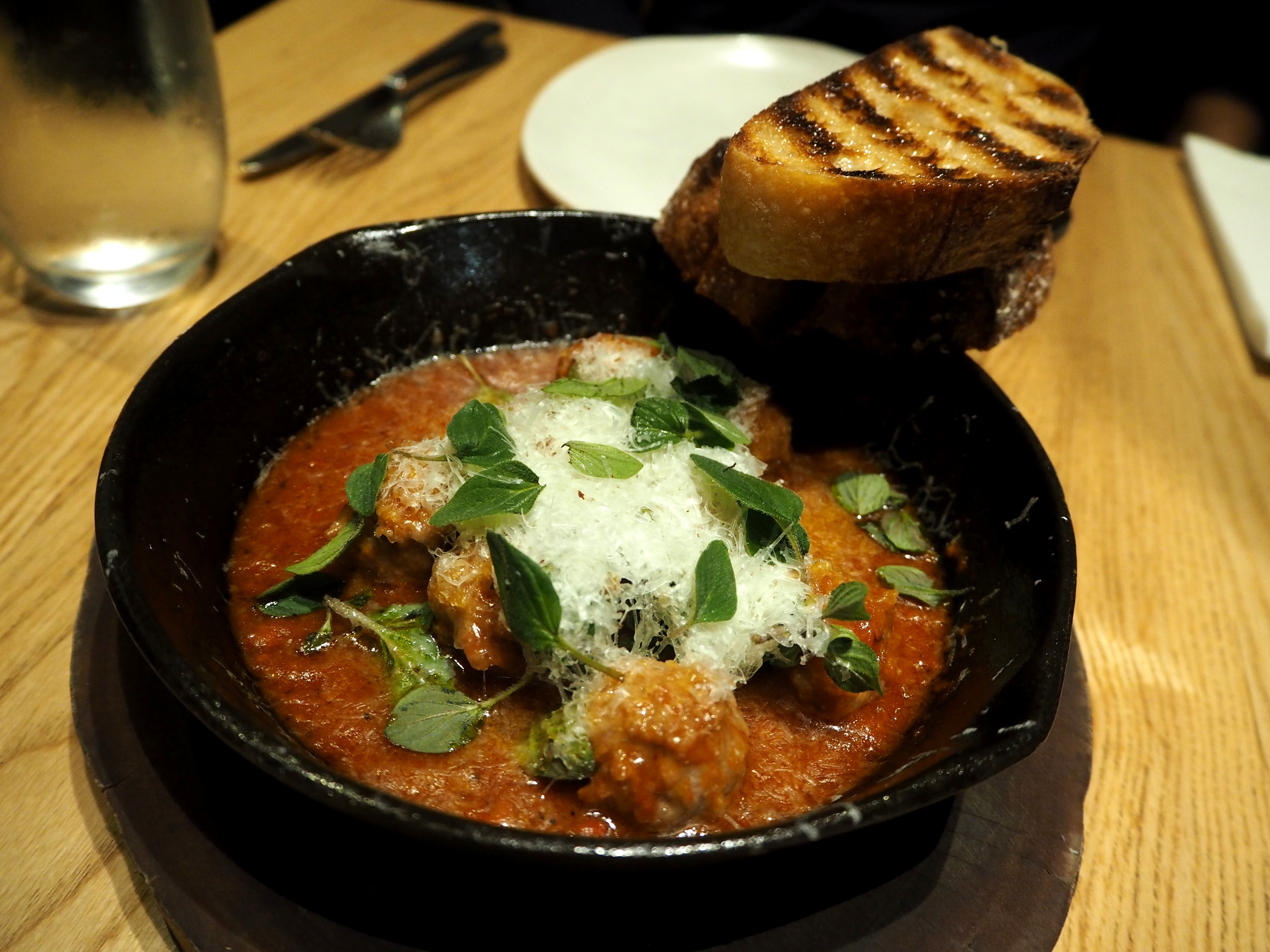 I tell you what, I had some damn delicious dinners in Sydney. The quality of the food is absolutely incredible! Our first port of call was No 1 Bent Street, an open plan restaurant with super friendly staff. We were blown away by their roasted pumpkin which literally melted in your mouth, and I personally loved the grilled squid, white bean and chorizo bake which was packed full of flavour. If you want bit of a a different dinner and a unique Nordic experience then head to Norsk Dor. To get there you head through a dark underground alleyway surrounded by the sounds of howling wolves! Then once you enter you're in a cosy restaurant with furs on every seat and traditional wooden decor. Beyond appearances, the food itself is amazing with the Venison being particularly delicious.
For hearty flavoursome food in an amazing atmosphere I recommend Nomad or Mercado. Nomad is just below the CBD in Surry Hills and has a real buzz about it. It was here that we had best starter of our whole trip, their curried cauliflower. Holy. Shit. I was obsessed and vowed to attempt recreate it when I got home. Mercado was my boyfriends favourite restaurant in Sydney. He loved that you can see right into the kitchen from your seat and he was a huge fan of pretty much every dish we ordered. A personal highlight was the truffle mash, which quite frankly was the badgers nadgers of side dishes.
If you're fancying Japanese, I have two recommendations. The first is Chochosan, a small restaurant with a diverse and delicious menu. We loved the unique cocktails, the juicy waggu beef and the spicy calamari. If you're heading towards the Harbour Bridge then check out Sake. This busy spot requires booking in advance and has an expansive menu. Our highlights were the jalepeno kingfish and the wasabi lamb cutlets; and we loved the authentic Japanese decor too.
Finally, you guys know I love Mexican food so I just had to try out Mejico. It is located right on Pitt Street, so super central. As a result it is a busy spot and requires booking, especially on weekends. The meals are different to your typical Mexican with less of a greasy burrito vibe and more of a light, healthy and flavoursome feel. Their guacamole with crumbled pistachios and plantain chips is to die for!
Whole Foods Shops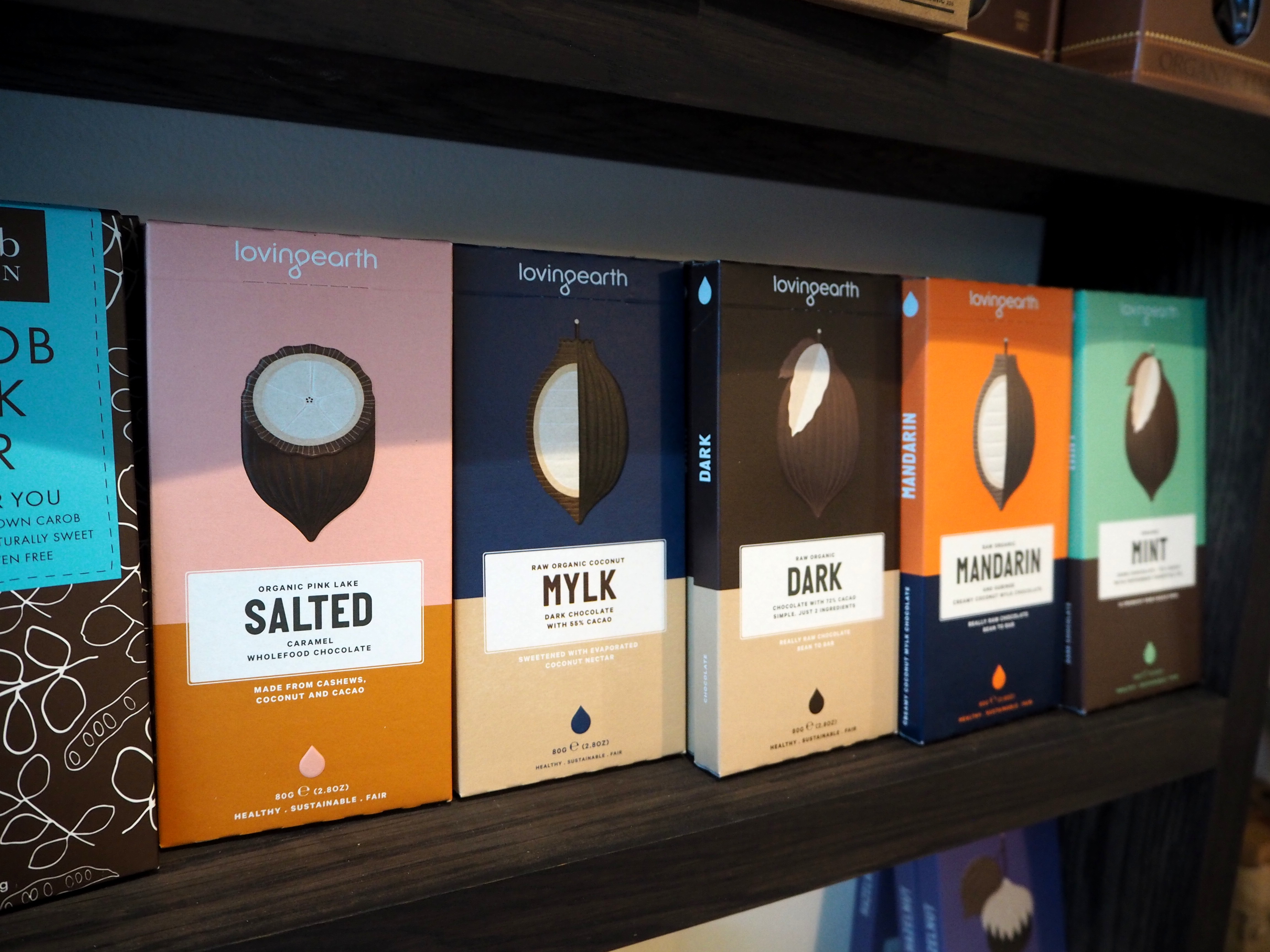 Sydney have some epic healthy shops you can browse which are stocked with all the wholesome ingredients, products and treats you could ever imagine. They are like treasure troves and I literally spent hours browsing them. My ultimate favourite one was About Life in Surry Hills, about 10 minutes walk from the CBD. It is absolutely humongous and boasts an in-house cafe which serves up delicious food too. There are aisles and aisles of goodies, you'll be spoilt for choice! Another shop I discovered was The Healthy Life which is just off Pitt Street. Although it is much smaller than About Life, it is equally as well stocked and even has a little cafe inside which serves juices, smoothies and soups. It is also worth noting that most of the supermarkets and convenience stores in Sydney stock a small amount of whole foods and healthy snacks. Quest bars and Bounce balls are available practically everywhere and there are lots of other brands you can try too!
Where To Train
Now I know this isn't food related, but I thought I would chuck this in there. Australia is the country where the fitness class F45 originated (I have written more about the class itself here). Basically it's a 45 minute high intensity functional training class designed to push your fitness to the next level. Since you're in its founding country you definitely need to give it a go and there are a series of studios in the city centre where you can get involved. I personally recommend the Sydney CBD studio which is managed by a lovely chap called Drew and his accompanying crew. The team are super friendly and their positive encouragement really helps to push you through the classes. They have created a real sense of community with lots of return customers coming in an almost daily basis, and you easily slot in and become part of the family. I will miss those guys a lot!
Well, that was a long post… oops! I hope you stuck it out to the end! If you try out any of these spots then please let me know on twitter, tag me in a picture on instagram or snapchat me; my username is zanzapan. I would love to see!
Happy eating,
Zanna xx