The healthy food scene on Koh Samui is still developing. It is not like Bali where there is a whole-foods shop on each street corner and smoothie bowls available in every cafe! Thailand is still predominantly serving local, traditional thai food. Which I love! However, as a foodie fitness blogger I was on a mission to find some hidden healthy spots. I did my research and these four came up trumps. Next time you're in Samui be sure to stop by and give them a go, you won't be disappointed.
Greenlight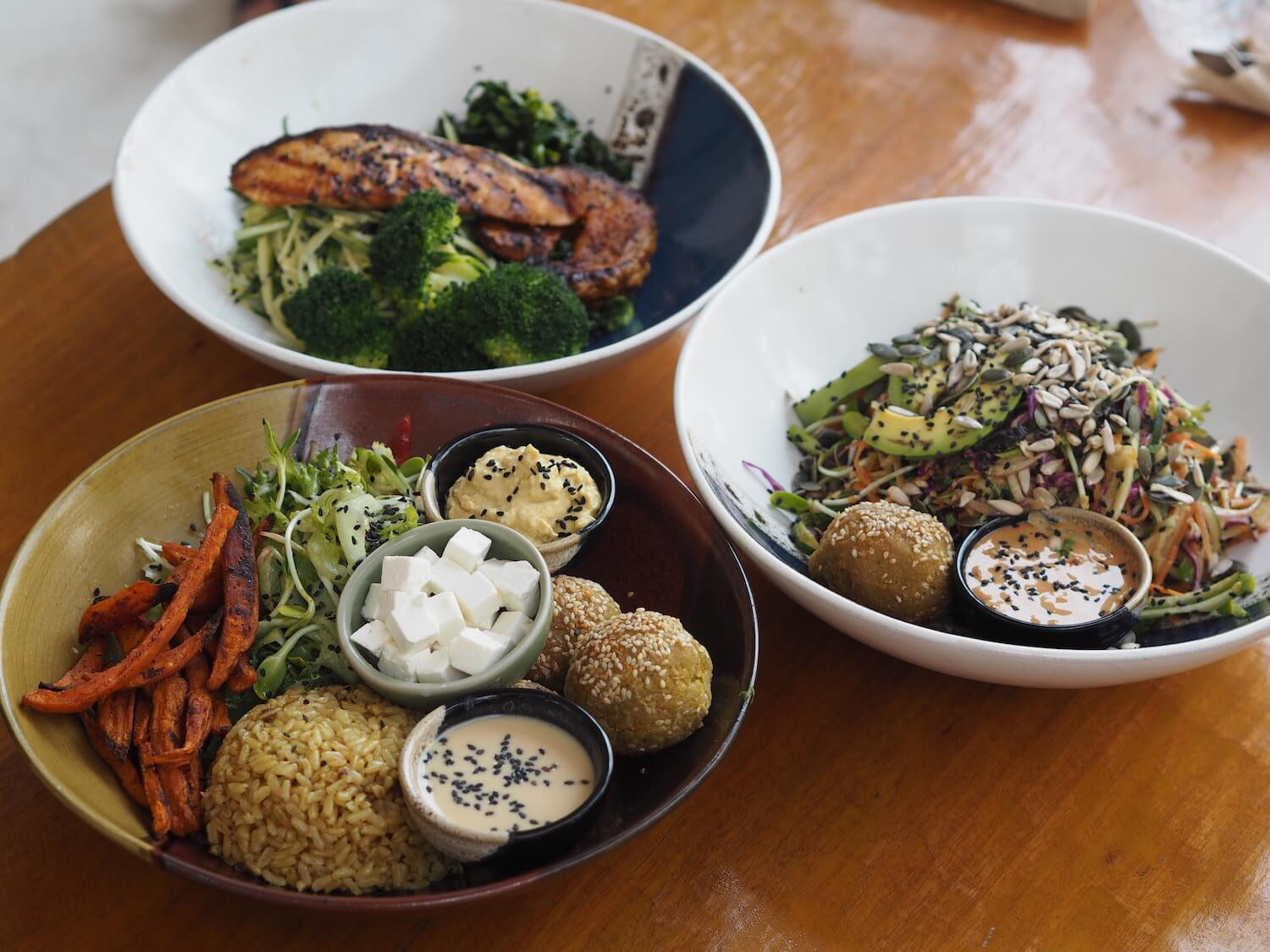 This was by far my favourite cafe on the island. Located in Fishermans Village, it has an extensive menu for breakfast, lunch and dinner. It has classic brunch dishes like granola topped smoothie bowls, poached eggs on toast and shakshuka; as well as fresh lunch meals including build your own "nourish bowls" which can be crammed full of goodies like falafel, roasted pumpkin and feta. They also have a selection of healthy twists on thai food such as the raw vegetable pad thai. Oh and did I mention the drinks menu as long as my arm?! I literally cannot fault this cafe. It even has a resort attached to it, which I would love to stay in one day. I can't imagine anything better than waking up to such nourishing meals every single day!
Art Cafe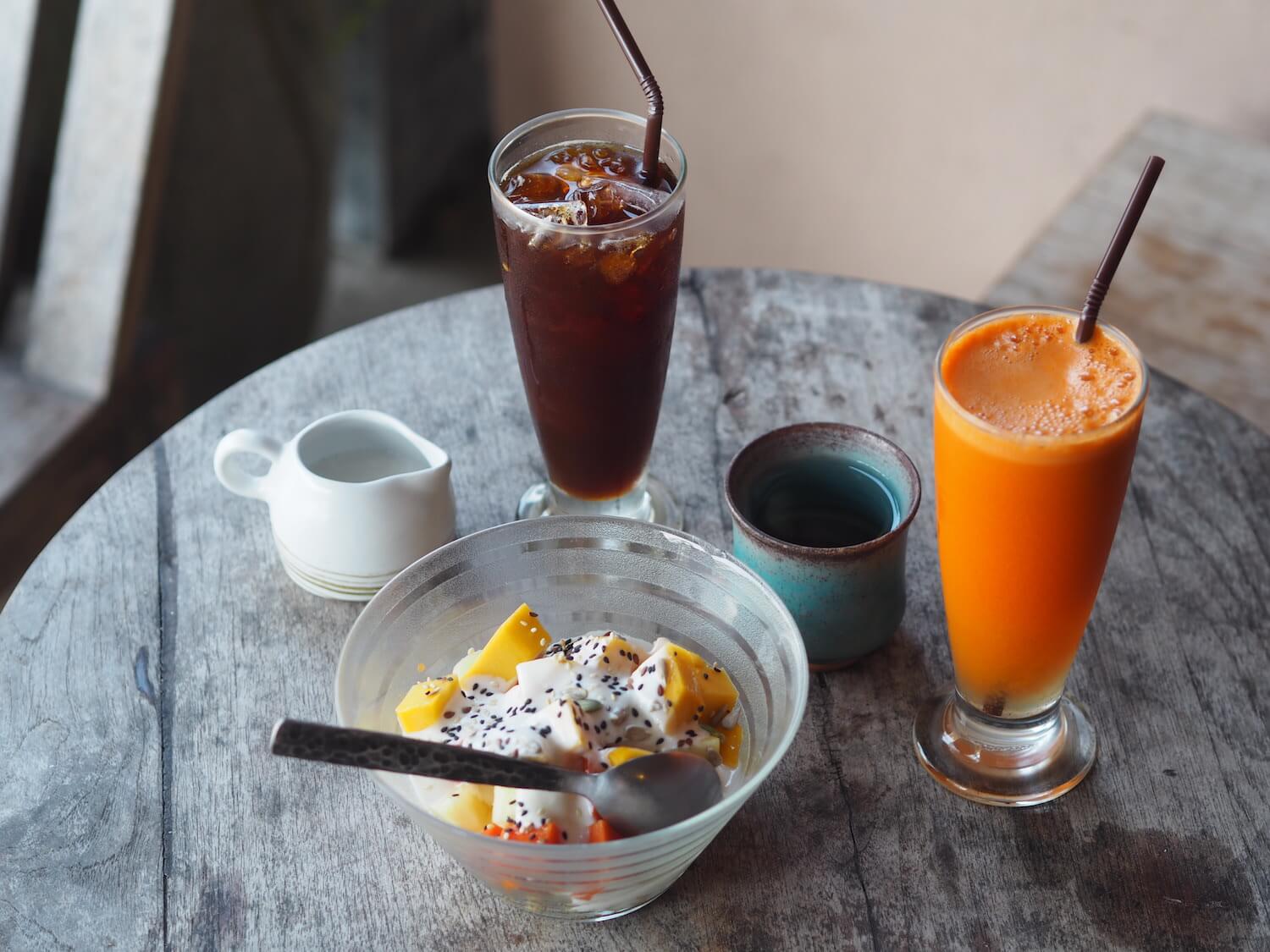 Just outside Fishermans village towards Koh Samui town centre, Art Cafe by June can be found on the road side. It looks unassuming at first glance but I promise it is incredible! Admittedly, the breakfasts here are basic, but the lunch is where this cafe comes into its own. With tonnes of healthy options, as well as veggie and vegan specials, you're spoilt for choice. Quinoa patties, fresh sping rolls, sweet potato and cashew salads, as well as homemade raw cakes and energy bars are on the line up. The service is super quick, the food is fresh and locally sourced, and you an even buy their homemade granola in little bags – which I highly recommend. It is slightly pricier than most Thai cafes but you're paying for the quality and its still much cheaper than a UK equivalent.
Fisherman's House
I had researched the cafe scene in Koh Samui extensively and this one was never mentioned; I think it must be new on the brunch block. I actually stumbled across it while wandering through Fisherman's Village and was blown away by their all-day breakfast menu and HUGE coffee selection. They are actually a "coffee lab" and as a result have a 12 page coffee menu with every blend and variation you could ever think of. But lets talk about the good stuff… their brunch. Holy moley. The chef is Australian, and he has absolutely nailed the menu. I'm talking poached eggs on toast with pesto, roasted pumpkin and feta. Caramelised banana french toast with salted caramel sauce and crispy bacon. Baked oats and mango chia pots with fresh passion fruit and toasted cashews. The list goes on. And bonus, the service was the best I had the on the whole trip. Make suer you head to the back of the restaurant and grab a seat in the courtyard. The sunlight peaks through the roof and a lazy cat might accompany you for a sunbathe and a stroke. Dreamy.
Cream Cafe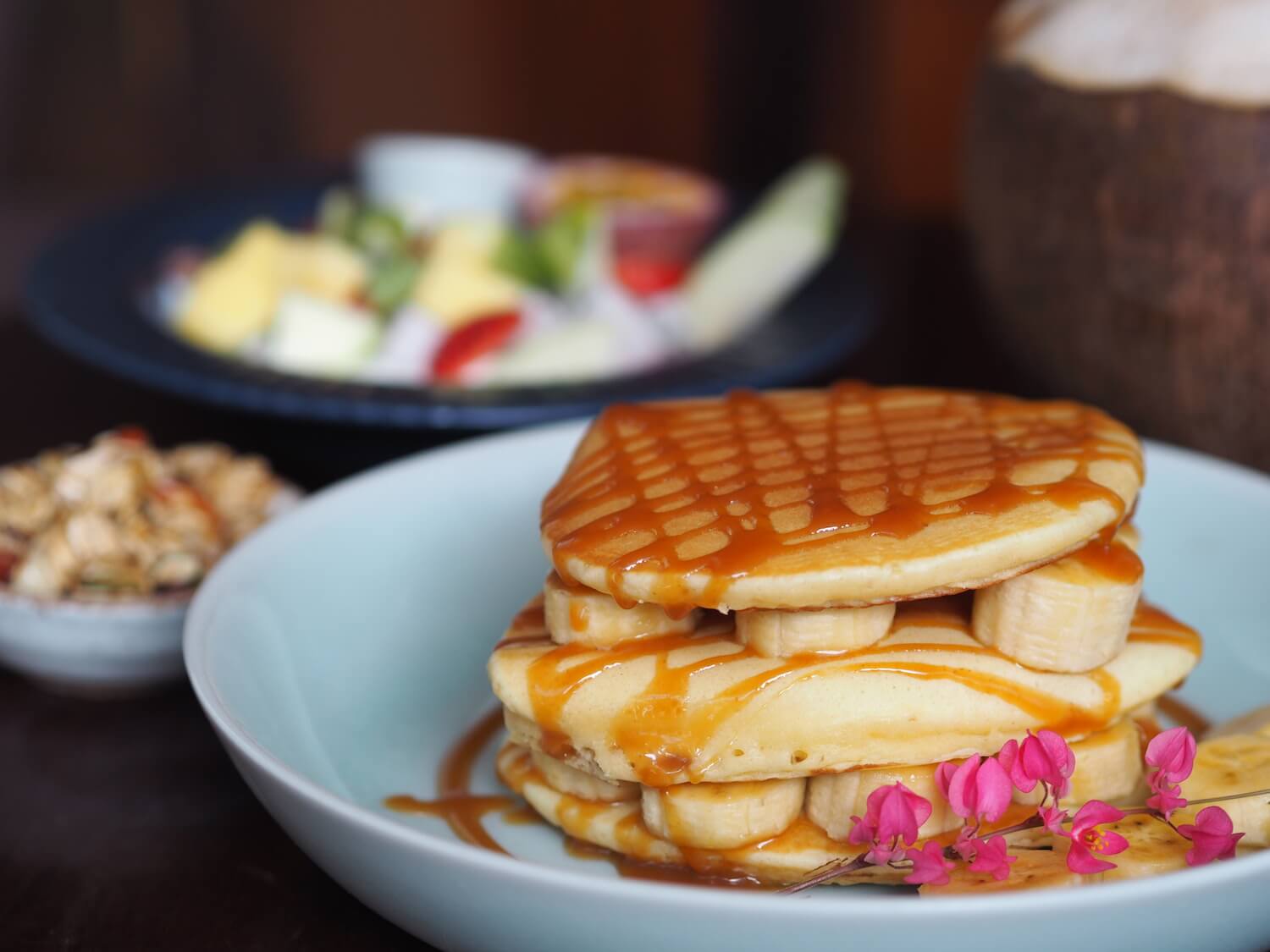 Located in Koh Samui town centre, just next to Central Festival, this cafe strikes the perfect balance between healthy and indulgent. The menu boasts a whole section dedicated to pancakes (how can you choose between banana caramel and nutella strawberry?!) as well as lighter egg dishes and traditional thai food. They also have ice cream, macaroons and a huge drinks menu from fresh pressed juices through to speciality coffees. The highlight was the presentation. The food was instagram gold with juices in jam jars and pancakes staked high. Plus the prices are super affordable and in line with other local eateries.
There are tonnes more cafes on the island which I didn't get a chance to explore (give Veggie Bean or Vi Kasa a visit if you have time) but from my experience these four were my highlights. If you visit them, be sure to tag me on instagram so I can see your food porn!