As a seasoned traveller, I have visited my fair share of Greek islands. Admittedly, I previously associated Greece with luxury hotels and pampering beach holidays. That is certainly one side of the tourist industry over there and a side I love to experience, but my recent visit to Tinos gave me a whole new perspective on Greece as a destination. It is full to the brim with authentic greek culture and you can immerse yourself in the local life, you just need to head to the right places and find the right people.
My friend Alice and I recently spend a long weekend on Tinos, a small Cycladic Greek Island. We quite literally fell in love with it more and more every day. It is a bit of a mission to get too, but the journey is well worth it I promise. We flew with Aegean Airlines and then hopped in a Taxi to the town of Rafina before we took a Hellenic Seaways/Seajets ferry to the Island itself. Once you get to the island you are thrown head first into the Greek way of life. Here are my top ten reasons why you should visit Tinos and my recommendations for making the most of your time there: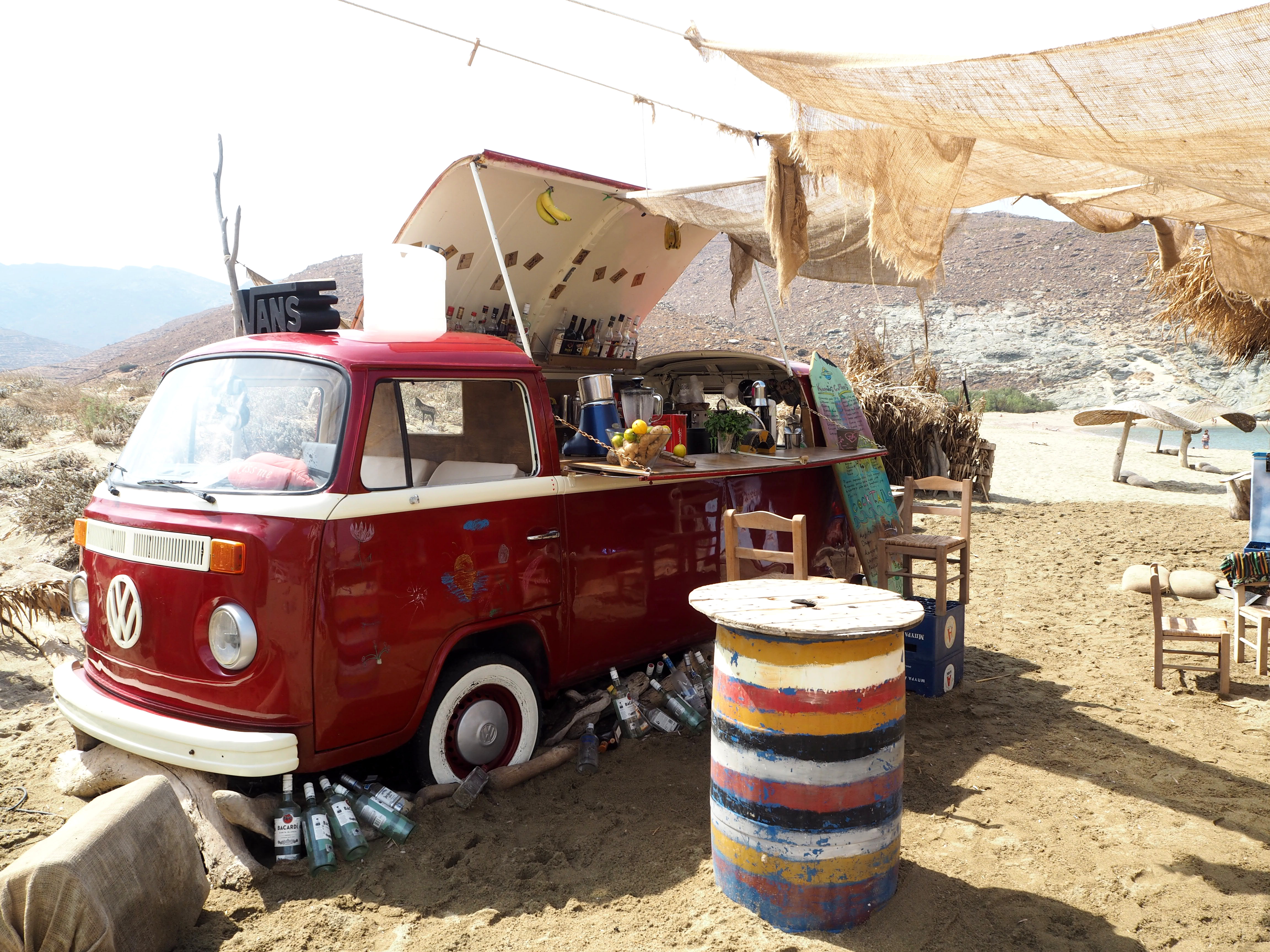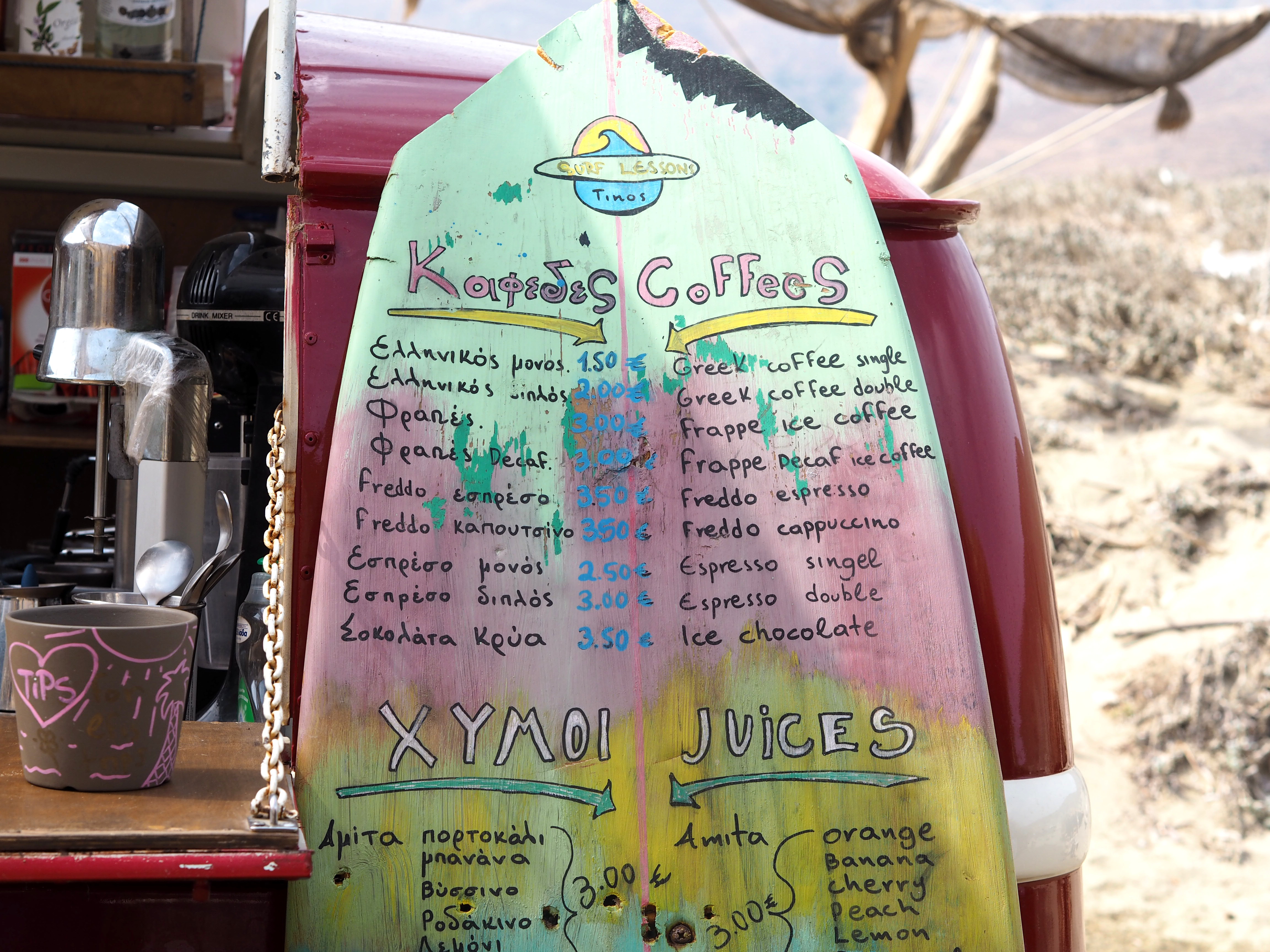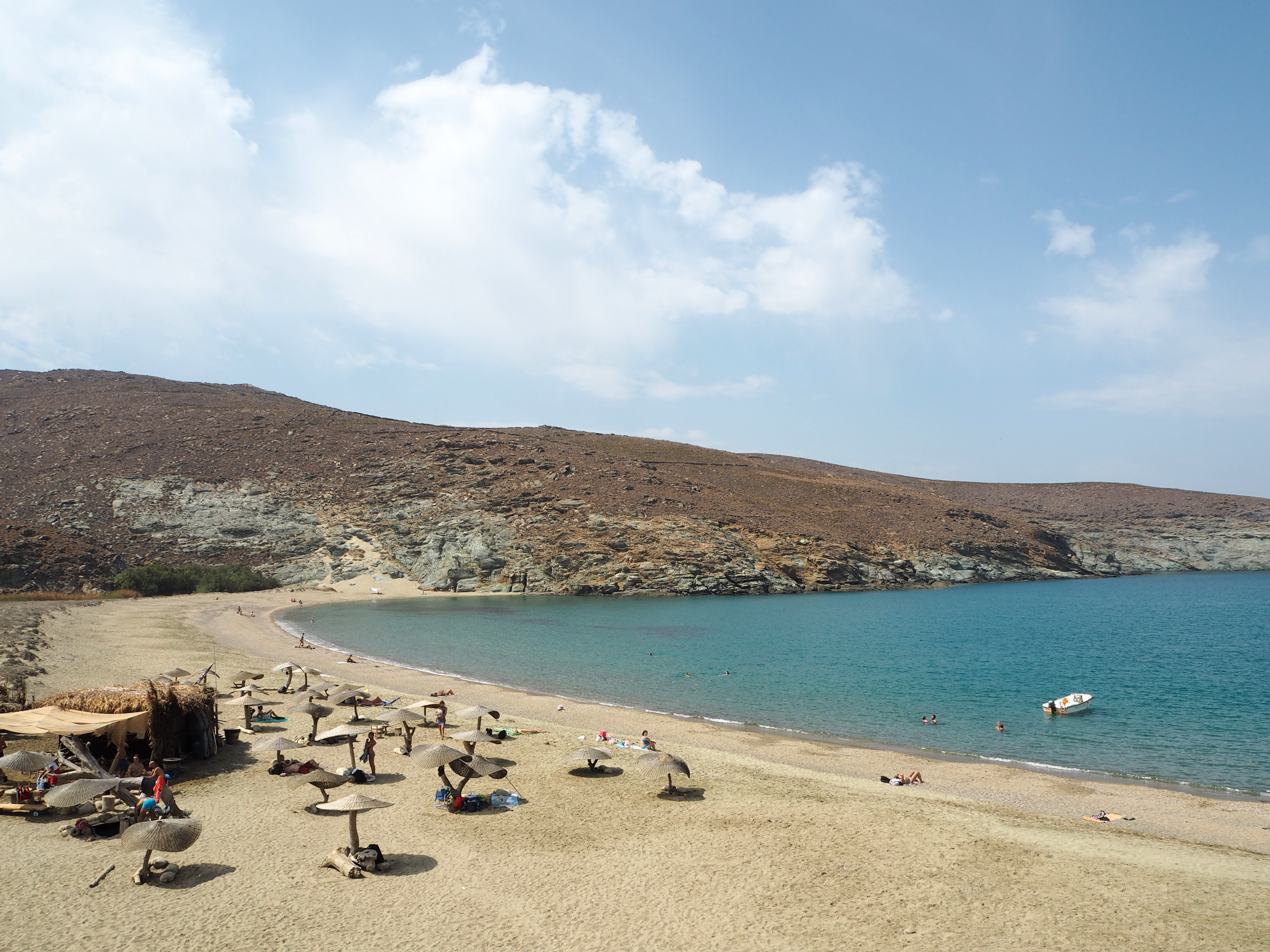 The Villages
Tinos is renowned for its unique village culture. On this small island there are 48 active villages scattered across the rolling hills and mountains, each with their own individual features and treasures to be found. In the past, pirates invaded this island. As a result the locals created labyrinth-like streets to confuse them and interconnected rooftops so they could escape to their neighbours house easily. Today, this has left behind the most stunning close-knit villages with narrow corridor-like streets between the most picturesque white and blue houses.
The Scenery
The beautiful scenery of Tinos is unavoidable. The roads wind through the hills and mountains, which means even a drive to the local shop exposes you to beautiful views. Many of the hills are structured into step-likes layers for farming, which reminded me of the rice paddies in Vietnam. However, no two valleys are the same. One of my favourites is the valley surrounding Volax village. It is almost post-apocalyptic in nature. It is covered in gigantic round boulders, a geological phenomenon which the locals like to say is the result of the fighting titan Gods. As you explore the island be sure to look out for the beautiful churches and chapels which are scattered across the landscape. There are almost 1,000 and each is unique in its design and features.
The Beaches
The beaches of Tinos are quirky and full of character. Our favourite was Kolympithra beach which is located in a beautiful quiet cove on the island. At one end you can find the Tinos Surf Lessons centre which we tried out with the Trippy.Gr crew. This consists of a camper van converted into a bar and bizarre mushroom shaped umbrellas to relax under. They serve up delicious fresh greek salads and omelettes, and of course have a huge cocktail menu which is scrawled onto an old surf board. You can also arrange water sports here such as surfing and stand up paddle-boarding. It is a perfect spot for sunbathing while still enjoying a taste of the local culture.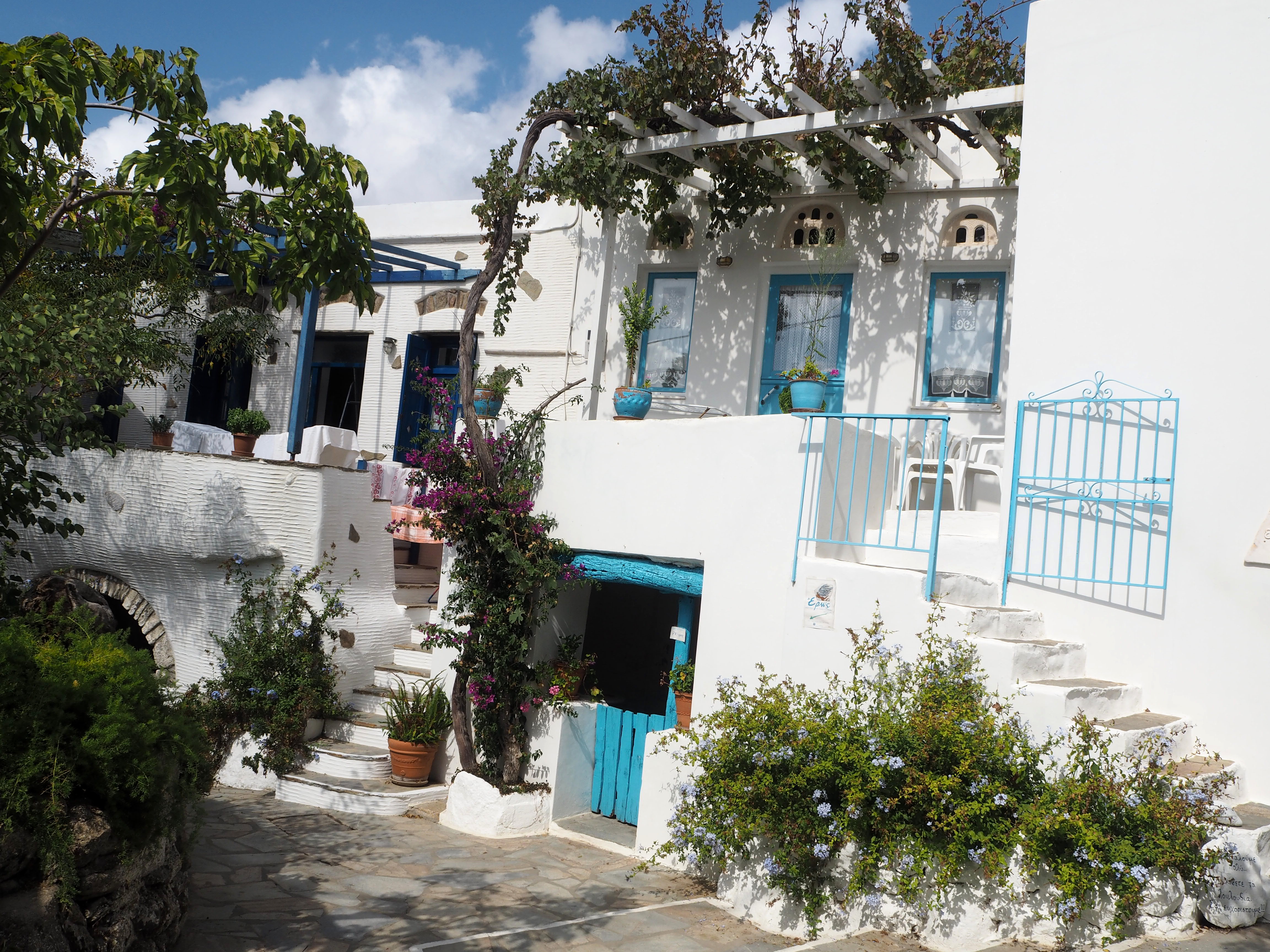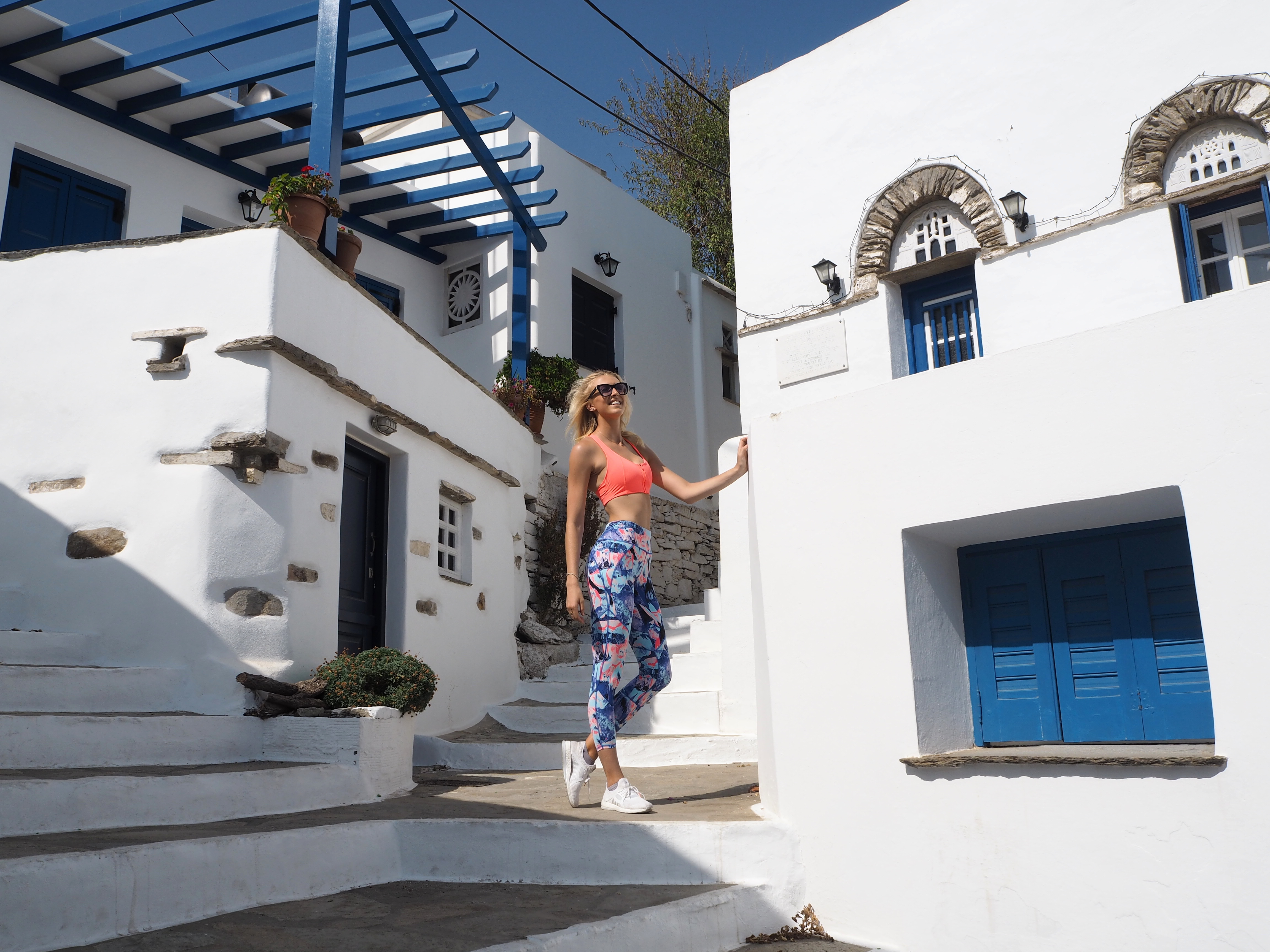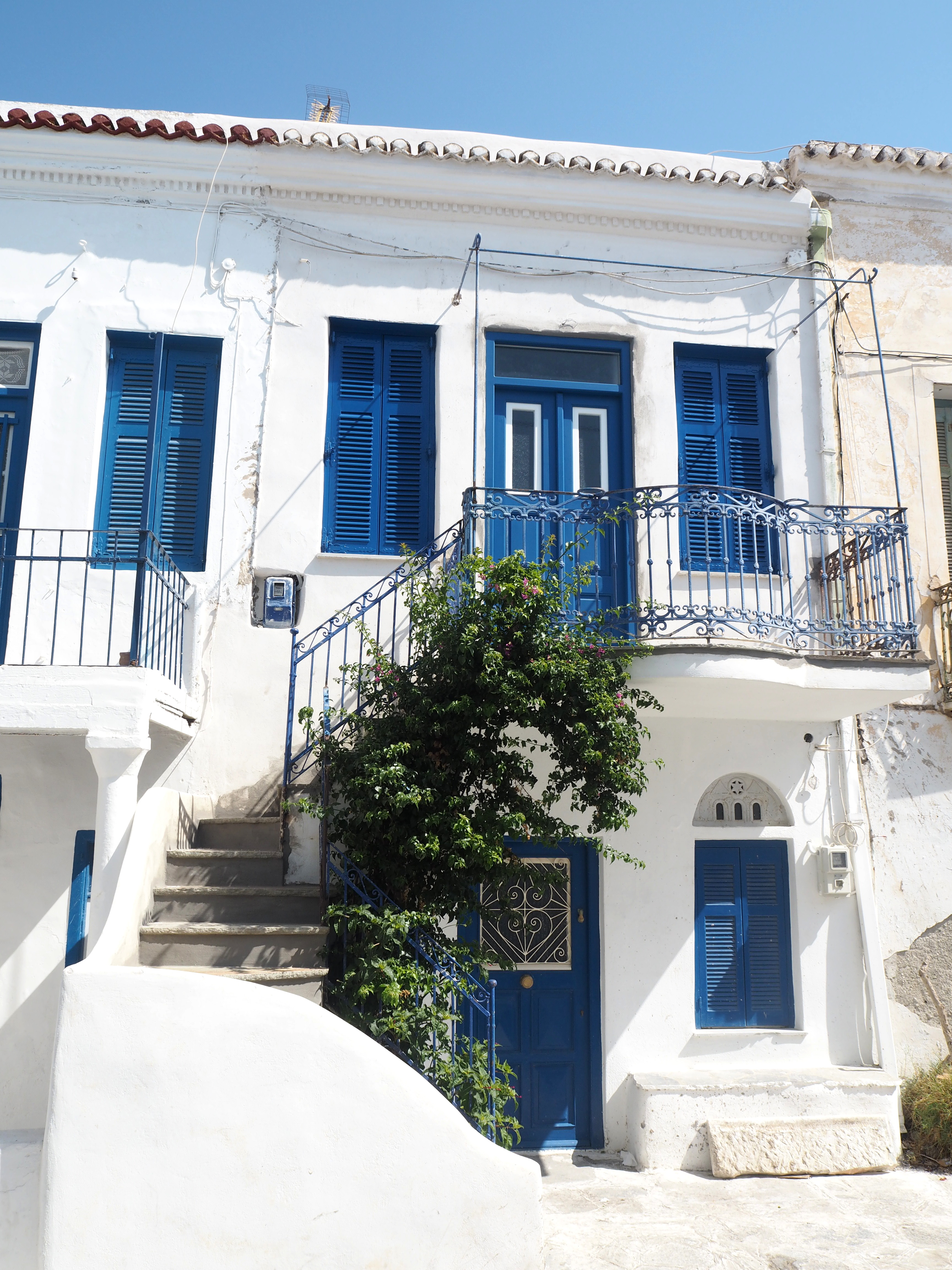 The Traditional Hotels
We stayed at Crossroads Inn in the tiny village of Tripotamos. The hotel is very traditional and only has four rooms. Each room is a fully fledged traditional Greek house with its own kitchenette, balcony and living space. Not forgetting the gorgeous view of the valley below. You quite literally feel like a local, living in a quiet village up in the beautiful mountains. All the products in the rooms from the sponges through to the complimentary biscuits and cheese are locally sourced and made. You can even opt to have traditional Tinos breakfast prepared in your room which is absolutely divine and great way to sample the local food.
The Hospitality
The people of Tinos will quite literally fall over themselves to ensure you have a great time on the island. Alice and I were extremely thankful to meet the lovely Sofia from the Crossroads Inn who provided endless recommendations for our time on the Island. As a local she knew all the most authentic spots and she told us about some absolute hidden gems which we would have never known about otherwise. She even helped us get around and provided us with lifts in her car when we needed them. We also took an amazing walking tour with Valentina Gavrielatou (kxgvalia@gmail.com) who took us around the main town and gave us an insight into the local history which we would have otherwise missed out on. We ended up going for lunches and dinners with Valentina and by the end of the trip she had become a good friend of ours.
The Hiking
If you're looking for an active escape, then Tinos is perfect for you. We went for an incredible hike with our guide Christos Printezis from Footpaths Tinos. He knows all the established routes across the island, as well as the hidden ones. He took us on a 3.5 hour hike through 4 beautiful villages (although he can do shorter ones if you're less ambitious!). We explored Koumaros, a quiet village with a self-service restaurant – the ultimate sign of community trust. Falatados, a larger village with the most incredible art gallery I have ever been in (more on that later!). Volax, a quaint village inhabited by Mr Iosef who sells locally-grown herbs and spices. He claims these are magical as he picks them at the full moon (he was an interesting character!). Finally, we finished up at Agapi, the village of love, and had an incredible lunch overlooking the valley below. Along our hike we encountered jaw-dropping views and made friends with the local goats, sheep, horses and cows, which all roam free on the land.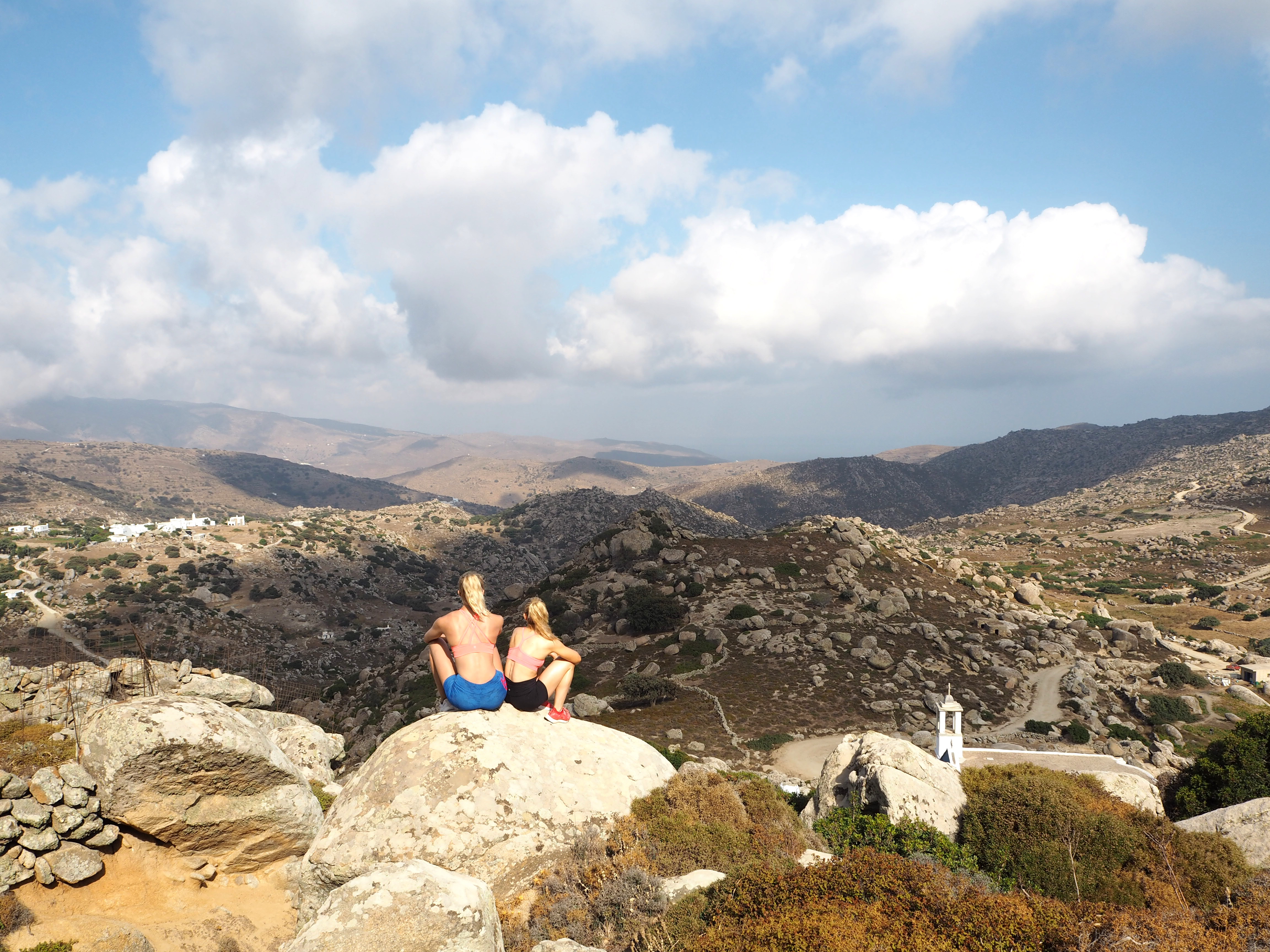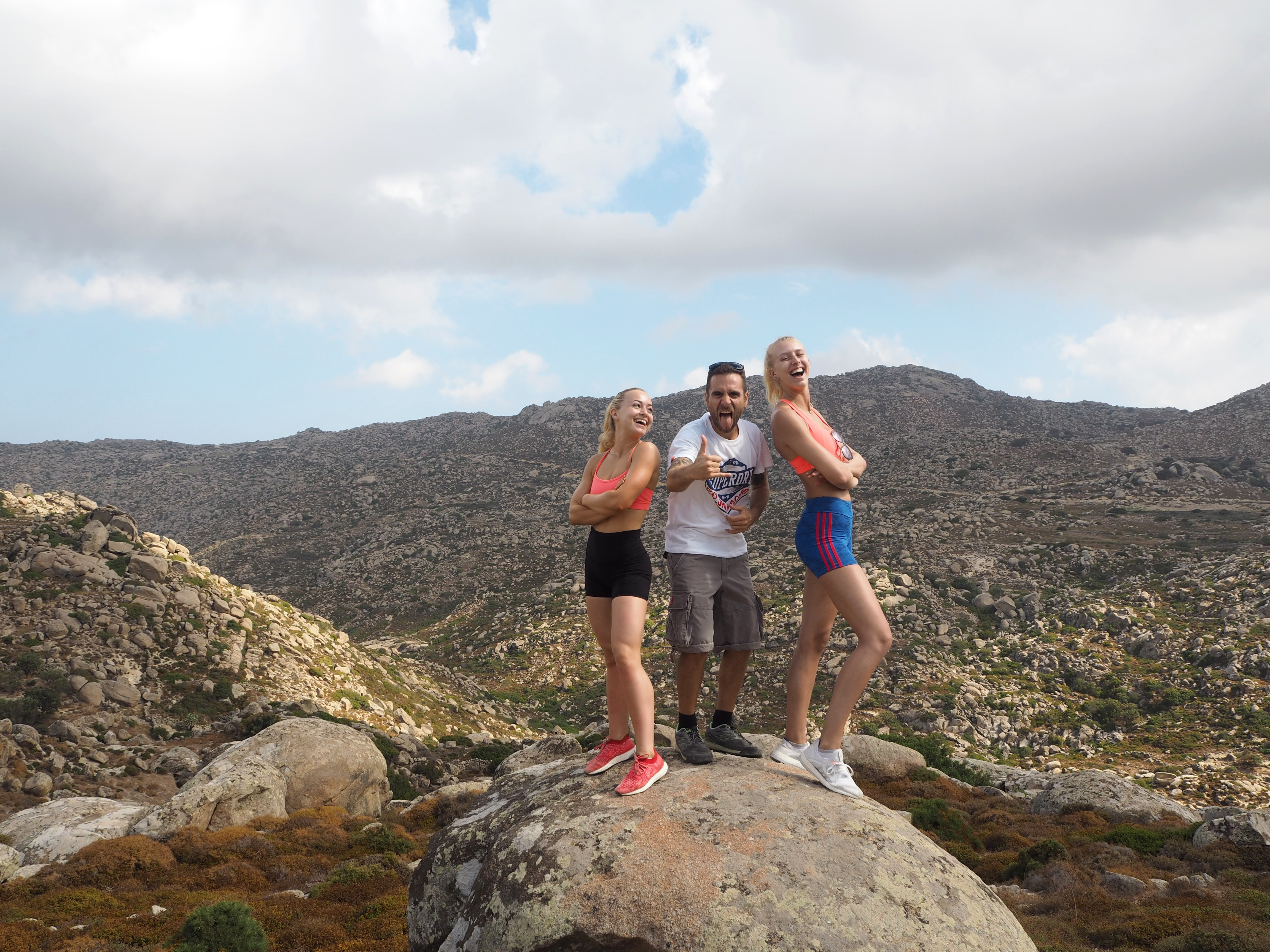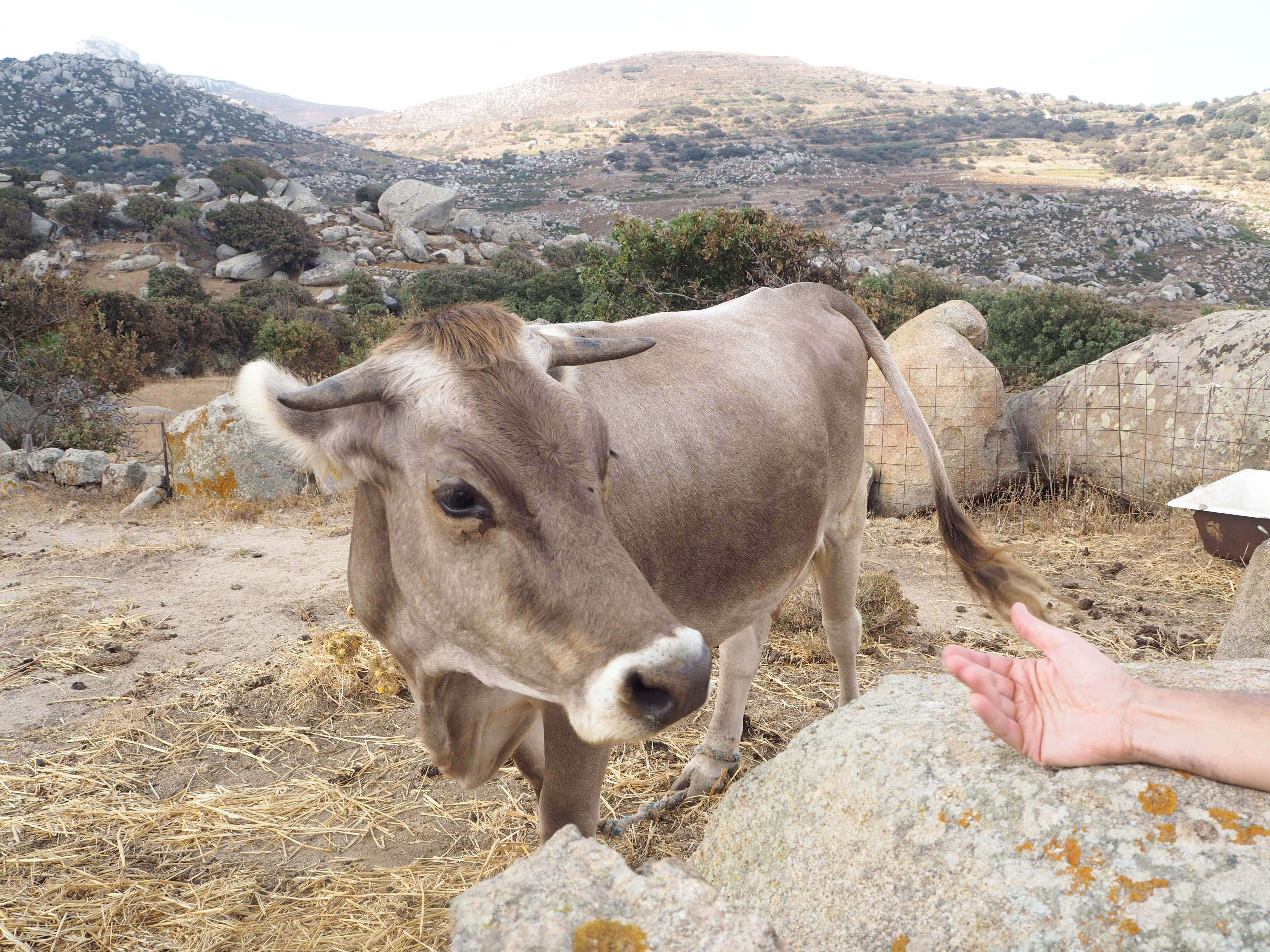 The Food
You didn't expect me to not mention the amazing Greek food did you?! Oh my lord. We tasted some incredible dishes. Tinos have their own cheese. Yep, their own cheese. And its damn delicious. One of our favourite lunches was at Itan ena Mikro Karavi in the main town, which featured this delicious cheese wrapped in courgette. Divine. The seafood is also extremely fresh, and I cant recommend the grilled octopus and squid from Tarsanas restaurant enough. We also ate at a variety of small local Tavernas in the villages. I believe that these are where the best food is found as the owners often rear their own meat, grow their own produce and create their own cheese – meaning that the food is the most natural and fresh around. The best and most authentic meal of our whole trip was from Agnadi restaurant in Ktikados village; a hidden gem only the locals know about. It is quite literally a family cooking in their kitchen and sharing their food with you. There are only a handful of chairs in the restaurant, and the food is comforting and wholesome. I can't recommend it enough.
The Quirks
Tinos has lots of funny little quirks and stories which the locals will tell you. These include hundreds of beautiful "pigeon houses" which are scattered throughout the valleys – each unique in their design and structure. The villages are also full of local art and exhibitions, with an abundance of marble work and sculptures. Our favourite hidden gem was the Vidalis Art exhibition in Falatados village. It honestly blew Alice and I away. It was a treasure trove of incredible modern art tucked away inside a local mans house. We could have literally spent hours and hours in there looking at all of his masterpieces.
The Weather
Tinos is in the Med, so the weather is pretty damn good. I am talking in the 20's and 30's with bright sunshine from March through to October. Perfect for tanoholics. After discussion with the locals, I personally recommend coming to Tinos in the off-peak months of March/April/May and September/October. The heat is still present but there is minimal summer wind and the hills are lush with greenery. Plus it is less busy than the peak months of July and August which means you practically get the island to yourself. Also on a practical note, I do highly recommend getting a rental car to get around the island (we used Vidalis Car Rental).
The Island Life
Tinos is a tiny island. Everyone knows everyone. Crime is practically non-existent. The locals literally leave their cars parked with the doors unlocked and the key in the ignition for hours on end, as they know they are safe. You can't help but feel comfortable in your surroundings. It is also worth mentioning how wonderfully quiet and undisturbed Tinos is. The tourist industry is present but not overpowering. You can quite literally walk through one of the island villages and not see a single soul. It feels untouched and untarnished.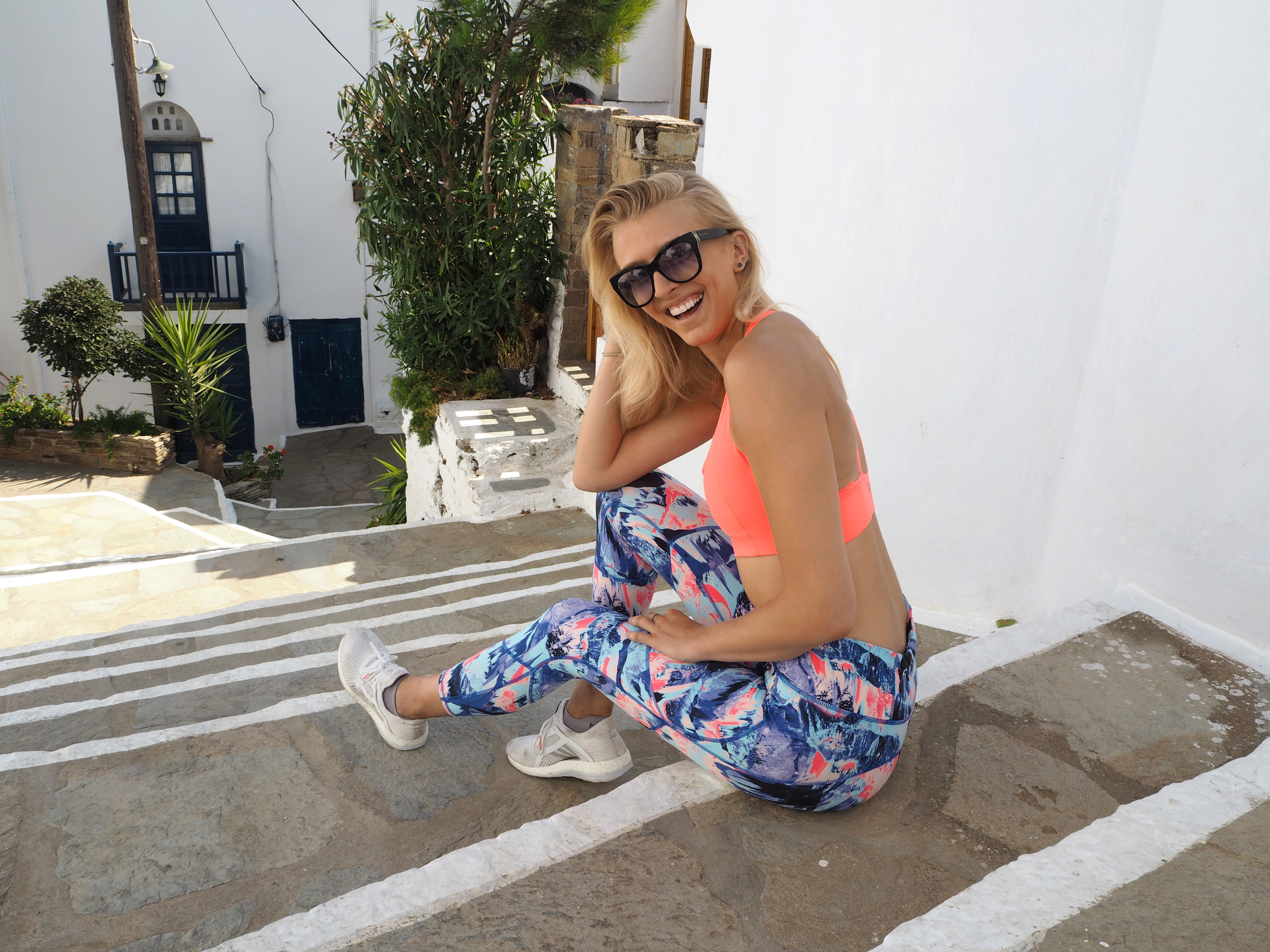 All in all…
I hope that I have convinced you to visit the stunning island of Tinos. If there is one word to sum up this beautiful place, it is authentic. It is unapologetically authentic. It is the perfect location to disconnect from the chaos of modern life and be sucked into the laid-back greek lifestyle. If you want to experience traditional Greek hospitality, enjoy delicious locally-sourced food and explore an unspoiled area of the world, then Tinos is for you.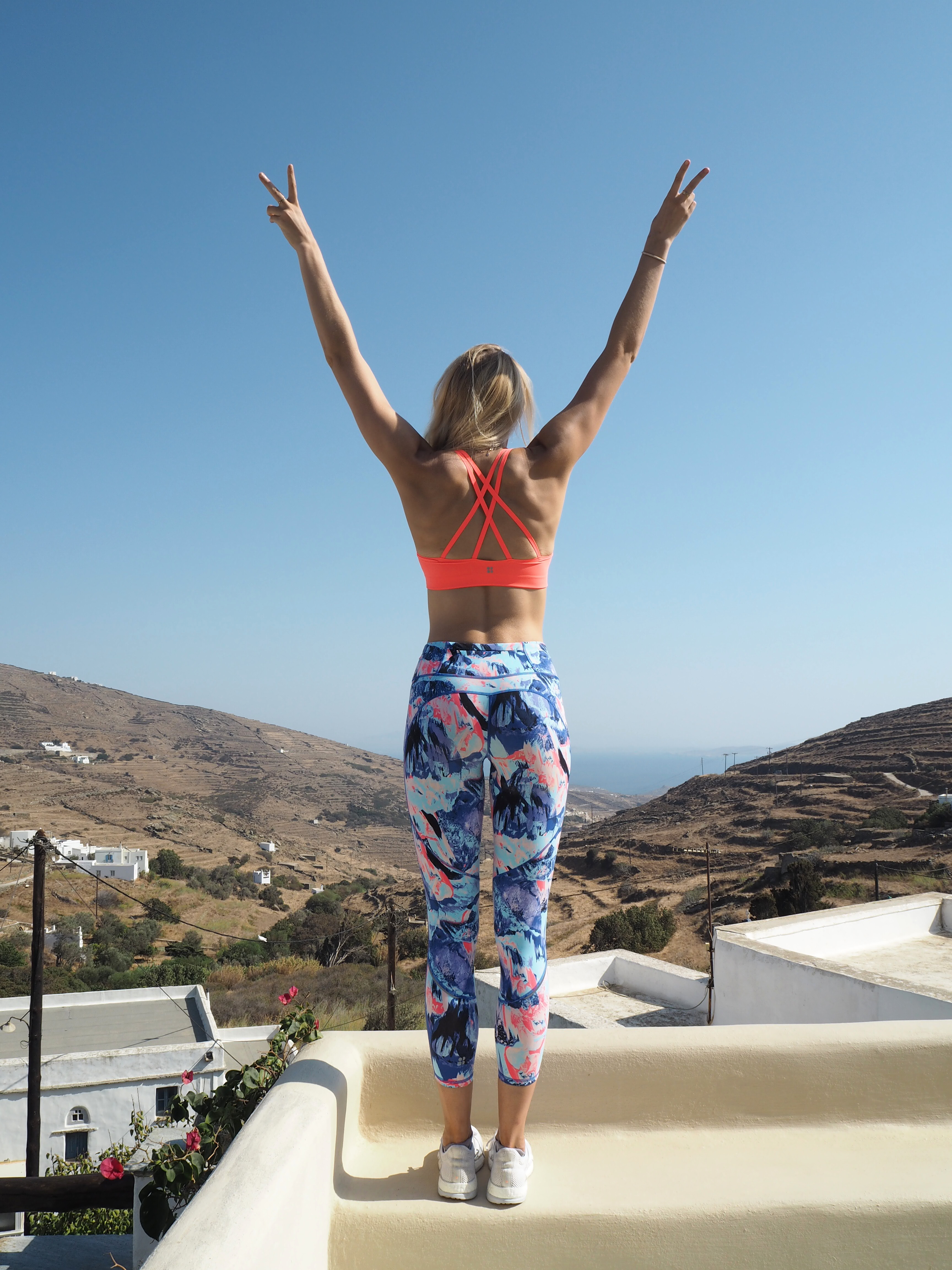 Disclaimer: This post is not sponsored. I want to say a huge thank you for Discover Greece for organising this incredible trip and enabling me to explore and experience a new culture.