Montenegro is a small country which packs a serious punch. Most tourists just pop in to visit the famous bay of Kotor, but once you journey further into the country there is so much more to see. Towering mountains, crystal blue lakes, pristine beaches and tumbling waterfalls. Not to mention the second longest canyon in the world and the largest lake in southern Europe. It is heaven for those who love nature, the outdoors and lacing up their hiking boots.
And the best bit? Montenegro is hugely underrated. Tourism is slowly developing across the country, with most areas still feeling raw and untouched. As a result, you can enjoy its natural beauty in peace. However I doubt such an incredible destination will remain a hidden gem for long, so be sure to visit before the crowds inevitably descend!
The Practicalities:
How To Get There?
Depending on your road trip itinerary you can either fly into the capital of Podgorica in the South or into Dubrovnik up North (in the neighbouring country of Croatia) and cross the border by car, which is typically a quick and simple process.
How Long To Go For?
Montenegro is a small country but it has so much to offer, I recommend staying for at least 5 days to get a small taste of its beauty. However, if you have the time then 10-14 days is ideal to fully immerse yourself in this hidden gem and get off the beaten track.
When To Visit?
If you're aiming to hike in Montenegro, it is best to visit in the warmer months of May to October. It is worth bearing in mind that snow can still be on the highest mountain tops in May and June, and it can get super hot in July and August, so my top recommendation would be to visit in September or October if possible.
What About The Weather?
Montenegro has incredible summer weather, with long hot days and lots of sunshine. However, if you head into the mountains then it is best to prepare for every eventuality. High peaks lead to microclimates and quick changes in weather conditions, so take your waterproofs and warm layers – even in the height of summer!
How To Get Around?
I recommend renting a car from the airport to get around Montenegro, try to choose one which is small but powerful to navigate the narrow and winding mountain roads.
Travel Tips:
Language: The local language is Montenegrin, but most people speak English in the main tourist areas. Google translate can help you out in the more remote mountain villages.
Currency: The currency in Montenegro is the Euro, ensure you take out some cash as card payment facilities aren't always available. 
Plug Sockets: The plug sockets are mostly type C or F with two round pins. 
Phone Data: As Montenegro isn't in the EU, it is highly likely your phone provider won't cover data there. I recommend picking up a SIM card in one of the towns, there is a small kiosk in Kotor.
Tipping: Wages are low in Montenegro, so it is hugely important (and customary) to tip when you receive good service. 
Anything else? The food in Montenegro is very heavy on meat and fish. Vegetarians and vegans will have limited options, but if you ask nicely they are more than happy to make adjustments to options on the menu.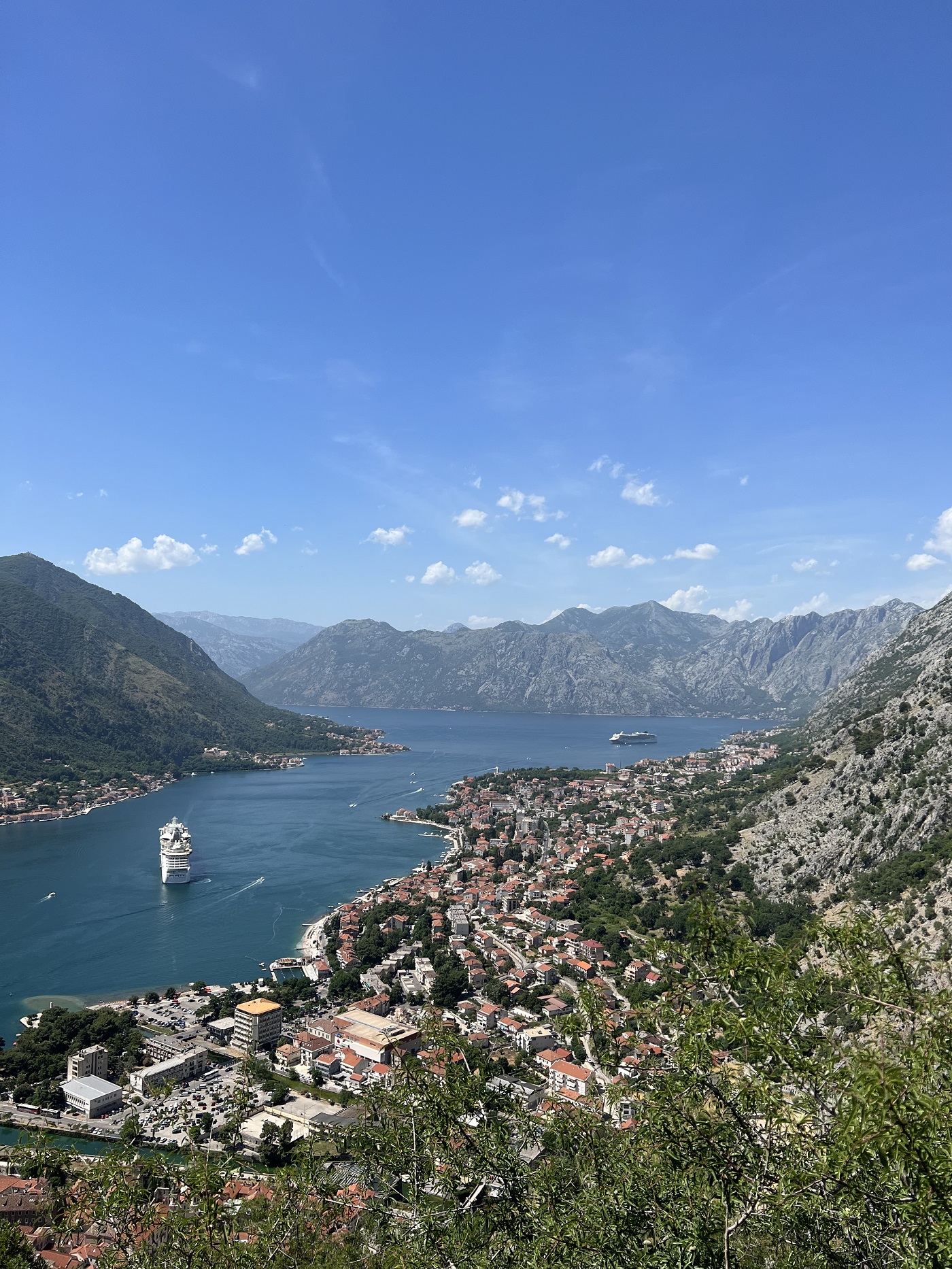 Suggested 10 Day Itinerary:
This 10 day itinerary showcases the highlights of Montenegro and takes you through all five of the country's beautiful national parks.
Day 1 – Land in Dubrovnik
Day 2 – Dubrovnik (see my Dubrovnik travel guide here)
Day 3 – Kotor
Day 4 – Lovcen & Kotor
Day 5 – Durmitor National Park
Day 6 – Durmitor National Park
Day 7 – Tara River Canyon & Biogradsko Jezero
Day 8 – Prokletije National Park
Day 9 – Lake Skadar
Day 10 – Travel Home
What To See & Do:
Kotor
The ancient walled city of Kotor is by far the most visited tourist destination in Montenegro, and for good reason. Not only is it over 2000 years old and steeped in history, but it is in the most incredible setting – nestled under into the towering mountains surrounding the bay of Kotor. Here are five things you need to do when you visit:
Take a walking tour of the old town. Using a local guide will allow you to learn more about the rich history of the area, while exploring the cobbled streets, narrow alleyways, small squares and discovering ornate cathedrals and churches.
Hop on a boat. The beauty of the Bay of Kotor needs to be seen from the water! Make sure you choose a boat tour which stops off at Perast, Our Lady of the Rocks and gives you time for a swim.
Climb the city walls. If there is one thing you need to do in Kotor, this is it. Challenge yourself and take on the steep climb up the 1350 steps of the city walls to St John's Fortress. From here you get the best view of the Old Town and the surrounding bay. 
Cuddle all the cats. Kotor is known for its abundance of street cats, and as a result you can find a cat museum, cat square and even cat themed shops. Be sure to stop off and give one a stroke!
Eat ice cream. I have to mention my favourite ice cream shop in Kotor, Moritz Eis. It has the most delicious flavours, many of which are vegan friendly. On a hot day, they have refreshing sorbets with my favourite being orange and ginger. Yum!
Insider tip: If you can, check the cruise ship schedule and try to explore Kotor old town on a day when there isn't one in port. It will be a much more peaceful experience.
Lovcen National Park
Just behind Kotor, located in the rocky Dinara Alps is Lovcen National Park. It is slightly smaller than other national parks in the country, and is best known for the famous Mausoleum of Njegos – the resting place of former Montenegrin ruler Petar II Petrovic Njegos. You can simply drive up to the Mausoleum if you're short on time, but if you're feeling active then I recommend taking a hike up from a nearby village following this trail. The views from the top are absolutely incredible, with miles of rugged mountains in all directions.
Insider tip: If you have more time another popular way to explore the region is on an ATV tour, or if you're feeling active there's a whole network of hiking trails woven across Lovcen.
Durmitor National Park
If you're a mountain lover you need to visit Durmitor. It is a protected UNESCO World Heritage site and home to some of the most rugged and untouched mountains I have ever seen. To give you an idea of how undiscovered this region is – it receives 130,000 visitors a year compared to the 15.8 million who travel to the Lake District!
Durmitor National Park is heaven for hikers, with numerous trails through valleys, around lakes and up to soaring peaks. Add these to your hit list:
Bobotov Kuk. The highest peak in Durmitor.
Sljeme Peak. The third highest peak in Durmitor.
Black Lake & Snake Lake Loop. An easy walk past beautiful lakes with wild swimming spots.
Skrka Lakes Valley. A hike to the remote Skrka lakes in the depths of the mountains.
Prutas Peak. Located on the Durmitor scenic drive, a shorter hike with epic views.
There are numerous interactive hiking trails listed on the AllTrails app. You can also head to the tourism information centre in Zabljak and ask for a map. For the more challenging routes (i.e. the highest peaks) I would recommend using a local guide like Vera. If hiking isn't your thing, then I recommend either booking onto an ATV tour or driving along The Durmitor Ring – an 85km circular drive which showcases some of the national parks stunning scenery. I have to say though – the best views are definitely on the hikes!
Insider tip: Food options are pretty limited in the Montenegro mountains, especially for vegetarians and vegans. However, the restaurant Lupo D'Argento in Zabljak has amazing vegan pizza!
Tara River Canyon
Tara Canyon is located into Durmitor National Park, but it deserves a mention all of its own. At 1300m deep and 82km long, it is the longest canyon in Europe and the second longest in the world. If you're short on time and just passing through then you can simply drive to the Durdevica Tara Bridge and take in the view. This is also a great location to hop on a zip line over the canyon itself! However, the most famous activity in the Tara Canyon is rafting. You can join single day or multi-day adventures down the river, where you pass by steep rock faces, sandy beaches and deep caves. Epic!
Biogradsko Gora National Park
Biogradska Gora is the smallest national park in Montenegro, located within the Bjelasica mountains and is best known for its virgin forest, one of only three virgin forests remaining in Europe. It is home to a series of picturesque lakes, the most popular being the emerald green Biogradsko Jezero. I recommend taking a walk around the lake, hopping on a rowing boat and having a swim in its refreshing waters. The national park authorities are in the process of developing a more extensive network of hiking and biking trails in the region, but for now there are a handful of beautiful routes you can explore. If you have time, it is worth visiting the lesser known lakes of the park including Sisko, Ursulovacko and Pesica.
Prokletije National Park
Established in 2009, Prokletije National Park is the fifth and newest national park in Montenegro. Located on the southern border of the country, these mountains extend into neighbouring Albania and Kosovo. Due to their remote nature, you will see very few people hiking here. In fact I would go as far as saying these are some of the most wild and undiscovered mountains I have experienced in Europe.
Prokletije is home to the most dramatic scenery in Montenegro, soaring peaks, jagged cliffs, narrow gorges and untouched valleys. The best way to explore is through hiking. The most famous route is the strenuous Volušnica – Taljanka – Popadija trail which takes in the most incredible views in the park. Most other trails are lesser known and harder to navigate due to infrequent signage, so I would recommend hiring a guide. If the clouds are low, the valleys are full of sights to see including Lake Hrid, Kusije waterfall, Grlje waterfall, Ali-pasha springs and Oko skakavice springs. 
Insider tip: If you're driving towards the coast, Podgorica or Lake Skadar from Prokletije then pass through Albania on the SH20 scenic highway. It gives you a little taste of this beautiful country and there's plenty of roadside locations to stop off and explore.
Lake Skadar National Park
Lake Skadar is a vast freshwater lake which straddles the border of Montenegro and Albania and is surrounded by mountains. It is well worth visiting to experience its incredible biodiversity and unique landscapes which provide an essential habitat for birds, of which there is an abundance. There are numerous ways to explore the lake, but here are my personal favourites:
Go on a hike. There are several hikes in the mountains surrounding Lake Skadar, a popular one is the Walnut Valley trail to a waterfall and spring where you can have a swim. If you can only do one hike though, I recommend 

this one

 to a little known viewpoint over the lake. 
Take a boat ride. Make sure you see Lake Skadar from the water! There are a whole host of different boat trips to choose from including bird watching tours, island visits, or more relaxed cruises which spend time at remote lakeside beaches only accessible by boat. 
Visit a viewpoint. The most famous view of the iconic Lake Skadar horseshoe bend is from Pavlova Strana viewpoint which you can easily drive right up to.
Whether its sandy beaches or soaring mountains you're searching for, Montenegro really does have something for everyone. If you're looking to incorporate this beautiful country into a multi-destination adventure then check out my Slovenia, Croatia and Montenegro road trip itinerary.
Safe travels,
Zanna x
Did you find this post helpful? Save it to your travel pinterest board.
Hover on image, pin and save this blog post for later…