As you hopefully know by now, California is one of my favourite places in the world and the ultimate road trip destination! This was my sixth visit in the past two years and my fourth road trip in this incredible state. There are not many places I can go back to again and again, but California is so large and diverse that you can have new experiences every time you visit!
This road trip in particular, focuses on the far north of California; exploring the areas of Shasta Cascade, the Redwood Coast and Mendocino County. These are some of the most underrated and untouched areas in the state meaning you get to go off the beaten track, avoid the crowds and see raw natural beauty. My idea of heaven!
Itinerary Overview:
Day 1: Arrival Into California
Day 2: Lassen Volcanic National Park
Day 3: Burney Falls & Castle Lake
Day 4: Mount Shasta
Day 5: Redding & The Surrounding Area
Day 6: Avenue of The Giants
Day 7: The Lost Coast
Day 8: Highway One & San Fran
Day 9: Hometime!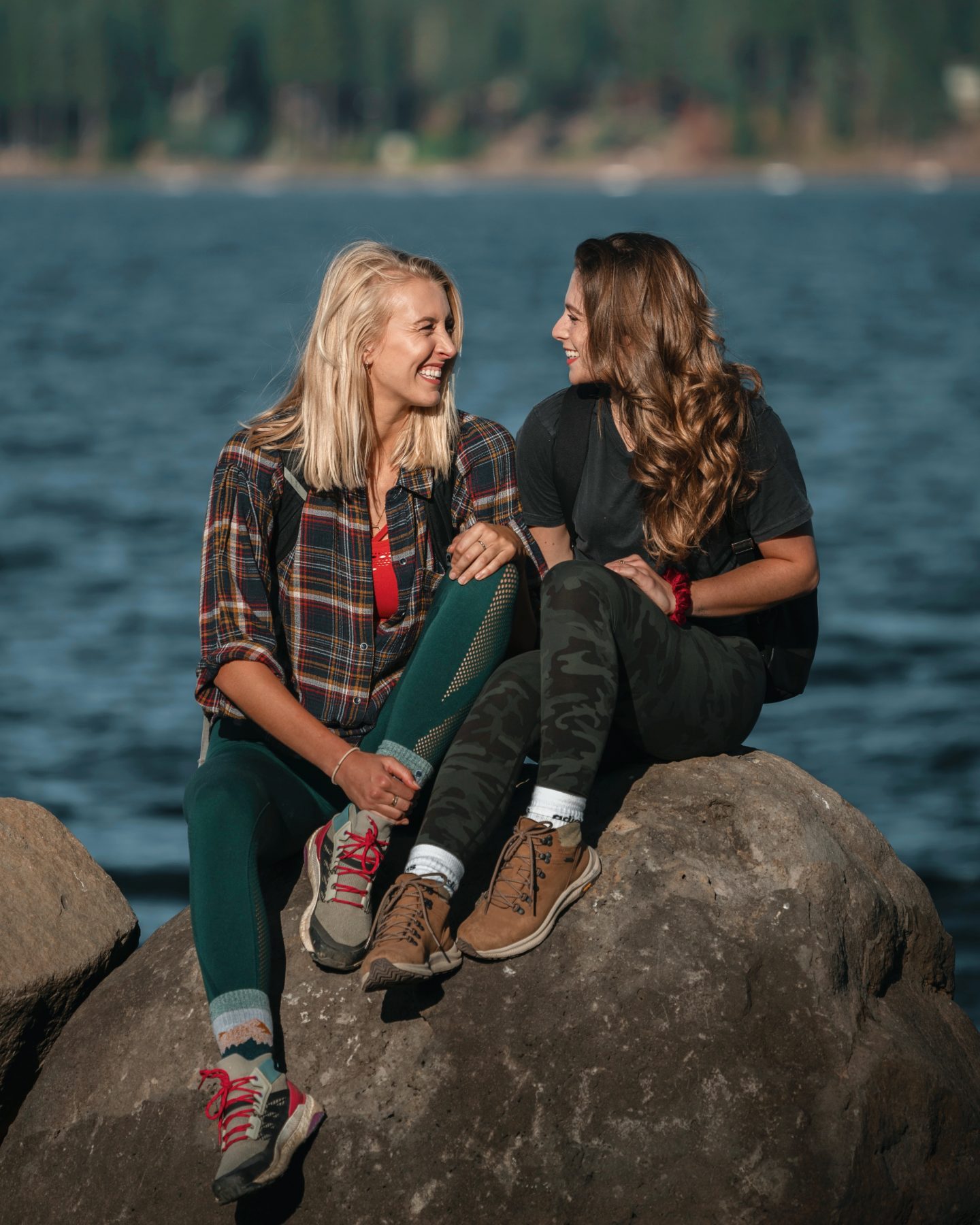 Day 1: Arrival Into California
Todays the day, let the adventure begin! Catch a flight into California and get a domestic flight to Sacramento. This is a great city to set off from, and into Northern California.
I flew with Air New Zealand through their #DreamBiggerFlyBetter partnership with Visit California. Air NZ won the ATM Eco Airline of the Year award in 2019. I was lucky enough to fly Business Premier which meant I enjoyed a lie-flat bed with memory foam mattress and duvet (heaven!), a three-course silver service menu (including vegan doughnuts and the impossible burger!) and a speedy in-flight wifi service (I was ridiculously productive!). As a result, I arrived into LAX feeling refreshed, rested and energised for my road trip. Discover a better way to fly to Los Angeles – Air New Zealand flies daily from London Heathrow to LA. Return flights start from £363 in Economy, £831 in Premium Economy and £2,287 in Business Premier. For the most up to date fares please click here.
At Sacramento Airport pick up a rental car and start your drive north. I recommend putting Plumas Pines Resort into your SatNav as this will take you directly to the shores of Lake Almanor. From here you can stretch your legs using the numerous hiking trails in the area, if you're short on time (like we were) then I recommend strolling along the shoreline trail.
Once you've got your steps in you can head to Highlands Ranch Resort, grab some dinner at the restaurant and check into a cabin for the evening. We stayed in Nighthawk cabin which was absolutely dreamy. It had great views of the surrounding California countryside and rolling hills. The best bit though? The stars! The sky is so clear of light pollution that you can literally see the Milky Way with your bare eyes!
Note: Ask for a packed lunch to be made by the kitchen team for the next day, as they need advanced notice.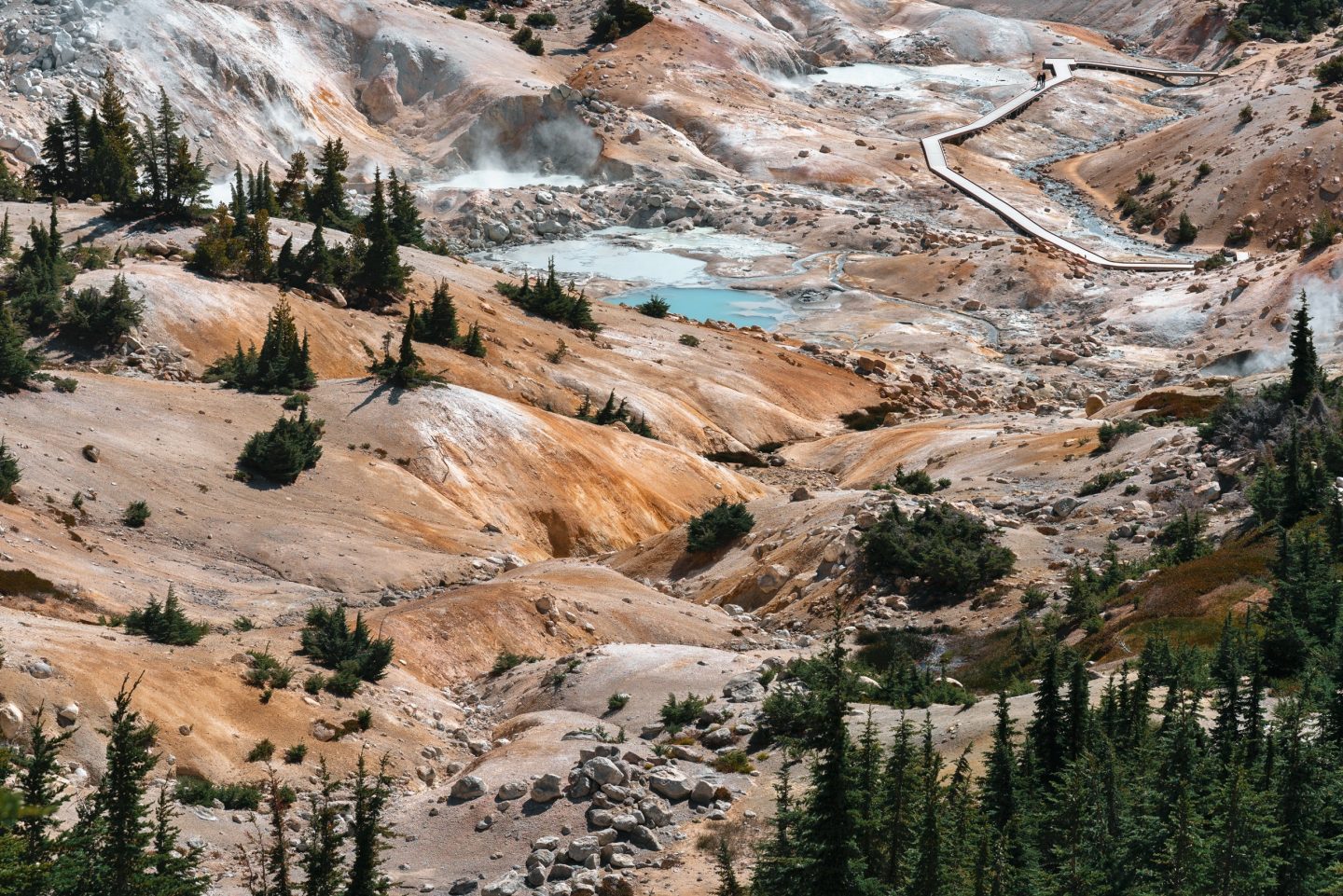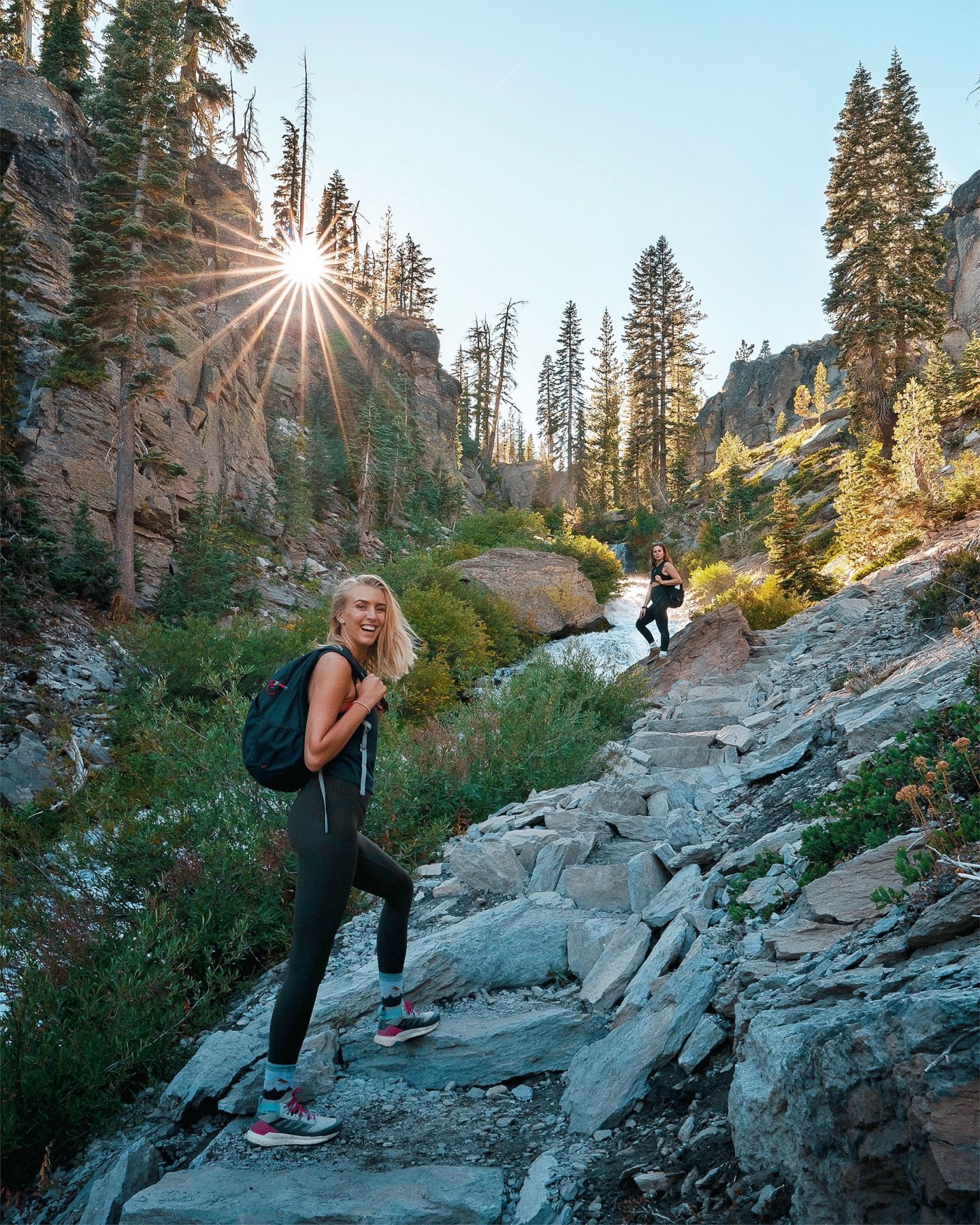 Day 2: Lassen Volcanic National Park
Today you have a full day exploring one of the least visited and most remote national parks in the whole of the USA. First things first, grab some brekkie at the hotel and a packed lunch to go.
Drive to Lassen Volcanic National Park and enter via the south entrance. Stop off at Kohm-Yah-Mah-Nee Visitor centre, pick up a map of the park and refill any water bottles so you're ready to hike. Then drive North into the park and start exploring! There is so much to see and do here that you could easily spend a few days in the area. Here were a few personal highlights:
Spending a few hours with our guide Robin from Mount Shasta Guide. She is full of knowledge and passion for the local area and her enthusiasm is infectious!
Hiking to Bumpass Hell, an active volcanic area with bubbling boiling mud pools.
Hiking to the parks many lakes, we loved Terrace Lake and Shadow Lake.
Having a picnic lunch at Kings Creek Picnic Area.
Hiking to Kings Creek Falls
Watching sunset at Manzanita Lake.
If we had more time I would have loved to have hiked to the summit of Mount Lassen!
After a full day of adventuring head back to Highlands Ranch Resort, grab some dinner pack your backs and get ready for the next day!
Note: Ask for a packed lunch to be made by the kitchen team for the next day, as they need advanced notice.
Day 3: Burney Falls & Castle Lake
Today was one of my favourite days of the whole trip, brace yourself for some seriously beautiful sights!
Grab yourself some breakfast from the hotel, another packed lunch and then check out and hit the road. Drive North through Lassen Volcanic Park one last time, if you're feeling ambitious you can get up early and enjoy sunrise there.
Continue North, driving two hours to McArthur-Burney Falls Memorial State Park. This is home to the famous Burney Falls waterfall which stands at 129 feet high and flows at 100 million gallons of water a day! There are tonnes of trails you can take in the park including a section of the famous Pacific Crest Trail – just ask at the visitors centre for guidance. If you want to keep it short and sweet, you can simply follow the Burney Falls loop. Afterwards you can relax at the picnic area next to the falls and tuck into your packed lunch before you hit the road again.
Next stop? Castle Lake near Mount Shasta. Park your car, grab your hiking boots and hike up to nearby Heart Lake. It is a short and moderately strenuous hike which is super rewarding. You get incredible views over Castle Lake, Castle Crags and Mount Shasta. These views get even better if you take it one step further and hike up to Castle Peak. I highly recommend bringing your swimmers and going for a dip in Heart Lake, its a beautiful spot for a swim. You can then hike back down to Castle Lake to watch sunset beside the water, absorb the ambience, meditate, journal and just be present in this beautiful peaceful place.
Once the sun goes down drive on to Mount Shasta Resort and check into a traditional lakeside chalet for the evening.
Got more time?
You can always add in a stop at McCloud Falls between Burney Falls & Castle Lake. These falls have three tiers which you can observe within a few easy miles walk.
There is a longer 10 mile hike from Castle Lake which takes in Mount Bradley, offering the best views in the area.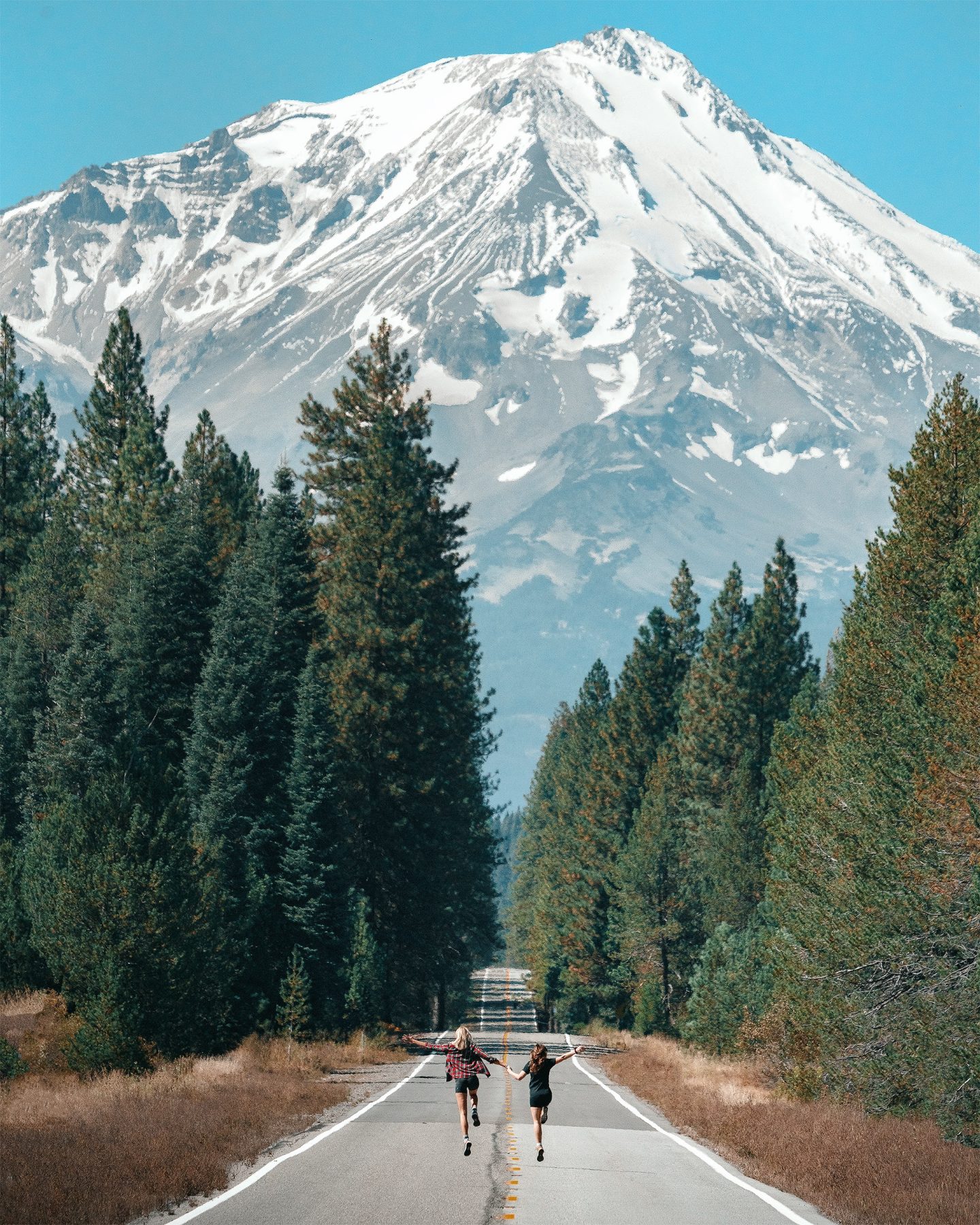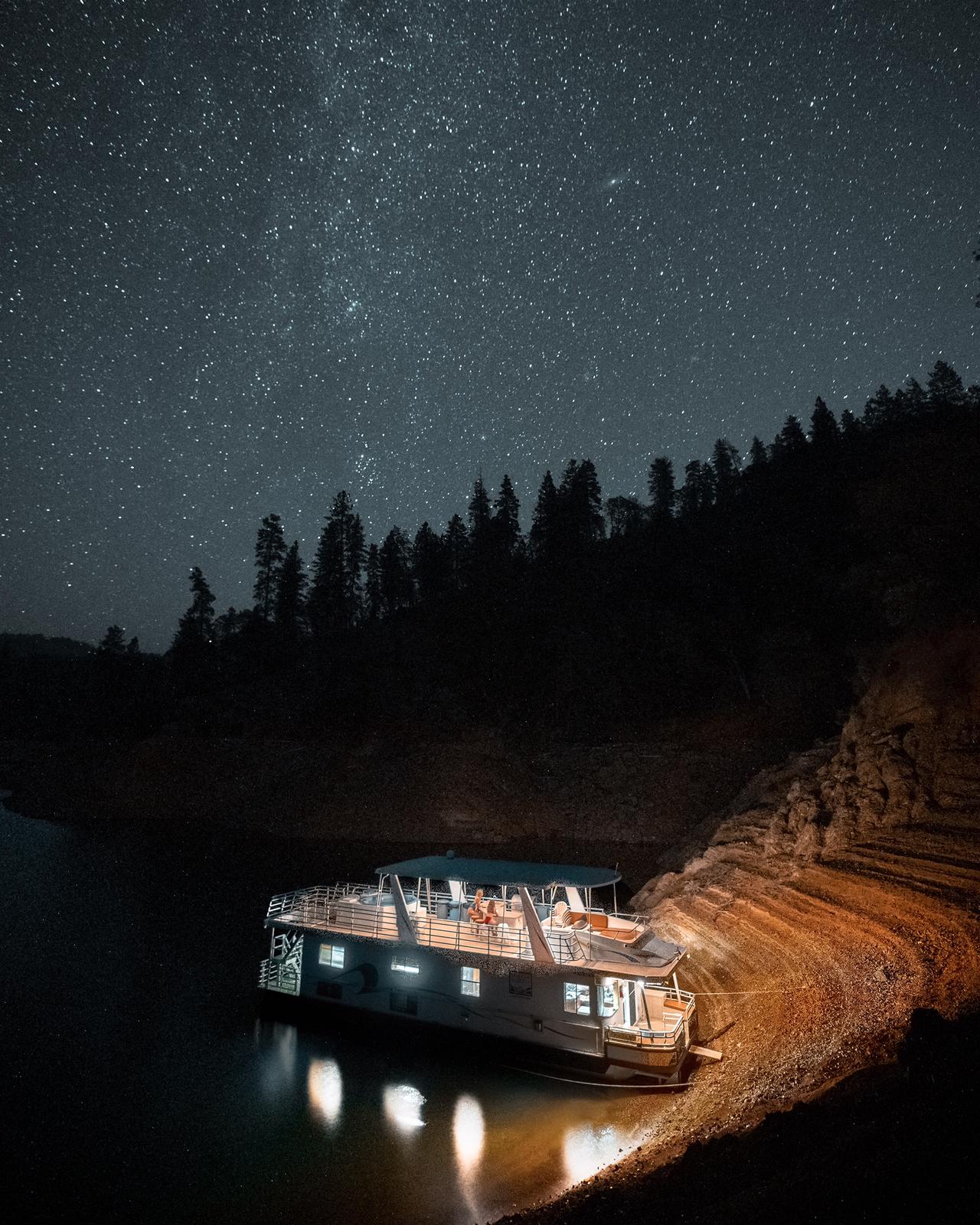 Day 4: Mount Shasta
Wake up, check out of the resort and head into the town of Mount Shasta for a quick brekkie. I recommend checking out Seven Suns Coffee which has vegan breakfast wraps and tonnes of syrup flavours. Once you're fuelled up, meet your guide Robin from Mount Shasta Guide and get cracking!
Robin is one of the few guides permitted by the US Forest service to work on Mount Shasta and will be your guide for a higher elevation hike up this iconic peak. She can take you up as high as you like, but I recommend going to the ridge and then walking along the mountain edge with amazing views over the surrounding area. On request Robin can also take you on a back country hike, meaning she goes off trail, which is such a fun and authentic experience – I highly recommend it!
After your morning of hiking, head to Berryvale Health Foods in Mount Shasta to stock up on groceries for dinner and breakfast, as you'll be cooking for yourself. Then drive on to Shasta Marina and check into a Shasta Marina House Boat for the evening. This is basically an epic floating house with modern amenities – bedrooms, bathrooms, a kitchen.. even a hot tub and a slide into the water – it's what dreams are made of! Once aboard, sail through the scenic waterways of Lake Shasta and go for a refreshing swim. Anchor to the side for the evening, cook up some dinner and watch sunset over the surrounding peaks. Why not sip margaritas in the hot tub and look up at the night sky? Again you'll be able to see the Milky Way with your bare eyes. It is a slice of heaven.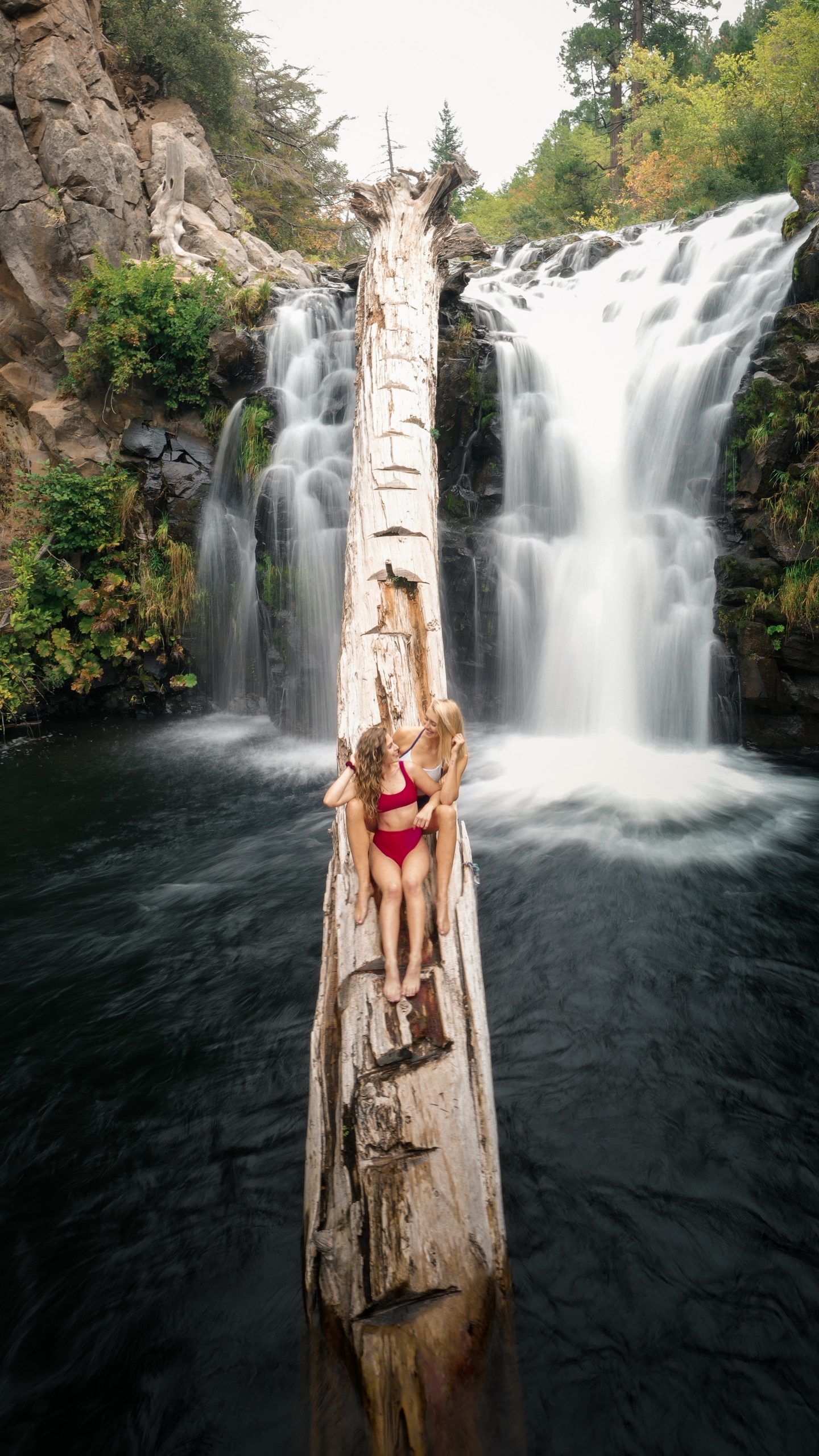 Day 5: Redding & The Surrounding Area
Wake up onboard your houseboat, sail back to the marina and check out. Hop back in your car and let the road trip continue! Today is super flexible and can be spent exploring the area surrounding the city of Redding. Here were some personal favourite highlights:
Lion Slide Falls (otherwise known as Hatchet Creek Falls). This was one of my favourite spots of the whole trip! It is a hidden waterfall with no set path to it, you have to make your own! It is totally worth the effort though and has huge logs you can jump off into the water. A real hidden gem that only the locals know about.
Hunt Hot Springs. A handful of hot springs hidden in the depths of Big Bend area. They are built into the wall of the river so keep your eyes peeled or you might miss them!
Roots Organic Juicery. If you're in need of some nutrients this is the perfect spot for a green juice or an acai bowl.
Redding. In the city of Redding itself, you have to walk across the iconic Sundial Bridge. It's a great spot for sunset as you can watch the locals catching fish in the river below.
Once you're all done with your escapades for the day, head to Sheraton Hotel Redding, check in, freshen up and head out for dinner at View 202. This restaurant has incredible views over the Sacramento river and a handful of vegan options.
Got more time? There is so much more to do in this area. Go hiking in Shasta Trinity National Forest, climb up to Castle Crags, visit Whiskeytown National Recreation Area or admire Potem Falls.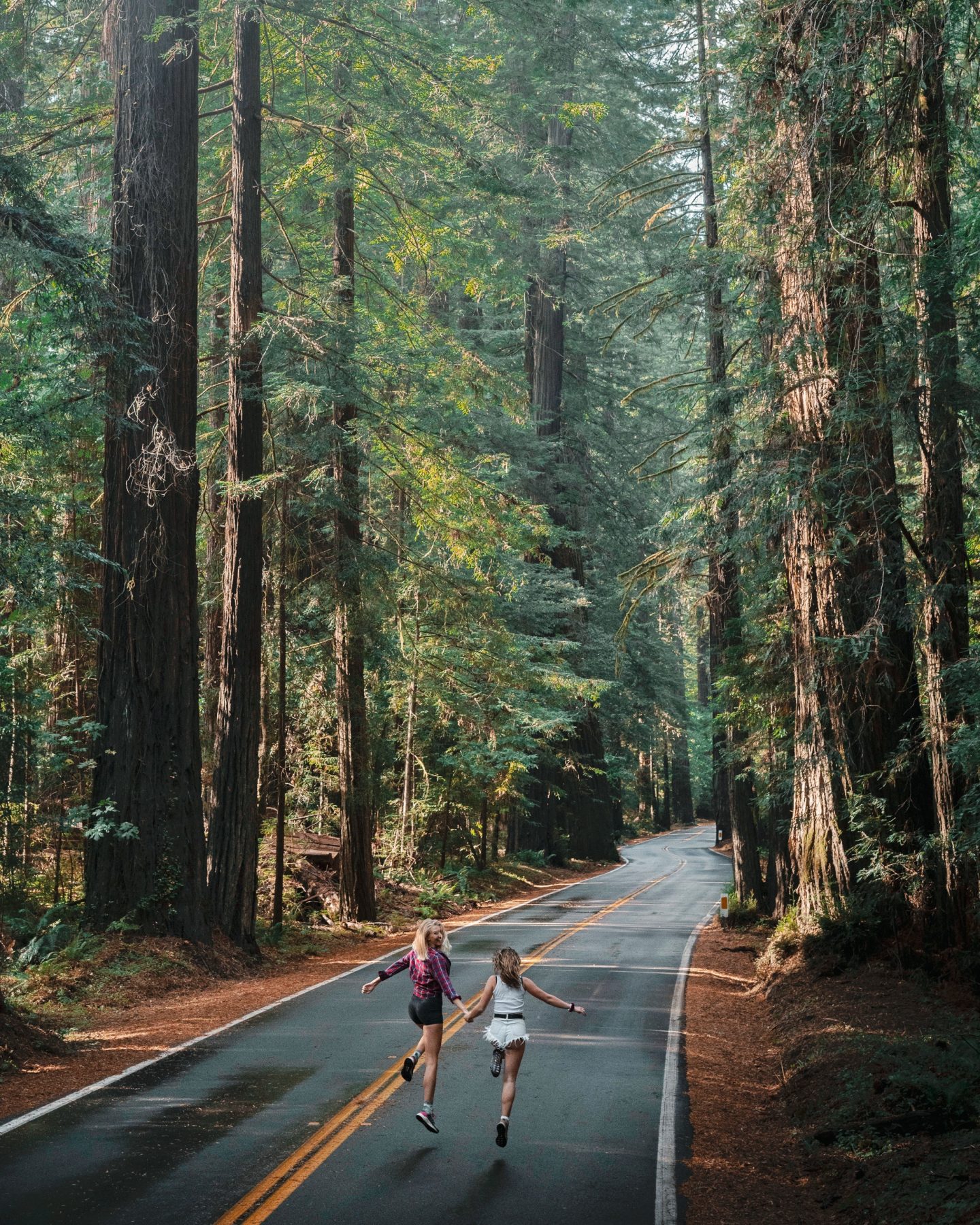 Day 6: Avenue of The Giants
It's time to leave Shasta Cascade and venture to new lands. Today you'll be experiencing the incredible redwood forests of California, let's go!
Grab breakfast at the hotel or pass through Roots Juicery again (can you tell I was a fan of that place?!). Then get on the road and set off on a 3.5 hour drive to the town of Fortuna where you can stop off for some lunch. I recommend Taco Loco, an authentic Mexican spot which serves up a leafy burrito bowl.
Once you're well fuelled you can start driving south towards the north entrance to the Avenue of the Giants. This is a 50km long stretch of road, considered perhaps the best forest drive in the world, which meanders among some of the most massive old growth redwoods on Earth. Redwood trees can grow to be 320 feet tall (that's 30 floors high!), 30 feet wide and reach 2,000 years old. That means they are some of the oldest and tallest trees on earth with some of them existing during the Roman Empire!
Walking amongst nature's giants is a truly humbling experience and one everyone should be able to have, these trees demand respect and really ground you in nature. On the avenue, you can stop off at numerous trail heads, memorial groves and picnic spots. Some personal favourite locations included: Founders Grove (which has a monstrous fallen tree), Shrine Tree (which you can drive through) and Rockefeller Forest (the single biggest strand of old-growth redwoods).
After a day in the woods, drive on to Benbow Historic Inn. A landmark hotel that has hosted celebrities, royals and presidents since the 1920's. It is a beautiful, rustic and luxurious retreat in the woods (and has ridiculously large bathrooms!). Settle in for a vegan-friendly dinner and some epic portion sizes.
Day 7: The Lost Coast
It's time to explore the wild northern California coastline! This area is often compared to the rugged Scottish coast and is surprisingly similar in nature.
Head out early today as there is a lot to see. Drive straight to Shelter Cove and grab some breakfast in town, I recommend a local spot called The Fish Tank. Then head up to the famous Black Sands Beach. This is a phenomenal spot – a 5km black sand beach with offshore reefs, dramatic landscapes and wild waves. It is a prime example of the California Lost Coast, the most natural, untouched and undeveloped shoreline in the whole of the continental USA. Take a stroll along the shore but whatever you do don't go in the water – it is very powerful and potentially dangerous.
Next stop: The Shady Dell. This is a beautiful 2.3 mile trail through the Candelabra Redwoods starting from Usal Campground. It is home to beautiful trees, grass strewn bluffs, wildflower fields and many benches where you can sit and watch for whales. Idyllic.
From here you can continue driving south, joining the iconic Highway One and winding down the rugged California coastline. Pull over on the side of the road at beautiful viewpoints and vistas whenever you fancy. Personal favourites include Westport Union Landing State Beach, 10 Mile Beach, Russian Gulch Bridge and Mendocino Headlands State Park.
Once you've had your fill of beautiful ocean views you can drive to Mendocino Grove and check-in for the evening. This is a gorgeous glamping spot with 60 safari-style tents, comfy beds, heated blankets, lanterns, hot showers and more. You can even request a campfire and s'mores kit to enjoy at sunset. I absolutely loved it!
After sunset you can walk (or drive!) to nearby Ravens Restaurant for dinner – a fully vegan, local and organic eatery that serves up delicious plant-based eats. I highly recommend the ravioli and homemade sushi. Both were divine.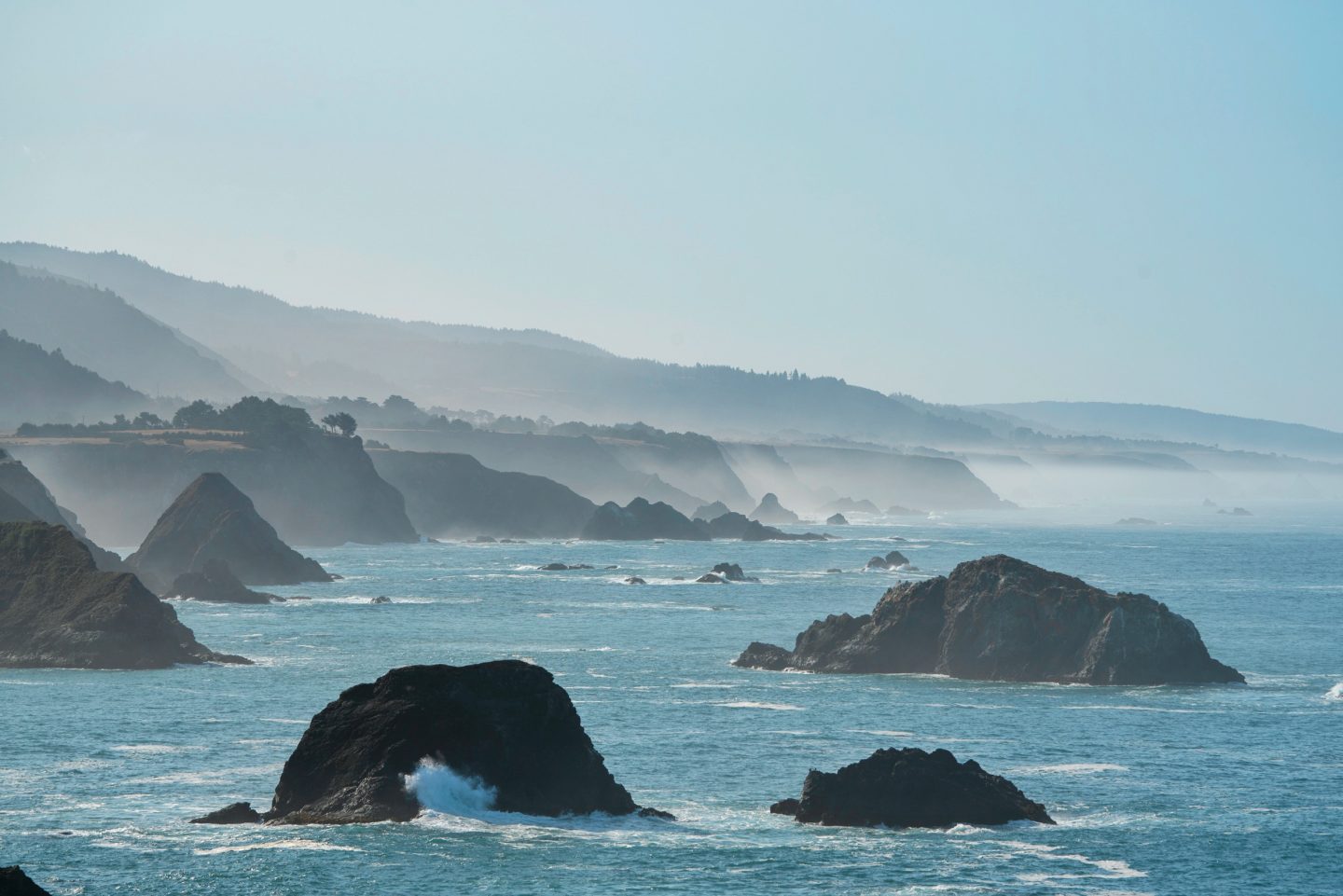 Day 8: Highway One
What better way to finish a California road trip than driving down the famous Highway One?! But before you do that, why not head back to Ravens Restaurant for breakfast. They do an awesome tempeh scramble and vegan waffles. Delicious!
Today is another super flexible one, you can drive down Highway One at your own pace and stop off wherever you fancy. Some personal favourite spots include:
Bowling Ball Beach
Pebble Beach at Sea Ranch
Salt Point State Park
Stump Cove
Sonoma Coast State Park
Bodega Bay (a great spot to see whales!)
Arched Rock Beach
There are honestly more beautiful spots to stop at than I can count, so take in as many as you can! Then continue your drive south and head towards Sausalito – a small city nestled in the Bay area with amazing views of San Francisco and the Golden Gate Bridge. Check into Cavallo Point Lodge, a luxury hotel set in former US Army officers base. It is super plush, lush and green and doesn't feel like you're in a city at all, the perfect indulgent spot to finish off your road trip. Plus it has access to great local hikes and hosts free yoga classes. Spot on.
For the best views of the Golden Gate Bridge at sunset I recommend driving over the bridge itself and turning right. Park up and hike down to Marshall's Beach which in my personal opinion, as someone who has visited San Fran four times now, is my favourite spot for sunset. It is just stunning! Afterwards you can enjoy a final dinner at Barrel House Tavern in Sausalito, which serves the Impossible Burger. Yum!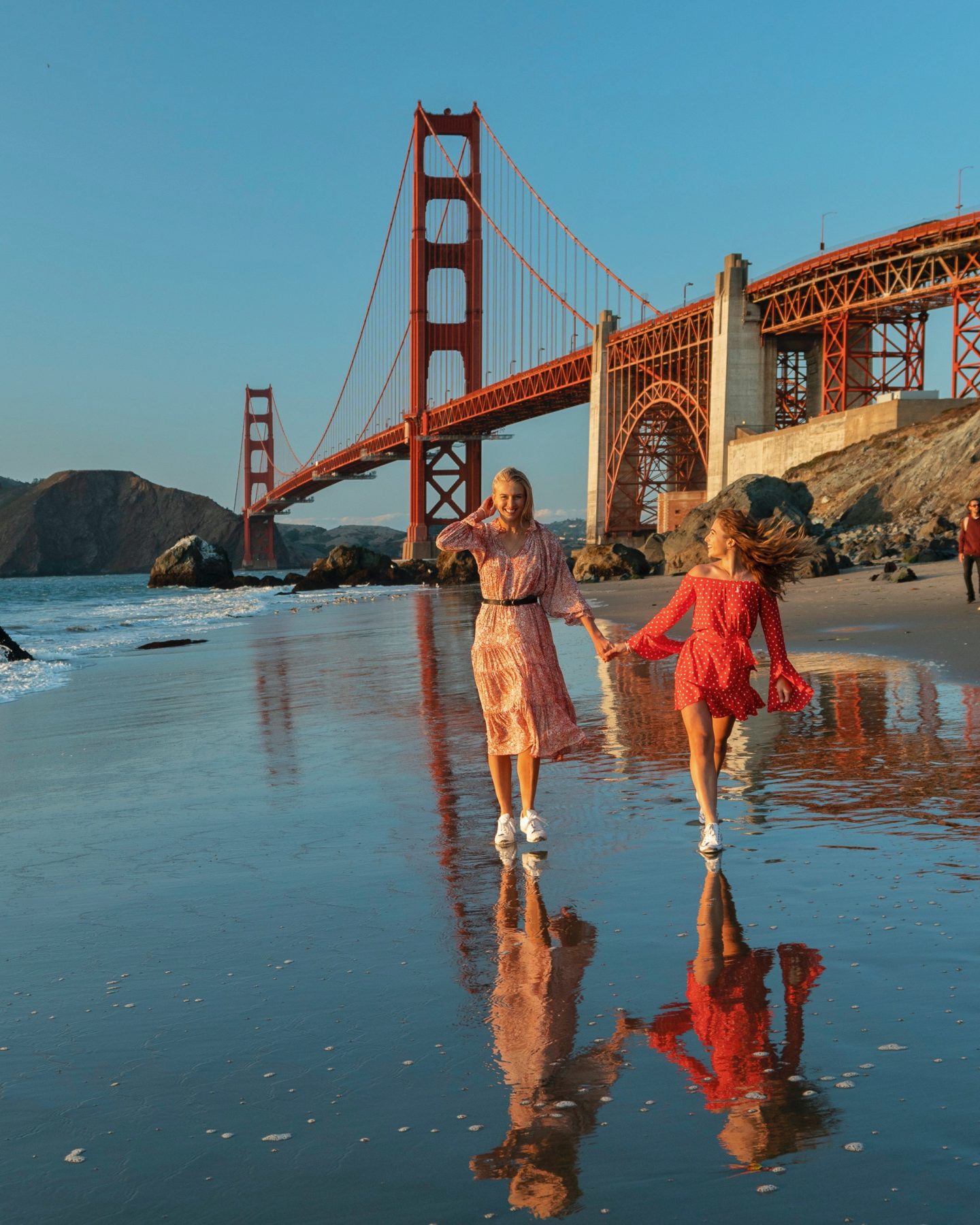 Day 9: Home Time!
Pack your bags, drive to the airport, return your car and head home with Air New Zealand! If you want to extend the trip then you can practically add an extra day to almost any spot on this itinerary. If I was to do it again I would spend more time at Lassen Volcanic Park, the area surrounding Mount Shasta and/or in San Francisco.
That's it! Another California trip bites the dust and what an epic one it was. California blew me away, yet again, with its stunning scenery and abundance of natural beauty. This road trip took in such diverse landscapes from snow-capped mountains to rugged coastlines and everything in between. Northern California truly is a hidden gem in the California crown and I can't recommend it enough. The perfect place to avoid the crowds while exploring this beautiful state.
Liked this blog post? Check out these:
California Road Trip 1: San Francisco to La via Yosemite
California Road Trip 2: Newport Beach to Joshua Tree
California Road Trip 3: Sonoma, Yosemite, Tuolumne and El Dorado
San Francisco Vegan Food Guide
My YouTube Channel: Which Has Multiple Vlogs From California!
If you use these guide then be sure to let me know by dropping me a message or tagging me in your posts!
Zanna xx
Disclaimer: I am a UK ambassador for Visit California.