California, one of my favourite places in the entire world and the ultimate road trip destination. This trip was my fifth visit in the past two years, which speaks volumes about how much I love it there. California is the third largest state in the USA and almost twice the size of the UK. It is so large and diverse, you can return over and over again, and continue to have new experiences every single time.
This road trip focuses more on Northern California and visiting areas which are a little off the beaten track, meaning you get to explore unique destinations all to yourself without the crowds. This itinerary is packed full of hidden gems and I hope you love uncovering them as much as I did!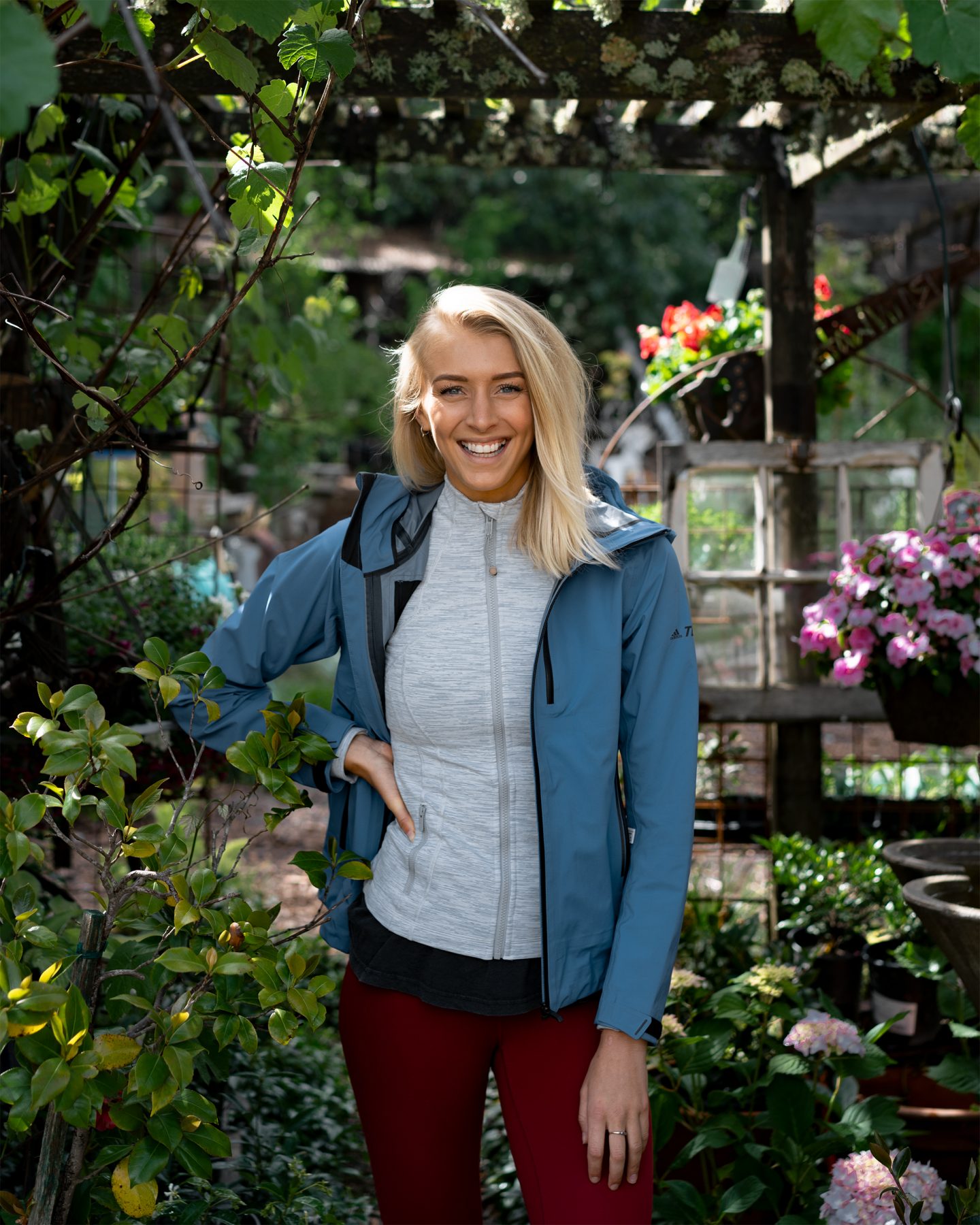 Day 1: Arrive Into San Francisco
Land into San Francisco and spend the remainder of your day exploring the key sights in this beautiful city. Ride an iconic tram, visit the historic Alcatraz, hike the steep hills, hire a GoCar. Wander through Golden Gate Park and seek out Fishermans Wharf.
Want more specific recommendations? Scroll to the bottom of this itinerary for tips from our return there at the end of the trip!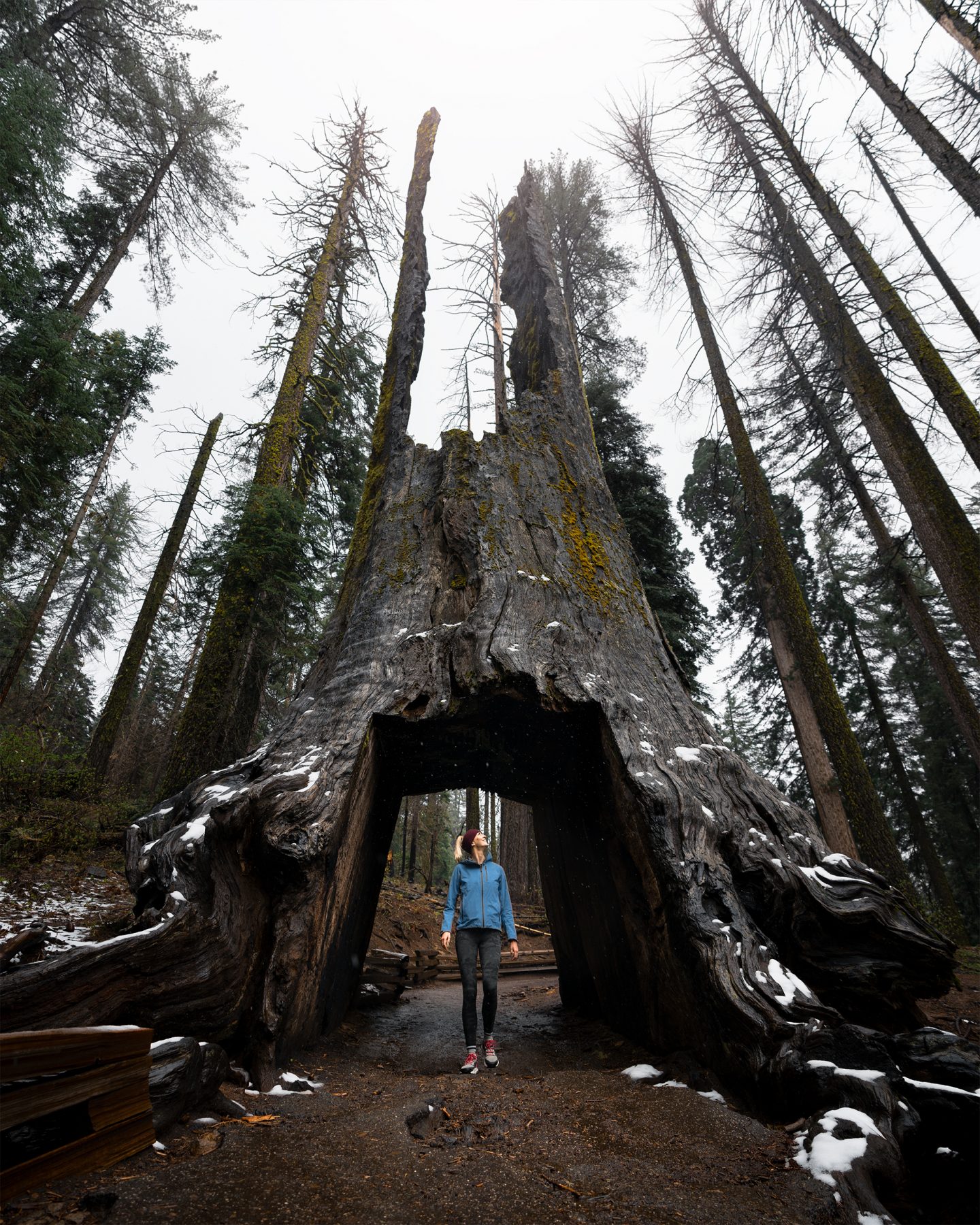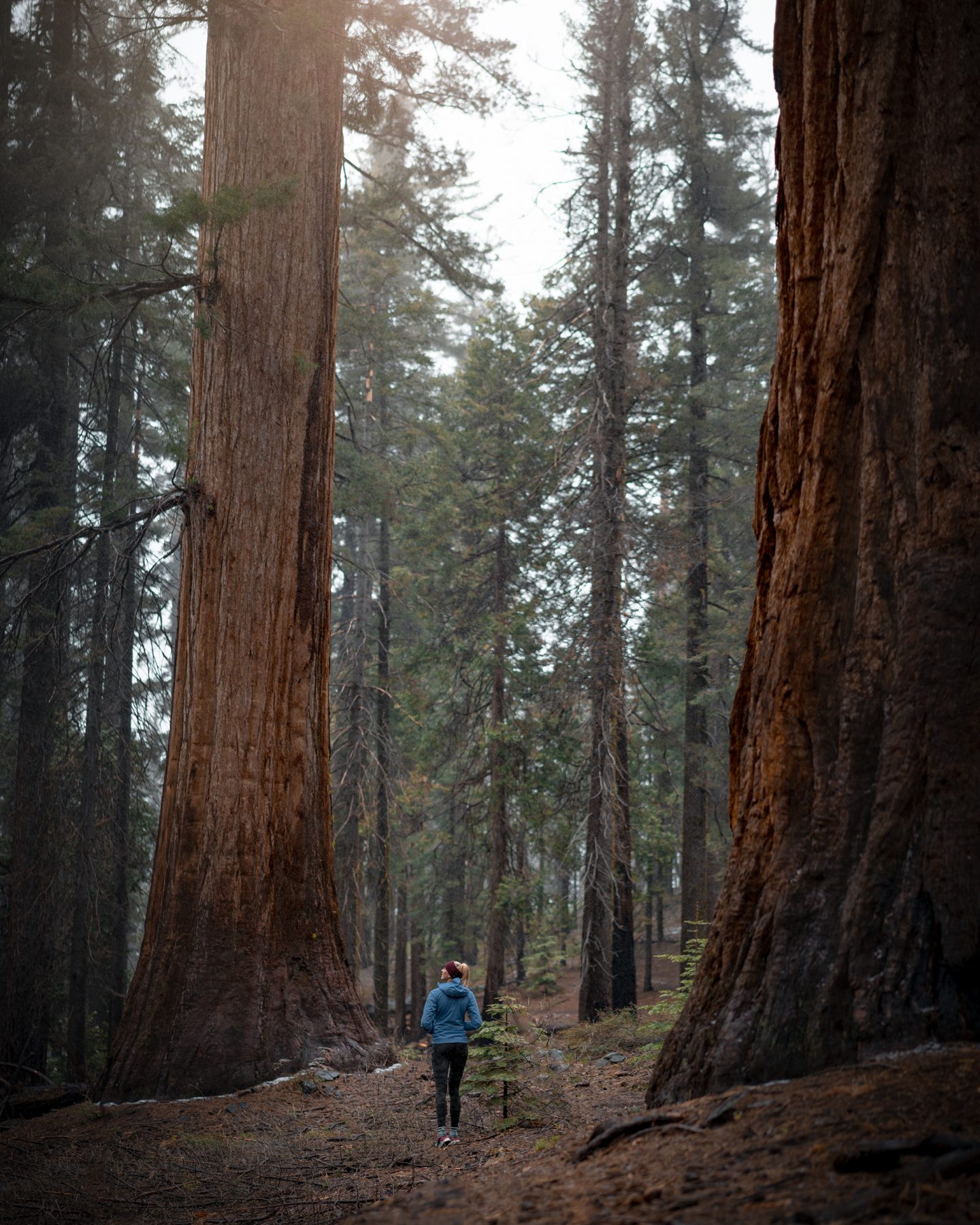 Day 2: San Francisco to Tuolumne County
Wake up in the morning, grab some breakfast from Bowl'd Acai and pick up your rental car – we used National. Then it is time for the road trip to begin!
Drive to Tuolumne Grove of Giant Sequoias in Yosemite National Park, Tuolumne County. It's about a 3-hour drive, but you can make some scenic stops along the way. Lake Don Pedro is a gorgeous lake surrounded by an abundance of wildflowers and Rim Of The World,a vista viewpoint overlooking rolling mountains and valleys.
Once you get to the grove, pop on your walking boots and hike down to see the beautiful Sequoia trees. It's about a 2 hour round hike including a moderate uphill climb so ensure you have water with you. These gigantic trees are thousands of years old and walking beside them is extremely humbling. I throughly enjoyed this grove in particular as it is much quieter than others throughout California. We had the trees to ourselves and saw stunning wild deer.
Drive back out of the park via Rush Creek Lodge – a popular dinner spot with beautiful sunset views. (get the cauliflower!) Then check into Groveland Hotel for the evening. This is the oldest hotel in the Yosemite area and is full of character, plus it has a seriously epic snack selection. Stock up on boosters for when you're hiking.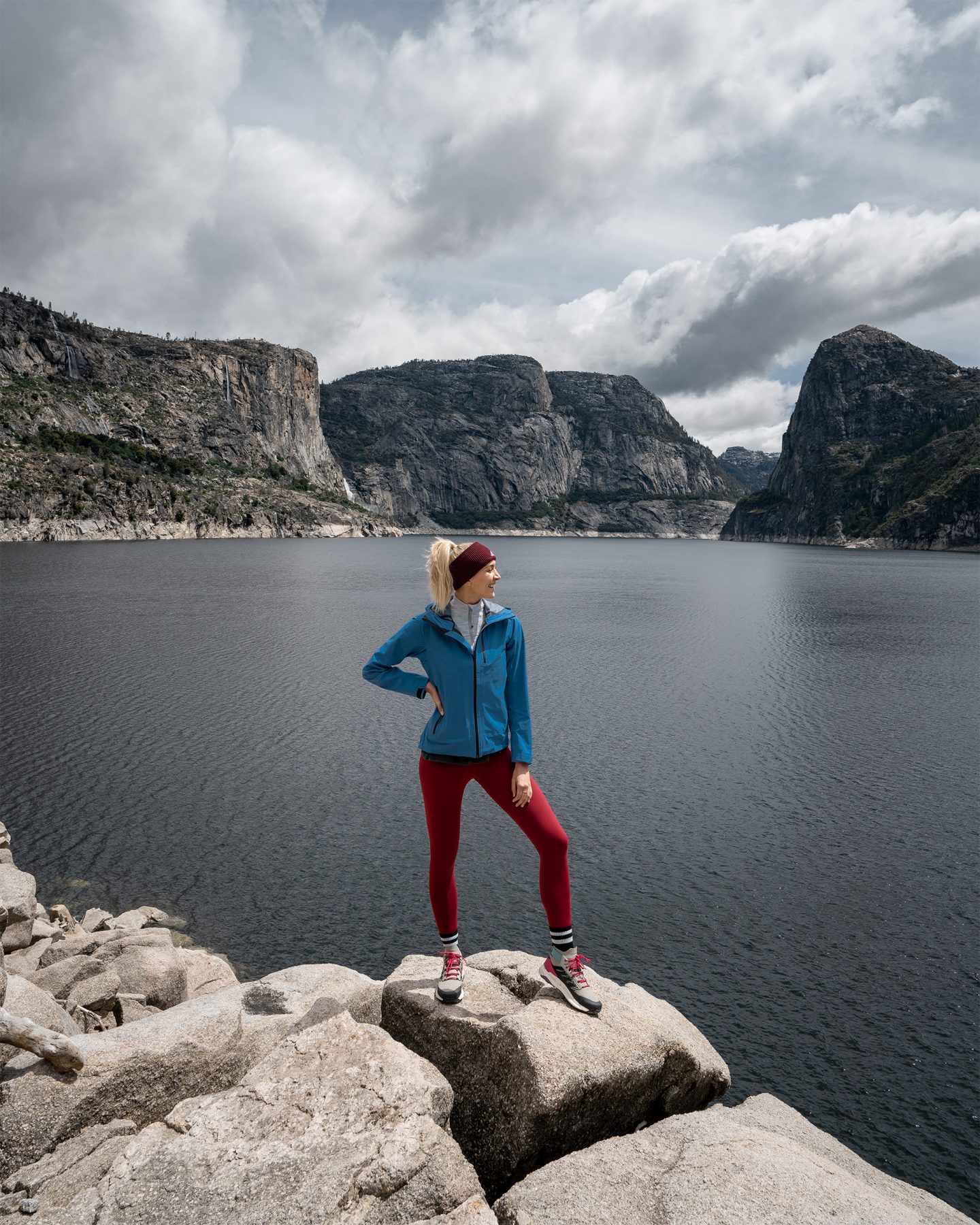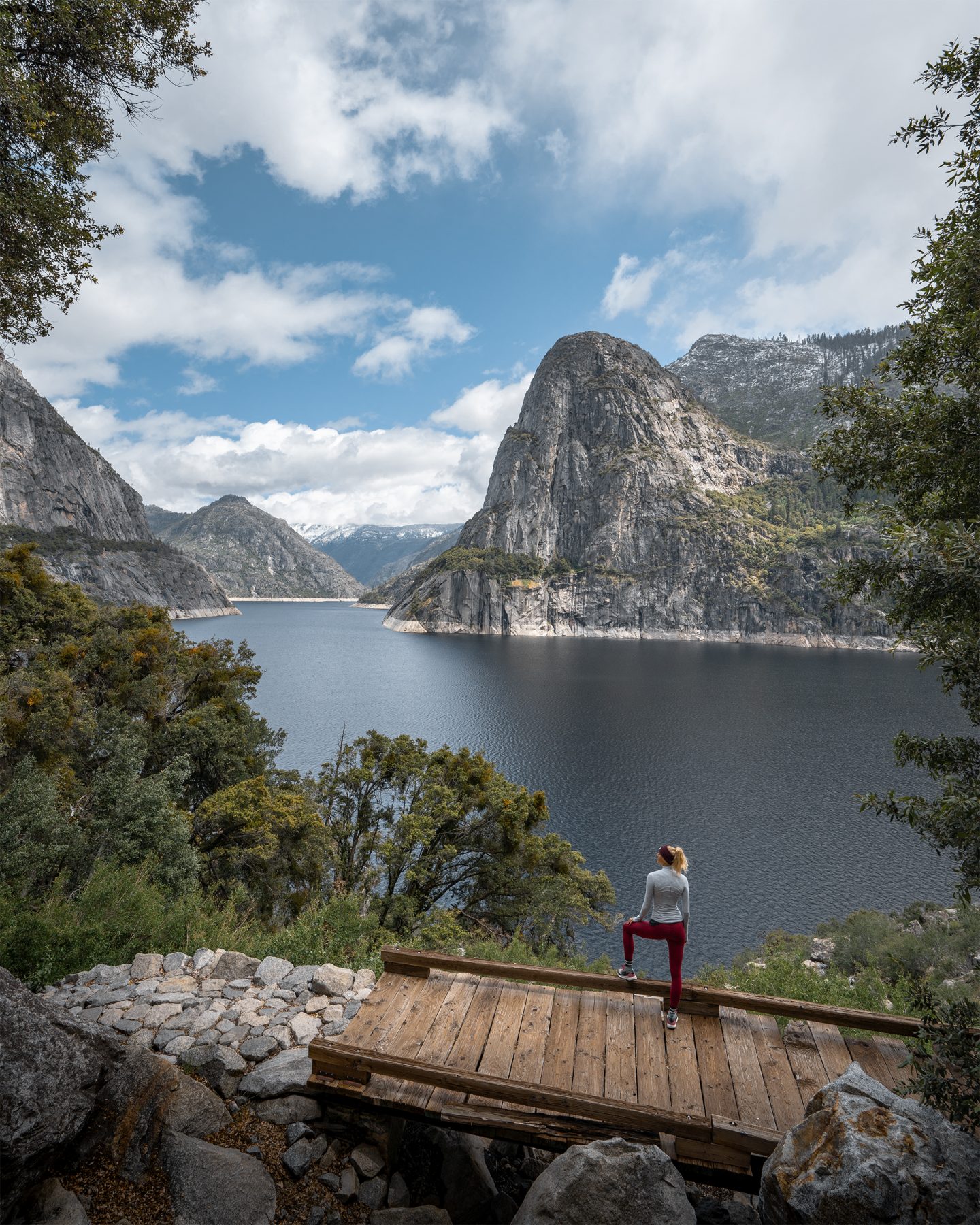 Day 3: Hetch Hetchy
Head down the road to Mountain Sage for breakfast, a historic 1867 homestead which has been turned into a coffee shop, gallery and retail store. It has seriously delicious brekkie options and a quirky but beautiful garden you can enjoy your morning coffee in.
Meet your guide from Echo Adventure Cooperative (a socially responsible and environmentally sustainable tour guide cooperative) and head out for a guided hike! We hiked around Hetch Hetchy, an absolute hidden treasure in Yosemite National Park. This reservoir is surrounded by stunning hiking trails, thundering waterfalls, abundant wildflower displays and mountainous landscapes. It was honestly one of the highlights of my trip and I cannot recommend it enough, it was so peaceful and untouched.
If you're a fan of sunset, like I am, I recommend driving along Sawmill Mountain Road to watch the sun go down over the valleys and mountains below. Then head to the Irondoor Saloon for dinner, the longest continuously running bar in California, which serves the Beyond Burger!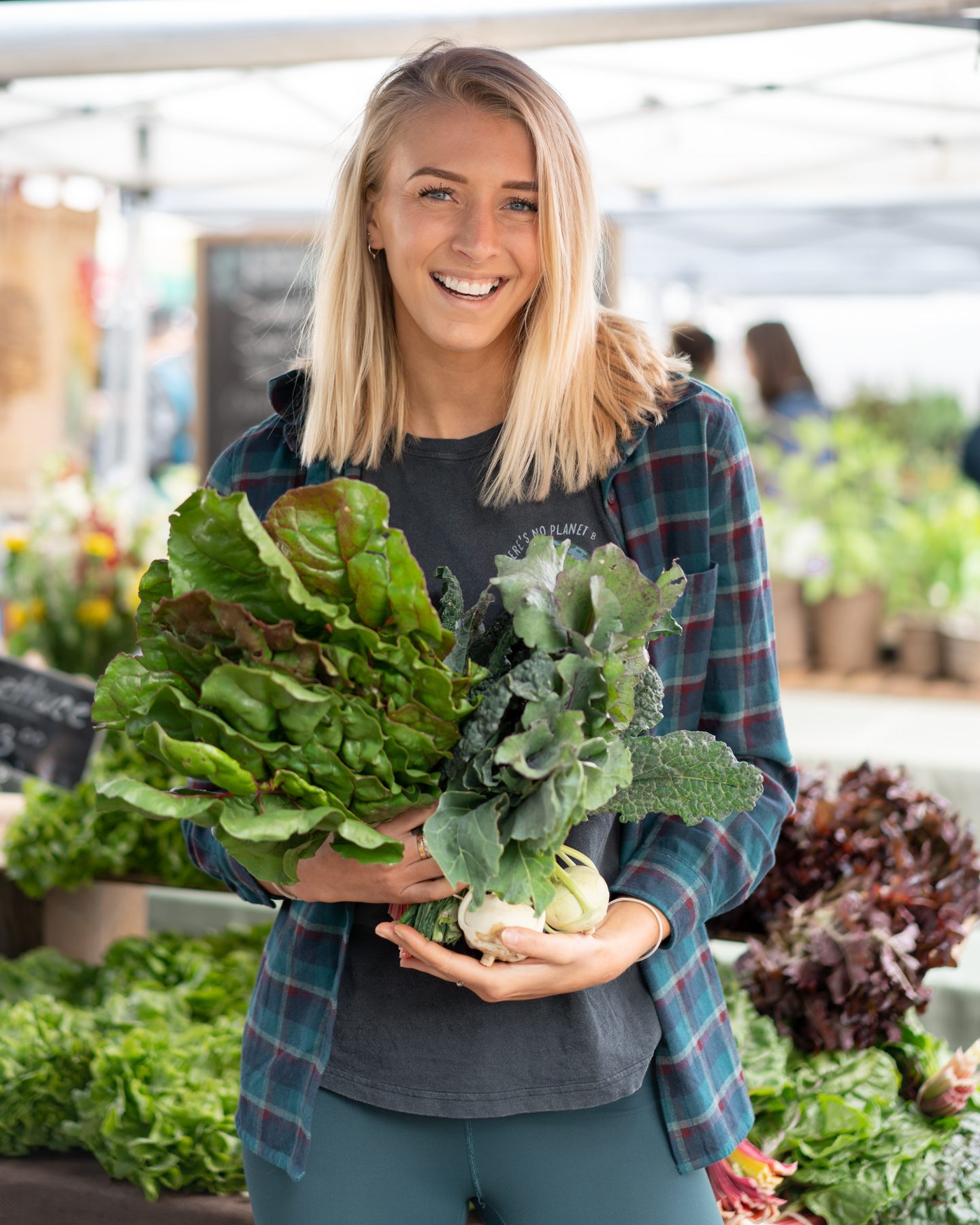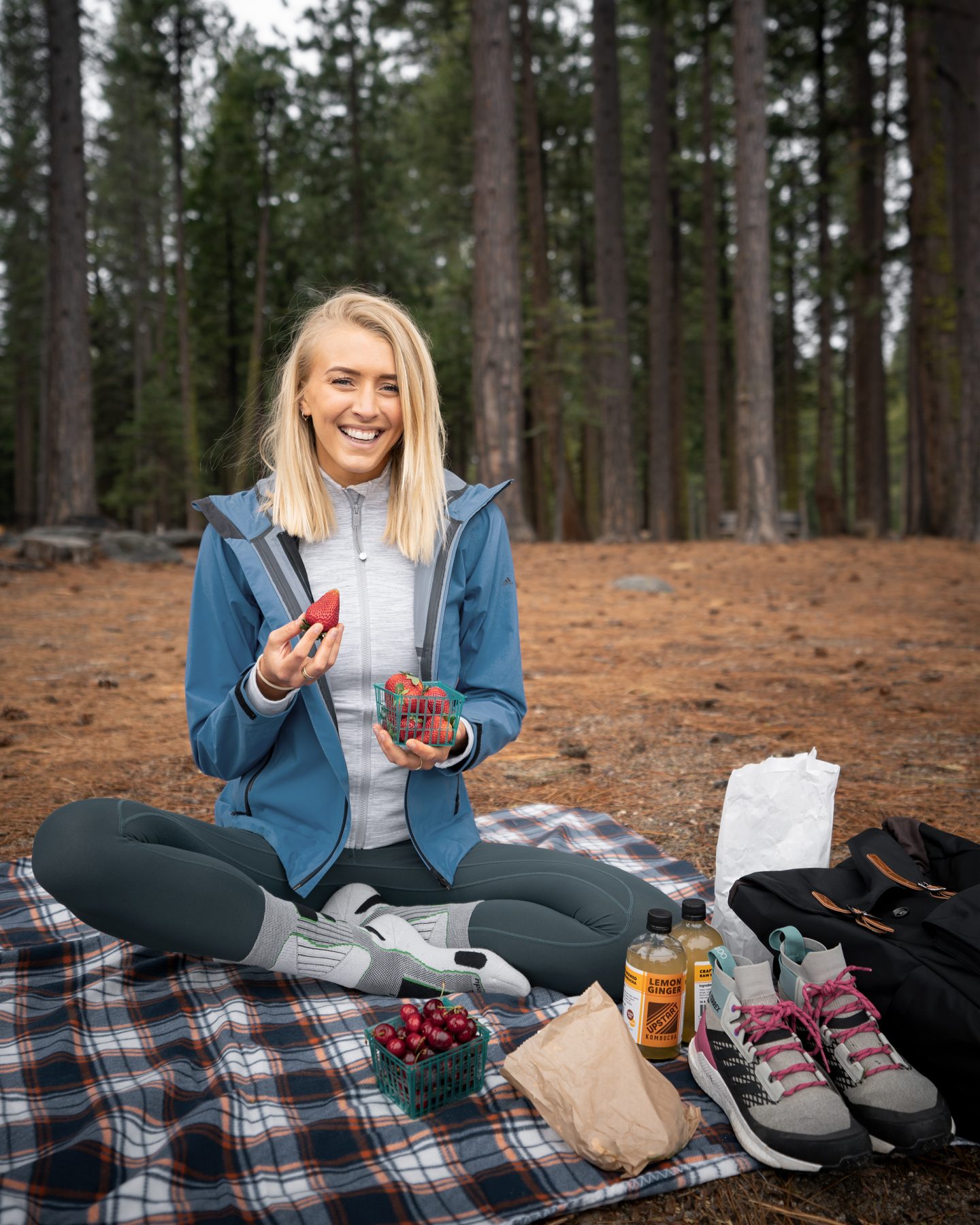 Day 4: Sonora & Pinecrest Lake
Pack your bags and check out of Groveland Hotel. Grab brekkie to go from Mountain Sage (trust me, you'll want to go back!) and then hit the road.
Drive to Sonora and park up in the traditional old town. Wander the streets of this quaint little town and head over to the local farmers market to stock up on supplies for a picnic. The market is full of local and organic produce, including the most delicious and juicy strawberries I have ever tasted! I also recommend stopping by at Eighty One Coffee for a matcha frappe and a sandwich to go.
Hop back in your car and drive up to Pinecrest Lake in the Sierra Nevada Mountains. You can enjoy your picnic lunch at any of the benches on the lakes shores and take in gorgeous views while you fuel up for a post-lunch hike! There is an accessible trail which goes around the edge of the lake and isn't to be missed, so get on your walking boots and go explore. The hike is fairly easy and takes around 1.5 to 2 hours total.
After your hike, drive to McCaffrey House Bed & Breakfast in Twain Harte and check in. This adorable and eco-friendly B&B was one of my personal favourite overnight spots on our trip, it was so homely and tucked away in a beautiful alcove of the forest.
Head out for dinner around the corner at CiBo Famiglia. This sustainability and community focused restaurant serves up ridiculously delicious Italian food including wood fired pizzas and homemade pastas – all made with locally sourced and hyper-seasonal ingredients. Carb heaven.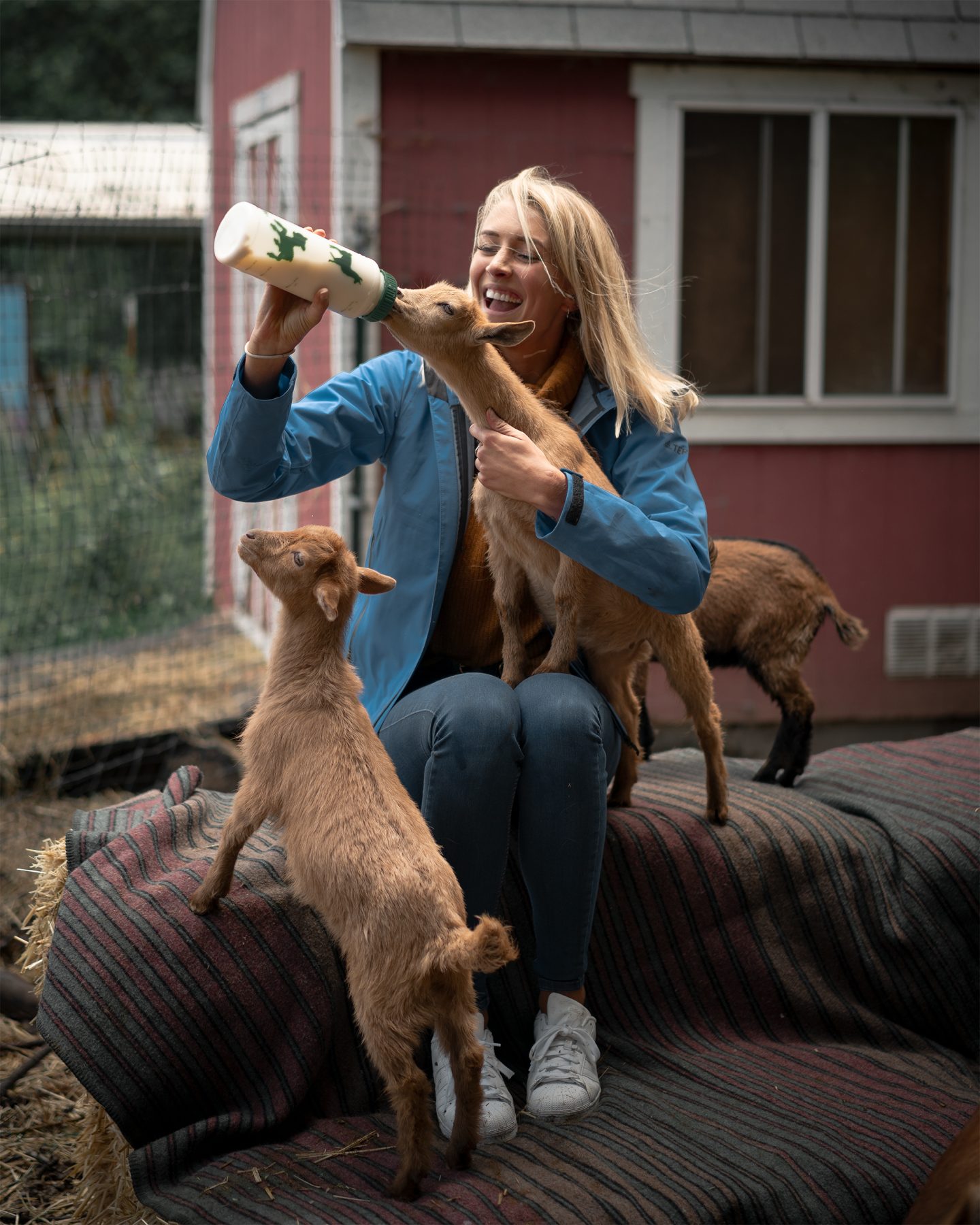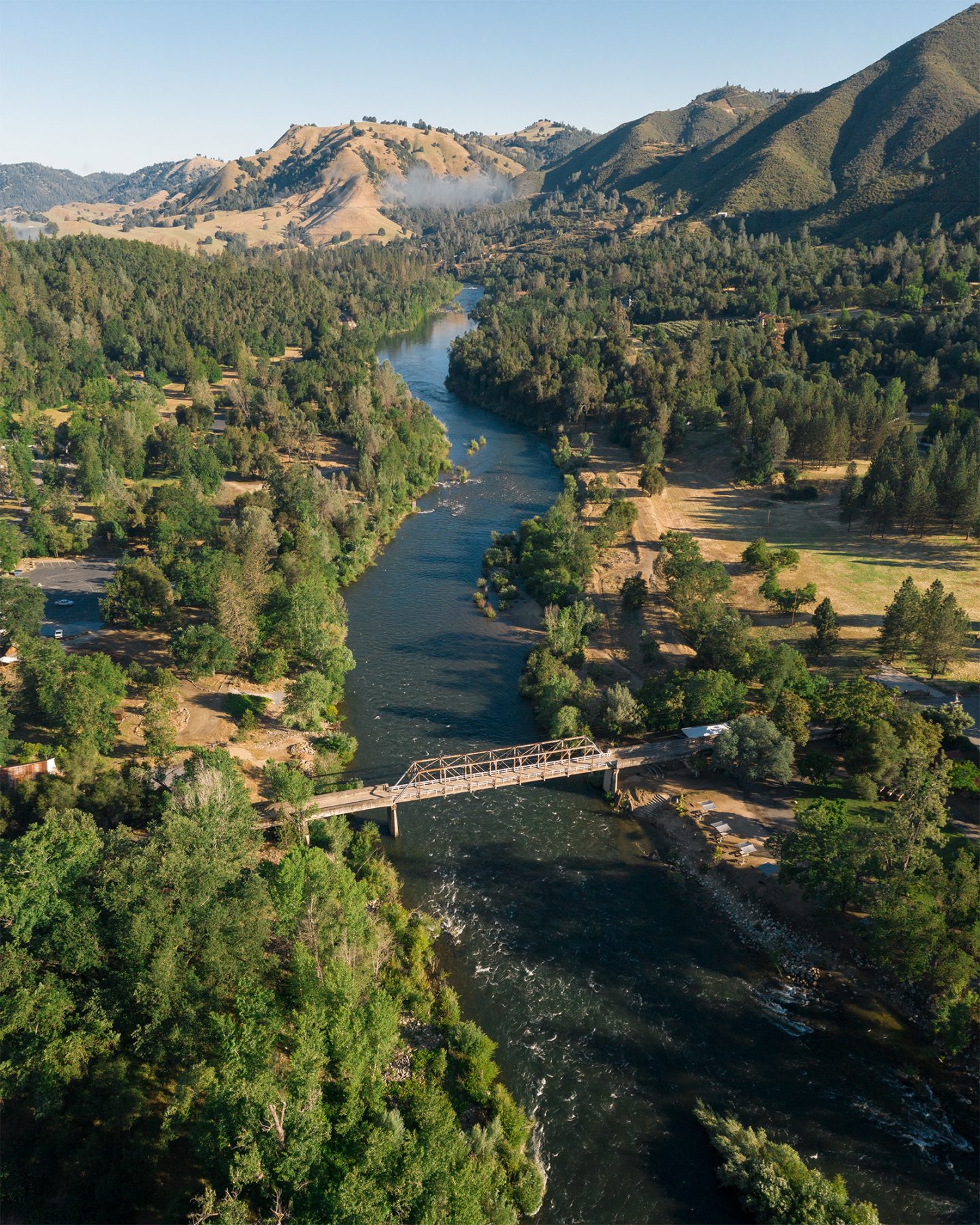 Day 5: Tuolomne to El Dorado
It is time to leave the beautiful Tuolumne county and enter into El Dorado. Pack your bags, have a delicious breakfast at the BnB and hit the road again. This time take the iconic Highway 49 otherwise known as the Gold Chain Highway. This is one seriously beautiful drive with charming mining towns along the route and panoramic views of the surrounding landscape. If you have time, make a stop at Columbia State Historic Park.
On arrival into the town of Coloma, El Dorado, head straight to Bee Love Farms for a guided tour of one of the oldest pioneer farms in California. This locally renowned spot produces heirloom organic greens, veggies, edible flowers and natural beauty products. It uses regenerative farming techniques and even has goats, pigs and chickens you can make friends with – my idea of heaven! After your tour, head to lunch at nearby Argonaut Farm to Fork Cafe, which uses products from Bee Love Farms. I recommend the vegan grilled cheese sandwich – it is divine!
In the afternoon there's a tonne of options in the local area. I visited 24 Carrot organic farm to learn all about their sustainable growing methods – El Dorado is well known for their agricultural techniques. They have an amazing farm shop if you have time to pop by! You can also explore Marshall Gold Discovery Park and Cronan Ranch Regional Trails Park. Both are great for exploring on foot.
Drive over to Bella Vista Bed and Breakfast in nearby Placerville and check-in. I recommend requesting the 100 years of Hollywood room. It has secured the title of the coolest room I have ever stayed in. It has a hidden door inside a bookcase – it doesn't get much more epic than that!!! Grab dinner at AJI restaurant, a Japanese spot with a sizeable selection of vegetarian and vegan options. I highly recommend the fried aubergine.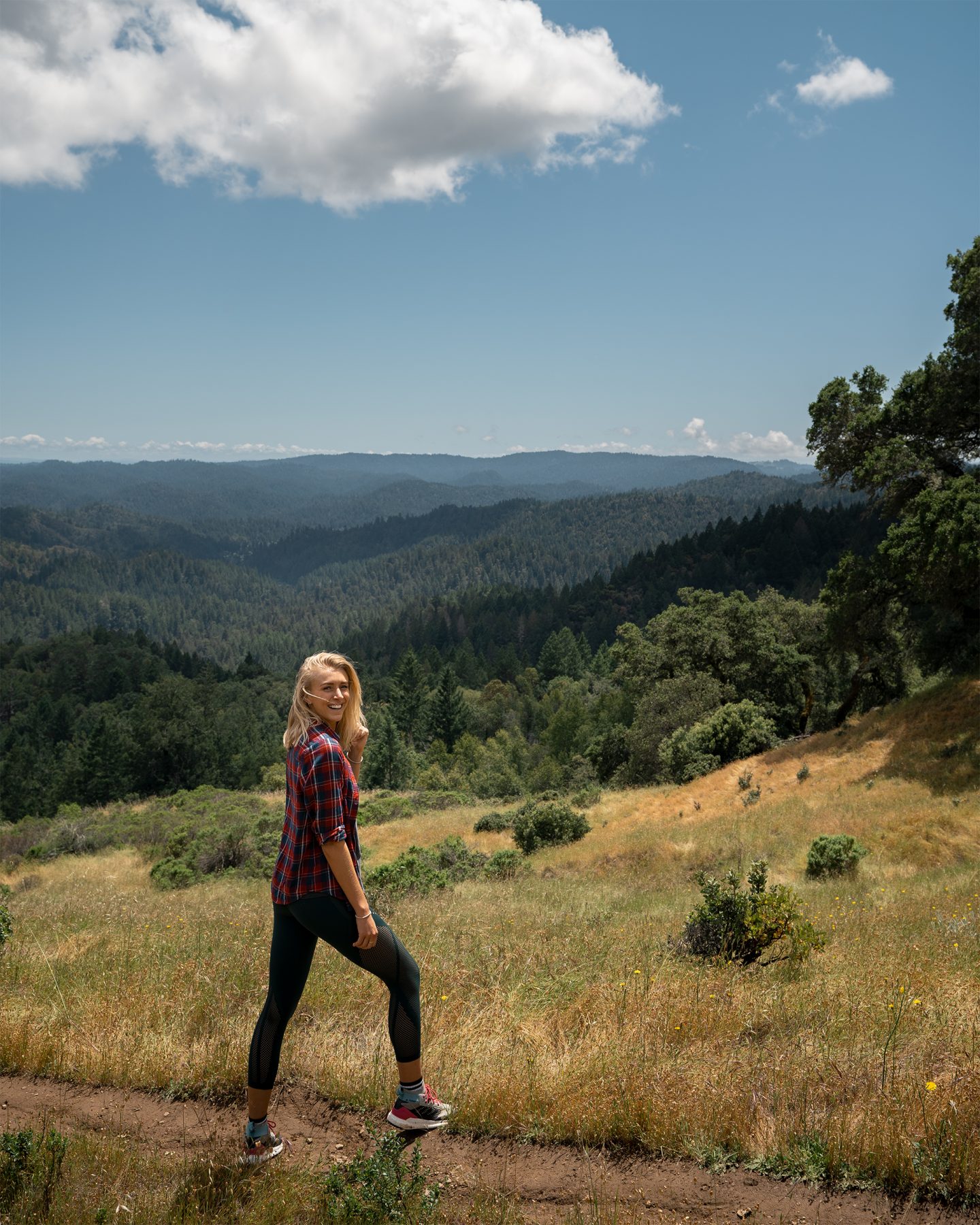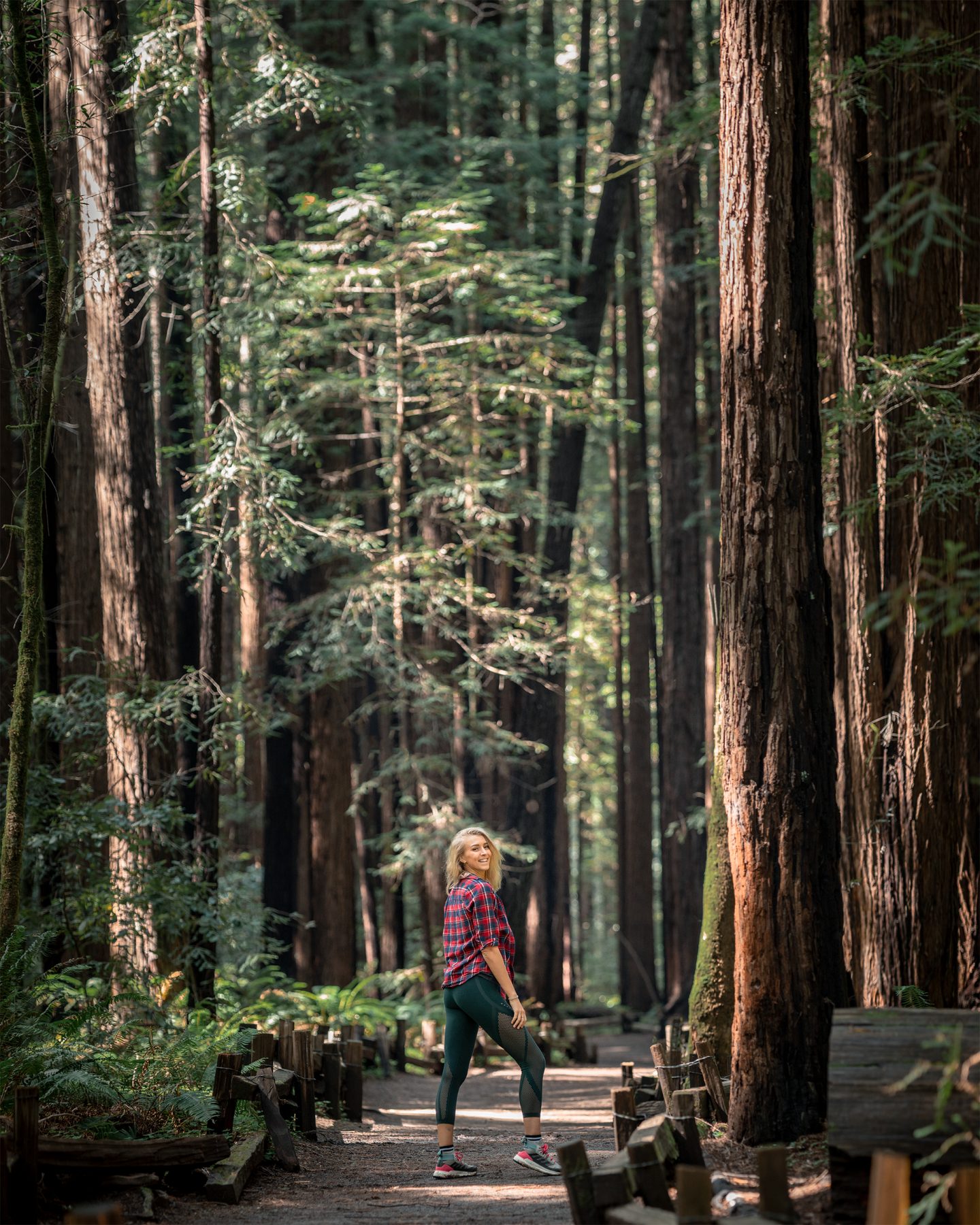 Day 6: El Dorado to Sonoma
Watch a gorgeous sunrise over the Coloma valley from Bella Vista BnB – the view from the rooms is incredible. If you fancy a sunrise hike, I recommend neighbouring Mount Murphy. It gives stunning views over the whole region including the American River. Following this, enjoy a delectable breakfast at the BnB. If you request a vegan brekkie they will make you mouth-watering burritos packed with melted vegan cheese and sausages! This was the best brekkie of our whole trip!
Time to get back on the road so check out and hit the highways. It's about a three-hour drive to the Armstrong Redwoods National Reserve in Sonoma County. I recommend stopping off in Guerneville to pick up a picnic lunch for your hike.
Once you get into the National Reserve I recommend taking the East Ridge & Pool Ridge Loop hike. This hike takes around 2-3 hours and is moderate difficulty with some steep climbs. You get rewarded with incredible views over the surrounding forest. Once you have completed the hike I also recommend strolling through the short and sweet Discovery Trail in the base of the valley. Get up close and personal with the beautiful redwood trees.
By the time you finish up hiking it will be coming to the end of the day. Continue on with your drive for another hour to Timber Cove Resort on the rugged Sonoma coast by driving north along the iconic Highway One. Not only does this hotel have chic but homely Scandi vibes, it is right in the heart of nature, set on 25 acres of land with panoramic ocean views. Enjoy dinner the the hotels restaurant, Coast Kitchen, which watching sunset over the sea.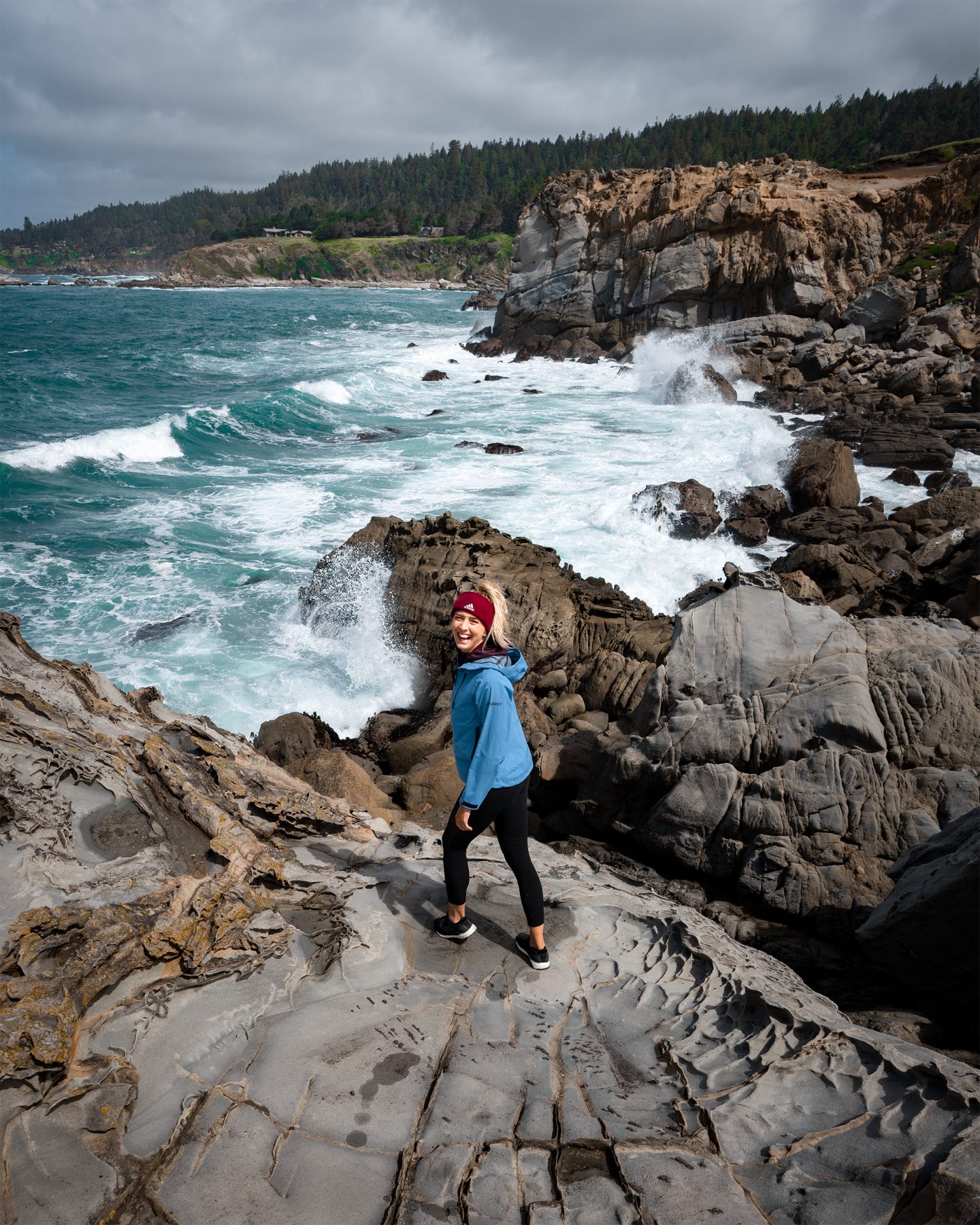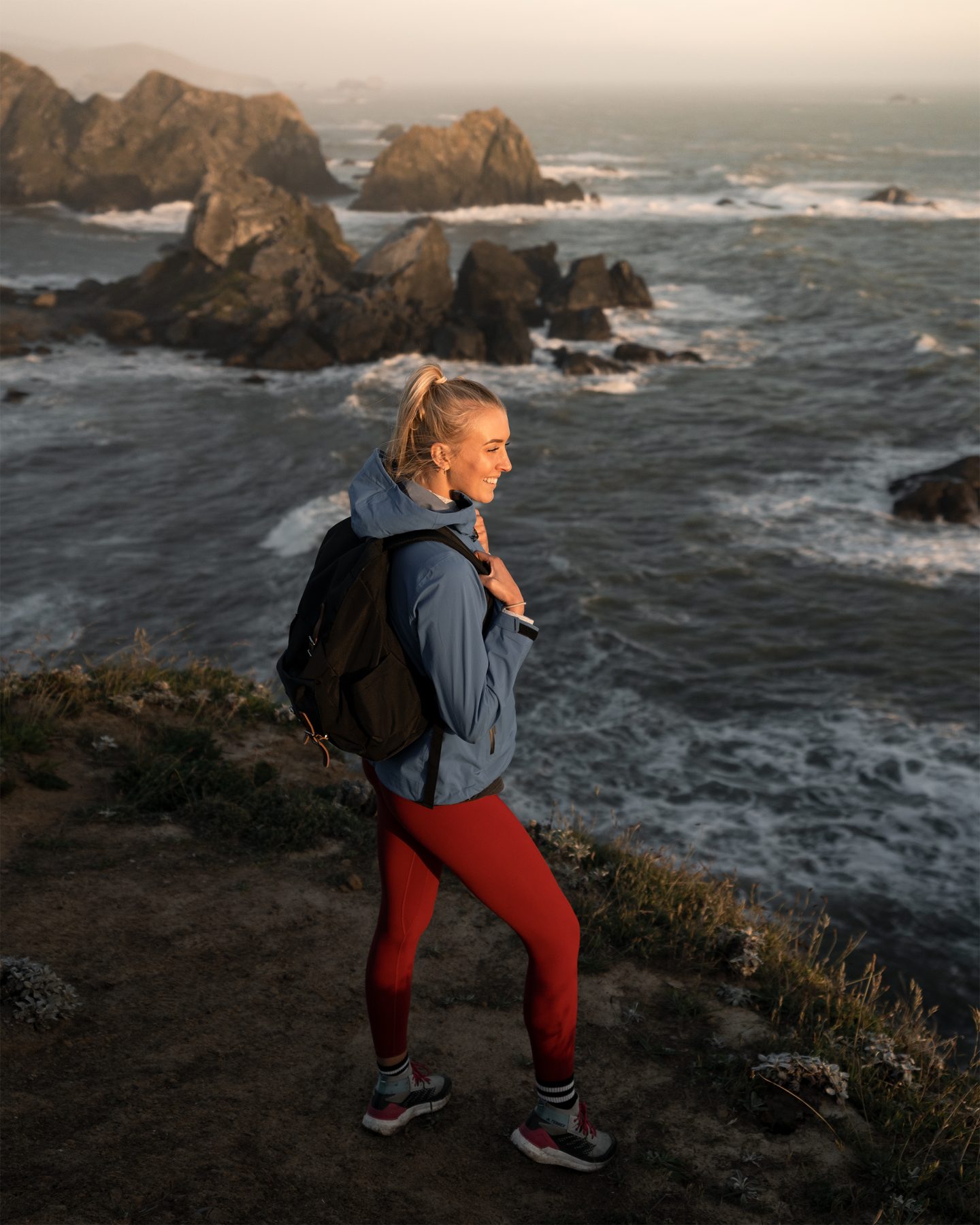 Day 7: The Sonoma Coast
Grab brekkie at Timber Cove Resort . I recommend the avocado toast with added mushrooms and a dirty chai with almond milk. It was the best dirty chai I had on the trip (and I had a lot!). Then meet with your guide Margaret from Unbeaten Path Tours for a walking nature tour of the rugged Sonoma coastline. Margaret is full of energy and knowledge. Her enthusiasm is infectious and our time with her was a highlight of our trip. We requested an experience in the neighbouring region of Sea Ranch, which is an architectural gem and nature treasure trove. It features wild beaches, incredible scenery, wildflowers aplenty and tonnes of cute harbour seals! The tour took around 3 hours. I recommend grabbing lunch afterwards at Two Fish Bakery which has great vegan options. If you're not vegan then you have to try one of their famous cinnamon sugar muffins!
After lunch you can explore the famous Highway One. I recommend driving all the way down to Jenner and stopping off at as many points as possible. Some highlights along the way include Fort Ross, Salt Point State Park, Stump Cove and Sonoma Coast State Park. Just drive south from Sea Ranch and stop off at pretty much any lay-by you see. I can guarantee almost every single one has a beautiful view or a hidden cove. Just look for lightly trodden paths through the bushes and see where they take you!
Grab dinner at Rivers End Restaurant in Jenner with views of the Pacific Ocean. Then drive to your favourite lay-by from the day to watch sunset. It is stunning against the rocky coastline.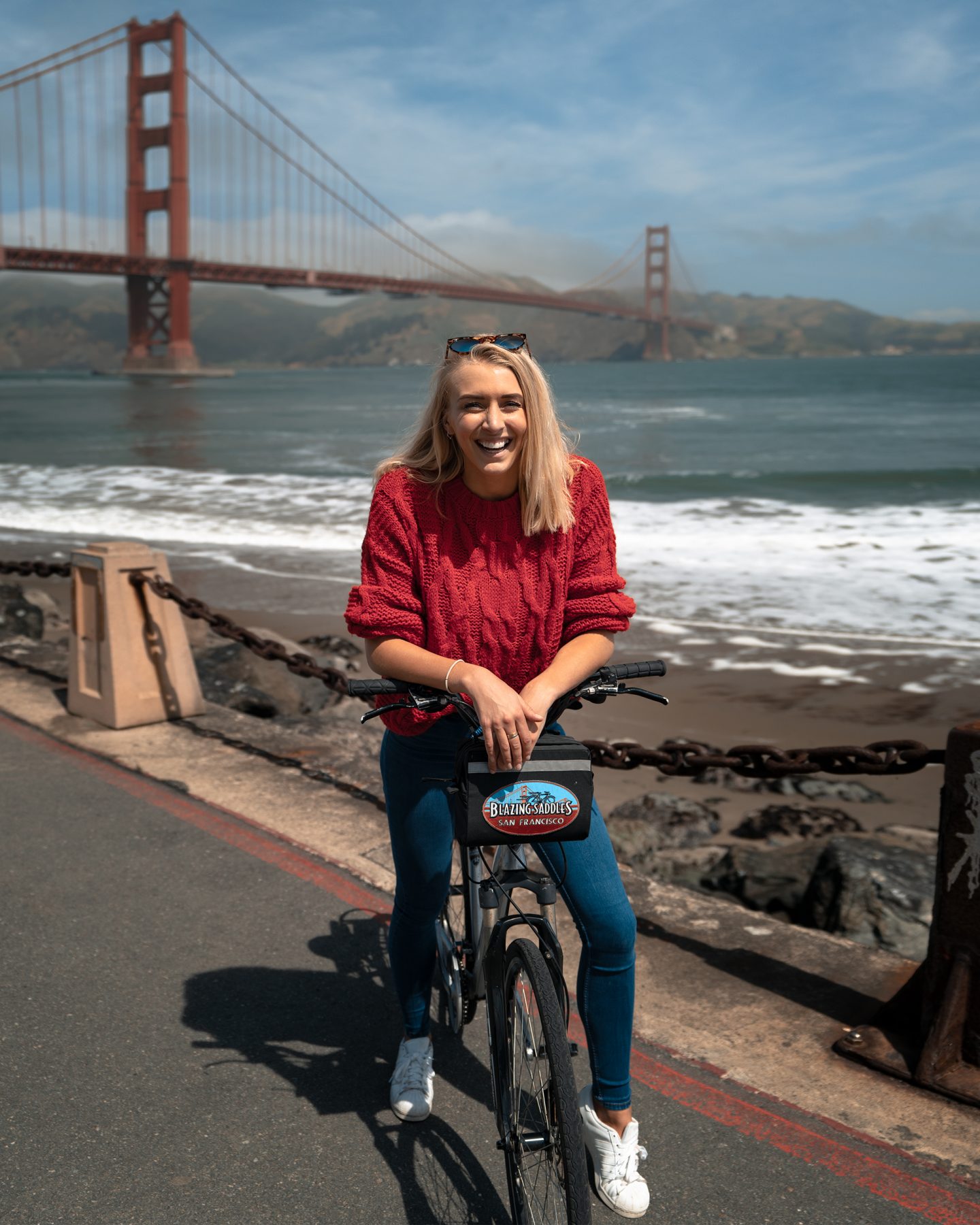 Day 8: Sonoma to San Francisco
Set an alarm for a ridiculously early morning (4am!), pack your bags, check out of Timber Cove Resort and drive to Windsor for a sunrise hot air balloon ride with Up&Away. This bucket list experience gives spectacular views over the Sonoma valleys below as the sun begins the rise. A once in a lifetime activity! Afterwards, drive 15 minutes to nearby Santa Rosa and grab breakfast at Pharmacy cafe. It focuses on healthy and wholesome meals. Then continue on with your journey to San Francisco– returning to where the road trip began!
Check into your San Francisco hotel. I stayed at Hotel Nikko which was perfectly located in the centre of the city. Leave your car with the valet service and then head out to explore San Fran. I recommend walking to Blazing Saddles and hiring a bike. You can ride along the marina, through The Presidio of San Francisco, Golden Gate Park, Battery East, the beaches (Marshalls, Baker and China to name a few) and then over the iconic Golden Gate Bridge. My favourite view of the bridge is from the small road down towards Fort Point. There aren't many crowds and it is the perfect spot to grab a photo. Once you cross the bridge, cycle down to Sausalito. Enjoy a late lunch in this quaint town before catching the ferry back to the city – enjoying a view of the skyline on the ride over.
Once you're back in San Francisco, you can use your bike to explore for the remainder of the day. One stop I recommend you make is to the Ferry Building Market Place. It's a great spot for buying local produce and products with a wide variety of merchants and a great atmosphere. For dinner there are two plant based hot spots: Gracias Madre for famously good vegan Mexican food or Shizen for incredible vegan sushi. Both of these restaurants need to be booked in advance due to high demand.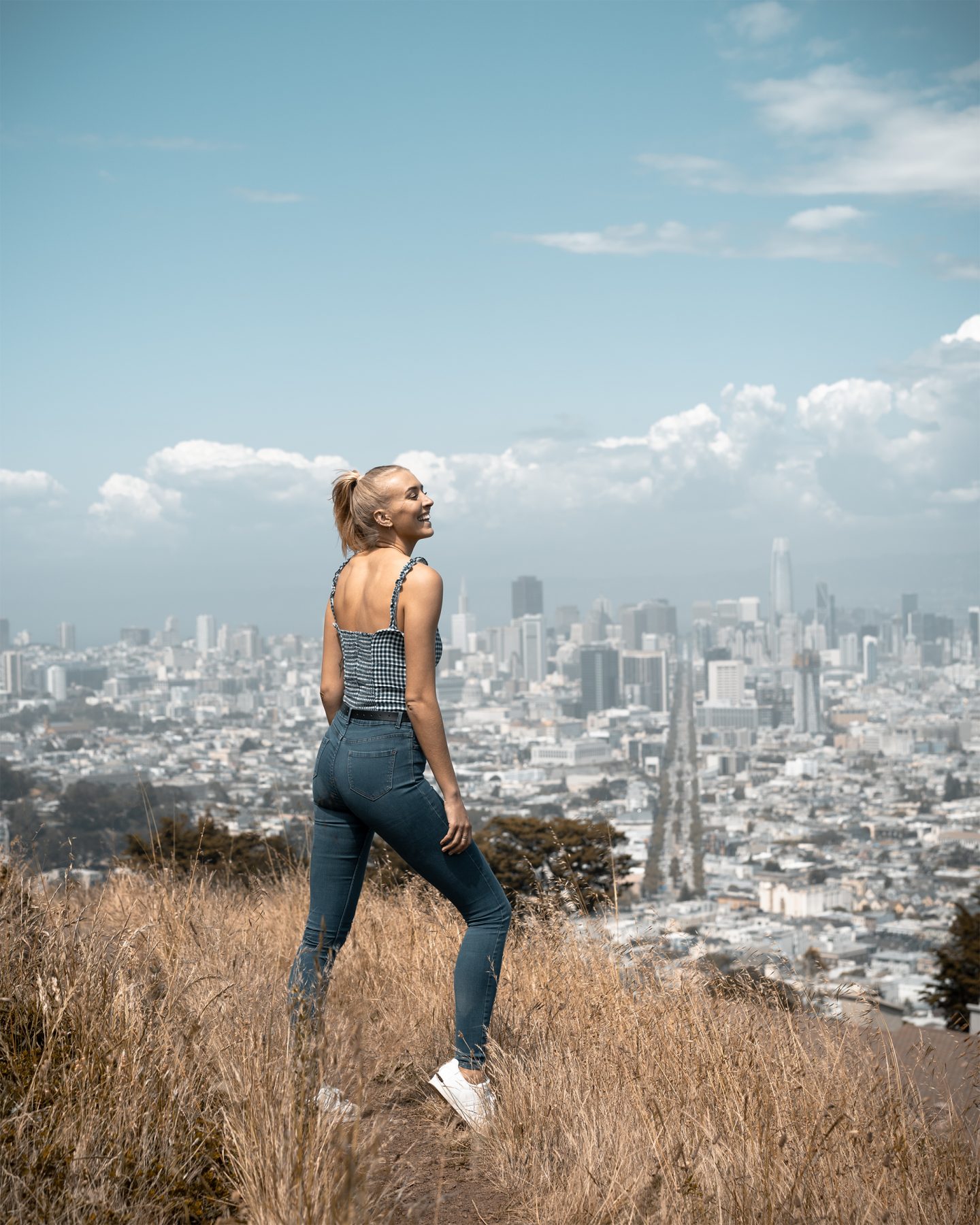 Day 9: San Francisco
Get ready for a seriously active final day in California! Book yourself in for one of the boutique gym classes available in the city. Popular choices include Barrys Bootcamp, Rumble Boxing and Soul Cycle. Then grab a healthy breakfast from one of the numerous healthy food cafes about town. I discovered a hidden gem called Elixiria which was heaven for a whole foods lover like me! Shower, freshen up and get on your comfiest shoes because you're going to get your steps in today!
Meet your tour guide from Urban Hikes SF in the late morning and start a hiking tour of San Francisco. This is an amazing way to explore on foot and discover lesser-known spots in the city. Plus you get a serious workout on the steep San Francisco hills! This is one of the best walking tours I have ever done simply because it was off the beaten path and truly made me feel like a local. I highly recommend booking in for the tour itself which takes around 3 hours. If you're short on a time a couple of highlights from it included Seward Street Slides, the Rainbow Crosswalk and Kite Hill. Not gonna lie, this tour is instagram gold!
After you've racked up about 20,000 steps it is time to head home in the late afternoon or early evening! Pack your bags, check out, drive to the airport and say see you later to California. Come back soon!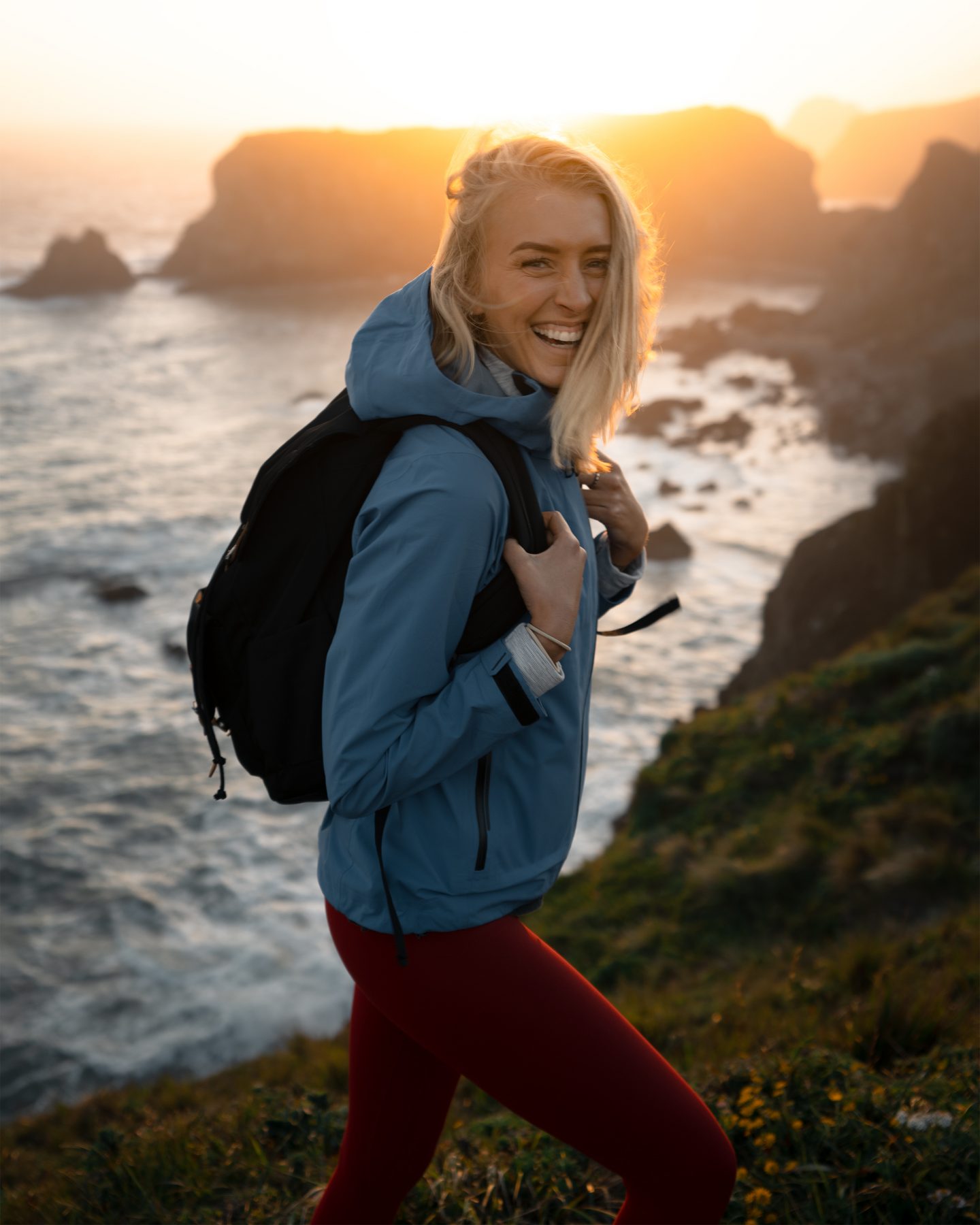 Liked this blog post? Check out these!
California Road Trip 1: San Francisco to La via Yosemite
California Road Trip 2: Newport Beach to Joshua Tree
San Francisco Vegan Food Guide
My YouTube Channel: Which Has Multiple Vlogs From California!
If you use these guide then be sure to let me know by dropping me a message or tagging me in your posts!
Zanna xx
Disclaimer: I am a UK ambassador for Visit California.