Madeira is often called the "Hawaii of Europe" and it is easy to see why. Towering mountains, dramatic coastlines, tumbling waterfalls and lush green landscapes add to the island's charm. The destination is teeming with diversity, with palm trees by the sea, wild flowers in the canyons and pine trees on the peaks. It is known for having fresh and mild weather year round, making it the perfect destination for an active hiking adventure. Let me show you it all in this Madeira Travel Guide.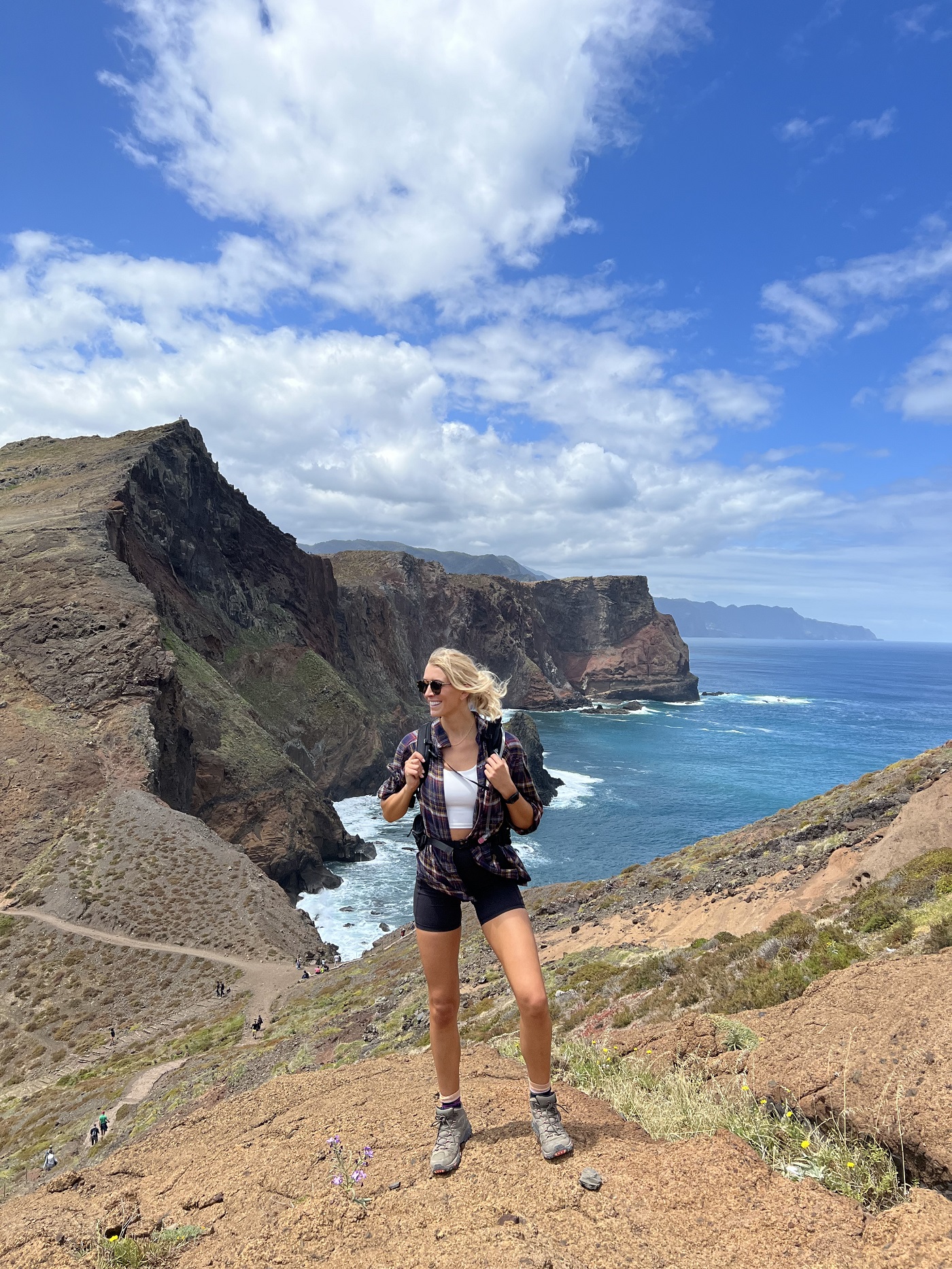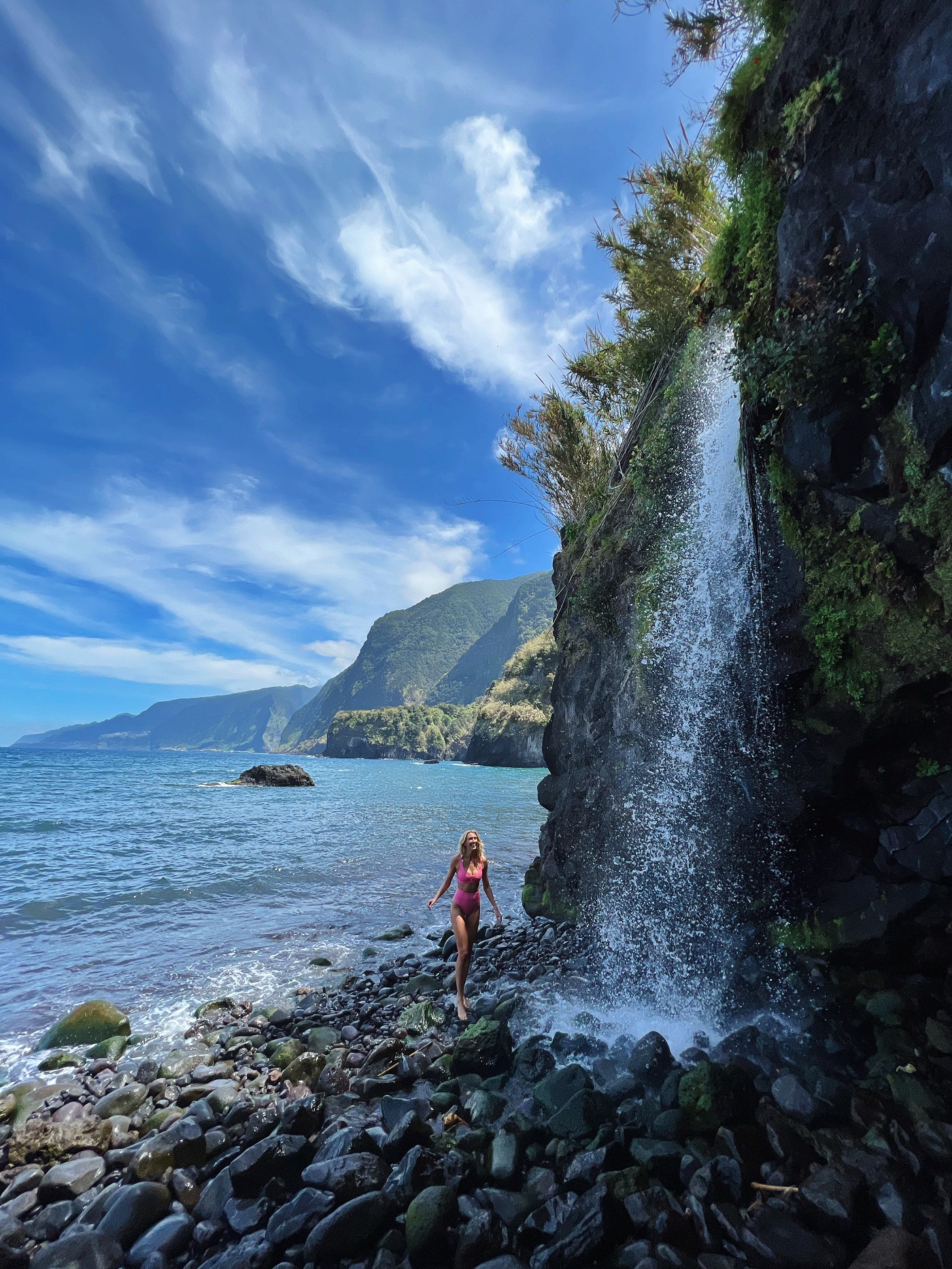 Practicalities:
How To Get There?
There are regular flights to Madeira from the UK. Make sure you book a window seat, as the airport's runway is built out over the ocean providing a seriously epic landing.
How Long To Go For?
There is a lot to see and do on the island so a long weekend wouldn't cut it. Push for 5 days minimum and ideally one full week.
When To Visit?
Madeira is a year round destination. The days are warmer and brighter in summer but still mild in winter. It can rain any time of year. The shoulder months of April, May and October are most popular for hiking.
What About The Weather?
It is an island known for its changeable weather and many microclimates. It can go from bright sunshine to heavy cloud cover from one hour to the next, so it is best to prepare for all eventualities no matter what time of year you visit.
How To Get Around?
I highly recommend hiring a rental car to get around the island. Choose a small but powerful model, as the roads are steep and narrow.
Where To Stay?
Madeira is a small island, you can drive from one end to the other in an hour so as long as you have a car you can stay pretty much anywhere. We chose an Airbnb in Calheta as it is a region known for having a warmer microclimate and sunset views. If you want access to lots of restaurants and conveniences, staying in Funchal may be your best option.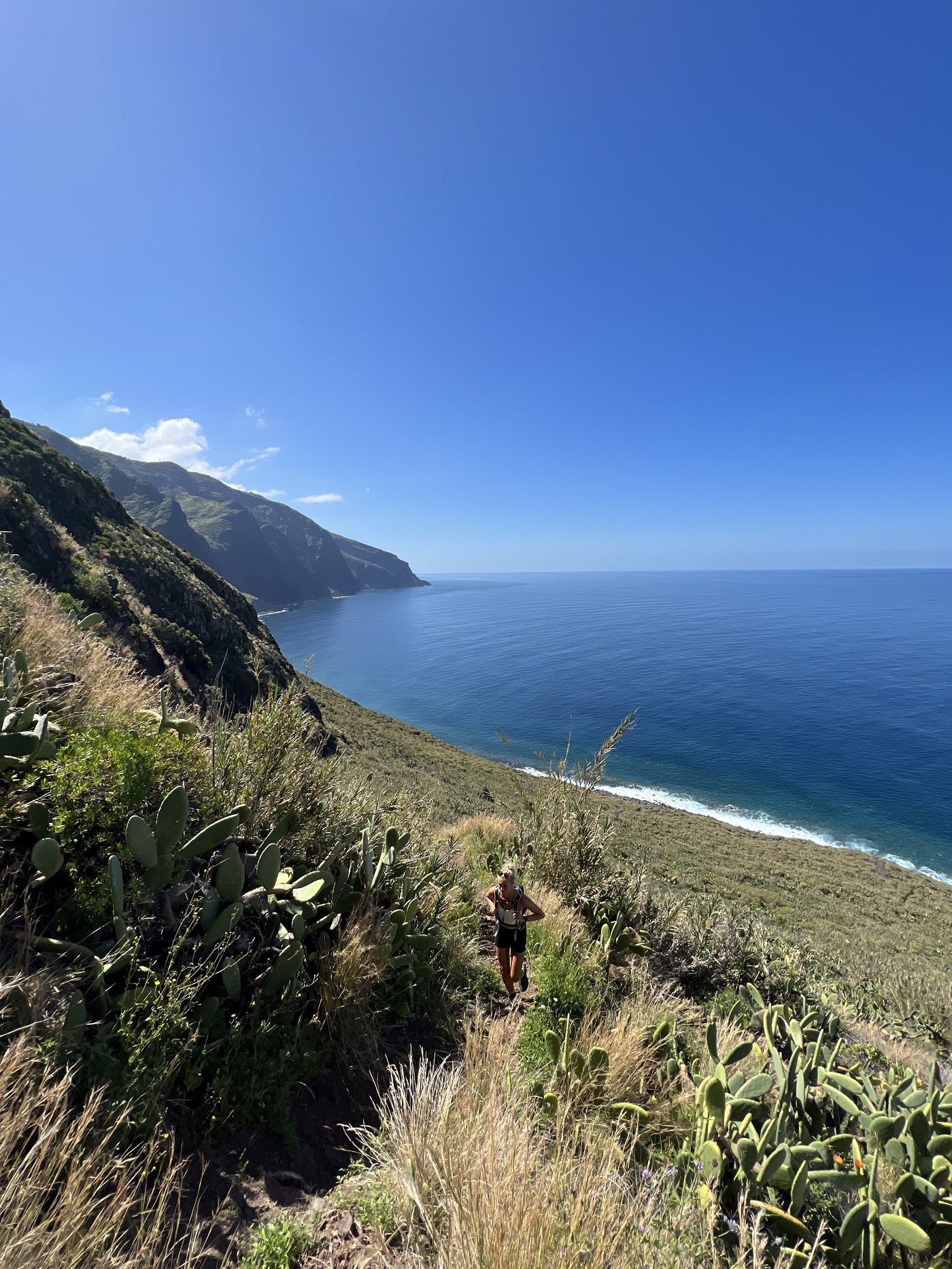 The Best Hikes In Madeira:
When it comes to hiking, Madeira is an active adventurer's heaven! There are trails for all abilities, from gentle levada walks through to challenging summit climbs. Whether you want to explore rugged coastlines, wander through ancient forests or conquer towering mountain peaks, you can do all of that and more in Madeira.
The vast majority of the hikes on Madeira can easily be completed without a guide. They are well trodden and well marked. However, if you're looking to discover hidden gems and get off the beaten path then I recommend booking a hike with Joao. He is a Madeira resident, a font of local knowledge and is privy to some absolutely incredible routes which are not listed anywhere online.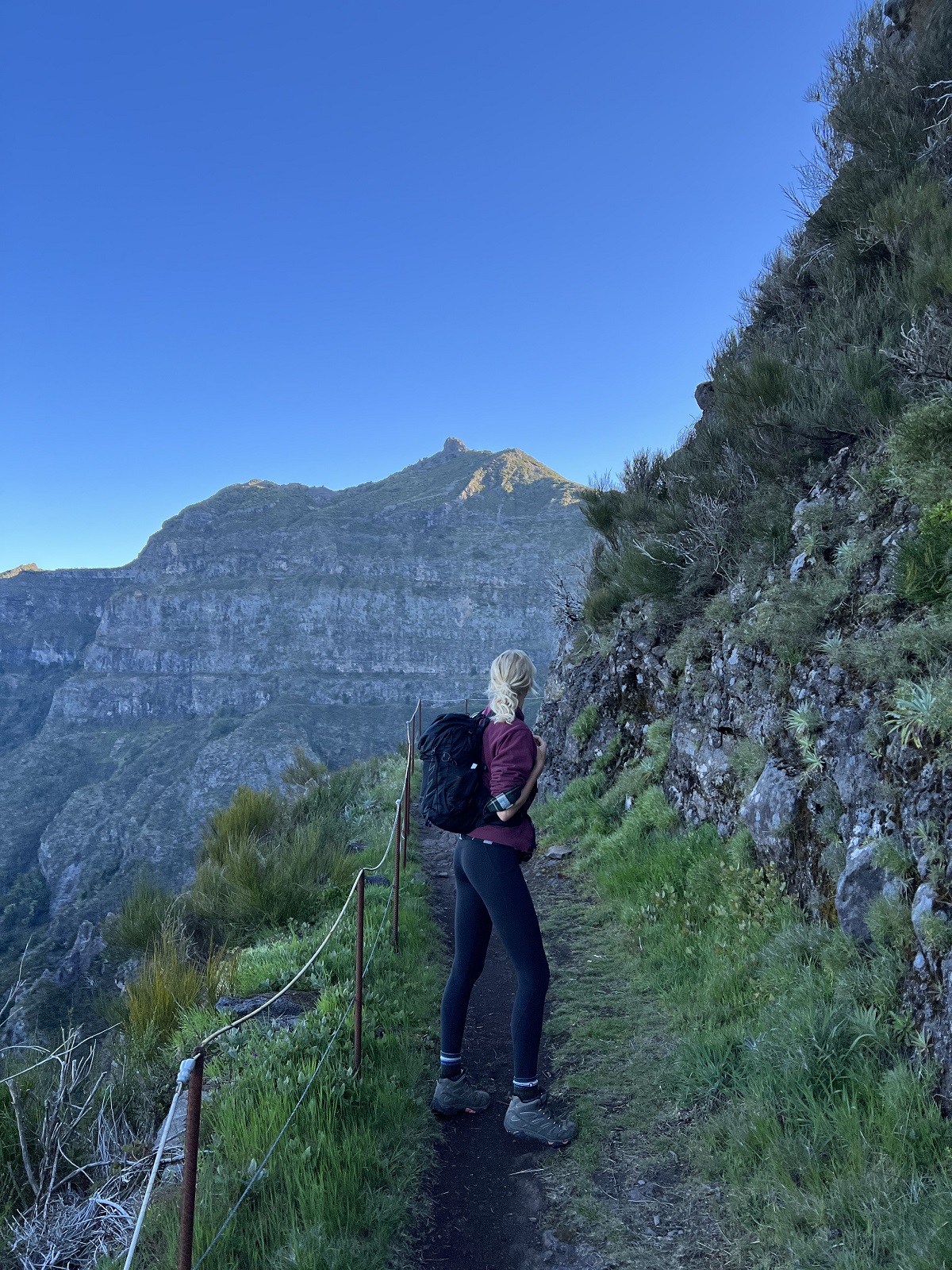 Pico Grande
Distance: 9.2km
Elevation Gain: 702m
Difficulty: Moderate to Challenging
Route: Click here.
This was our favourite hike of the trip. Pico Grande is a lesser known peak which can be conquered from a few angles. This route gives beautiful views over the surrounding valleys and a short but challenging climb up to the summit. Some simple scrambling is required to reach the very peak, with ropes being provided for ease. The views from the summit are incredible and if you arrive early, you will likely have the trail and summit completely to yourself.
Ponta de São Lourenço
Distance: 7.4km
Elevation Gain: 412m
Difficulty: Moderate
Route: Click here.
This popular hike showcases the beauty of Madeira's coastline, extending out along the far eastern peninsula of Ponta de São Lourenço. The whole trail has incredible views and in spring is dotted with beautiful wild flowers. Near the end of the trail there is a small solar powered cafe which serves delicious apple tart and sandwiches. This is a famous and easily accessible hike, so be sure to arrive at sunrise to avoid the crowds.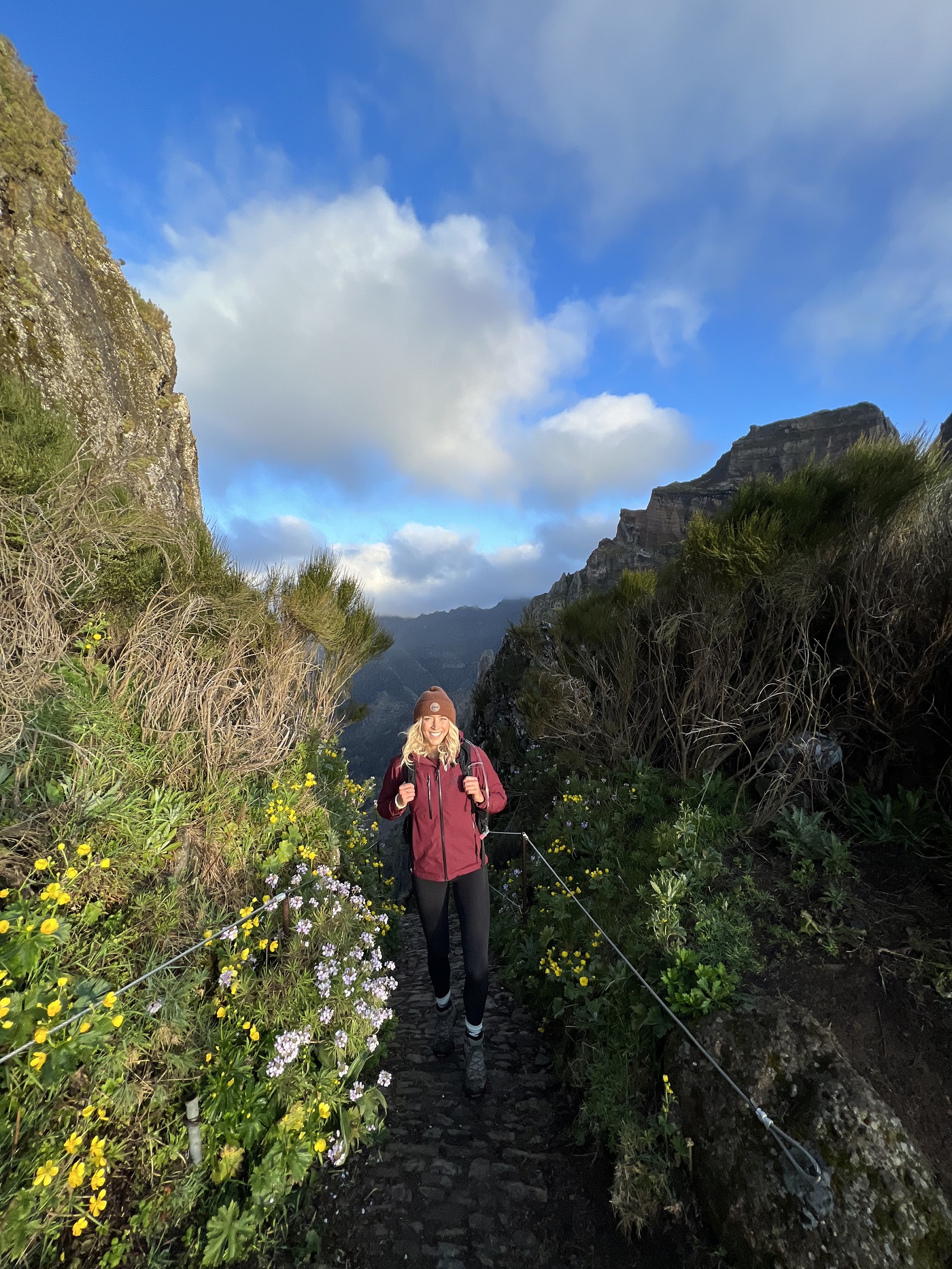 Levada do Alecrim
Distance: 6.8km
Elevation Gain: Minimal
Difficulty: Easy
Route: Click here.
This easy levada walk is a great choice for a rainy or cloudy day. The flat path is surrounded by thick vegetation which gives shelter, although it admittedly does hamper the visibility of the surrounding valleys. At the end of the route you will be rewarded with a beautiful waterfall, perfect for a wild swim. Be sure to extend the trail if you're feeling energised, taking the small steep path to the left of the Dona Beja lagoon to find a second lesser known waterfall.
Pico do Arierio to Pico Ruivo
Distance: 12km
Elevation Gain: 1180m
Difficulty: Challenging
Route: Click here.
I simply had to mention the most famous hike in Madeira – the "Pico to Pico" route. This trail goes right through the heart of the islands towering mountains, often taking hikers above the clouds as you conquer the highest peaks. The hike is challenging but rewarding – the whole route has absolutely incredible views of Madeira's dramatic rock formations and rugged landscapes. At Pico Ruivo there is a shelter where you can grab a hot cup of tea and a snack.
Be warned: this is a seriously packed trail, but it is well worth tackling the crowds, that being said I highly recommend setting off at sunrise to avoid the busiest times.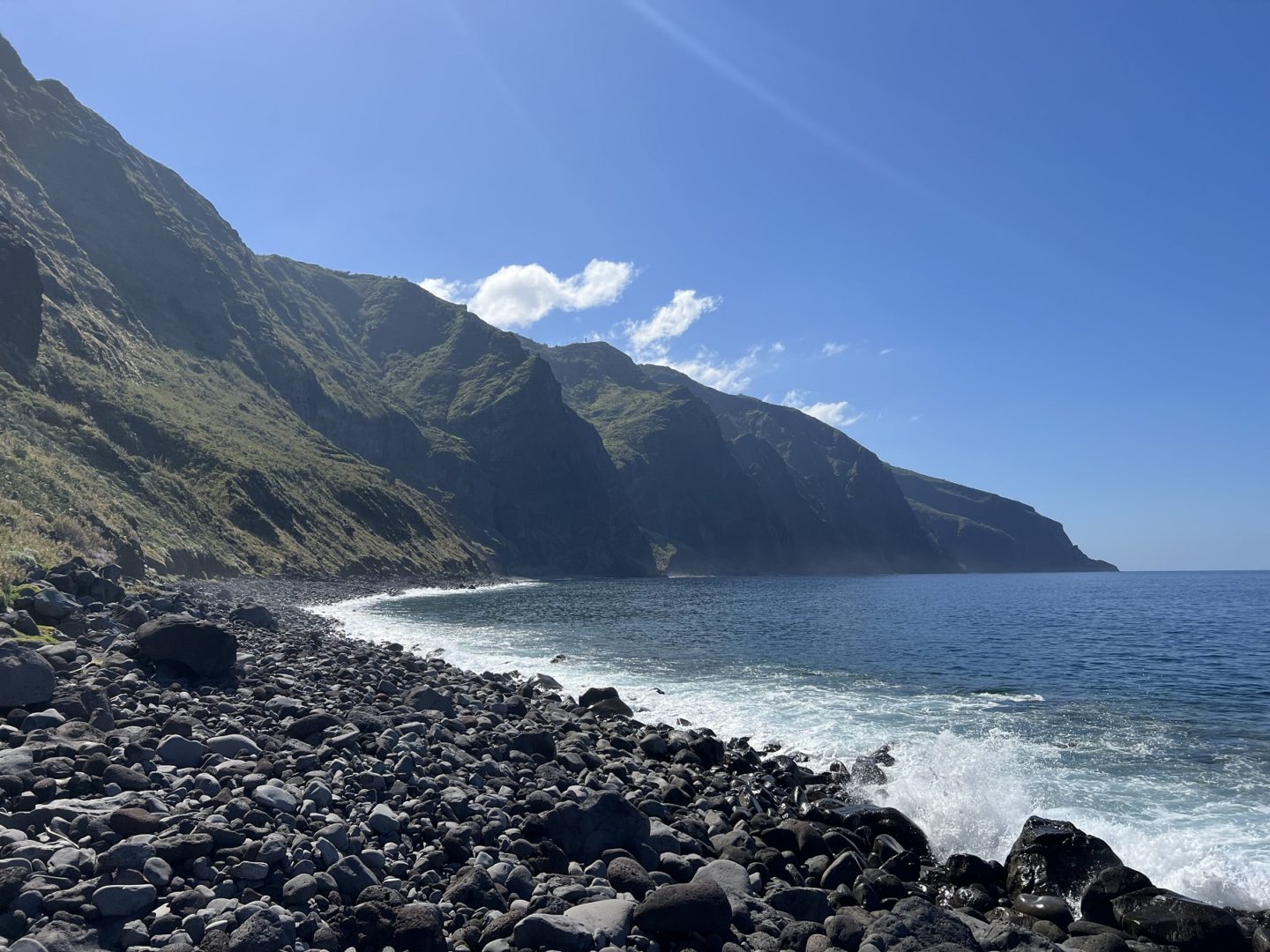 Levada do Moinho & Levada Nova Loop
Distance: 8.7km
Elevation Gain: Minimal.
Difficulty: Easy.
Route: Click here.
This lesser known loop connects two levadas and was one of my favourite easy trails on the island. Along the way you will experience beautiful valley views, towering waterfalls (one which you can walk behind!) and even stepping stones across a stream. I recommend tackling the loop in a clockwise direction. One thing to note is that the return trail along levada Nova does have some narrow paths with steep drop-offs, so I wouldn't recommend this hike for those with vertigo.
Vereda do Pesqueiro Loop
Distance: 5.37km
Elevation Gain: 434m
Difficulty: Moderate to Challenging
Route: Click here.
If you want to enjoy a hiking trail to yourself, try this route, we didn't see a single person on the whole trail! It showcases the incredible coastline on the southwestern side of Madeira, with dramatic green mountains, pebbled beaches and wild waves. The views are phenomenal! The path itself takes in a descent down a historic road, previously used to transport supplies to remote villages. You then hop between large pebbles as you pass along the coastline before tackling a steep ascent back to the start point. The ascent is on a narrow path with steep drop-offs so I would not recommend this hike for those with vertigo.
Note:
You might notice that I have not included two of the most famous hikes in Madeira – Levada das 25 Fontes and Levada do Caldeirão Verde. We chose to avoid these routes as after we spoke to some local residents, we were told that they are absolutely jam packed with tourists. They informed us that the crowds can detract from the experience of the trail. That being said, these trails are undeniably beautiful so if you do want to experience them, I recommend arriving at sunrise.
The Best Things To See & Do In Madeira:
If your legs need a break from all the hiking, there are an abundance of other activities you can try in Madeira. Here are some of my personal recommendations:
Explore Funchal
The capital of Madeira is teeming with things to see and do. Wander the old town on foot, visit Monte Palace and admire the botanical garden. But the best activity of all? Hop on a cable car and ride the famous toboggans (basically giant wicker baskets) back down the mountain. This iconic and historic activity is SO much fun!
Canyoning
Madeira is known for its abundance of waterfalls which makes it the perfect destination for canyoning. Get on your helmet, strap into your harness and abseil down some of the most beautiful waterways in the world.
Dolphins & Whales
Due to its location in the middle of the Atlantic ocean, Madeira has access to incredible whale and dolphin watching. Why not take it even further and swim with the dolphins in the wild? Just make sure you choose a respectable and reputable provider who only allows small groups in the water.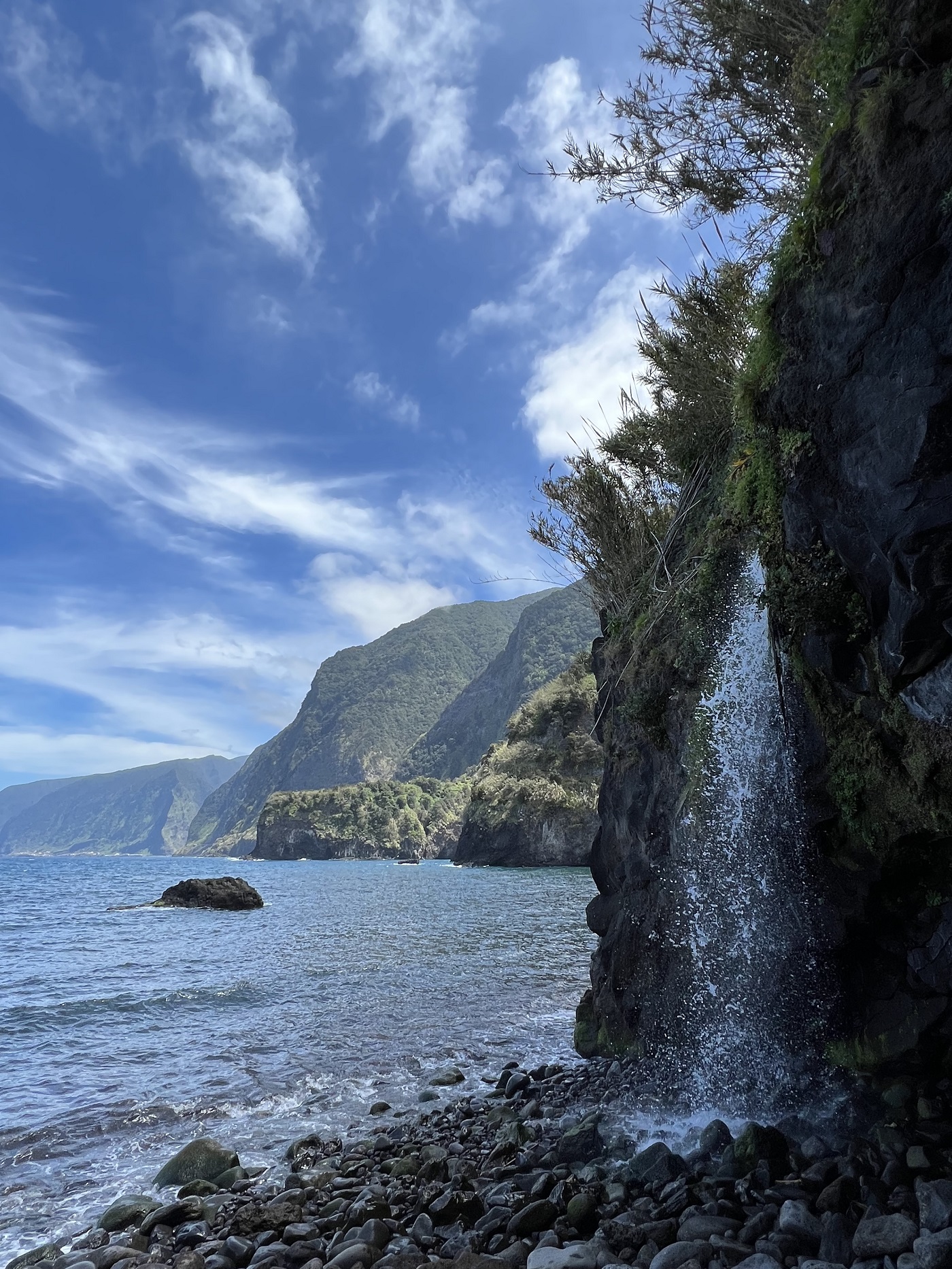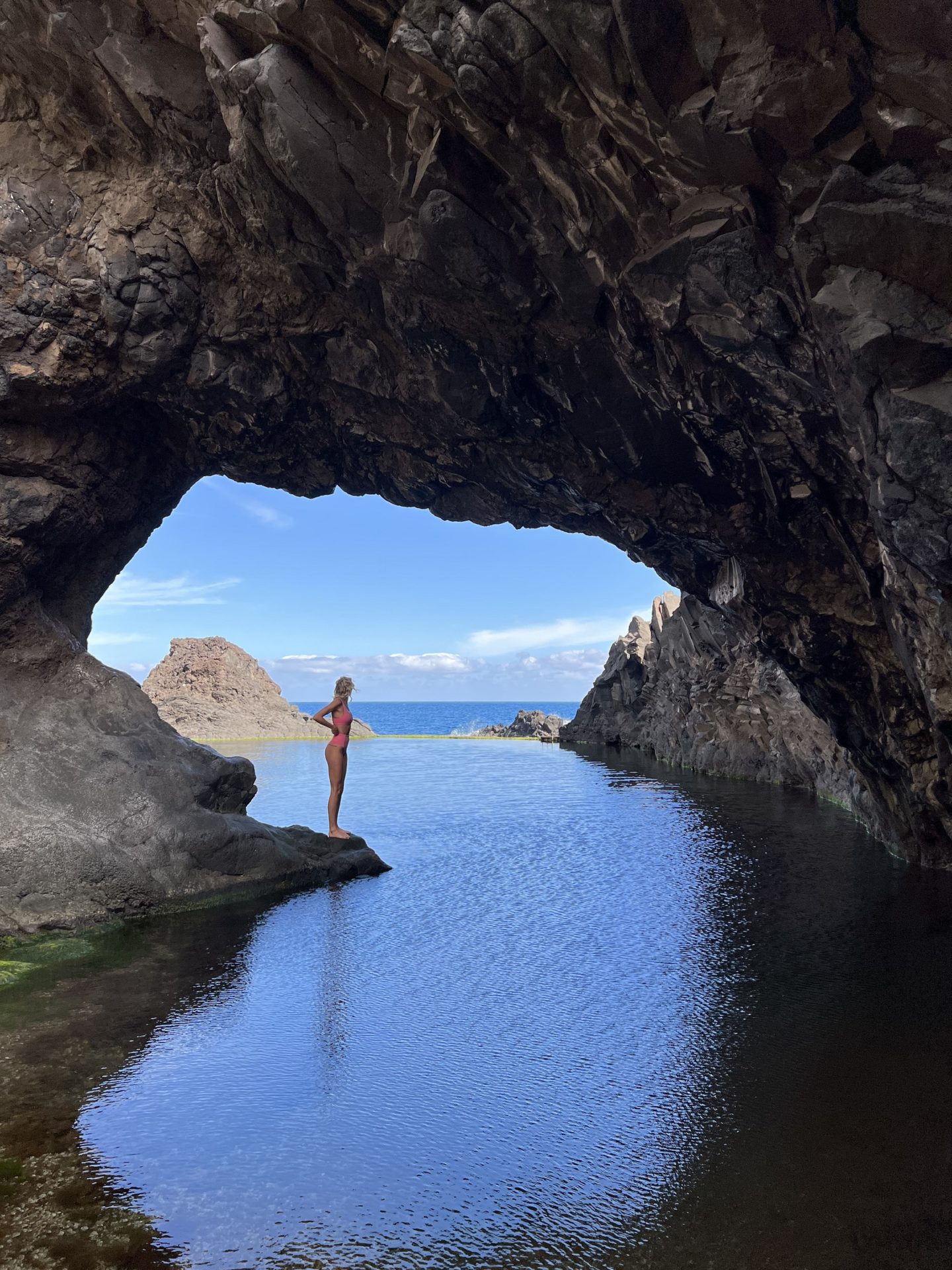 The North Coast
Madeira isn't famous for its beaches but it does have some absolute gems. Our personal favourite was Seixal black sand beach on the North coast. It has incredible views of the surrounding mountains, is sheltered from the wind and even has a waterfall flowing onto the sand. Dreamy. If you're looking for volcanic pools, the most famous location is Porto Moniz but I would recommend heading to Seixal Natural Pools instead. They're much quieter and equally as beautiful, the perfect place for a post-hike dip.
Delicious Food
I have to admit, Madeira isn't the most veggie friendly destination but we found a few good spots!
XS Cafe, Prazeres. Good coffee & great toasties.
Prima Caju, Funchal. A health food focused cafe.
Land Food Coffee, Funchal. Yummy vegan burgers.
Loft, Funchal. An extensive & delicious brunch menu.
The Old Pharmacy, Ponta do Sol. Huge veggie breakfasts to refuel post-hike.
Baloo, Ponta do Sol. Artisan gelato, try the Milk&Cookies flavour.
Calheta Green, Calheta. Great views & they will modify the menu for veggies.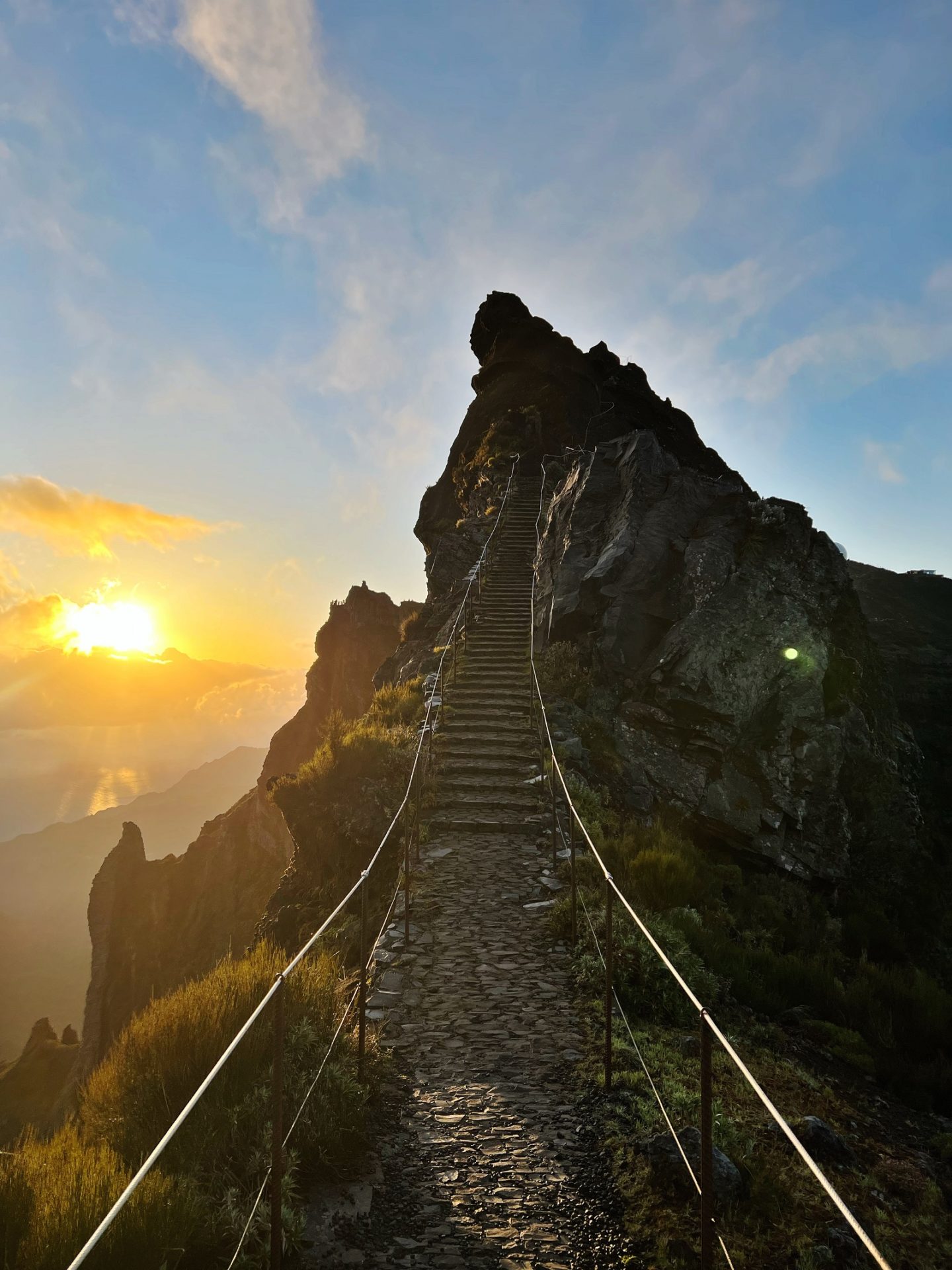 Despite being a fairly well known destination, Madeira still feels rugged, wild and raw when you lace up your shoes and get outside. Nature lovers will not be disappointed by the diverse landscapes and dramatic coastlines of this beautiful island.
Safe travels,
Zanna
Did you find this post helpful? I'd love you to share it on pinterest for me.
Hover on image, pin and save this blog post for later…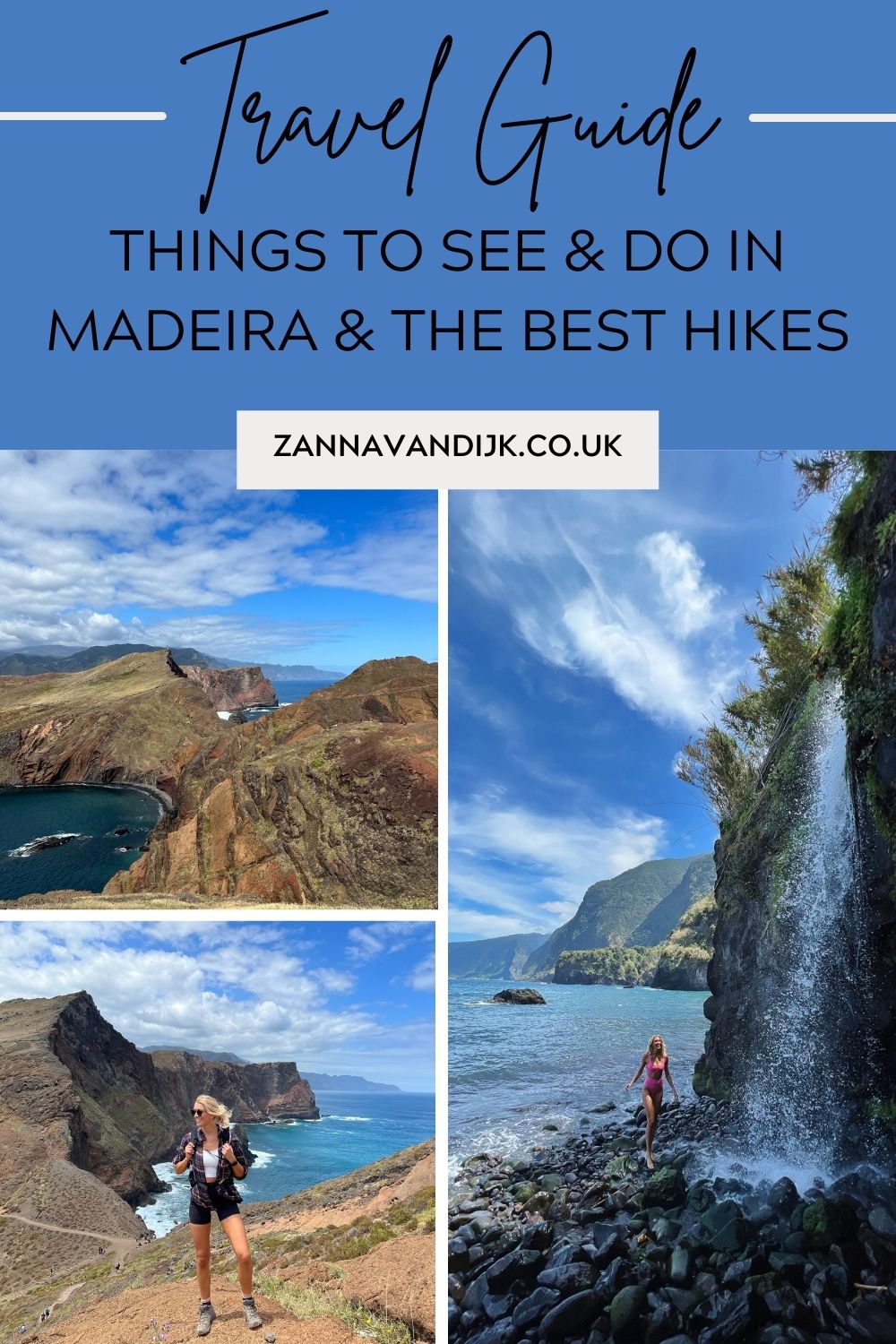 If you are looking for inspiration for great hikes in the UK and beyond, take a look at my hiking pages.