You might not have heard of the High Tatras mountains in Slovakia but by the end of this article I hope I can convince you to visit. This is perhaps one of the most underrated mountain ranges in Europe and an absolute hidden gem. They perfectly straddle the border of Slovakia and Poland. I visited recently for a long weekend and was left craving more, it is a wonderland of rocky peaks, crystal blue lakes, lush green hills and untouched nature. The best bit? There's hardly any tourists, pretty much anyone you see on the hiking trails is a local. If you're craving a hefty dose of the great outdoors, this is the place for you.
The Nitty Gritty
Getting there:
We flew into Krakow airport in Poland and then drove 3 hours over the border into Slovakia. Alternative routes are flying into Poprad in Slovakia, but this airport is renowned for high winds which means landing can be difficult and flights can be deferred to Bratislava or Krakow.
Getting around:
I highly recommend renting a car to get around, so you can drive to small towns and hiking trailheads. We rented one from Avis at Krakow airport, and called beforehand to check we could take it over the border.
Where to stay:
We stayed in an Airbnb the town of Poprad which is 30 minutes drive from the mountains. If you want to be closer to the action you can stay in the mountain villages of Tatranska Lomnica, Strbske Pleso and Stary Smokovec.
When to go:
It is best to visit from mid-June to mid/late September for hiking. There will be snow on the trail and restricted routes outside of these periods. Be warned that in the highest season, August, the trails will be busy on weekends with locals.
How long to go for:
I would say 3 full days minimum, longer if you can.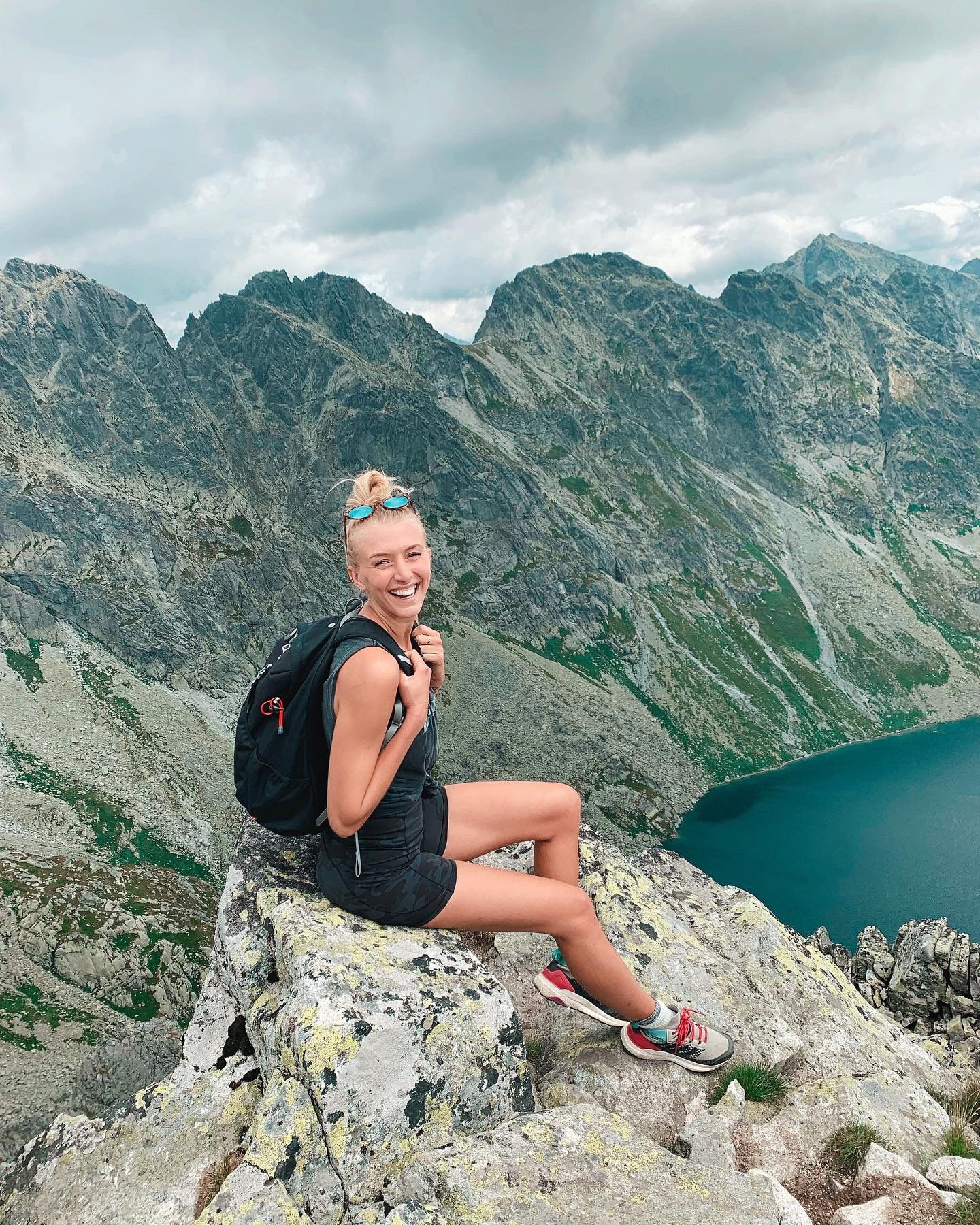 The Hikes:
When hiking in the High Tatras I recommend getting a hiking map from the local tourist information office (in Tatranska Lomnica) which has all the trails on it, or you can order one online here. Make sure you familiarise yourself with the route you're taking beforehand, there are signs regularly throughout the mountains but knowing the colour routes you're getting and carrying a map is essential. Pack a bag containing lots of food, water, layers and supplies. The weather can change in seconds in the mountains so be prepared for all eventualities.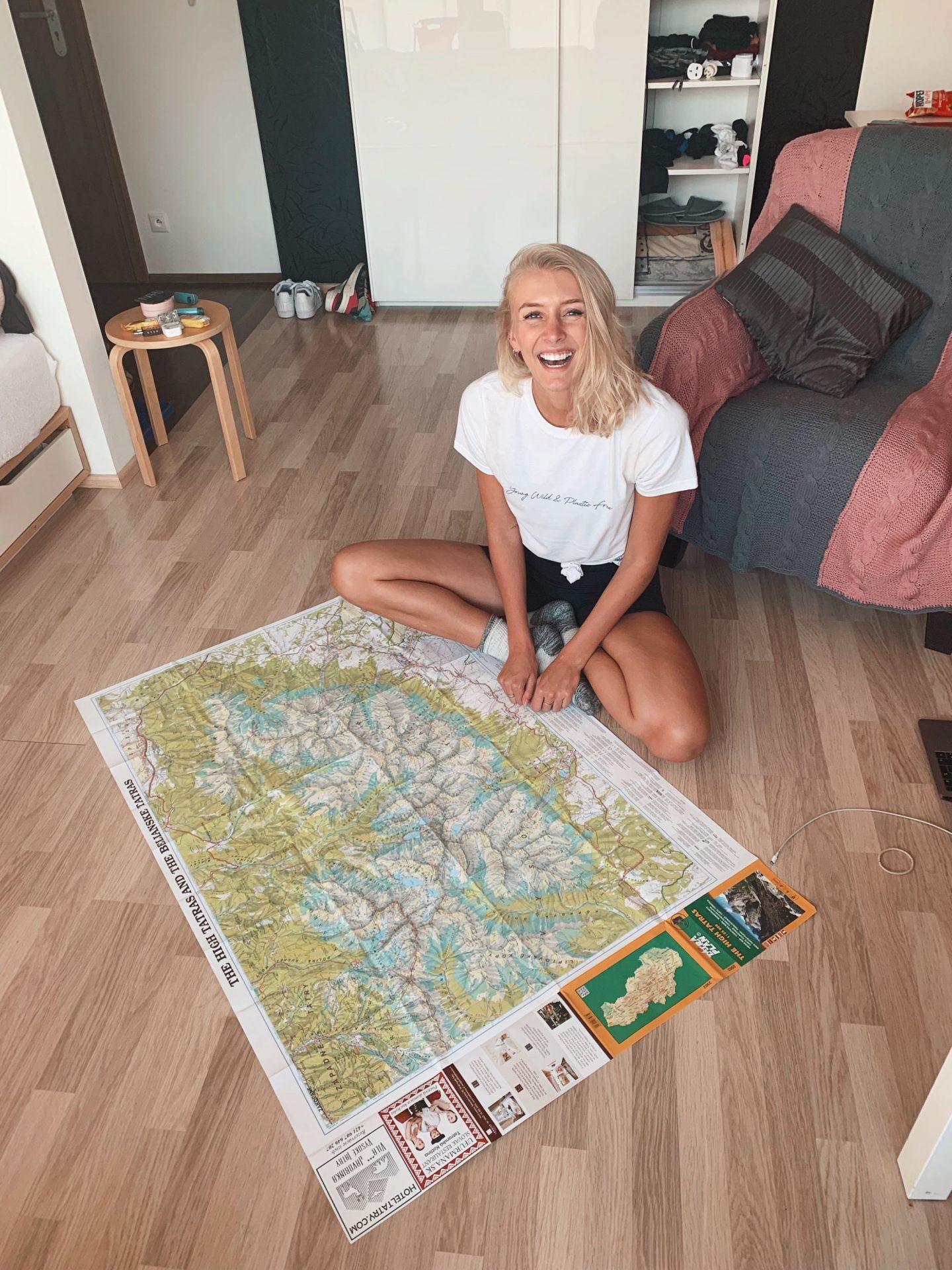 Here's some key Slovak vocab which will help when reading signs (as there aren't many tourists, nothing is in English!).
chalet – chata – [khata]
valley – dolina – [doleena]
tarn, lake – pleso – [plaeso]
stream – potok – [potock]
waterfall – vodopád – [vodopaed]
ridge – hrebeň – [hraebaegn]
saddle – sedlo – [saedlo]
peak – štít – [shteet]
And here is a link to an online hiking trail map for reference.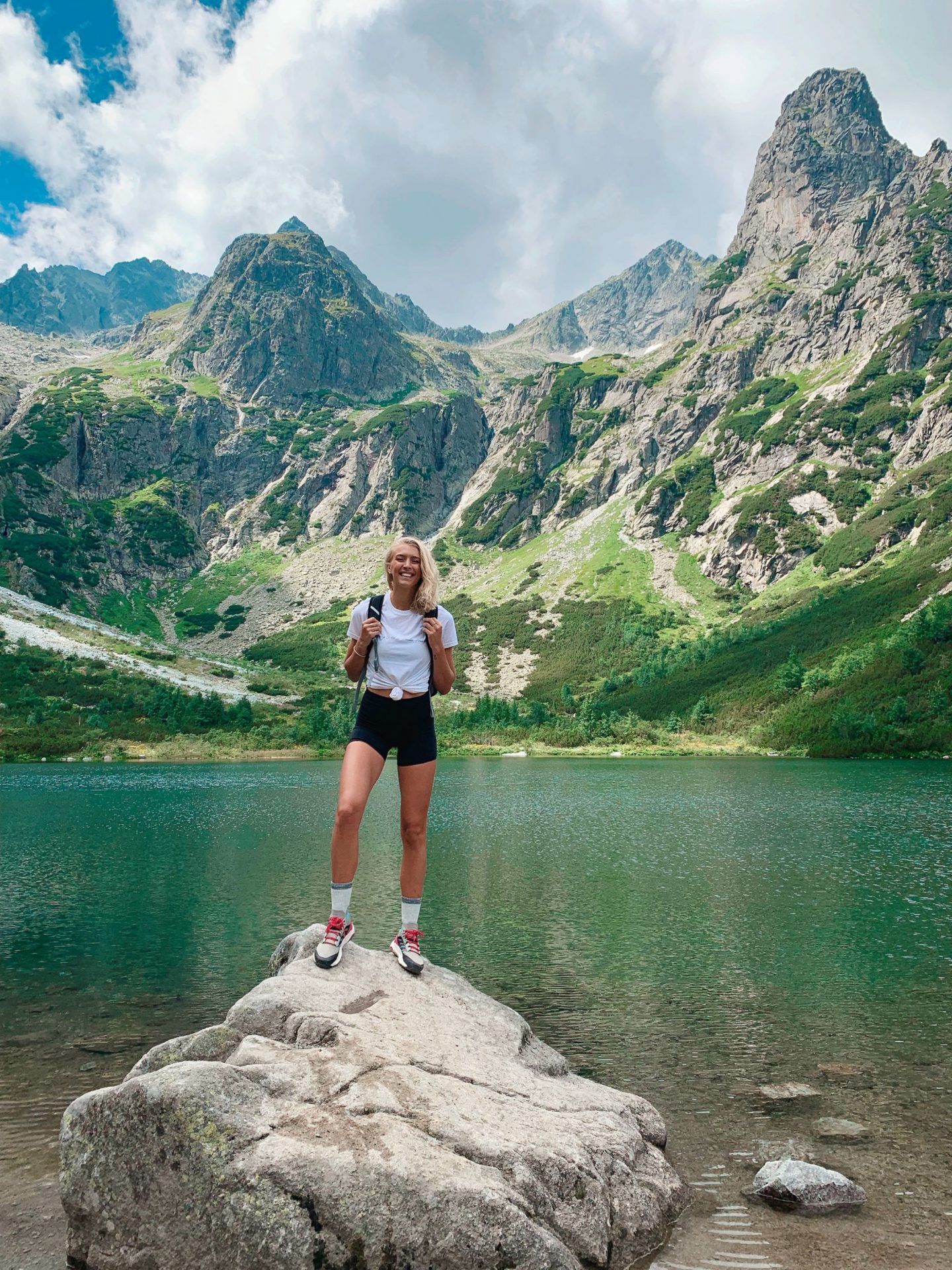 The Green Lake Hike: Vel'ká Svišt'ovka and Zelene Pleso.
This is one of the most iconic hikes in the High Tatras and one that cannot be missed if you visit. You get some absolutely stunning views over the mountain peaks and lakes below. It is moderate to strenuous depending on your fitness level, I personally found it pretty leisurely.
Difficulty: Moderate
Duration: 6-8 hours
Brief: Park your car in Tatranská Lomnica and catch a cable car up to Skalnaté Pleso, hike to peak of Vel'ká Svišt'ovka and take in the mind-blowing views. Hike down into the valley of the beautiful Green Lake (Zelene Pleso) – this is pretty steep and includes chains, very fun! – and have lunch at the mountain lodge on the water. Then walk back to Tatranska Lomnica through the forests.
Routes: Use the red route from Skalnaté Pleso to Zelene Pleso and then a cheeky yellow-green-blue-green combination back to Tatranska Lomnica.
Note: Buy your cable car tickets in advance through GoPass and get there first thing in the morning otherwise the queues are crazy. Look out for wild blueberries along the trails, they're delicious when picked fresh!
Bonus: If you have time, get a cable car all the way to Lomnický štít – this is the most popular thing to do in the High Tatras and gives some of the best views in the whole mountain range!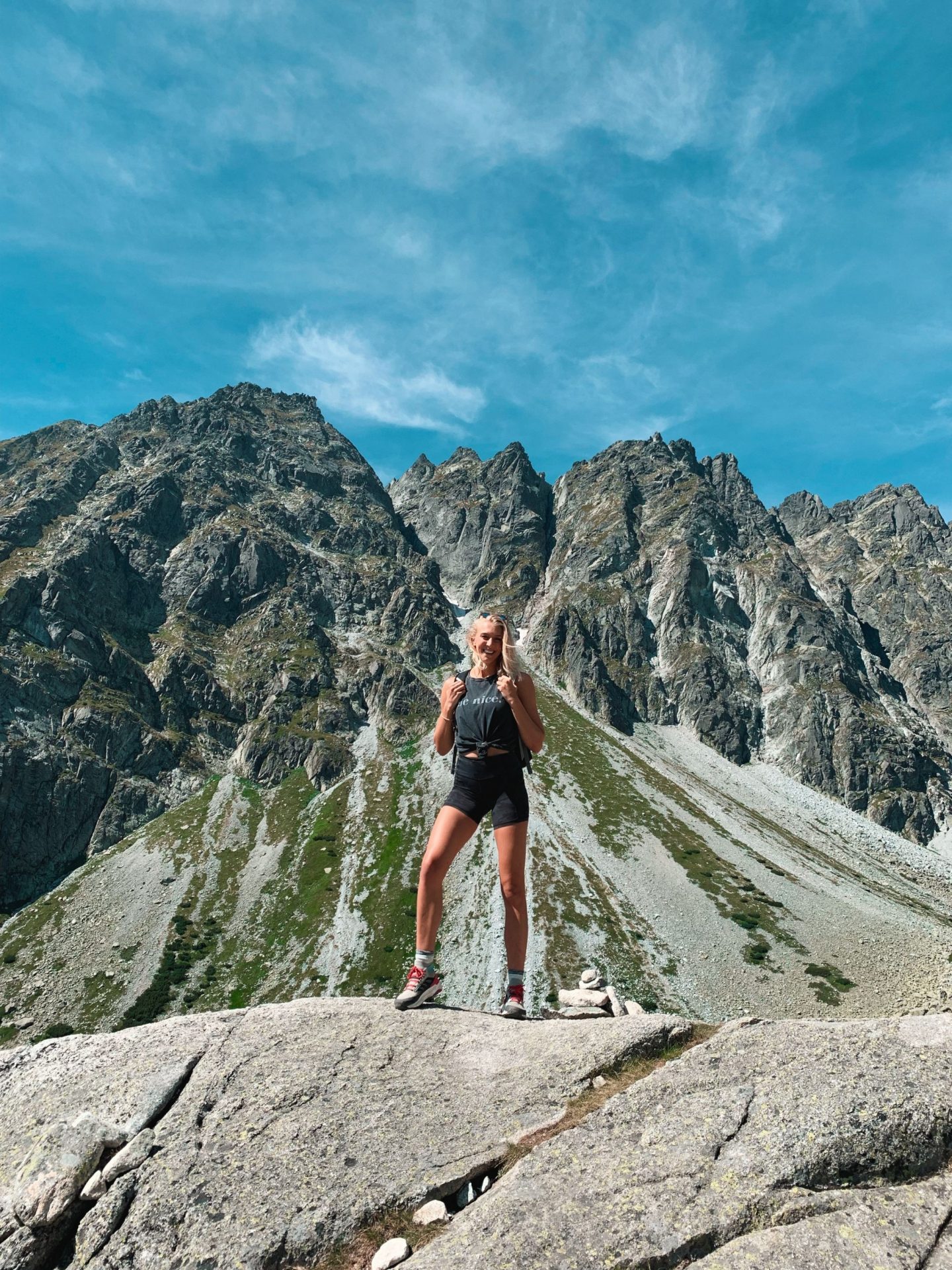 Peak Hike: Koprovsky Stit.
When in the mountains, one must conquer a peak! This is one of the best hikes I have ever done in my life, ever, seriously. It was the perfect combination of valleys, lakes, rivers, forests and stunning views. Don't get me wrong, it is savage but so worth it. If you want to push your body and be rewarded with epic panoramas, this is the hike for you.
Difficulty: Strenuous
Duration: 8 hours (longer if you stop at mountain huts).
Brief: Park your car at Strbske Pleso and hike up to Popradske Pleso. Stop for coffee and carbs at the mountain hut next to the lake, then set off up to Velke Hincovo Pleso – the biggest and deepest mountain lake of glacial origin in the High Tatras. Then brace yourself and take on the steep climb to the mountain saddle and then finally up to the peak of Koprovsky Stit. You will be climbing with your hands for the final couple of hundred metres. At the top enjoy the sweet reward for your efforts – incredible views. Hike back the way you came.
Route: Take the red route to Popradske Pleso, the blue route up to Velke Hincovo Pleso and up to the mountain saddle, then the red route to the peak.
Note: On the way back stop at the mountain hut for some fries, they're damn delicious and you deserve it!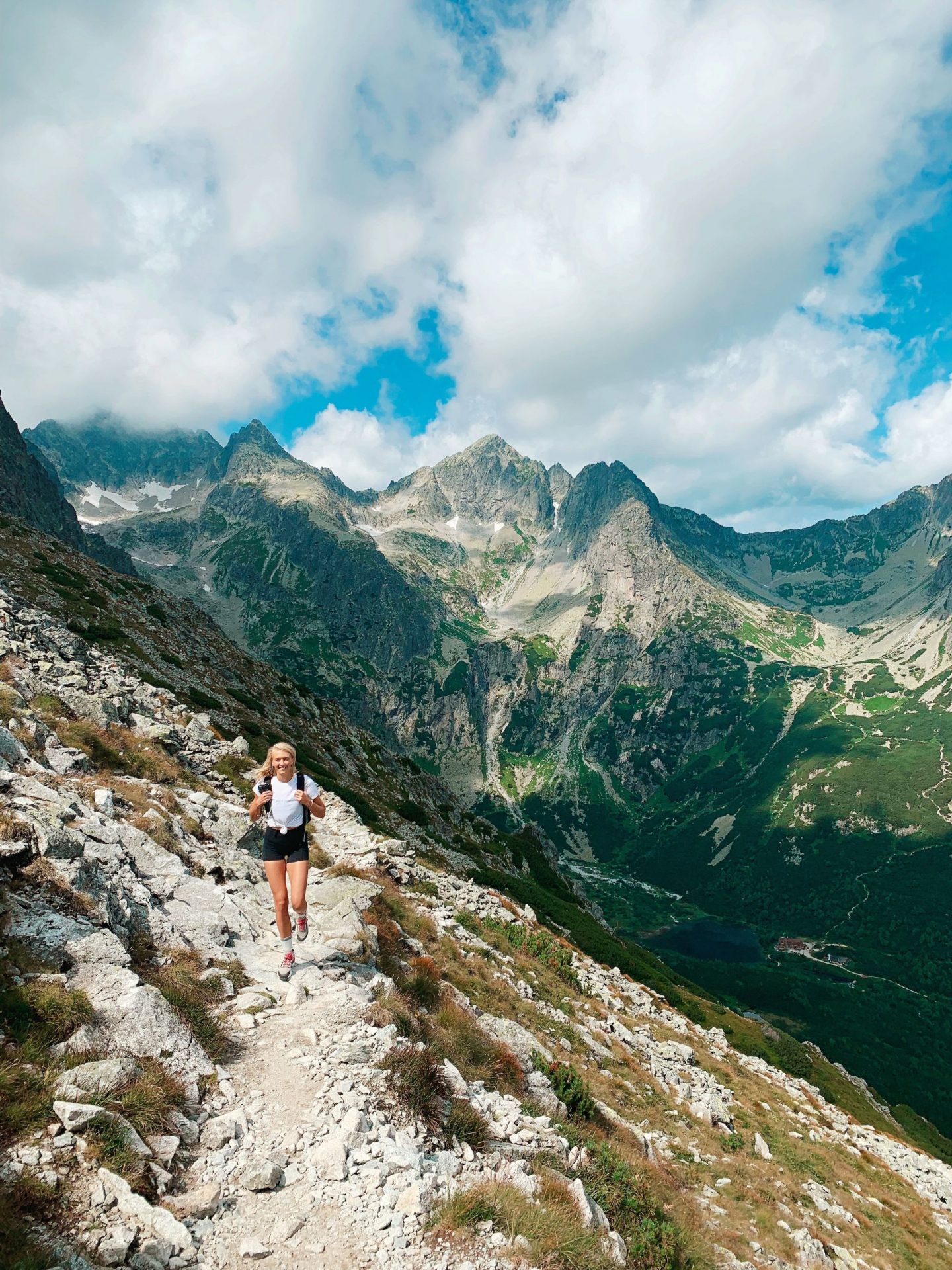 The Gentle Hike: Skok Waterfall
By day three your legs are most likely tired and your feet covered in blisters, so if you're fancying a shorter hike then this is the one for you.
Difficulty: Easy to Moderate.
Duration: 3.5 hours
Brief: Park your car at Strbske Pleso and walk up the peaceful valley of Mlynicka Dolina until you reach the stunning Skok waterfall. Take in the panoramic views in all directions. Come back down the way you came.
Route: Take the yellow route out of Strbske Pleso near the train station.
Note: If you have spare time you can also walk around the edge of the peaceful lake of Strbske Pleso.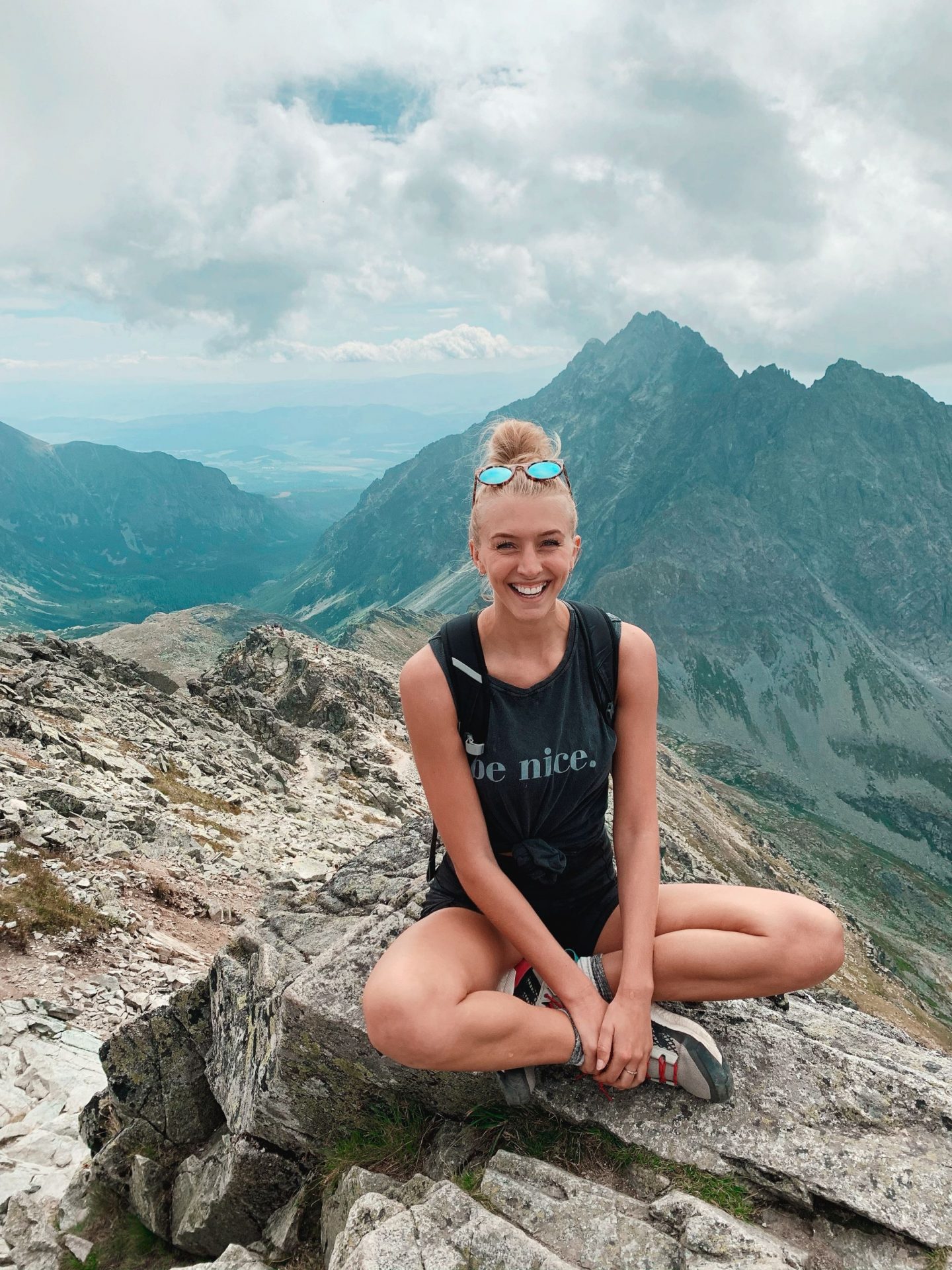 Additional Hikes:
As we were only in Slovakia for a few days we couldn't fit in all the hikes we wanted to do. We had a hiking hit list as long as my leg, and thats pretty damn long. Here are additional hikes we would love to do if/when we return!
Rysy Peak.
The highest mountain in Poland, you hike up the Slovakian side and then cross the border to summit. An absolutely savage 8-10 hour hike but great for those who fancy a challenge.
Krivan Peak.
The most iconic peak hike in the High Tatras, a strenuous 8 hour right of passage for most locals which gives you monumental views as a reward.
Fairy Tale Loop.
A 6.5 hour moderate to strenuous loop hike through Mylnicka & Furtotska Valleys. You hike past the famous Skok waterfall, multiple crystal clear lakes and through an epic mountain pass.
Hut Hikes.
There are two hut hikes I would love to have done – Zbojnicka Chata and Teryho Chata. Both are 6 hour round trips and give you an opportunity to have lunch at a local mountain chalet.
Slovak Paradise National Park.
This national park is one hours drive from the High Tatras and is part of the Slovak Ore Mountain range. It is a haven of forests, meadows, chasms, canyons, gorges, waterfalls and caves. It offers the unique opportunity to hike next to waterfalls on ladders and over rivers using transparent platforms. Popular trails include Sucha Bela, Piecky & Velky Sokol.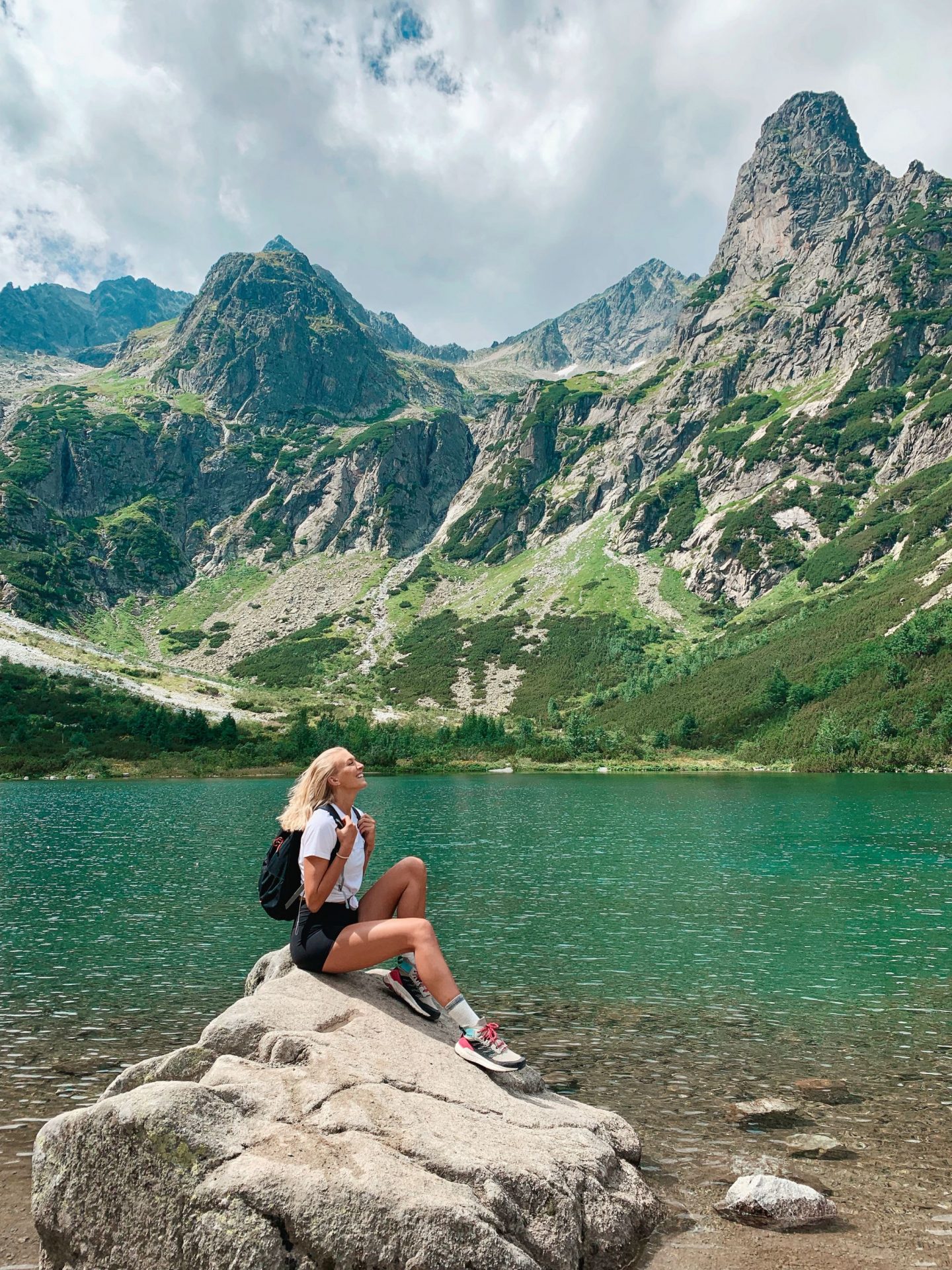 Slovakia is a true hidden gem in Eastern Europe and I can't recommend it enough. It blew me away and provided some much needed soul food.
Safe travels!
Zanna xx