If you're looking for a destination that is within easy reach of the UK that combines beaches and mountains – Gran Canaria should definitely be on your list. A short 4-hour flight away, this island is a hugely diverse place to visit. When you look beyond its famous sandy shoreline, it has volcanic lava flows, rugged peaks, a rainforest and even an expanse of sand dunes. It is an island of micro-climates with incredible flora and fauna; a unique place where you can see cacti, pine trees and palms happily coexisting. It truly is bliss for nature lovers like myself.
You could easily spend 10 days or more exploring Gran Canaria, stopping off in the mountains of the north, the rugged coastline of the west and relaxing on the sandy beaches in the south. However, as we only had four days in November, we opted to base ourselves in Mogan in the south west. This is the warmest region in the winter months which also has relatively easy access to the southern parts of the island mountains. It is a nice middle-ground if you want to combine relaxation with adventure.
The Practicalities:
Getting There & Getting Around:
There are regular direct flights from UK airports to Gran Canaria, with a flight time of around 4 hours. I recommend hiring a car from Gran Canaria airport. Opt for a smaller car for easy parking, but with a more powerful engine for driving in the mountains. Be warned, the mountain roads aren't for the faint hearted but they're beautiful
Where To Stay:
I recommend staying in Puerto de Mogan. This is one of the smaller and slightly less touristy coastal towns in the south. It has varied restaurant options and a selection of hotels as well as Airbnb's.
How Long To Stay:
If you're just visiting Mogan, you could tick off most of the region in 3-4 days as we did. However, if you're exploring more of Gran Canaria then 7+ days is ideal to experience as much of the island's diversity as possible.
When To Go:
Gran Canaria is a year round destination, especially for hiking. I went in November and the daytime temperatures (in the south) were around 20-24 degrees and in the evening they dropped to 18-20. Perfect.
Price:
Gran Canaria is a trip you can certainly do on a budget. Staying in an Airbnb, cooking your own meals and avoiding tourist hotspots will help you save the pennies. However, you can also splash your cash on a five star hotel, luxury restaurants and expensive activities. The choice is yours!
What To See & Do in Gran Canaria:
Boat Trips:
Puerto de Mogan is a great base from which to take a boat trip. These can be done privately or as a group, during the day or in the evening, with various activities on offer. Dolphin and whale watching are popular, as well as snorkelling trips and beach hopping, stopping off at a range of caves and harbours. If you fancy something romantic, sunset cruises are a great option.
Puerto de Mogan:
The town of Puerto de Mogan is well worth a wander, it is one of the less garish and more quaint tourist destinations on the island. It has a small harbour, beach and port, as well as pretty brightly trimmed houses adorned with flowers. Check out Gelatomania for the best ice cream (with lots of vegan options), I love Mogan for a delicious meal and sunset point to end the day.
Watersports:
There are numerous watersports you can try on the Gran canaria south coast. You can paddleboard in the sheltered beaches, rent a jet ski, go kayaking, hop on a banana boat, parascend above the ocean and even take surfing lessons. There are also padi dive schools and snorkelling excursions if you want to look below the surface.
Beaches:
The beaches in the south of Gran Canaria are what the island is traditionally known for amongst tourists, so it is best to brace yourself for the crowds. Popular beaches include Amadores, Taurito, Playa de Mogan and Playa del Ingles. It can be difficult to find a quiet spot in the south, but if you want to experience a slightly more peaceful beach then head to Playa Pasito Bea for a little-known local gem or the vast Maspalomas beach which is so large you can undoubtedly find a more secluded spot.
Maspalomas Sand Dunes:
Did you know Gran Canaria has a desert and oasis? Maspalomas Dunes Nature Reserve is a 400-hectare area that features a dynamic sand dune system, palm grove, lagoon and a famous expansive beach. It is a great place to explore on foot, relax on the sand or watch the sunrise or sunset.
Go On A Hike:
There is a selection of stunning hikes which are under an hour's drive from Puerto de Mogan. The roads in themselves are a slightly hair-raising but absolutely stunning experience, and once you reach the trails themselves it's totally worth the journey. The hikes in this region reward you with phenomenal views but they're not crowded, so often you feel like you have the island to yourself.
Recommended Hiking in Gran Canaria
> Tauro Mountain Trail. A 5km route which takes in Tauro peak and rewards you with incredible views of the surroundings ravines and mountains. My favourite hike in the region.
> Soria & Cascada Bonita. An 11km trail which starts in the small village of Soria, climbs up to an epic waterfall (which is empty in the dry season, but it is stunning to stand in its path), and takes you around the surrounding peaks and valleys. Stop off in Soria after the hike for lunch at Casa Fernando.
> Ayagaures & Presa de la Angostura. An 11km hike with stunning views, a beautiful lake and a couple of more challenging climbs. Ayagaures has a couple of options for a post hike meal.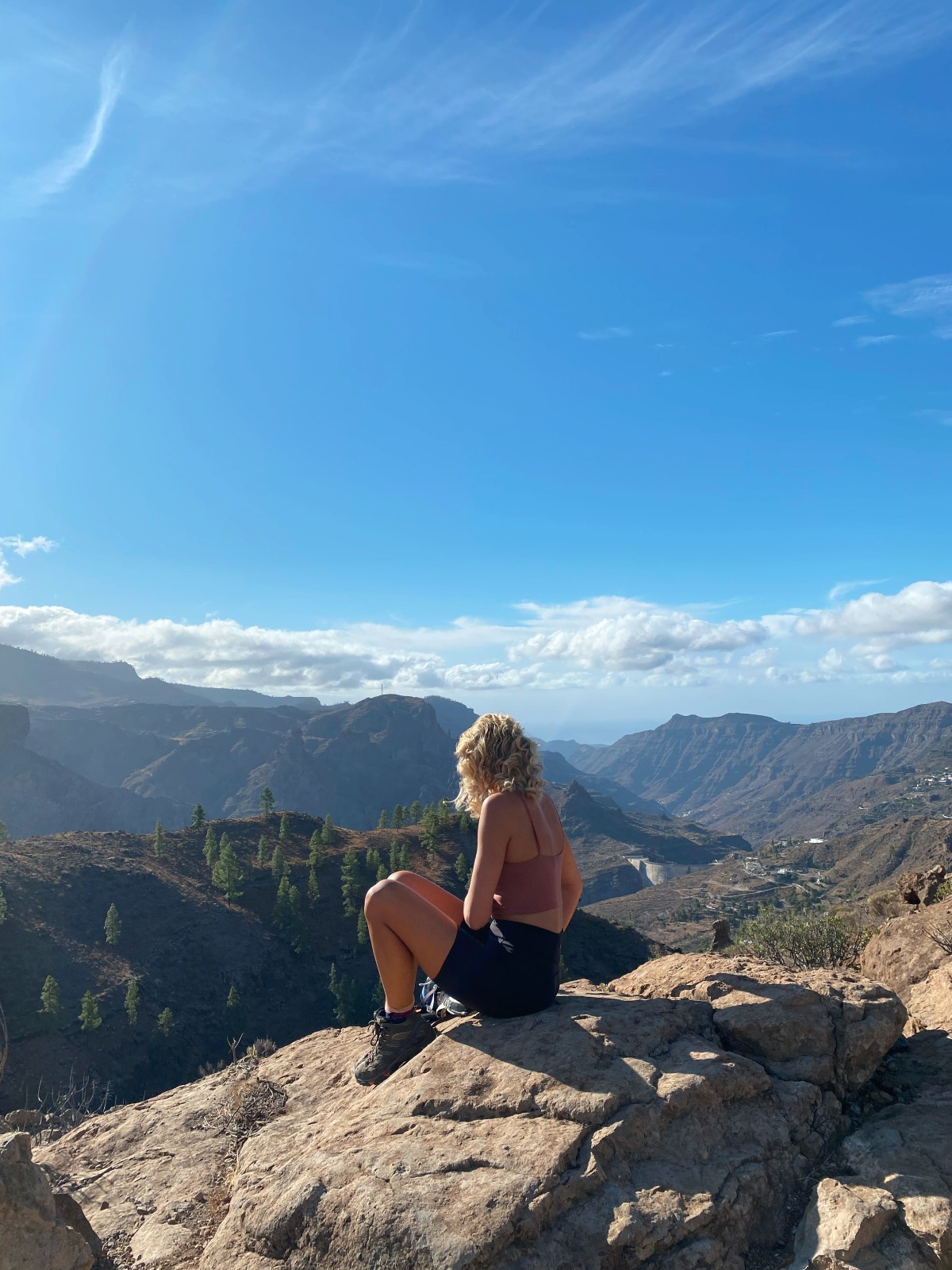 All in all, I only scratched the surface of Gran Canaria but I absolutely loved what I saw. I will definitely be back to explore more of the island. I can't wait to venture to Parque Natural Tamadaba in the West and Parque Rural de Doramas in the North, and pretty much everything in between!
Safe travels,
Zanna x