Ahh the chia seed, so small yet so mighty. They are one of my favourite nutrient packed little nuggets. I source them from Eat Real Today and I add them to my breakfast most mornings.
They were championed by the ancient Mayans for their energy providing ability – in fact the word 'chia' is actually the ancient Mayan word for 'strength'. These little gems are loaded with essential nutrients like calcium, potassium and magnesium. Not only that but gram per gram they contain more omega-3s than salmon with each serving (roughly two tablespoons) containing:
Fat: 9 grams (5 of which are omega-3s)
Protein: 4 grams
Fiber: 11 grams
All that fibre allows you to feel fuller for longer, meaning a meal with chia seeds is super satisfying. Plus they produced a gloopy texture when mixed with water, thickening up oats and puddings.
Basic Chia Pudding:
The most basic chia pudding recipe, one which I like to eat for breakfast or as a snack, is simply 1 and 1/2 cups of plant milk, 1/2 a cup of Eat Real Today chia seeds, 2 tbsp maple syrup and 1 tsp vanilla extract. Simply mix this together and pop in the fridge. This produces enough chia pudding to last a couple of days, you can add toppings and flavour variations such as:
Grated lemon zest and fresh blueberries
Mashed banana and peanut butter
Fresh raspberries and dark chocolate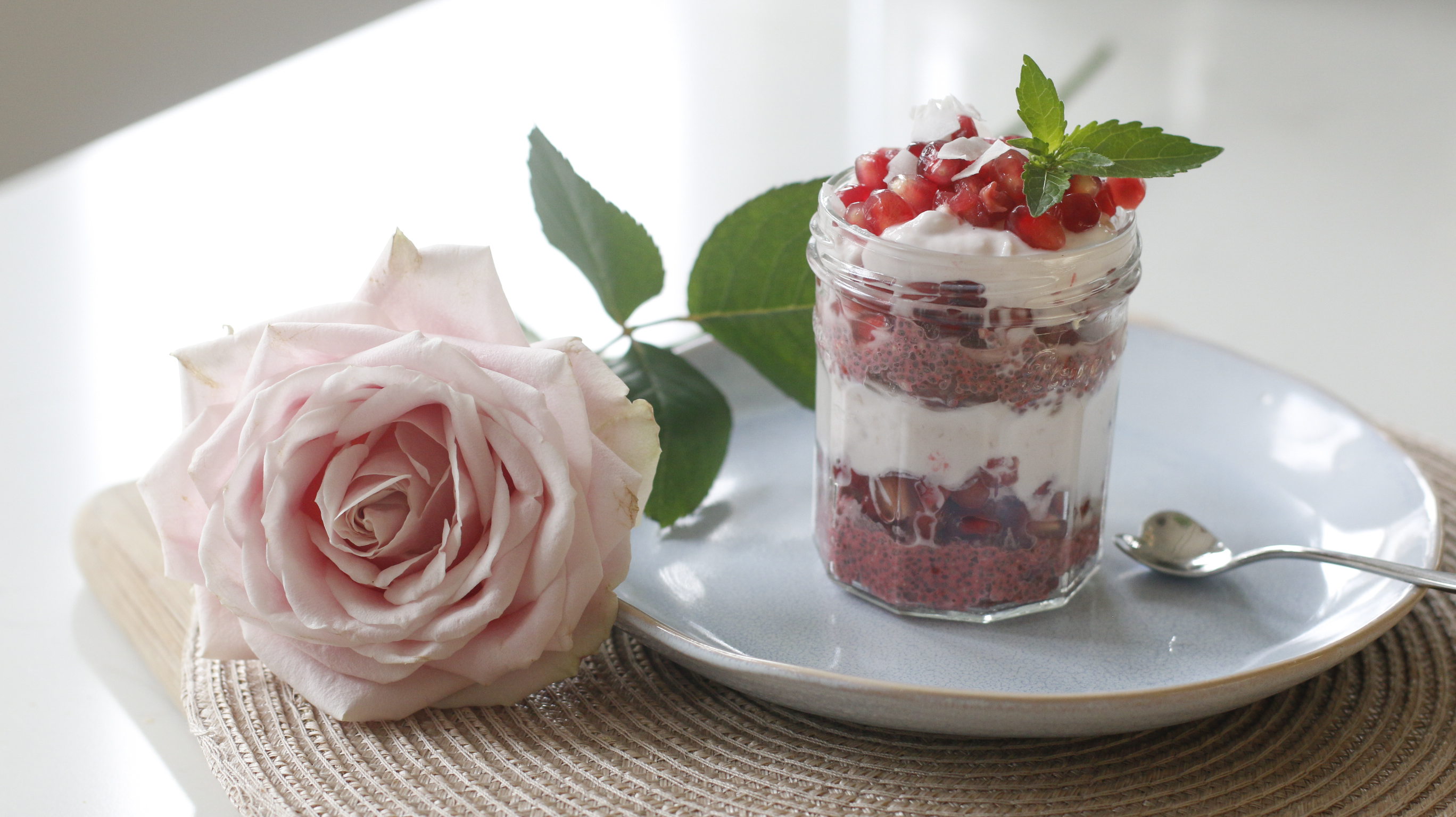 If you want to mix it up a little and step away from chia pudding, here are two more of my favourite recipes using chia seeds:
Coco Chia Oats
Ingredients
½ banana (mashed)
50g oats
1 scoop of vegan protein powder
1 – 2 tbsp Eat Real Today chia seeds
1 tbsp coco powder
250ml almond milk
Handful of raspberries
Roughly chopped nuts
Method
Mix together the mashed banana, oats, protein powder, chia seeds, coco powder and milk in a pan and stir well.
Transfer pan onto the hob over a medium heat (feel free to use the microwave – I just think oats always taste better cooked on the hob)
Bring to the boil and simmer for 4-5 minutes, stirring from time to time and watching carefully that the porridge doesn't stick to the bottom of the pan
Pour into a bowl and top with raspberries and chopped nuts
Carrot & Chia Muffins
Ingredients
100g carrots, finely grated
75g apples, coarsely grated
1 tsp cinnamon
1 lemon (zest only)
3 tbsp Eat Real Today chia seeds
120g coconut sugar
75ml coconut or vegetable oil
2 flax eggs
120g self-raising flour
½ tsp baking powder
1/2 tsp bicarbonate of soda
1/4 tsp salt
1 tbsp rolled oats
Method
Preheat the oven to 180°C, fan 160°C
Line a muffin tin with cases (recipe makes about 12 good sized muffins)
In a bowl, mix the grated carrot and apple, cinnamon, lemon zest, chia seeds, sugar, oil and flax eggs and 1/4 tsp salt until combined
Set aside for 5-10 minutes, until the chia seeds have expanded a little
In a different bowl sieve the flour, baking powder and bicarbonate of soda and mix together
Stir the carrot mixture into the dry ingredients to form a batter
Divide evenly between the muffin cases, and then scatter over the oats
Bake for 15-18 minutes (or until risen and springy to the touch).
Remove muffins from the oven and leave to sit for 5 minutes, before transferring to a wire rack to cool completely.
Happy eating!
Zanna x
This post is produced in collaboration with Eat Real Today, my go to source of dried fruits, nuts, healthy snacks and baking ingredients.