Santorini, a Greek island famous for its rugged volcanic landscape, beautiful white houses and world class sunsets. It was always a destination near the top of my bucket list, but one which I was slightly apprehensive to visit. When somewhere is so hyped up online I worry that the reality may be a little disappointing. Well, I was wrong. So very wrong. Santorini exceeded all my expectations! It is truly an incredible place. I've been extremely lucky to visit a whole host of Greek islands and it's by far my favourite (so far!). The landscape is dramatic. The towns are quaint. The sunsets are phenomenal. Whether you want to get an insight into Greece's history, relax at a luxurious hotel or lace up your hiking boots – there's something for everyone.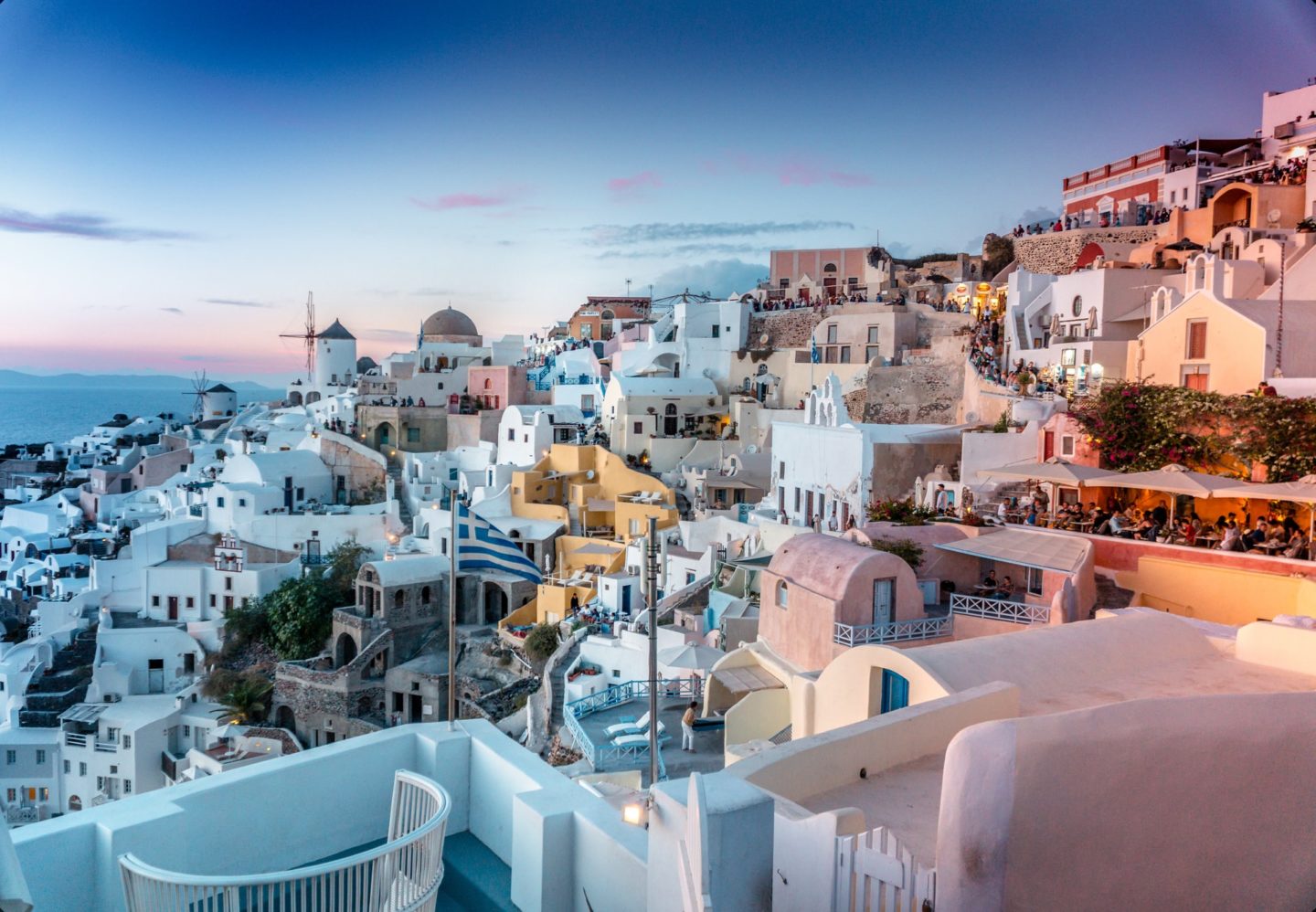 The Practicalities:
Getting There and Around:
Due to the popularity of Santorini, it receives regular flights from across the world. There are direct routes from the UK, but you can also connect in Athens and catch a domestic flight. Once you land, I recommend hiring an ATV for a fun way to get around the island. You can arrange for one to be dropped off through your hotel or book directly with a local company.
Price:
I am not going to beat around the bush, Santorini in general is pretty damn expensive. The top hotels can cost upwards of £1000 a night and fine dining restaurants can set you back hundreds per meal. However, you can experience the island in a multitude of ways and easily save some pennies. There are accommodation options for all budgets, from Airbnbs through to guesthouses; and you can save money at meal times by self-catering or heading to a local Greek taverna. I recommend doing this anyway, to get a truly authentic foodie experience.
How Long To Stay:
You could easily cram the Santorini highlights into a long weekend, but if you have the time I would recommend having at least four full days on the island to make the most of it.
Where To Stay:
I recommend staying out of the main towns if you want some space, peace and quiet. Santorini is covered in world class boutique hotels. Personally, I found the accommodation located on the cliffs north of Imerovigli had some of the best sunset views. I stayed at OMMA which was an absolutely phenomenal 5 star experience – I couldn't fault it! (press stay).
When To Go:
The shoulder season is the best time to visit Santorini, i.e. April-May and September-October. The crowds get absolutely crazy in June-August.
Travel Tips:
Before you go, bear in mind these top tips.
Carry cash. Restaurants and hotels take cards, but pretty much everywhere else doesn't.
The wind. Santorini is a windy island, bring hair ties to tame your locks and wear shorts under skirts or dresses to preserve your dignity.
Be early. If you want to enjoy a part of the island without the crowds, go early in the morning. The earlier the better.
Bring layers. The mornings and evenings can be chilly, especially in shoulder season. Most restaurants have blankets to keep you warm but definitely bring a few layers.
Crowds. If you are going to visit in the peak season, brace yourself for the crowds and have patience. Especially in popular spots like Oia and Fira.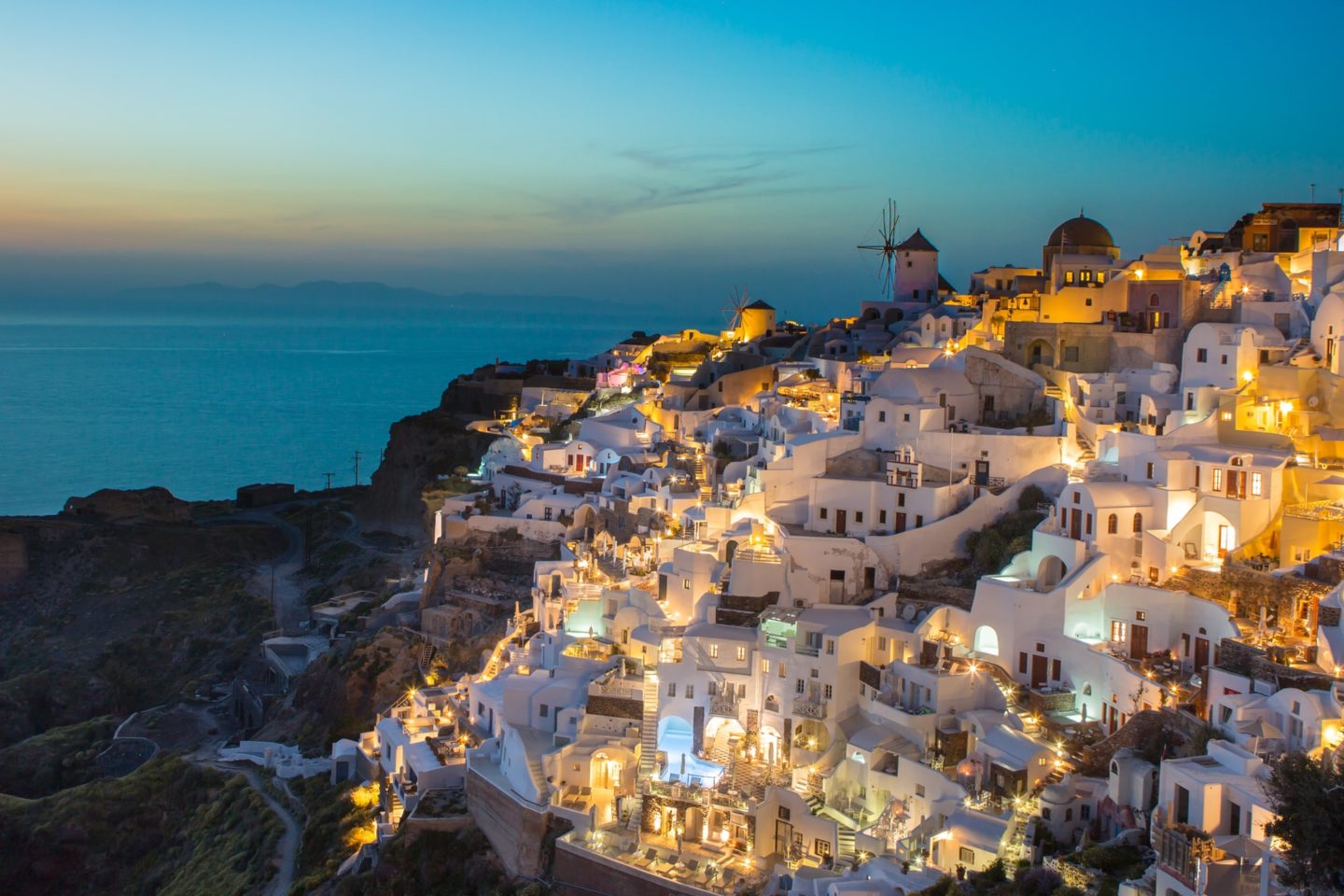 What To See and Do:
Visit the Towns & Villages
Santorini is known for its stunning white villages perched precariously on its cliffs, tucked into coves and nestled up in its peaks. Don't miss these:
Oia. The gem in the Santorini crown and the most popular town on the island. It is renowned for its sunsets, but don't be afraid to visit during the day to see its blue domed churches and neighbouring Ammoudi bay.
Fira. The capital of Santorini has incredible views. Wander down its back streets, discover small independent shops, visit it's famous churches and tuck into some local food.
Pyrgos. Perhaps my favourite little village in Santorini. Pyrgos is the best preserved medieval settlement on the island and known as "Santorini of the past". Stroll through the narrow alleys, explore the castle and grab coffee with panoramic views over the whole island.
Megalochori. A small but charming village with winding alleys and ornate churches. You can take a steep climb down to "the heart of Santorini" where two churches are built into the cliffside.
Take A Boat Trip
Santorini is the perfect place to explore from the water, with numerous beaches and coves which can only be reached by boat. We booked a day tour through Santos Sails which stopped off at iconic regions such as the red beach, white beach, the hot springs, volcano and Thirasia. You can swim in crystal blue waters and snorkel along the coastline. There are also beautiful sunset cruises available, but just make sure you take some layers as it is cold at night – especially on the water.
Hire A Quad Bike
I don't know about you, but I feel like a little speed demon whenever I get on an ATV. It is so fun! I highly recommend renting a quad bike for even just a couple of days, for an adventurous way to explore the island. Plus they're very easy to park!
Take A Hike
There are a handful of hikes on the island, with the most famous (and beautiful!) being the Caldera Trail from Fira to Oia. It follows the rugged cliffs on the west of Santorini and is incredibly scenic, plus there are plenty of spots to stop off for coffee and ice cream. Just make sure you take the detour down to Skaros Rock to see the ruins and get the best 360 degree views.
Visit The Beaches
What is a trip to a Greek island without a beach day? Luckily Santorini has some pretty incredible ones, including two black sand beaches you shouldn't miss – Perivolos and Perissa. They are great for if you want easy access to the ocean as well as restaurants and sunbeds. However, if you want to get a little more off the beaten track then check out Paralia Vlichada which has dramatic white cliffs and less tourism infrastructure.
Watch The Sunsets
Santorini is known for it's sunsets and they certainly don't disappoint. Try these spots for the best views:
Oia. I can't not mention Oia, the most famous town to watch the Santorini sunsets from. It is absolutely stunning to see the golden hour glow over the iconic white houses, but it is so crowded. If you want to get a spot at the most popular viewpoint, Byzantine Castle, you will need to get there early and hold your ground!
Prophet Elias Monastery. This sunset spot is at the highest point in Santorini with views over the whole island and surrounding archipelago. Not many people make the journey up as there aren't any bars or restaurants, so you will avoid the crowds.
Fira. Fira has a whole host of bars and restaurants which have incredible sunset views, it is the perfect place to enjoy a cocktail or meal as the sun goes down.
Pyrgos. This is a less popular and therefore less crowded town to visit in the evening. I recommend grabbing a table at Franco's cafe to get a birds eye view of sunset over the whole island.
Eat Incredible Food
Santorini has some pretty phenomenal restaurants, from Michelin star spots through to rustic tavernas. Our personal favourite meals were at Kapari Wine Restaurant in Imerovigli, Kaliya in Fira and Fly Away Creative Bar (try the truffle pasta!). We also loved the food, cocktails and views at our hotel, OMMA. If you want to visit a local taverna then Metaxi Mas is said to be the best on the island. For wine tasting, Venetsanos and Santos are the top rated for both the tipple and the views. Just make sure that wherever you go, you book ahead.
Visit The Open Air Cinema
If you want to try something a little different, then the Kamari open air cinema is a great way to spend an evening. It is nestled right in the middle of a forest and provides an amazing atmosphere as well as yummy snacks and cocktails. Ensure you bring cash!
Santorini blew me away, so much so that the day after I returned home I booked to go back the following year! I am not one to revisit the same place twice, but I felt like there was so much more for me to experience and explore on this beautiful island. I hope that this guide helps you make the most of your time there, or just provides some inspiration for a future trip. I promise you won't regret ticking Santorini off your bucket list!
Zanna x