Unless you've been hibernating under a rock, you've probably seen that I have released my own granola! This is a project that I have been working on since May 2018, so it feels incredibly surreal to see you guys finally getting your hands on it after years of hard work on the product!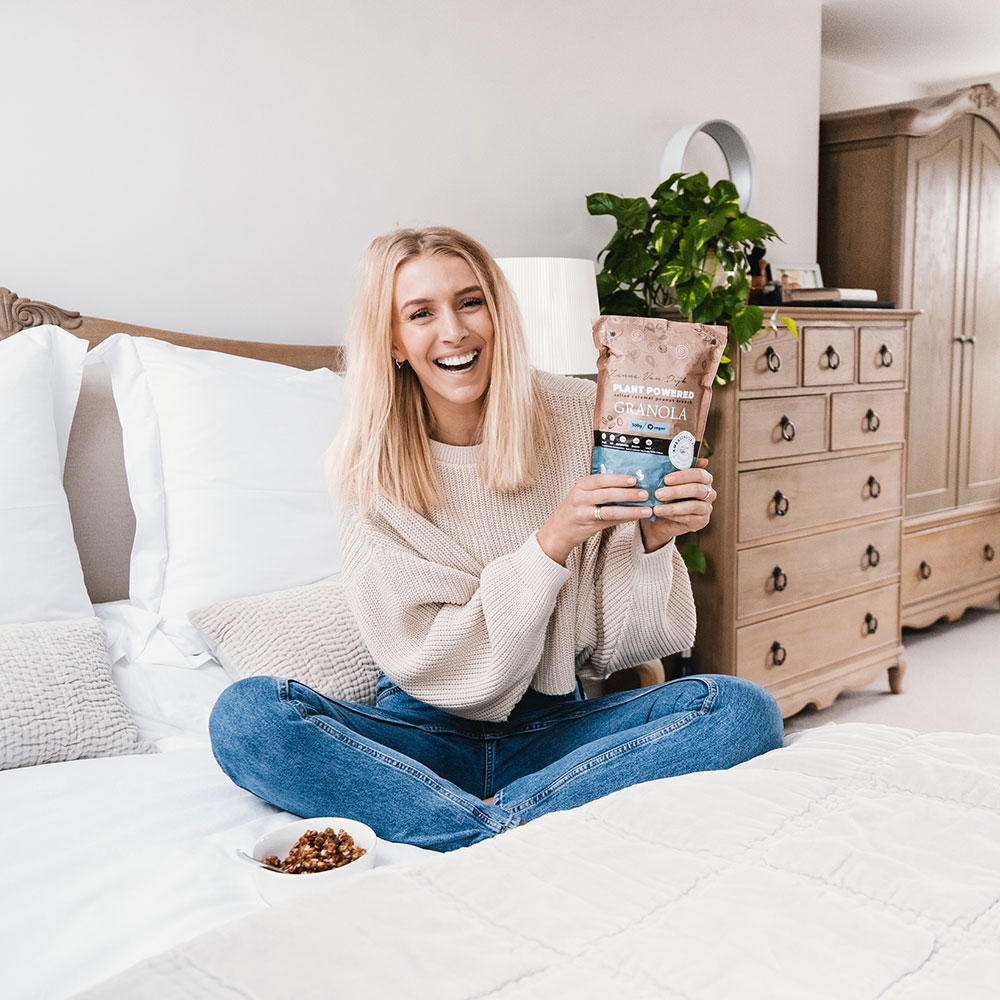 First things first, let me give you the low down on why the granola is so frickin' awesome:
Salted Caramel Peanut Crunch. My two favourite flavours in the world are salted caramel and peanut butter, so I fused them together in this granola and yes, it is as delicious as it sounds!
Epic Chunks. I like big, crunchy and delicious chunks which you can pick out the bag with your hands, because that's one of my favourite ways to eat granola.
High Protein. It is infused with pea protein, packing in over 8 grams per serving which is pretty epic for a granola!
Vegan. It is 100% vegan and certified gluten free, so all my plant powered pals can tuck in.
Certified Gluten Free. At the last moment we decided to make the granola gluten free, now its proudly manufactured with certified gluten free oats, in a gluten free environment, and removed the malt.
Sustainably Sourced. I have been to the farms which are used for the ingredients and the factory which is used in the creation of the granola, and I am happy with every step of the process.
Consciously Packaged. We used 100% backyard compostable bags which are also 100% recyclable too.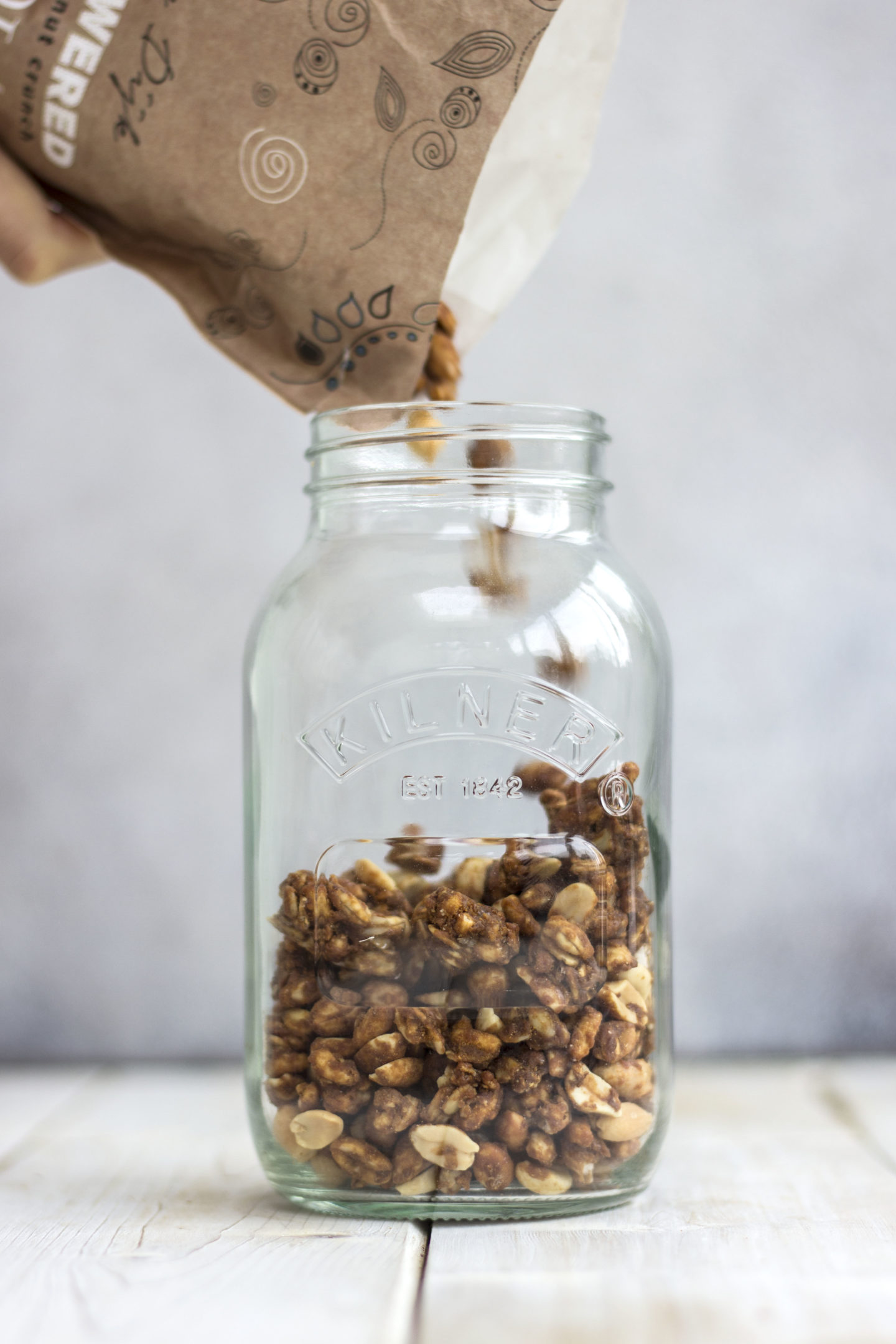 Creating The Product:
So how on earth did this come about?!
As I said, the process of creating the granola began back in May 2018 when I went out to South Africa to meet the Ambassador Foods team and start to develop the product. We spent multiple days visiting factories and farms, looking at the raw ingredients and talking through the process of how the product could be made. Then of course we spent a hefty amount of time playing around with granola ingredients, textures and flavours – including lots of trial and error and numerous taste testing sessions (the best bit!). Once I was back in the UK, the sampling process continued for months until we created the perfect product. Then the final hurdle to tackle was packaging. This was by far one of the biggest challenges we faced as I wanted to keep it plastic-free, but we eventually nailed this too. Phew!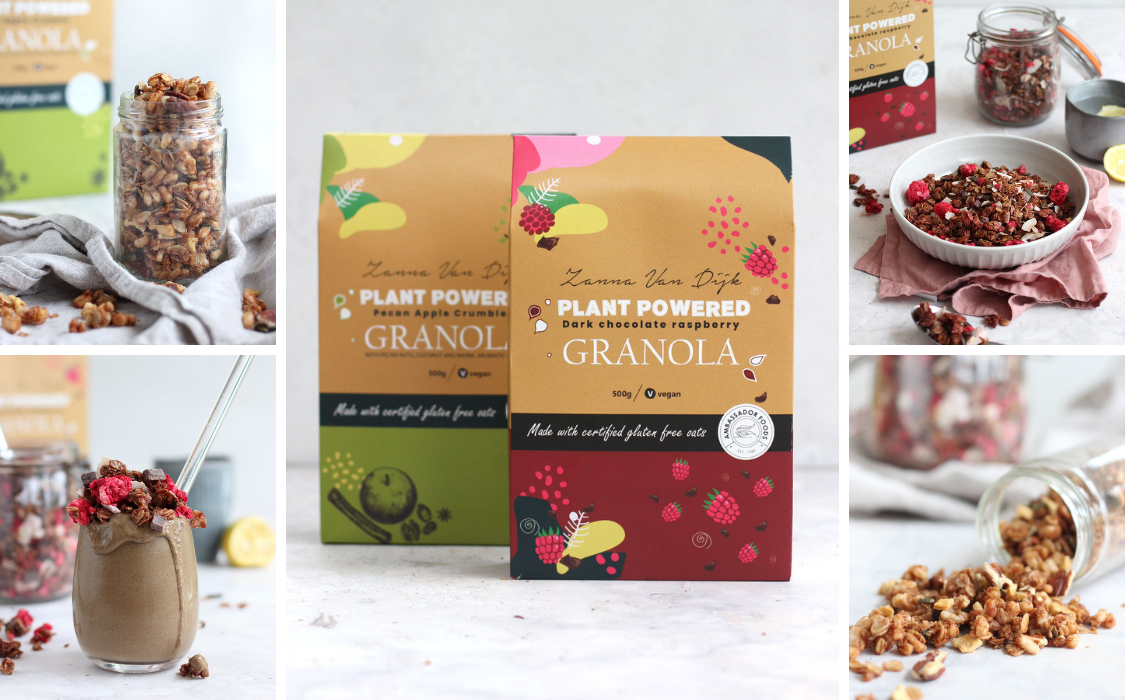 Why Ambassador Foods?
I am incredibly proud to partner with Ambassador Foods to create this Plant Powered granola as their values align completely with my own. Their goal is to work towards both planetary and personal health, being and creating a community of ambassadors for the environment. They have a farm to fork approach using only high quality and ethically sourced ingredients at every stage of production. Not only this but their products all come in 100% recyclable packaging, don't contain any palm oil and are 100% vegan and gluten-free. Plus they are on a mission to reduce their companies carbon footprint at every stage of their supply chain. Basically, the list of why they're awesome is endless – they're legends and I honestly couldn't think of a better team to work with on a food product!
All in all.
I have created my dream granola and I am happy we spent so much time getting it absolutely perfect. I am incredibly proud of how it turned out: delicious, chunky, high protein, sustainable and plant-based. Good for you and good for the planet, without comprising taste.
It ticks all my boxes and I hope it ticks yours too! Grab a bag by clicking here and let me know what you think on social media @zannavandijk .
You can find ambassador foods on Facebook and Instagram.
Zanna xx