The 2021 Nepal Adventure with Zanna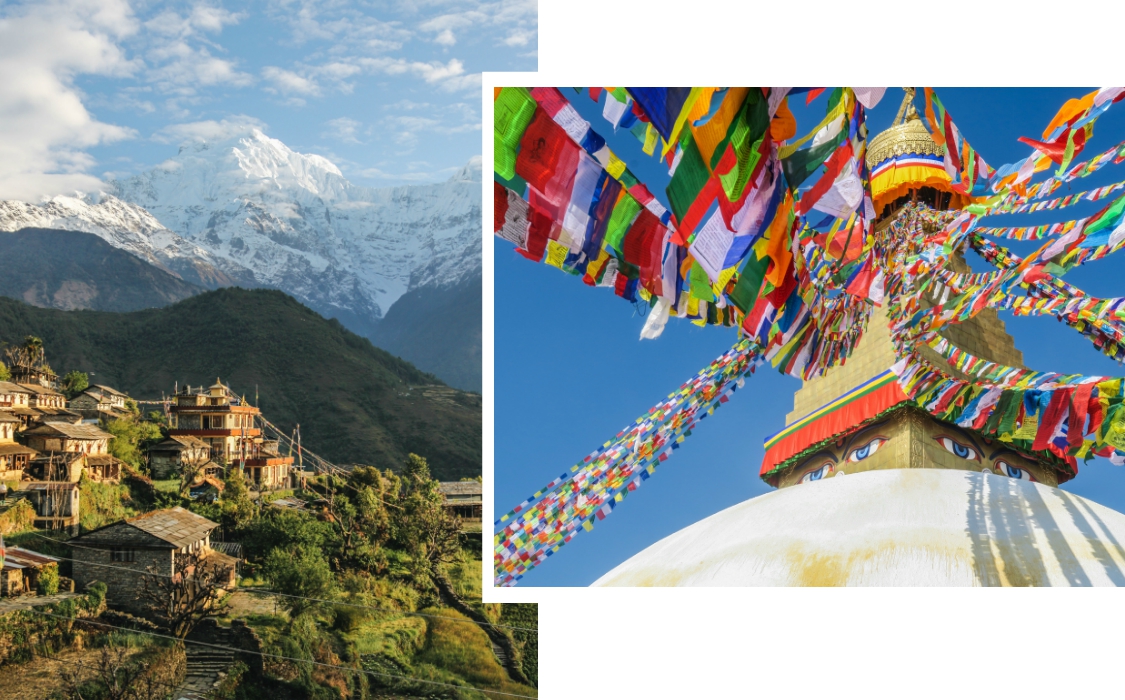 12 Nights | 14th October- 26th October 2021
£1570 (flights not included)
Tour Highlights
5 day trek through the stunning Annapurnas region of the Himalayas
Experience the Chitwan National Park Safari – with canoe ride, bird watching and exploring through forests and grasslands.
Supporting local marginalised women in a variety of projects that socially and economically empower them.
Staying in community-based tourism projects and learning to cook Nepali dishes.
Time spent with local women to understand and experience day to day life and culture.
Get spiritual with a multi-faith tour of Kathmandu
Nepal has been one of those places that I have dreamt of going to for a long time. I knew that if I was going to properly experience both the culture and beauty of the country, it would need to be a specially planned trip. Ethical and sustainable tourism is at the forefront of my mind these days and working with Intrepid Travel we can support and experience local community projects. This Nepal adventure definitely ticks the boxes for how I want to explore the country – I'm hoping you'd like to come along with me!!
The tour starts in Kathmandu where we will spend a couple of days taking in the culture, the temples and hidden gems around the capital as well as visiting an Intrepid Foundation project for a cookery class.
We will get spiritual at the holy Hindu temple of Pashupatinath and meet the 'Sadhus'- Hindu Holy Men. We'll also learn a thing or two about Buddhism from the monks at Bodhnath as well as meeting a famed astrologer who can chart out your future! We then fly to Pokhara to go lakeside for spectacular views of the Annapurnas.
Using an all-female hiking crew for our 5-day expedition, we will meet a world of friendly villagers, terraced fields, alpine meadows and rhododendron forests set before a backdrop of snow-clad peaks. During this time you will be staying in homestays and tea houses where you can soak up the rhythm of local life. At times the trekking will be demanding before reaching incredible 360 degree view points of the Himalayas. In between trekking there is plenty of time for relaxation and rest.
After the trek we head to Intrepid's community-based tourism project, the Madi Valley Homestay program. This project provides sustainable income and encourages the communities living on the fringes of the Chitwan National Park to conserve the wilderness and wildlife around them. Here you will learn to cook a traditional dish and see cultural performances from the women in the project before your safari adventure through the forests and grasslands.
To close the tour you will also be visiting a number of historical villages and monuments, biking and hiking around Kathmandu.
The full 12-day itinerary for the Nepal adventure is available to download. It includes essential day by day trip information as well as packing lists, medical notes and other helpful guidance.
Booking
For more information and to book your place you can email or call Intrepid Travel on 0203 308 9763.
About Intrepid Travel
I have researched long and hard to partner with a travel company who is recognised as a force for good. Intrepid Travel is part of the B-Corp movement, going through a rigorous process for certification and recognition for their positive impact on the planet and the local communities that they work within. It's an independently owned travel company that focus on sustainable, experience-rich travel, whilst operating a business with a purpose beyond profit. Read more about their Foundation here.